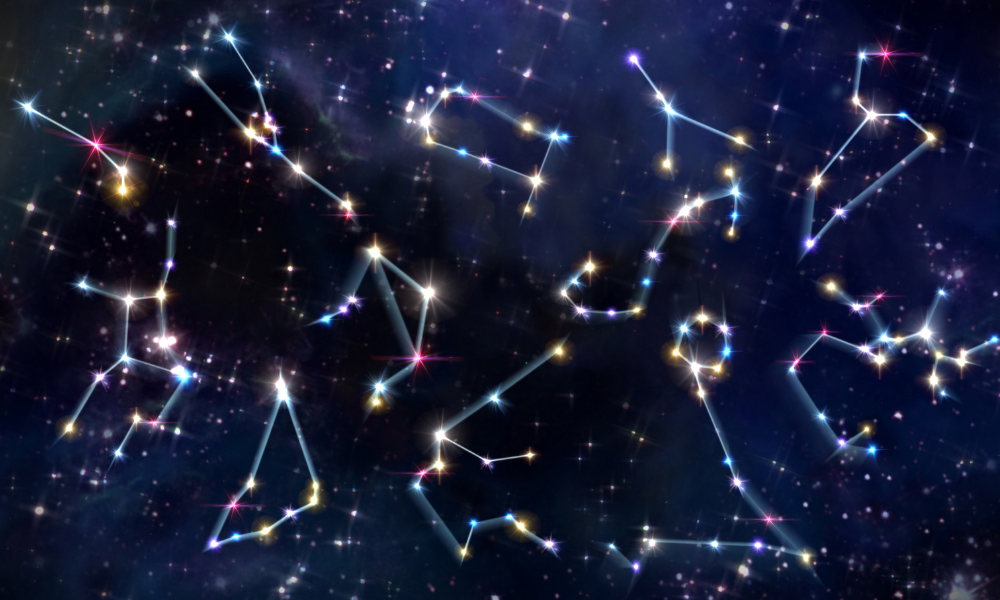 Published Date: 02/01/21
Hilarious 2021 Horoscopes for Childcare Providers
Childcare providers, find out what the new year has in store for you with these 2021 horoscopes.
ARIES
March 21 - April 19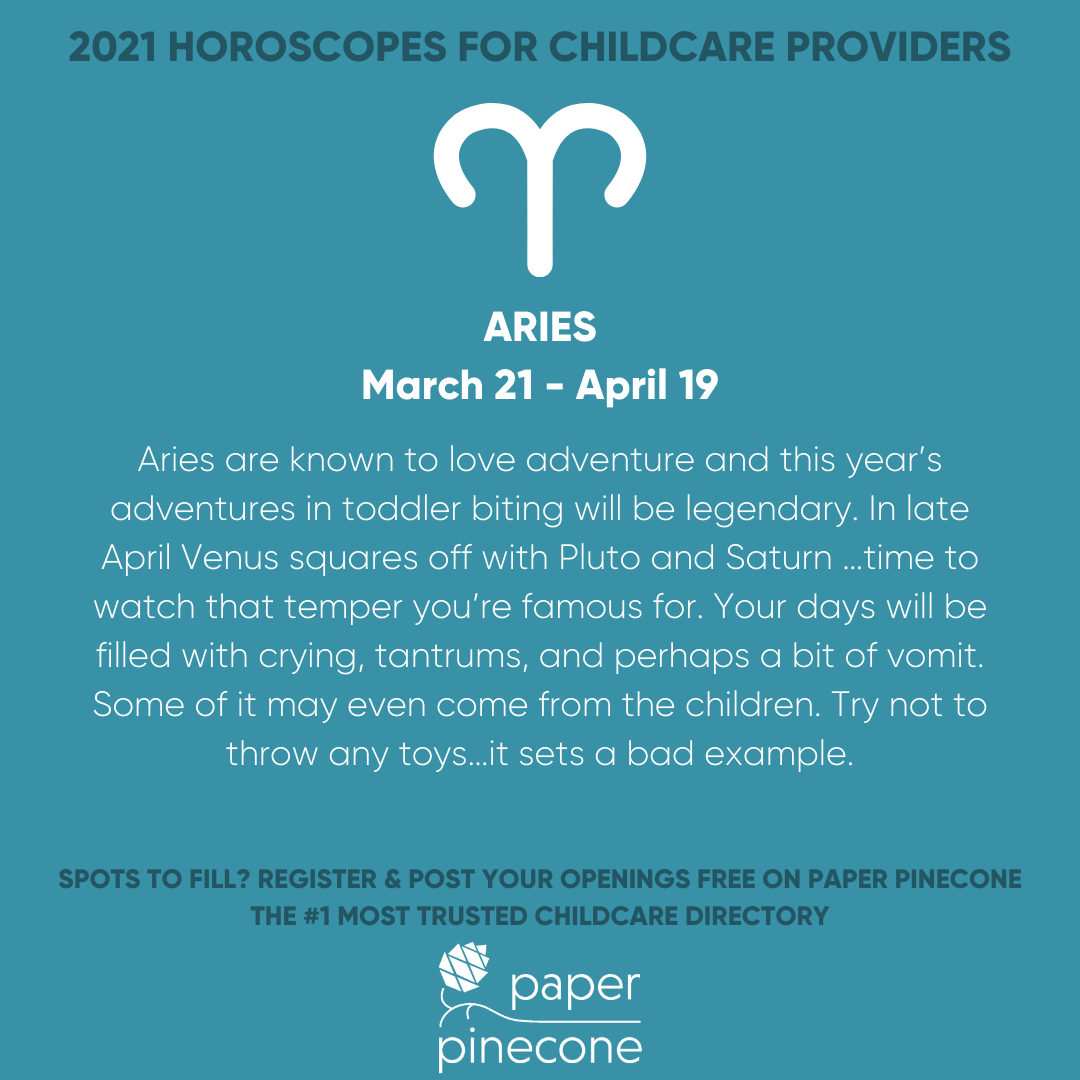 Aries are known to love adventure and this year's adventures in toddler biting will be legendary. In late April Venus squares off with Pluto and Saturn …time to watch that temper you're famous for. Your days will be filled with crying, tantrums, and perhaps a bit of vomit. Some of it may even come from the children. Try not to throw any toys…it sets a bad example.
RELATED: WOULD YOU GET RID OF ALL OF YOUR TOYS? THIS PRESCHOOL DID
TAURUS
April 20 - May 20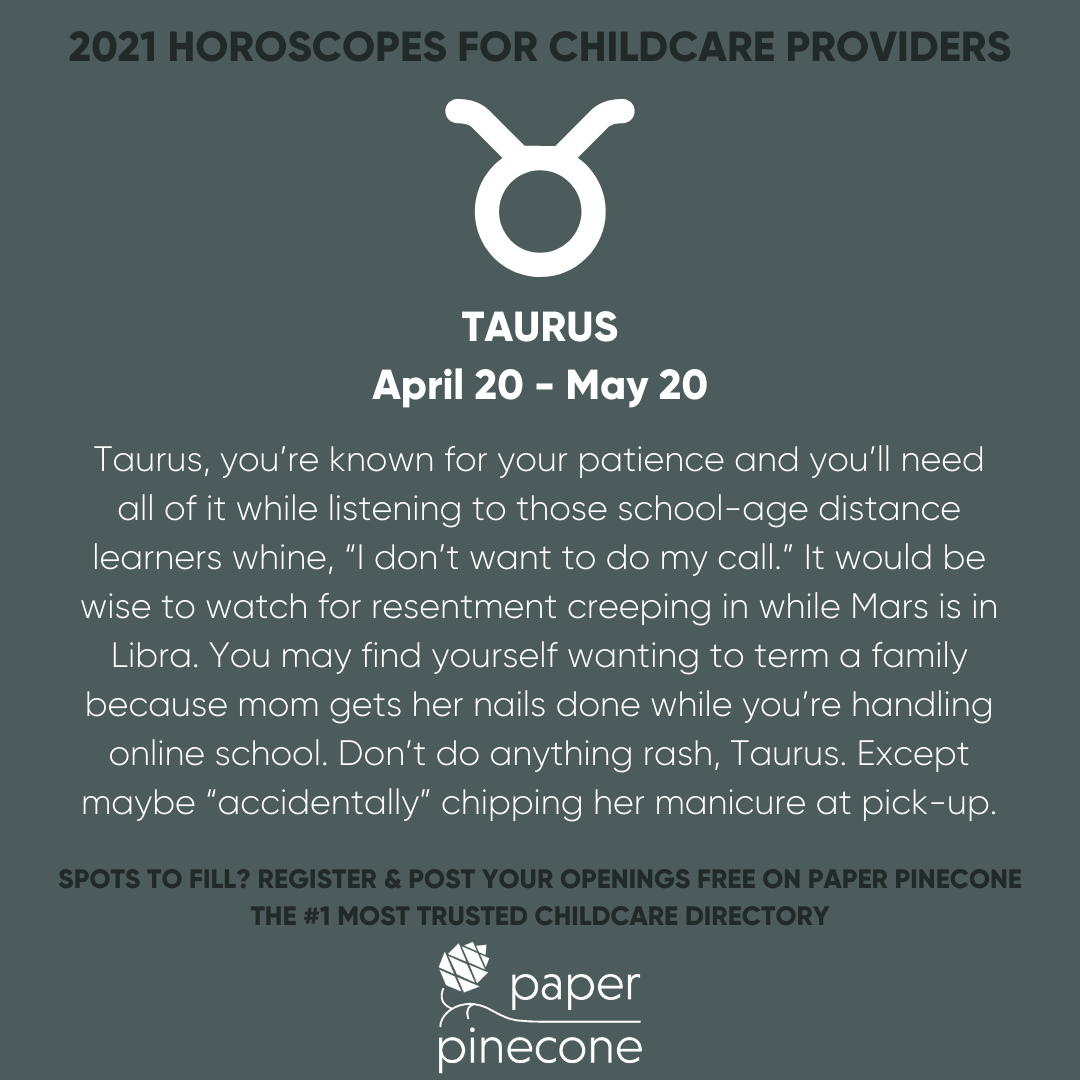 Taurus, you're known for your patience and you'll need all of it while listening to those school-age distance learners whine, "I don't want to do my call." It would be wise to watch for resentment creeping in while Mars is in Libra. You may find yourself wanting to term a family because mom gets her nails done while you're handling online school. Don't do anything rash, Taurus. Except maybe "accidentally" chipping her manicure at pick-up.
RELATED: WHEN TO TERMINATE A FAMILY
GEMINI
May 21 - June 20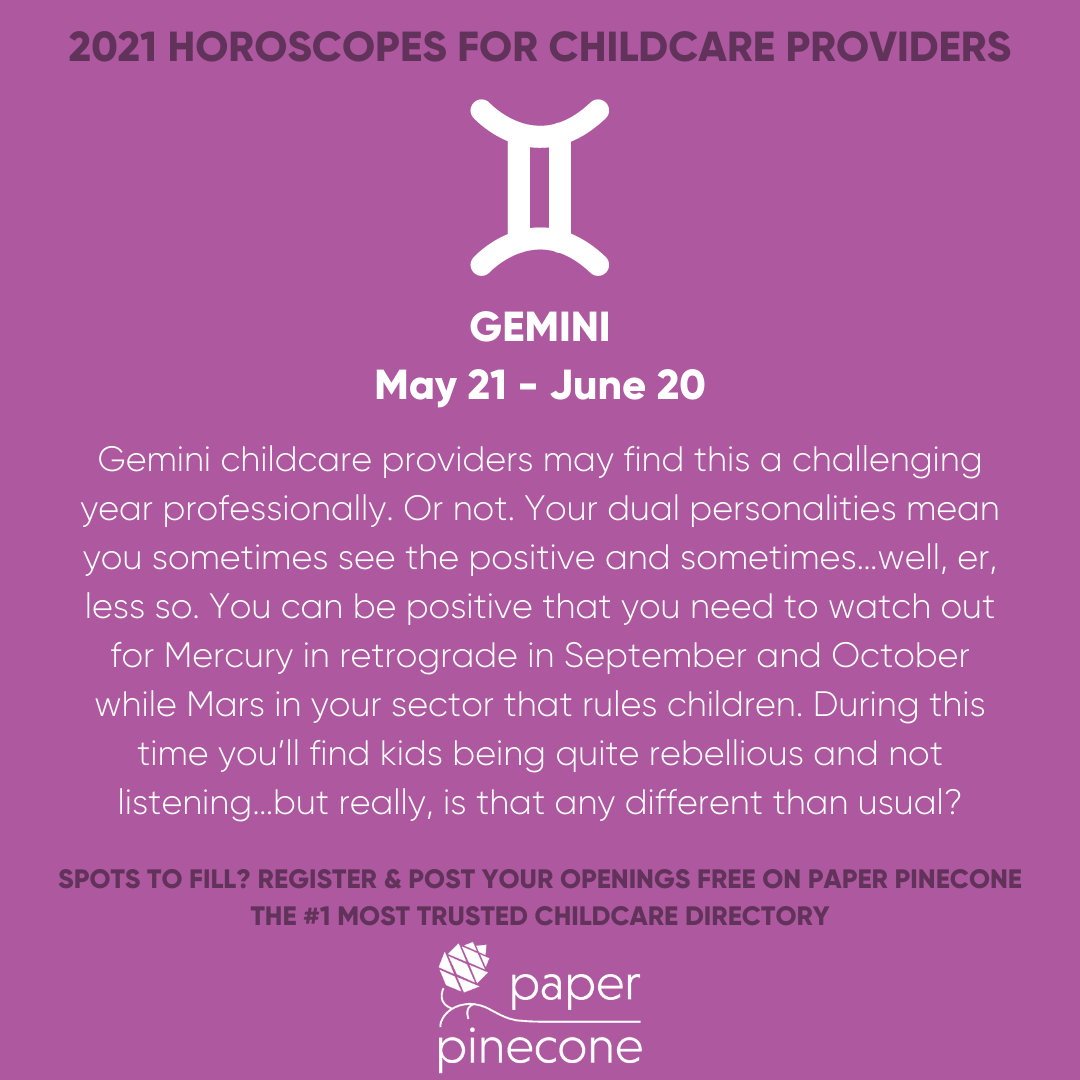 Gemini childcare providers may find this a challenging year professionally. Or not. Your dual personalities mean you sometimes see the positive and sometimes…well, er, less so. You can be positive that you need to watch out for Mercury in retrograde in September and October while Mars in your sector that rules children. During this time you'll find kids being quite rebellious and not listening…but really, is that any different than usual?
RELATED: ADDRESSING CHALLENGING BEHAVIORS DURING COVID-19
CANCER
June 21 - July 22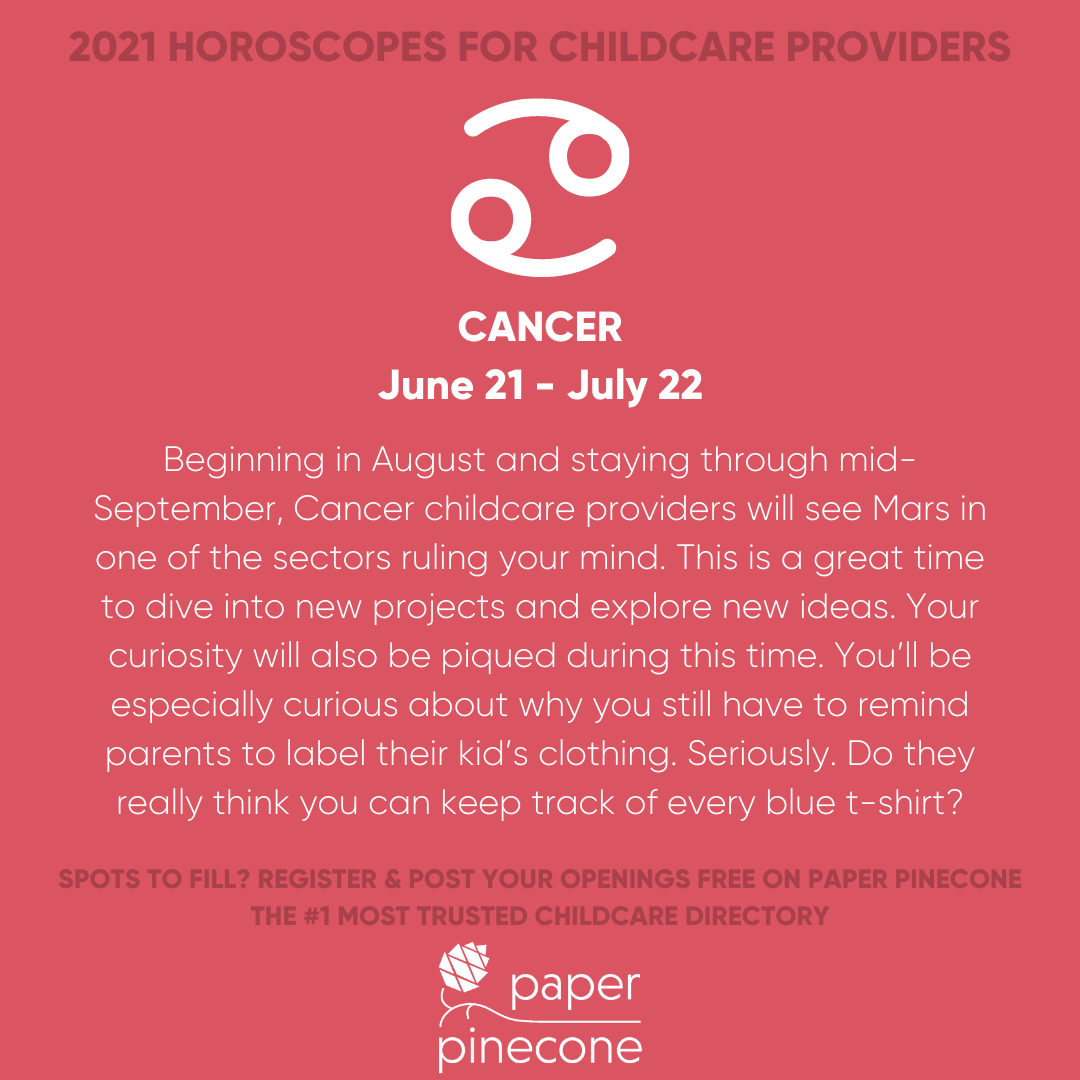 Beginning in August and staying through mid-September, Cancer childcare providers will see Mars in one of the sectors ruling your mind. This is a great time to dive into new projects and explore new ideas. Your curiosity will also be piqued during this time. You'll be especially curious about why you still have to remind parents to label their kid's clothing. Seriously. Do they really think you can keep track of every blue t-shirt?
RELATED: HOW TO INCREASE PARENTAL ENROLLMENT IN YOUR PRESCHOOL
LEO
July 23 - August 22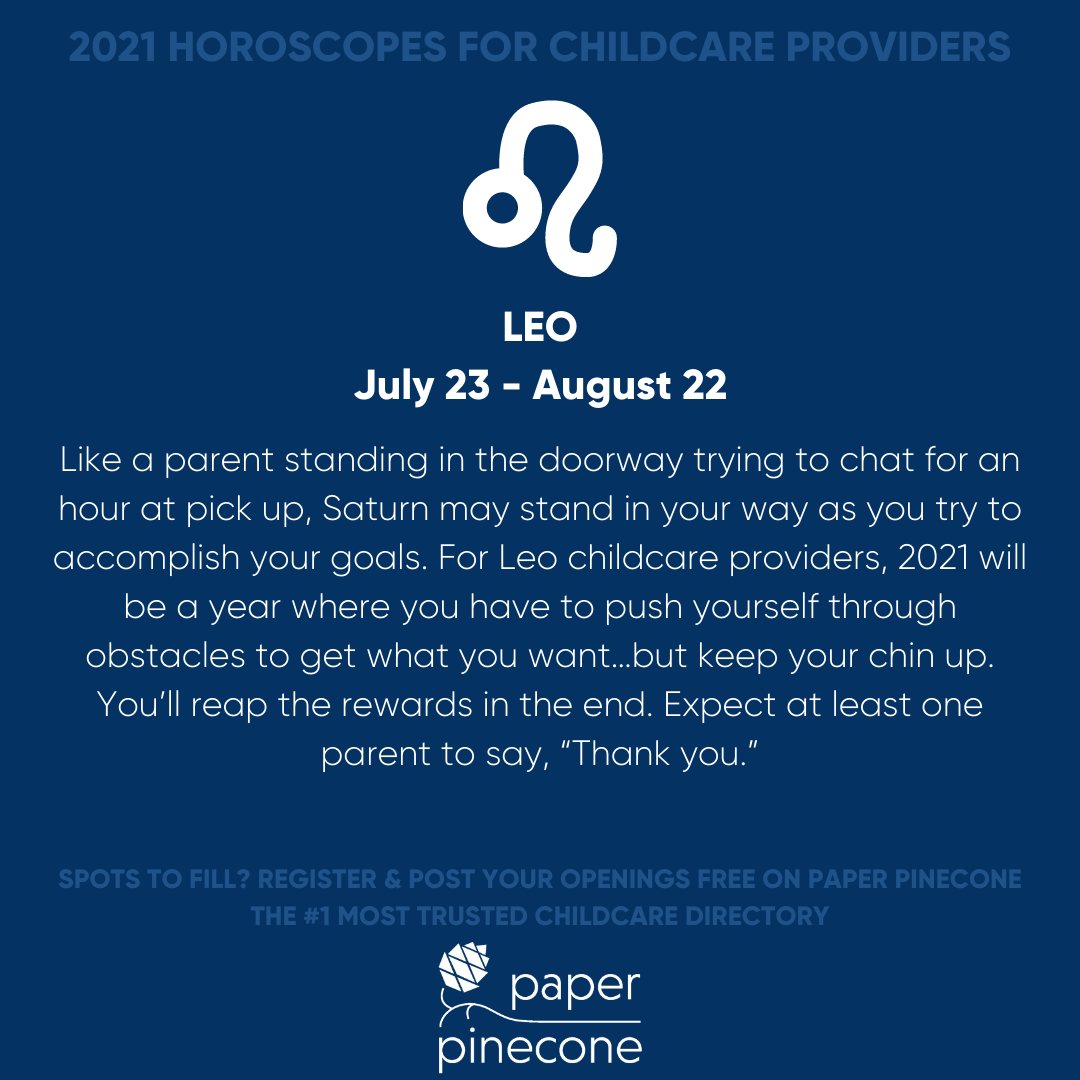 Like a parent standing in the doorway trying to chat for an hour at pick up, Saturn may stand in your way as you try to accomplish your goals. For Leo childcare providers, 2021 will be a year where you have to push yourself through obstacles to get what you want…but keep your chin up. You'll reap the rewards in the end. Expect at least one parent to say, "Thank you."
RELATED: THE 1-QUESTION SURVEY YOU MUST ASK PARENTS
VIRGO
August 23 - September 22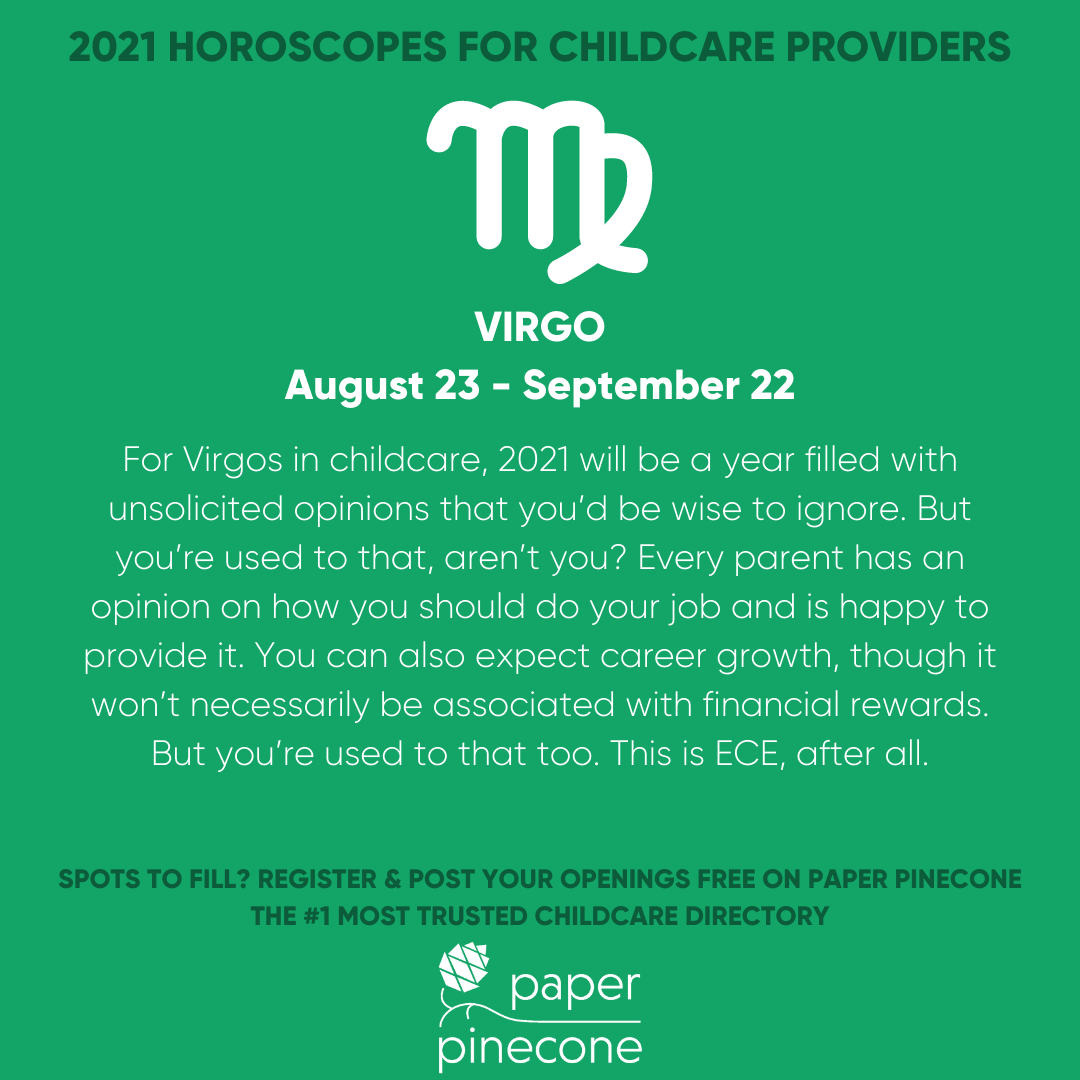 For Virgos in childcare, 2021 will be a year filled with unsolicited opinions that you'd be wise to ignore. But you're used to that, aren't you? Every parent has an opinion on how you should do your job and is happy to provide it. You can also expect career growth, though it won't necessarily be associated with financial rewards. But you're used to that too. This is ECE, after all.
RELATED: 3 TIPS TO GET PARENTS TO PAY TUITION ON TIME
LIBRA
September 23 - October 22
2021 is a year of personal and professional growth. For childcare providers your growth may come by keeping it together when a parent picks up late for the third time in the same week and you know she's been off from work for hours. You will find your career rewarding this year and may even find yourself missing the kiddos during your much-deserved vacation…even though that same mom is complaining about paying you while you're closed.
RELATED: DON'T UPDATE YOUR CONTRACT WITHOUT READING THIS FIRST
SCORPIO
October 23 - November 21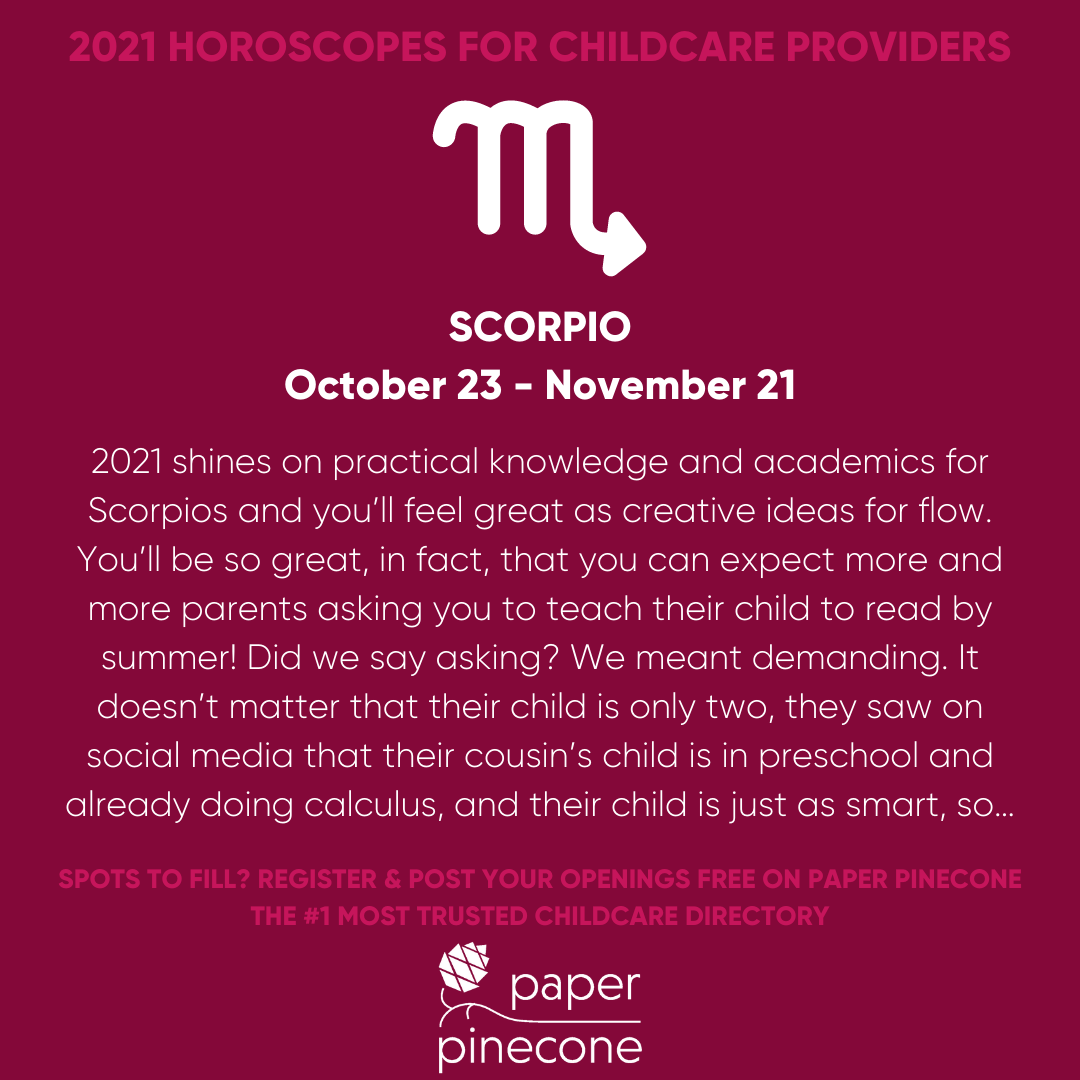 2021 shines on practical knowledge and academics for Scorpios and you'll feel great as creative ideas for flow. You'll be so great, in fact, that you can expect more and more parents asking you to teach their child to read by summer! Did we say asking? We meant demanding. It doesn't matter that their child is only two, they saw on social media that their cousin's child is in preschool and already doing calculus, and their child is just as smart, so…
RELATED: ARE YOU TEACHING KIDS TO WRITE OR TO COMMUNICATE?
SAGITTARIUS
November 22 - December 21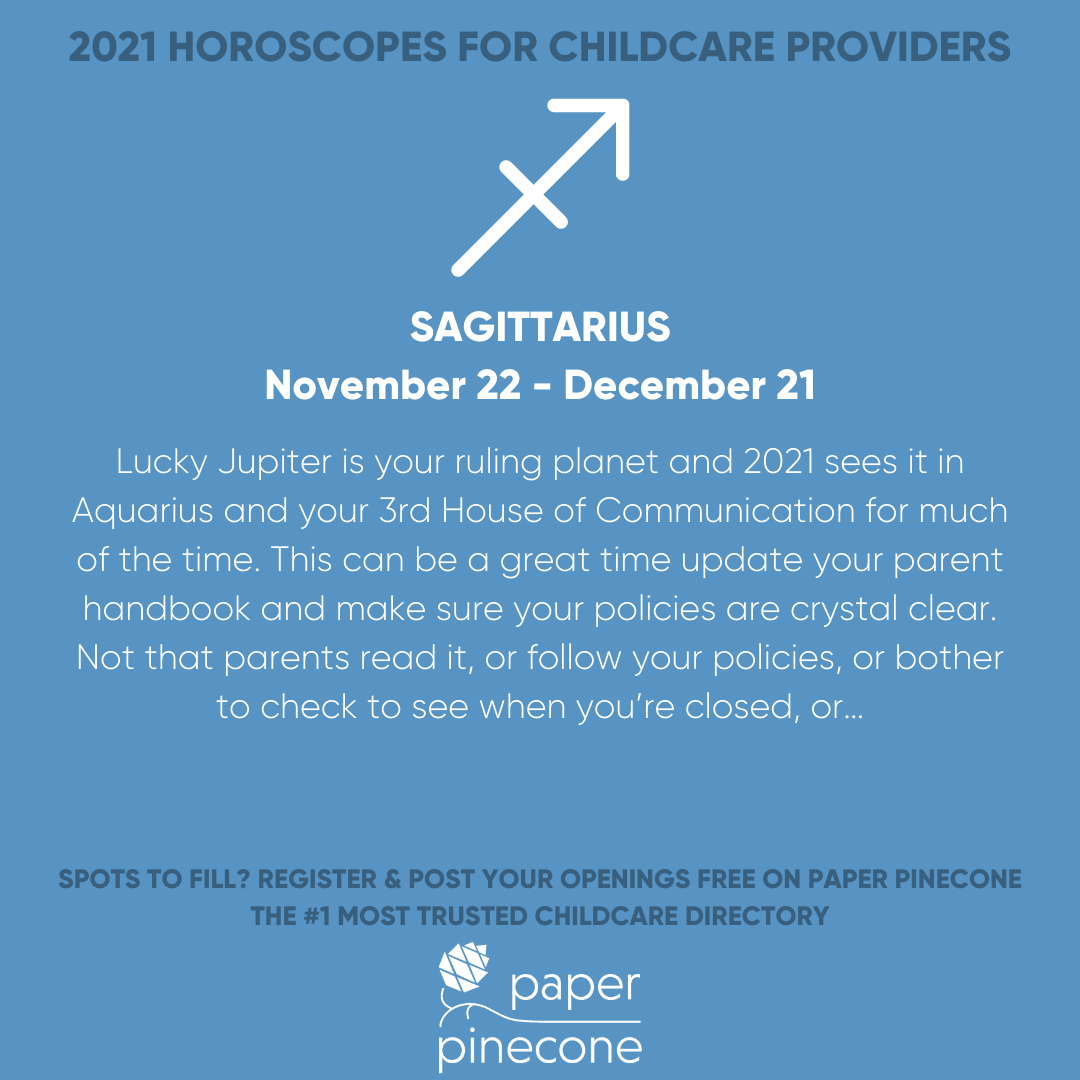 Lucky Jupiter is your ruling planet and 2021 sees it in Aquarius and your 3rd House of Communication for much of the time. This can be a great time update your parent handbook and make sure your policies are crystal clear. Not that parents read it, or follow your policies, or bother to check to see when you're closed, or…
RELATED: NOBODY READS YOUR PARENT HANDBOOK – WHAT YOU CAN DO ABOUT IT
CAPRICORN
December 22 - January 19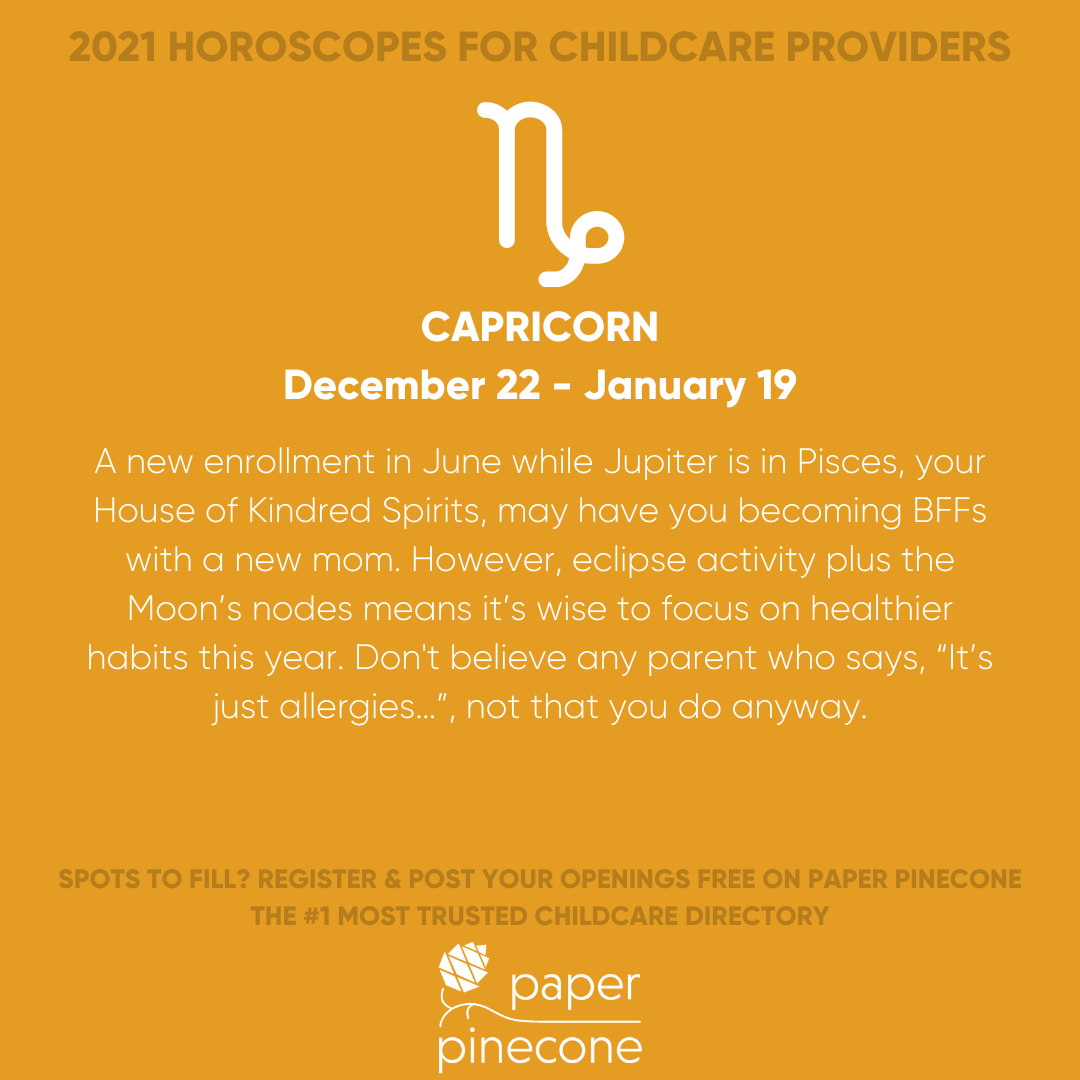 A new enrollment in June while Jupiter is in Pisces, your House of Kindred Spirits, may have you becoming BFFs with a new mom. However, eclipse activity plus the Moon's nodes means it's wise to focus on healthier habits this year. Don't believe any parent who says, "It's just allergies…", not that you do anyway.
RELATED: HUMIDIFIERS MAY HELP STOP THE SPREAD OF COVID-19
AQUARIUS
January 20 - February 18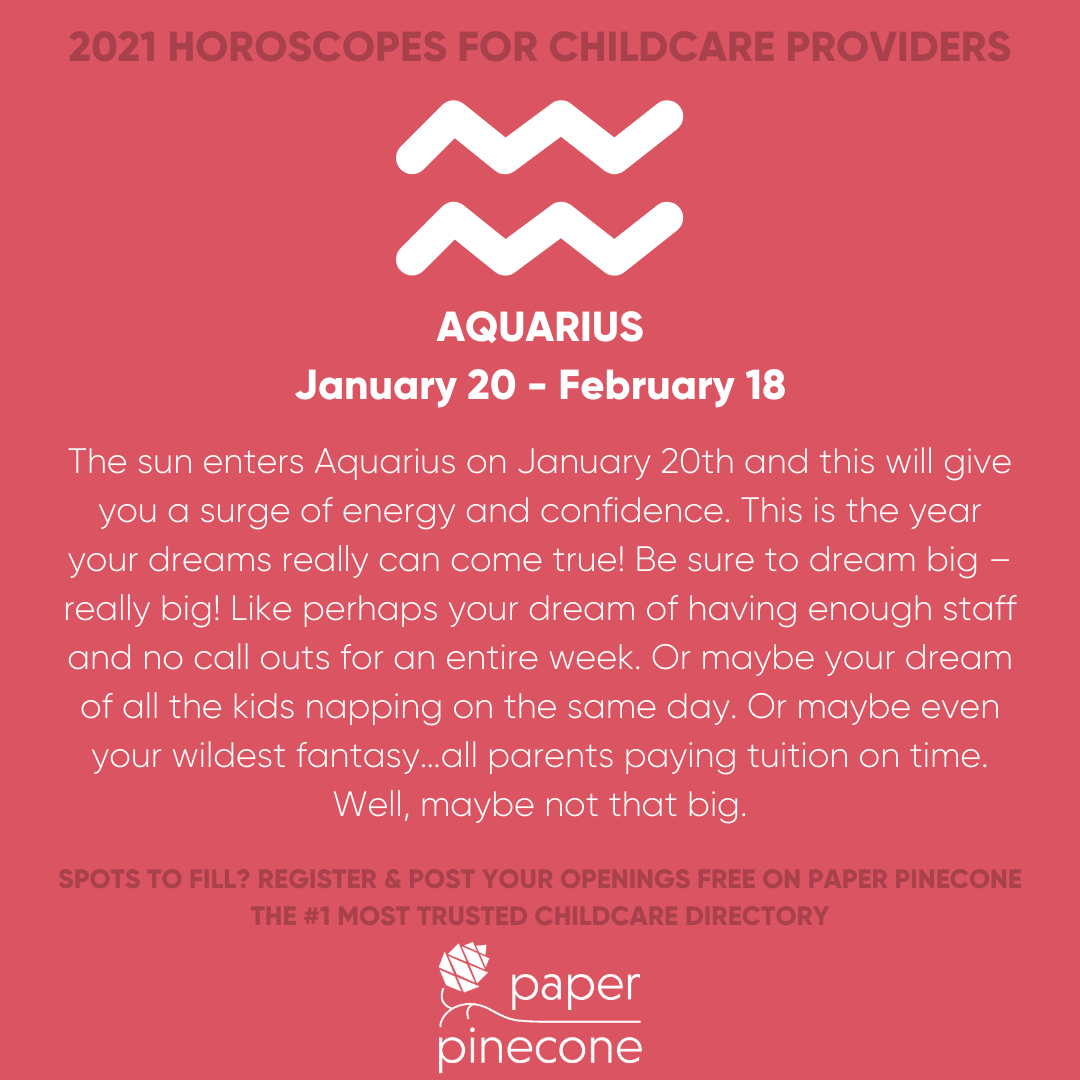 The sun enters Aquarius on January 20th and this will give you a surge of energy and confidence. This is the year your dreams really can come true! Be sure to dream big – really big! Like perhaps your dream of having enough staff and no call outs for an entire week. Or maybe your dream of all the kids napping on the same day. Or maybe even your wildest fantasy…all parents paying tuition on time. Well, maybe not that big.
RELATED: HOW TO FIND & MOTIVATE THE BEST PRESCHOOL TEACHERS
PISCES
February 19 - March 20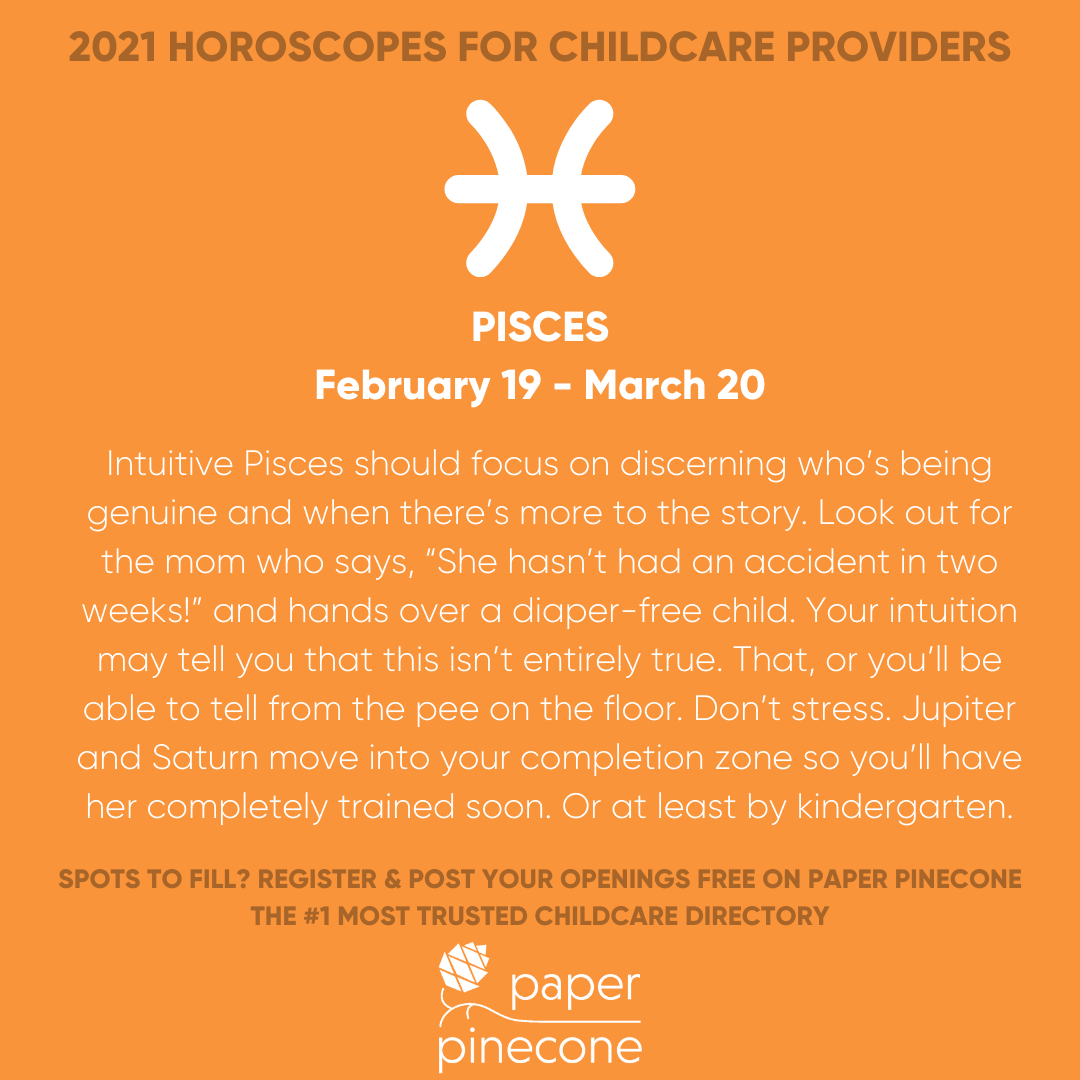 Intuitive Pisces should focus on discerning who's being genuine and when there's more to the story. Look out for the mom who says, "She hasn't had an accident in two weeks!" and hands over a diaper-free child. Your intuition may tell you that this isn't entirely true. That, or you'll be able to tell from the pee on the floor. Don't stress. Jupiter and Saturn move into your completion zone so you'll have her completely trained soon. Or at least by kindergarten.
RELATED: HOW TO HANDLE A BAD REVIEW OF YOUR DAYCARE OR PRESCHOOL