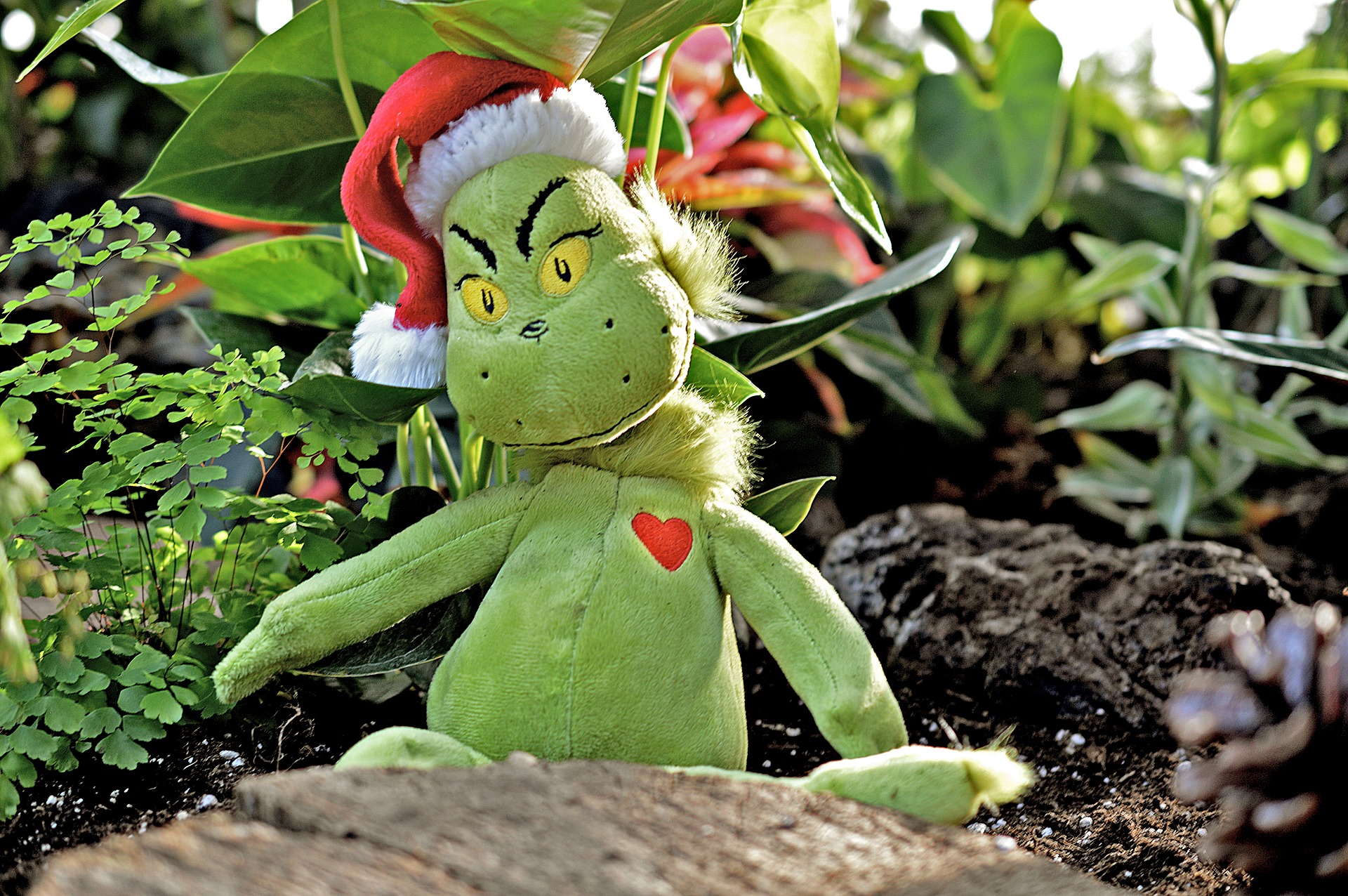 Published Date: 11/28/20
Surprise Grinch Holiday Photos: Harmless Fun or Traumatic Prank?
Picture this: A parent gently wakes their child and happily announces that today is holiday picture day! They eat a quick breakfast and dress their little one in their very best outfit. They drive to a beautiful nature park and wave to the photographer. The child is told to sit on a beautifully decorated armchair amongst the trees. The photographer cheerfully says, "SMILE" and the child gives their most dazzling smile. Suddenly, they feel movement next to them and as they look to the side, a tall figure is towering over them. An unfamiliar green face is scowling, fluffy green hair is covering their body, and long furry fingers are reaching out to the child.
RELATED: KINDNESS ELVES ARE BETTER THAN ELF ON THE SHELF
It's the Grinch!
The child is terrified and that moment is captured – shared on social media for laughs and perhaps it even becomes the family holiday card.
Grinch holiday photos have become increasingly popular in recent years and some people think they're simply hysterical.
FIND THE BEST DAYCARES AND PRESCHOOLS NEAR YOU NOW

"A Photographer Staged a Grinch-Themed Holiday Photo Shoot, and It Does Not Disappoint," reads one headline.
"Hilarious video shows Grinch scare children during holiday photo shoot," reads another.
RELATED: SHOP OUR SMALL BUSINESS HOLIDAY GIFT GUIDE FEATURING BLACK-OWNED BUSINESSES
About the most recent of these Grinch photo shoots to go viral, Café Mom says, "In hindsight, Ales knew that Harlow would have a hilarious reaction to meeting the character."
Hilarious? We beg to differ. And so do psychiatrists.
The problem with Grinch holiday photo shoots & other pranks
Dr. Bess de Guia, respected psychiatry consultant at The Medical City, says, "Instilling undue fear in children can cause damaging psychological scars in the long-term. Such fear may be the root cause of problems like post-traumatic stress disorder, panic attacks and anxiety disorder."
Pranks like Grinch holiday photo shoots can also break bonds of trust with parents.
Eileen Kennedy-Moore, psychologist and author of Kid Confidence: Help Your Child Make Friends, Build Resilience, and Develop Real Self-Esteem, says, "Pranks have a level of aggression in them, and I'm not a fan, especially from parents toward kids."
She says, and we agree, that we shouldn't deliberately cause children to get upset for our own entertainment.
RELATED: SHOP THE BEST CHILDREN'S BOOKS OF 2020
"The thing to remember is that our children are little people with big feelings," Kennedy-Moore said. "We don't want to step on those. … One of our main jobs as parents is to teach kids how to be in a relationship. And I don't think we want to teach them that casual cruelty is OK."
We should also mention that Dr. Seuss Enterprises has sued photographers over these shoots, so you'd be wise to avoid them simply for that reason.
Is it ever okay to prank your child?
Pranks can be great fun, but the parent should always be the butt of the joke – not the child, With Grinch holiday photos, it's most definitely the child who's on the receiving end.
RELATED: POSITIVE DISCIPLINE IS PROVEN TO WORK BETTER THAN PUNISHMENT
Positive Parenting Solutions founder and author of The 'Me, Me, Me' Epidemic: A Step-by-Step Guide to Raising Capable, Grateful Kids in an Over-Entitled World, says, "If a prank could cause stress, anxiety or sadness for the child or make him feel foolish, then don't do it."
However, goofiness, humor, and jokes that the whole family is in on are great say psychiatrists. And, of course, anticipating how your child will handle things. Sensitive children may have nightmares for weeks for something an adult considers a harmless prank.
Dr. Amanda Gummer, founder of Dr. Gummer's Good Play Guide and a psychologist who specializes in child development says, "It's all about balance and knowing your kids."
What to do instead of Grinch holiday photo shoots
Being funny is good for your family and it's important to understand different types of humor and to foster your child's funny bone.
If pranks are your thing, again, stick with harmless ones but remember that even they may not be harmless to sensitive children.
If you're having a family holiday photo shoot, incorporate props, backdrops, matching family pajamas, silly pet outfits, ugly holiday sweaters, or these fun mug shot signs.
If you're taking pictures with Santa, read our tips for making your photo shoot run smoothly.
Make sure jokes are something the whole family can enjoy instead of pranks that come at the expense of your child. It will help make the holidays more enjoyable for all.
Paper Pinecone is the #1 most trusted childcare directory giving parents access to the best preschools and best daycares near you. Parents always search free and childcare providers always list free. Send inquiries about the best daycares and preschools to questions@paperpinecone.com.
This post may contain affiliate links.