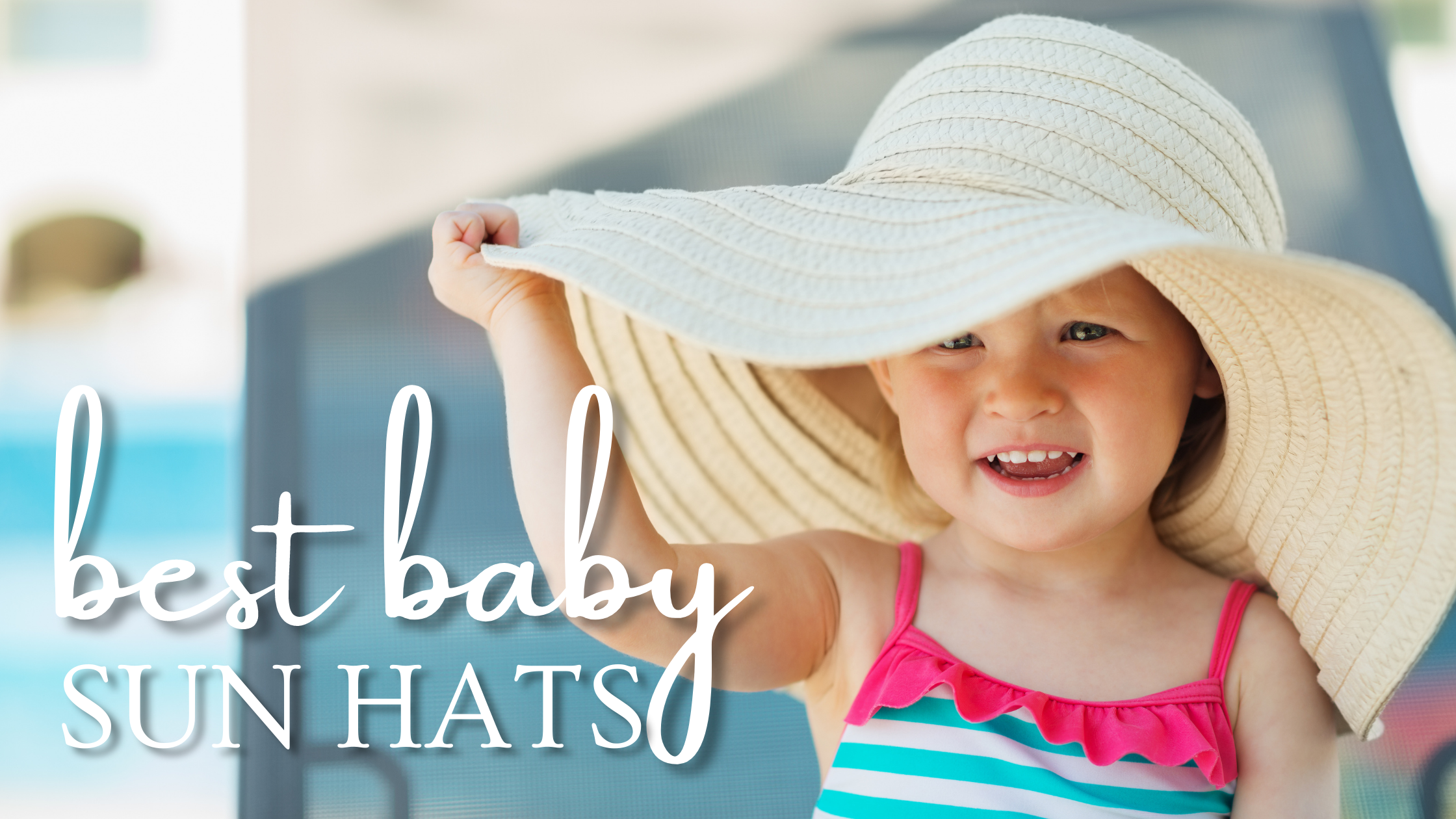 Published Date: 01/20/23
If you only have a minute…
Hats help protect your baby from harmful UV rays.

To keep your baby safe from the sun, avoid the peak hours of 10 am - 4 pm, keep them hydrated, and use a sun hat in combination with sunscreen.

Choose a baby sun hat made from light and breathable materials, comes with a wide brim and neck flap, and can be adjusted for size and comfort.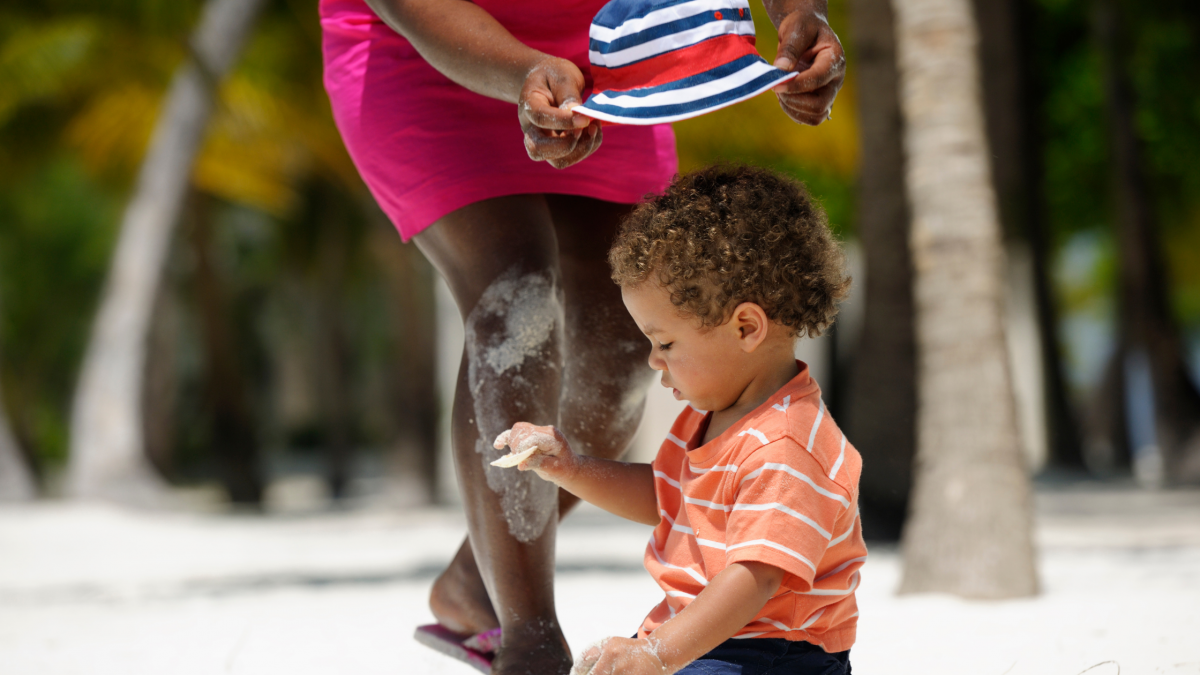 In this article:
Why are sun hats important for babies?
A bright and sunny day at the beach may be fun, your baby could be exposed to harmful UV rays that can cause damage and even skin cancer if they don't have adequate protection. Sun hats can protect your baby from 85% of the sun's rays that reflect off sand, water, and concrete, so you can relax and enjoy the day.
Don't miss: The Best Infant Car Seats
How is a baby sun hat different from a regular hat?
Sun hats offer extra sun protection. Many offer features like a wide brim, UPF 50 + material and neck flaps to provide maximum UV protection.
When should a baby start wearing a sun hat?
Your baby should start wearing hats before they develop fine motor skills, no later than three months old.  This way, they will get used to the feeling and will be less likely to take it off. And of course, if they wear hats that come with a velcro chin strap, they are much less likely to take them off.
Should my toddler wear a sun hat?
Your toddler's sensitive skin is still prone to sun damage without the use of protective gear. Opt for toddler sun hats that offers a snug fit and UPF 50 + fabric for the best sun protection.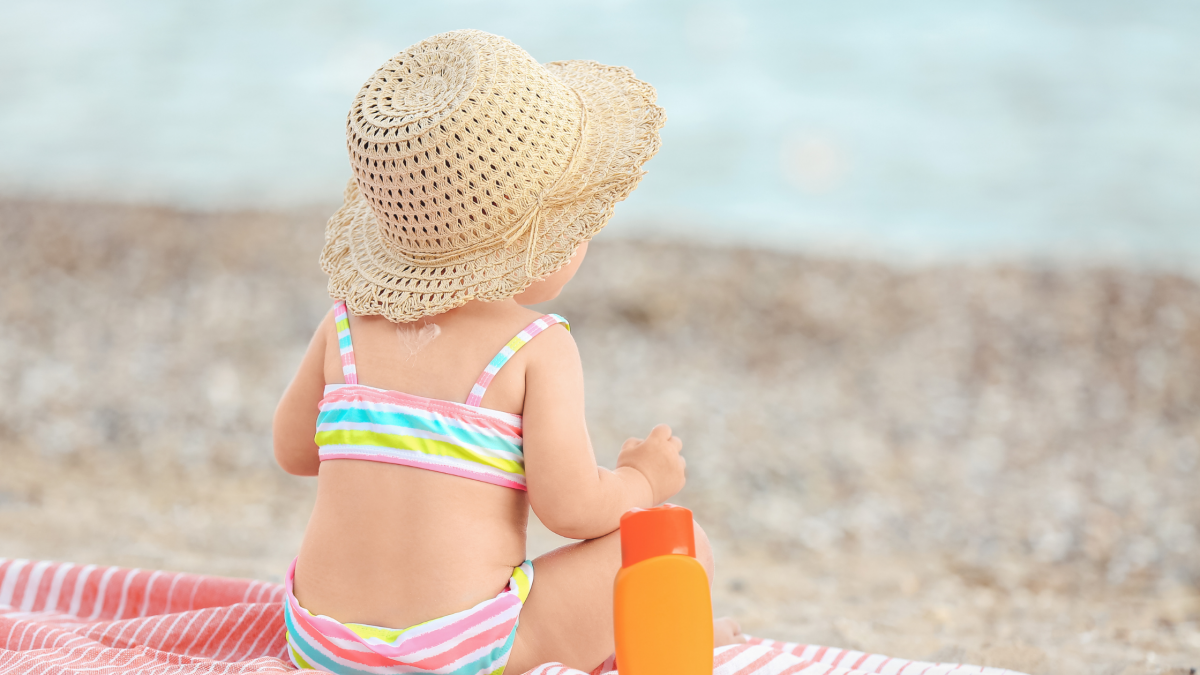 How do I get my baby to keep their sun hat on?
It seems like an impossible task...keeping a hat on your little one. But it is possible, especially if you start when kids are young. Begin sun protection from the earliest age before your baby develops fine motor skills and is able to pull the hat off their head. They'll get used to the feeling and will be more likely to leave it on once they're able.
If you've got a toddler who's not used to a hat, head to the shop and have them pick their own sun hat. Letting them choose something they love, like a bucket hat or one with an extra wide brim, will give toddlers both the control and sun protection they need. Just be sure that it's the perfect fit.
You'll Also Enjoy: The Best Montessori Wooden Toys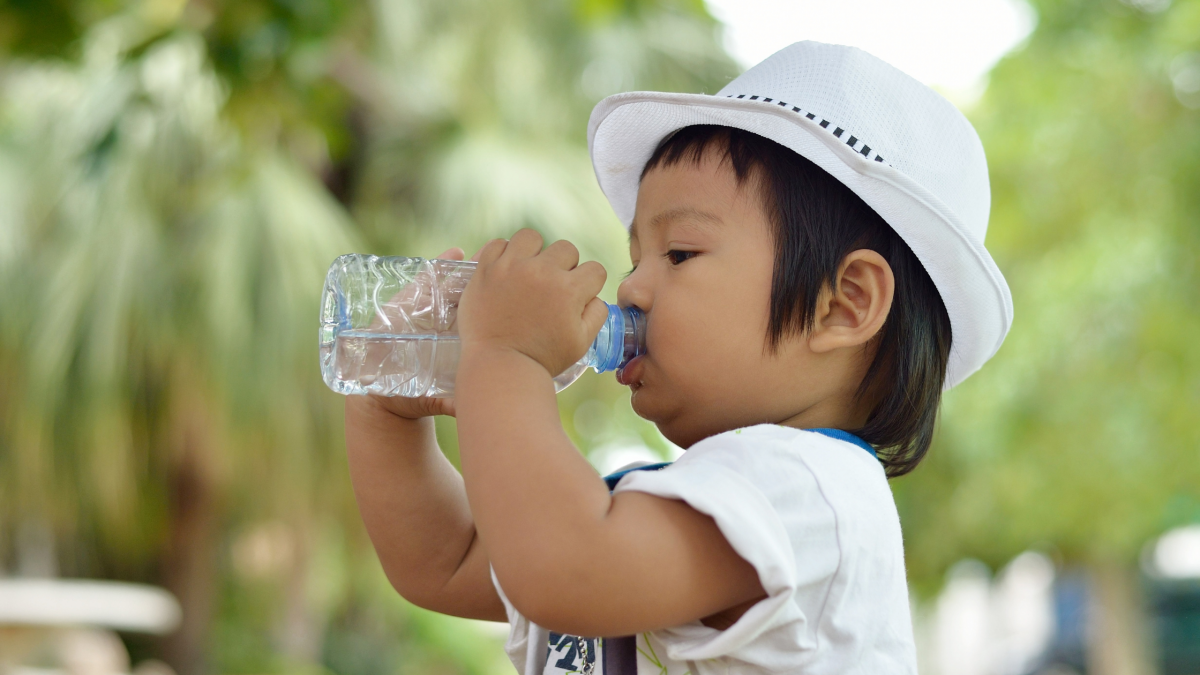 What are the best ways to keep my baby safe in the sun?
There are several ways to keep your baby safe in the sun. 
"Eco friendly, safe, bpa-free - bamboo plates with lids"
Sun safety tips to keep infants safe
Sun hats - Hats, especially ones with UPF 50 + fabric help prevent sun damage on your baby's head, face, ears, and neck.

Avoid peak hours - Peak exposure is usually between 10 am - 4 pm. Try to hit the beach early in the morning or late in the day to keep kids safe from the sun.

Stay hydrated - It's important to keep babies hydrated with breastmilk or formula. Infants over six months can also have four to eight ounces of water per day.

Sunscreen - Look for SPF 30 - SPF 50 and one that contains titanium dioxide or zinc oxide. Don't forget to reapply as needed for all day sun protection.

Shade - The best protection is staying out of the sun's rays. Use a pop-up tent or beach umbrella if staying in the shade isn't possible.

Full coverage clothing - Choose lightweight clothing that covers arms and legs to help prevent your baby from harmful rays.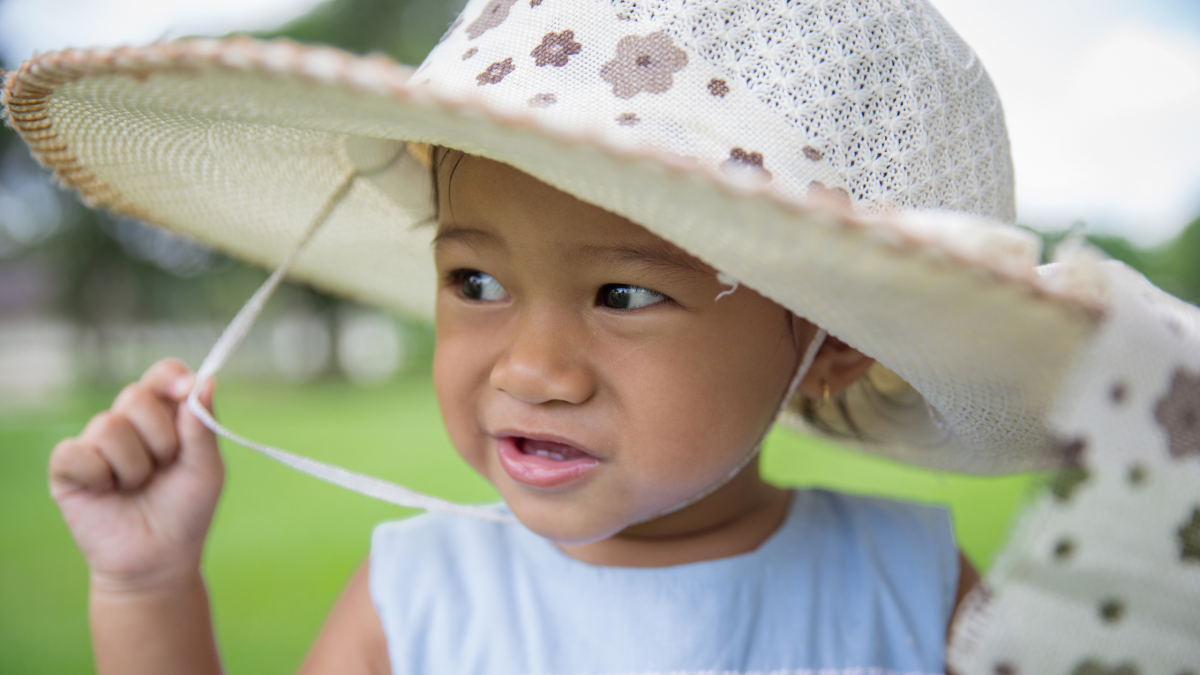 Are sun hats as good as sunscreen?
While most sun hats block up to 98% of direct UV rays, they may only block up to 50% of indirect sunlight. Use both sunscreen and a hat with a wide brim for the best protection. 
Must read: How to Evaluate a Daycare Center
What should you look for in a baby sun hat?
Hats aren't just about style - some offer better sun protection than others. Here's what you should consider when buying your baby or toddler a hat.
Material - The material should be lightweight and shouldn't contain chemicals like para-aminobenzoic acid, which can irritate the skin.  The material should be UPF 50 + to block the direct and indirect UV rays.

Brim - Opt for a wide brim of at least 2 inches to protect your baby's eyes and face, and be sure that it fits snuggly and comfortably on your baby's head.

Neck Protection - Consider purchasing a baby sun hat with added protection. Some have flaps and capes that hang down so the ears and neck have added protection. 

Size & fit - Pick the right size hat for your baby or toddler. Many have features that make the hat adjustable, which extends the longevity and ensures a great fit.
You'll want to know: How to Encourage Independent Play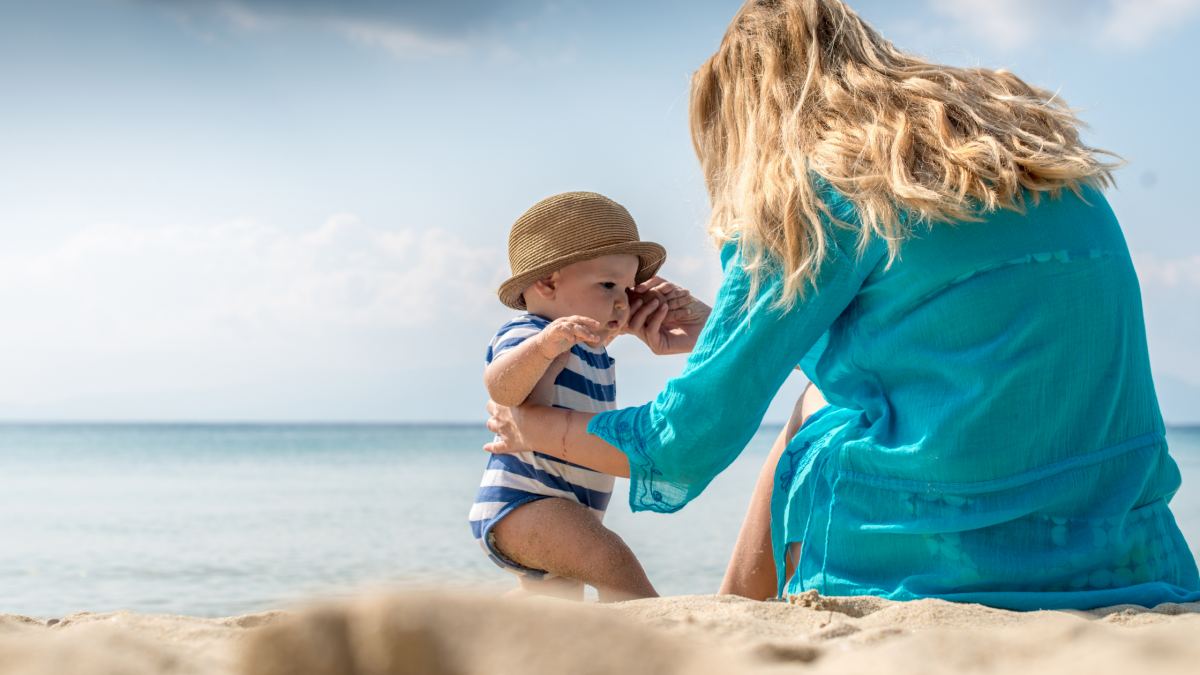 2022's Best Sun Hats for Babies
Best Breathable Baby Sun Hats
This adorable hat by green sprouts is perfect for the summer sun. It's made from quick drying polyester and it keeps kids cool all day. With a tie chin strap and elasticized back, you can create a custom fit. You'll find it in five colors and three sizes so it's perfect for a baby or a toddler.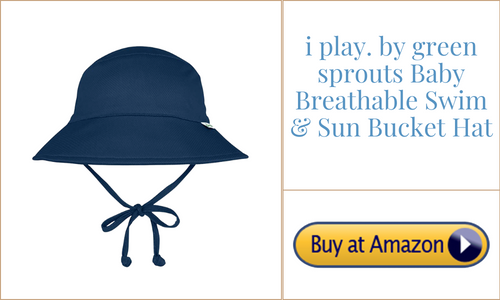 It's impossible for kids not to look adorable in this too cute sun bonnet. It offers style, ultimate comfort, and sun protection all summer long. The lightweight material is 100% cotton muslin, making it breathable and cool. The chin strap ties to secure it in place and you'll find it in seven colors. Size range from newborn to 24 months.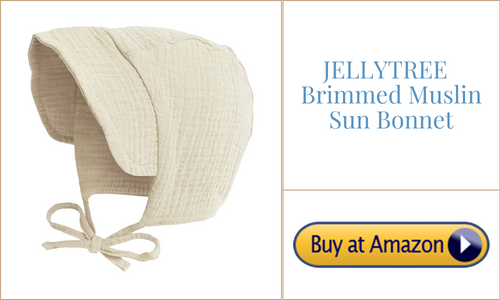 Best Baby Sun Hat for Windy Days
When the wind picks up at the beach, hats can go flying. But, this 95% cotton cap from Furtalk will stay put thanks to the adjustable toggle. It offers UPF 50 + sun protection and a neck flap that covers the ears. Available in three sizes and seven colors.
Cutest Baby Sun Hats
Who says your baby's sun hat can have style and be functional?  This cute cap comes with the highest sun protection (UPF 50 +), a drawstring closure, and an inner sweatband to keep children comfy all summer. Great for any age, it comes in a range of sizes offering protection for a baby, toddler, or older kid. Eleven colors means all kids can find one they love to keep them stylish and safe.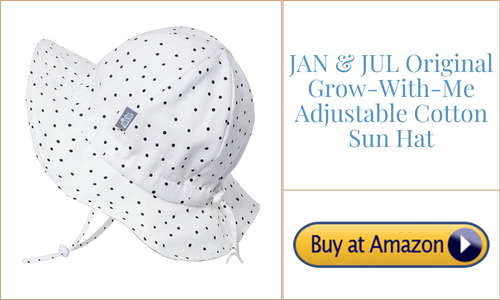 Stripes for summer style? Yes, please! Hit the beach with this UPF 50 + hat and your newborn and rest assured that they've got maximum sun protection. As a bonus, the crushable brim means it's easy to stuff in a bag whether you're heading out for a beach trip or just a stroll in the park.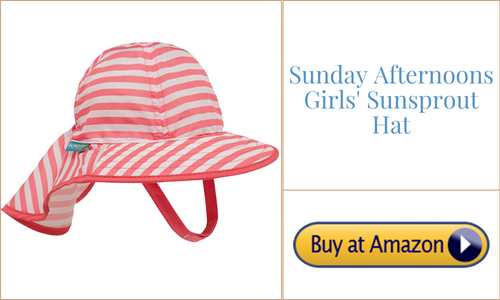 Best Personalized Baby Sun Hat
This wide-brim classic baby sun hat not only comes with ultimate UPF 50 + protection, but it can be personalized with your baby's name. There are four sizes available from newborn to 18 months, and you can choose the font style and embroidery thread.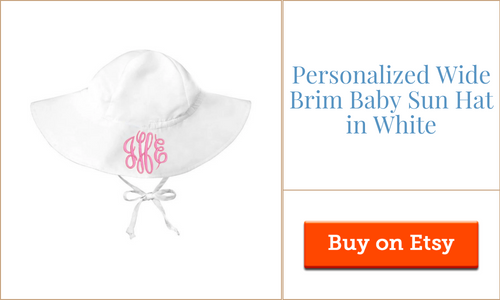 Best Reversible Sun Hat
Two hats in one! This reversible hat has solid colors on one side and fun prints on the other. Made from UPF 50 + fabric, it has a velcro chin strap and offers a size range from newborn to toddler. Choose from a variety of fun prints for summer days at the beach.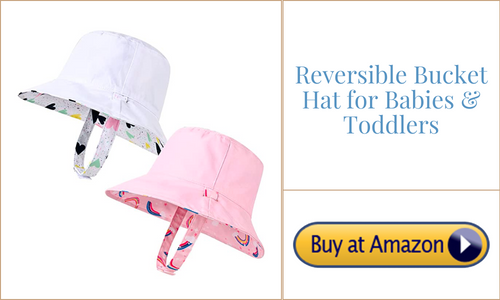 Best Sun Hats with Neck Protection
This may be the ultimate sun hat to keep baby's skin safe. The brim is extra wide, it's waterproof, has the longest neck flap we've seen, includes a drawstring for a great fit, and offers UPF 50 + protection. Available in three colors to fit kids from three months to eight years. Summer fun, here you come!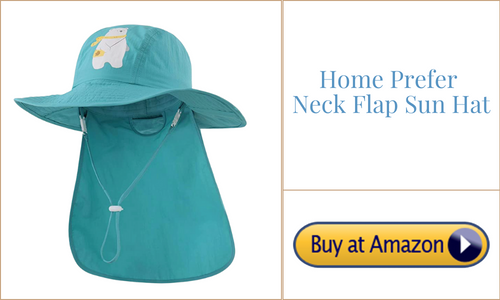 Best Toddler Sun Hats
There's nothing cuter than a smile on a child's face...and a smiley face on a bucket hat. This hat features a wide brim and adjustable toggle for the perfect fit. You can smile and relax at the beach knowing this UPF 50 + hat is giving your toddler the best sun protection.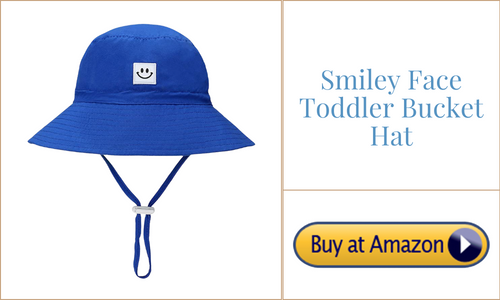 Dinosaurs are always a hit with toddlers! This adorable bucket hat has a sturdy wide brim and an adjustable strap to keep it securely in place. And if dinosaurs aren't their thing, you'll find ocean themes and solid colors in a variety of sizes.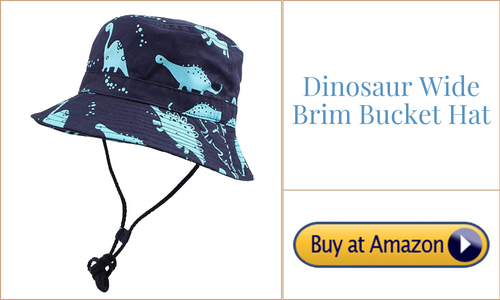 Best Baseball Caps for Sunny Days
Too cute! This baseball cap with dots and bows is made from UPF 50 + material and does a great job and protecting your toddler's face and eyes. It's available in two sizes for kids ages 3-11 and two beautiful spring colors.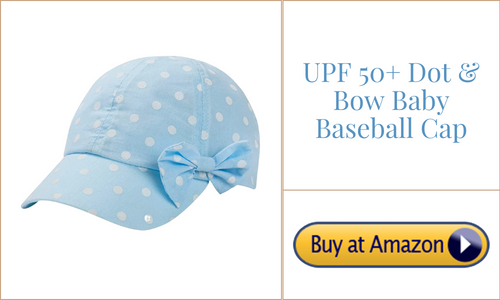 Infants as young as three months and kids as old as 8 will look cool and stay cool in this baseball cap. It comes in five sizes, has an adjustable velcro back, and offers 11 styles so you're sure to find the right hat for any kid.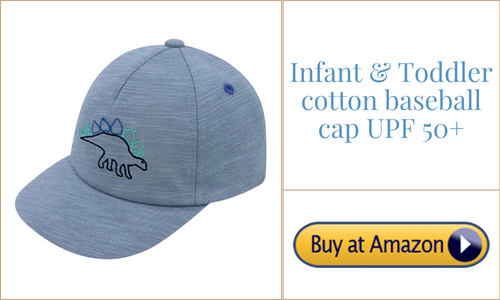 By Crystal Teegarden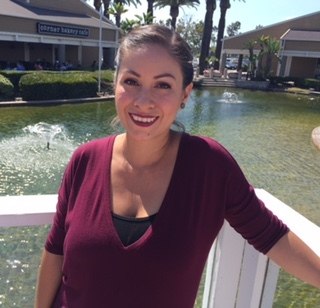 Crystal is a gentle parenting mama who loves reading, cooking, and exploring new trails with her husband and son. She is from Los Angeles but currently lives in Portland, OR where she is eating all the vegan food.
Paper Pinecone is the #1 most trusted childcare directory giving parents access to the best preschools and best daycares near you. Parents always search free and childcare providers always list free. Account sign up is always available. Send inquiries about the best daycares and preschools to questions@paperpinecone.com. This post contains affiliate links.