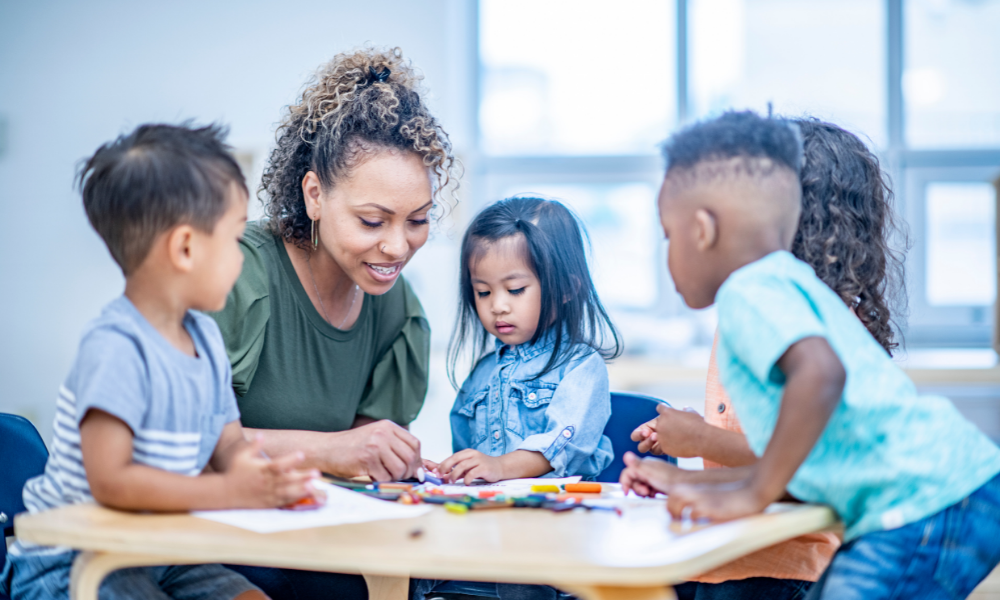 Published Date: 12/08/21
30-Second summary
Daycare and preschool both offer child care
One of the key differences between preschool and daycare is the the age groups they serve
Preschools have an early childhood education focus and aim to prepare children for kindergarten
Daycare provides a safe environment with lots of free play for infants and younger children
Child care for younger children can often cost more than care for older kids
Many preschools follow a school schedule (hours and holiday closings) whereas a daycare typically offers full day programs with longer hours
Child care center, home daycare, preschool: Which is right for your family? 
Many people use daycare and preschool interchangeably but the offerings and benefits of daycare and preschool are not the same. It's important to understand the differences so you can choose the right child care for your family
The ages served, program offerings, hours, and costs will all be deciding factors in choosing between daycare and preschool for your child.
The goal of preschool vs the goal of daycare
Both daycare and preschools should provide a safe and secure place for children to connect with engaging care givers when away from their parents but the biggest difference is the purpose between the two. Let's look at the main goal of each type of child care.
A preschool program
Ensures young children between ages two and five have a safe and engaging environment
Prepares children to enter kindergarten with an emphasis on early education, both academic and social emotional
May offer different methodologies which can help parents tie the way their child learns in to their parenting style (such with as Montessori parenting)
Might be separate children by age group or have children ages 3-5 in one class
Often follow a school year schedule with time off for summer and holidays
Daycare programs
Provides safe child care for young children, and many go from infancy through school-age
Generally offers more free play with a focus on social interaction, a wider age range, and longer hours
May offer flexible child care options with drop-in care, after school care, and holiday break care
Separates children by age in center-based care, but groups a wide age range together in home-based care
May provide more scheduling options, especially if you enroll at a child care center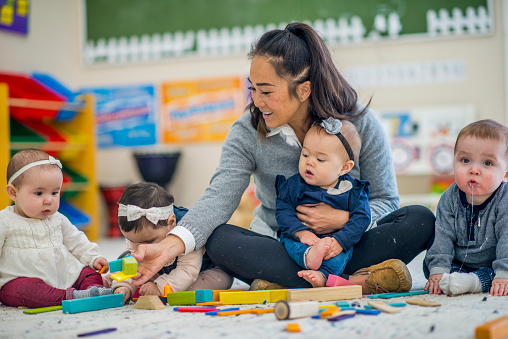 Search Paper Pinecone to find high quality child care in your area.
What are the similarities between daycare and preschool?
Both preschools and daycares aim to provide children with a safe place for whole-child growth, including social emotional development, playful learning, physical activity, and growing their communication skills. Children's brains are developing rapidly during their early years and nurturing connections between a child and their caregiver plays a big role in healthy brain development.
Studies have shown that the most important thing to look for in child care is high quality interactions between children and providers. Children may spend many hours a week with their care givers and it's important that they feel safe and secure in their teachers care.
Both types of care should allow children to have free and structured play, hands on learning through sensory play, and plenty of outdoor time. Music, reading, and art are also usually part of well balanced child care.
What are the differences between daycare and preschool?
Ages served
In general, daycare is for infants and younger kids, though some may offer after school care for an older age group. Center-based daycare often offers more class options compared to in-home child care care with young children being divided into infant and toddler classes. Younger and older toddlers can be further grouped separately due to the fact that they have very different physical and communication abilities.
Most preschools accept children three to five, though some accept younger children. They often places a stronger emphasis on education, especially academics as they hope to prepare kids for kindergarten.
In-home daycare will sometime offer a preschool curriculum for children ages 3-5. However, since you'll find infants through school age in the same "class," there are often fewer typical preschool activities.
Child care hours & schedules
Whether you are considering in home or center based child care, the schedule offerings are one of the major deciding factors. Some child care facilities may only offer half day options or two to four day child care.
A big difference to note is that most preschools operate on a traditional school schedule with days off for educators, holiday closures, winter and summer breaks, and other no school days. This can greatly affect working parents who rely on child care year round.
Working parents (unless they are a teacher themselves) almost always need year round care. Some elementary schools have child care facilities that offer child care before and after school hours.
"Eco friendly, safe, bpa-free - bamboo plates with lids"
Child to caregiver ratio
The child to teacher ratio is an important factor to consider and varies across the nation. Many parents want their child to have one-on-one care and and the lower the child to teacher ratio, the more individualized care each child can receive.
By law, ratios are based on a child's age. For infants in a daycare center, child care ratios range from 1:3 to 1:5, depending on the state.
As your child gets older, the ratio will change, and state laws generally permit a 1:12 child care ratio for ages 3-5, though some child care centers will operate with a lower ratio to provide children more personalized attention.
For family or in-home child care, children are in a mixed-age environment and therefore the ratio is different. You might have one adult caring for up to ten children, with a limit of two to three infants at a time.
Potty training
You might find that in both child care centers and in-home programs, potty training is required once a child is preschool-age. This is generally between 2.5-3.
Having your child potty trained by a specific date is not developmentally appropriate if your child is not ready. However, because of child care regulations, facilities are not always equipped with changing areas, especially in preschool classrooms. And with the higher ratio, preschool staff can't change diapers and effectively manage a dozen young children. Since daycare typically serves children ages 0-3, daycare staff are expected to change diapers.
It's unfortunate, but often preschools simply can't have a child in diapers. If your child is hesitant to potty train, this is definitely something to consider when looking at child care options.
RELATED ARTICLE: POTTY TRAINING TIPS & TRICKS
What do children learn in daycare and preschool?
While there are many daycares and preschools that operate separately, some early childhood education centers may incorporate both, with daycare for the youngest children and a preschool, or pre k option for older children. This is a great choice for parents with several children in different age groups or who want their young child to grow within the same facility.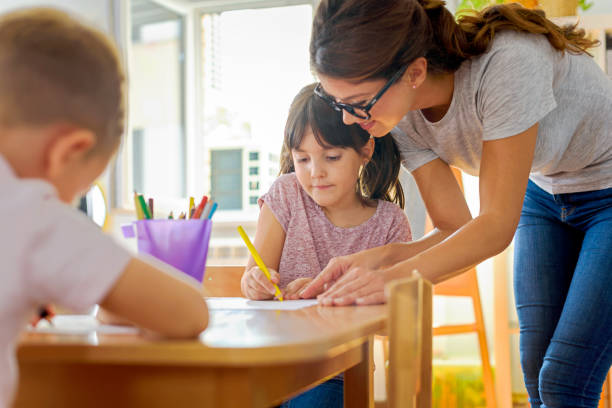 High quality preschool has lifelong benefits.
What do children learn in preschool?
Children typically enter kindergarten at age five, depending on their birthday, and kids younger that that can get a jump start with preschool. You'll find pre-kindergarten offered at most preschools as well as at the local public school in many areas as well.
When considering childcare options, it's important to understand that the primary focus of early childhood education is, or at least should be, social emotional development. Children must begin to develop life skills, like empathy and be set on the path to responsible decision making (a skill that cannot be fully realized until the prefrontal cortex is fully developed around age 25!).
Any child care program should take a play-based approach to learning.
What do children learn in daycare?
In-home daycare and daycare centers aren't always just playful child care, they also provide education opportunities and learning activities to enhance the curious mind of your child. Young children learn every day through play even without a set curriculum or lesson plans in place.
Fine motor skills, communication skills, creativity, and physical education skills are all learned through hands on play. More time is often spent in free-play and informal learning experiences, preferably utilizing music, art, and sensory play.
Be sure to ask how your child's day will be spent when considering daycare centers or in-home care. Some in-home care might offer a mix of a preschool and daycare for children of different ages.
RELATED: WHAT IS PLAY-BASED LEARNING AND DOES IT PREPARE YOUR CHILD FOR KINDERGARTEN?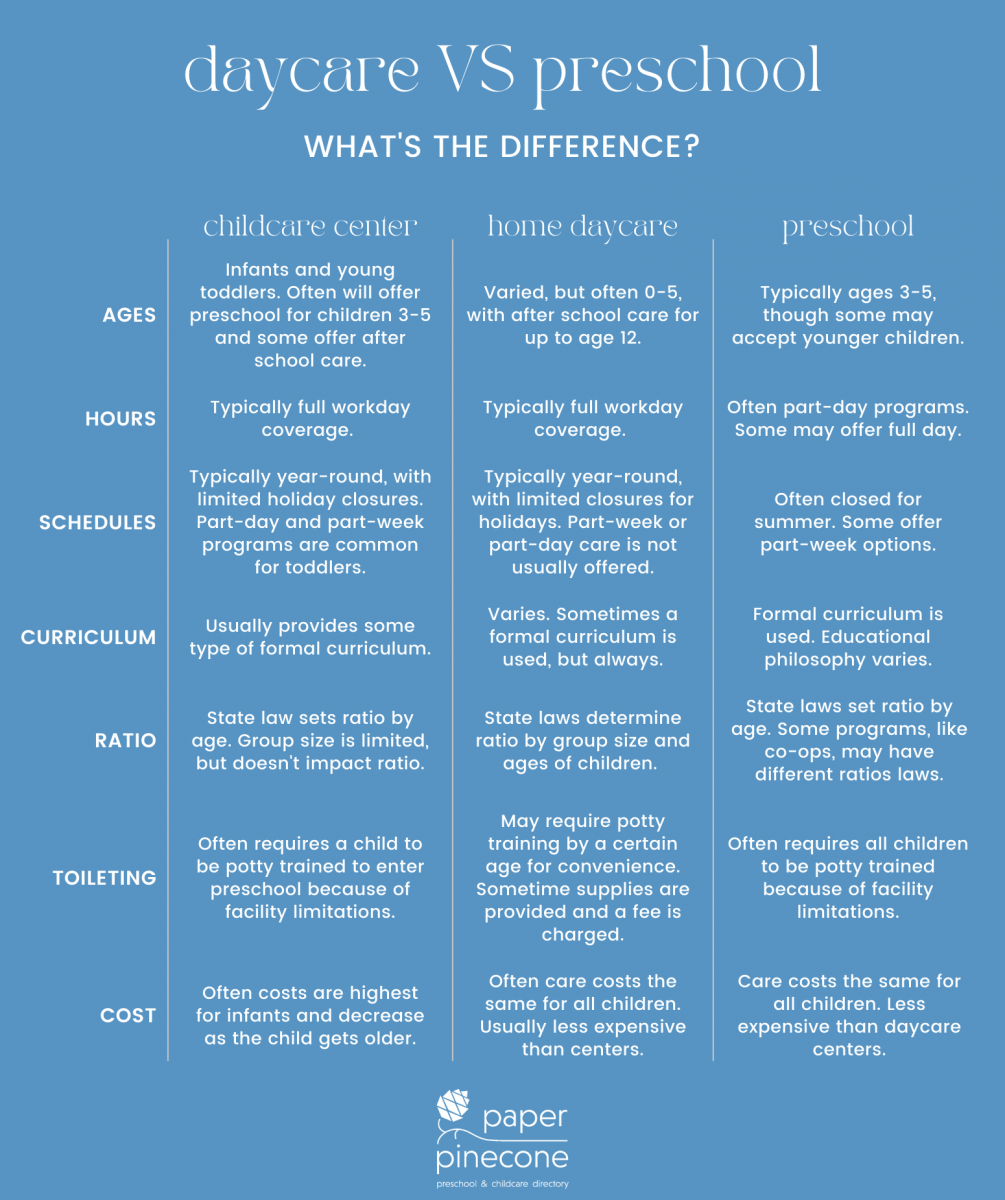 Is pre-k different from preschool?
Pre-k describes the final year of preschool before entering kindergarten. Some preschools specifically title a classroom of 4- and 5-year-olds pre-kindergarten and others don't. Within a preschool, there is often more emphasis placed on academics in a pre-kindergarten class than in younger classrooms. However, all academics should be taught through play-based methods and social emotional skills should still be the focus, as they are more important in early childhood.
Child care costs: daycare vs preschool
Child care costs vary greatly state to state, and your costs will vary depending on factors such as what type of childcare you choose, in home or center based, the age of your child, how many children you have, and how many hours and days a week you need care.
Is preschool cheaper than daycare? 
In general, daycare costs more than preschool because infants require more direct care from teachers and there is a much lower student to teacher ratio than compared to older kids.
Choosing a private preschool with a specific philosophy (such as Montessori or Waldorf) may end up costing significantly more than daycare. Private preschools often have a high tuition where public preschool is free but often limited.
How much does public preschool cost?
As of this writing, Head Start is the only federally funded public preschool program in the U.S. The program is free and serves low-income families across the country. Currently, the government is working to expand access to free preschool through additional federal programs.
State funded programs are also available in some areas. The cost and availability of those programs varies greatly. While some are free, others operate on a sliding scale, with tuition tied to income, and others charge a flat tuition rate to all students.
Public preschool may also be funded at the city level and like state funded preschool, availability and cost varies greatly. 
Cost of early childhood education by state
So how does your state compare? You can look up your state to see the average annual price for infant care across the U.S. at Child Care Aware of America. The annual cost of child care is frequently more expensive than public four-year college tuition.
With child care being a huge portion of a family's monthly bills, it's not surprising that it is an important financial consideration for those considering a move across the country. You can view the average cost of child care by state to see if your state is one of the most (or least expensive states) for child care.
Are in-home daycares cheaper than child care centers?
For parents looking for a way to save money, they often choose in home care which typically costs less than a child care center because they have less overhead costs and they can pass those savings on to families. When considering in-home child care, be sure to look into licensing requirements and qualifications. You can get some facts on in home care with the National Association for Family Child Care.
RELATED: CHILD CARE CENTERS VS HOME DAYCARE - WHICH IS BETTER?
What should you look for in a child care provider?
Not all child care is created equal and the health and safety of your child should be the top priority. Licensing requirements vary from state to state. To check your state's child care requirements for validation purposes, you can check the National Database of Child Care Licensing Regulations for center based programs and in-home child care.
Licensing & certifications
If required in your state, both in-home child care and child care centers should have an up-to-date child care license, food handlers card, background check, and they should be certified in First Aid and CPR for infants and toddlers. Child care providers are also mandated reporters of child abuse and should have mandated reported training. Parents may want to look into some of these when considering care with a family member.
RELATED: THE MOST IMPORTANT THING TO LOOK FOR IN A CHILDCARE PROVIDER
The requirements for daycare teachers and preschool teachers also vary by state, with some states requiring college credit to work in a child care center. The same requirements do not apply to offer in-home child care. Because of this, often preschool teachers have more formal training and center-based child care may require more credentials.
Child Care FAQs
Should I enroll my child in daycare or preschool?
It depends on your individual family needs, mainly the age of your child and the hours you need child care. Daycare is typically for infants and toddlers with full time child care though they may offer after school care and other flexible options. Preschool is for children between the ages of three and five and typically follow a traditional school schedule with a focus on kindergarten preparedness.
How can I find child care options in my area?
Word of mouth referrals and social media groups are often great resources to find child care. Paper Pinecone is a directory of child care programs that allows you to search by locaton and filter. by your specific needs, like ages accepted and hours of operation. 
What are the benefits of preschool?
The lifelong benefits of high quality early childhood education are numerous. Preschool is a wonderful way to prepare your child for kindergarten when it comes to learning their numbers and letters but it is mainly beneficial because your child will build a strong foundation for their future. Preschool can help your child strengthen their social and emotional development, be comfortable with a schedule, grow their communication skills, and build friendships while learning teamwork.
What are the different preschool philosophies?
The most common preschool philosophies are: Reggio Emilia, Montessori, Waldorf, forest/outdoor, language immersion, academic, traditional, and play-based.
By Crystal Teegarden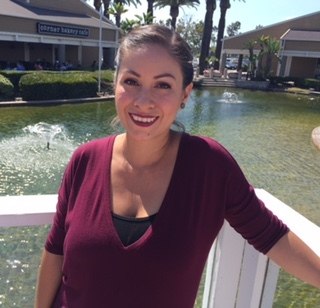 Crystal is a gentle parenting mama who loves reading, cooking, and exploring new trails with her husband and son. She is from Los Angeles but currently lives in Portland, OR where she is eating all the vegan food.
Paper Pinecone is the #1 most trusted childcare directory giving parents access to the best preschools and best daycares near you. Parents always search free and childcare providers always list free. Send inquiries about the best daycares and preschools to questions@paperpinecone.com.