Published Date: 10/11/21
30 Second Summary
A Montessori floor bed fosters freedom of movement, independence, and self-reliance because the mattress is low to the ground

Children are encouraged to explore their surroundings - and the world - when they're not restricted by a crib

A family may worry that a child will get themselves off the mattress and avoid sleep, but young children don't fight their biological need for sleep the way adults do

A consistent routine, as well as using a floor bed from early ages can also help prevent a child from playing instead of sleeping

The key principles of the Montessori method are: respect for the child, the absorbent mind, auto-education, the prepared environment, and sensitive periods, and a floor bed supports these principles
It's crucial that the room be adequately child proof once the transition to a floor bed occurs
________________
RELATED MONTESSORI PARENTING POSTS
Young children benefit from the freedom to explore
The Montessori method has become increasingly popular with parents who are using the principles often followed in preschools and adopting them in their own homes. Incorporating and following these principles - respect for the child, the absorbent mind, sensitive periods, the prepared environment, and auto-education - is best done when your home is set up in a particular way.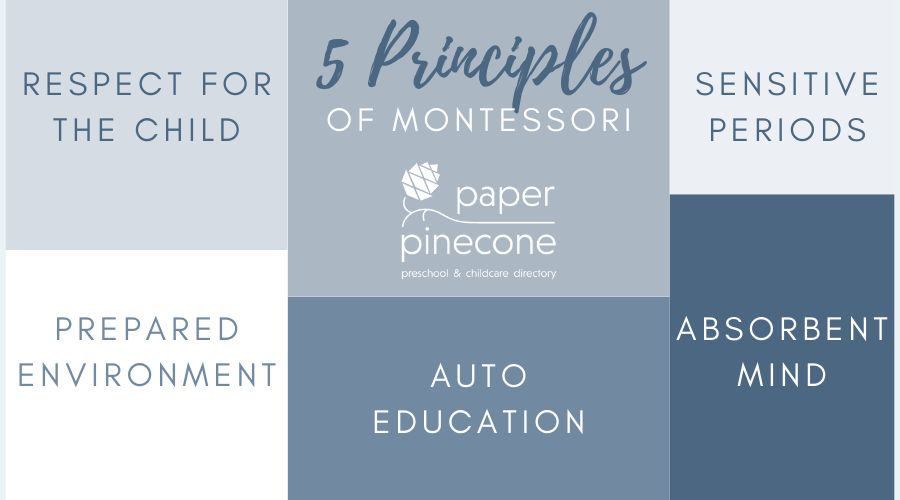 A Montessori nursery or child's room will incorporate specific elements that will support your child's development and these principles, and one of the most important elements is the floor bed.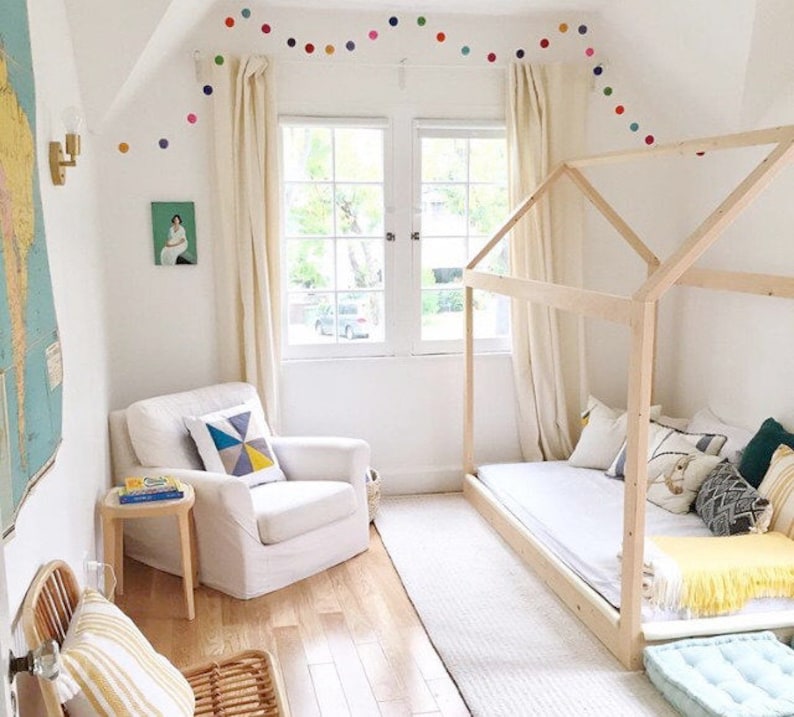 The Pinned Purveyor offers house beds in twin, full size, and queen
What Is a Montessori Bed?
Dr. Maria Montessori pioneered the Montessori approach and strongly believed that children grow, develop, and thrive when they are given the freedom to move and learn independently. A floor bed does just that.
Rather than the restrictive rails of a crib, a floor bed is a mattress placed placed directly on the floor or with a very low frame so children are free to move about their bedroom as they please.

Manine Montessori offers a range of furniture, toys, and materials
Why don't Montessori families use cribs?
It all comes down to freedom and independence. The protective railings around the crib restrict a child's movement. Children are dependent on an adult to determine when they get in and out of the bed, and dependent on them to place them in it or remove them from it.
Often they're put in a crib or playpen when it's not time to sleep - it's done to prevent them from exploring independently so a caregiver can do other things and not worry.
With a floor bed, a child can freely explore, which helps both their cognitive and motor skill development during the crucial 0-6 years.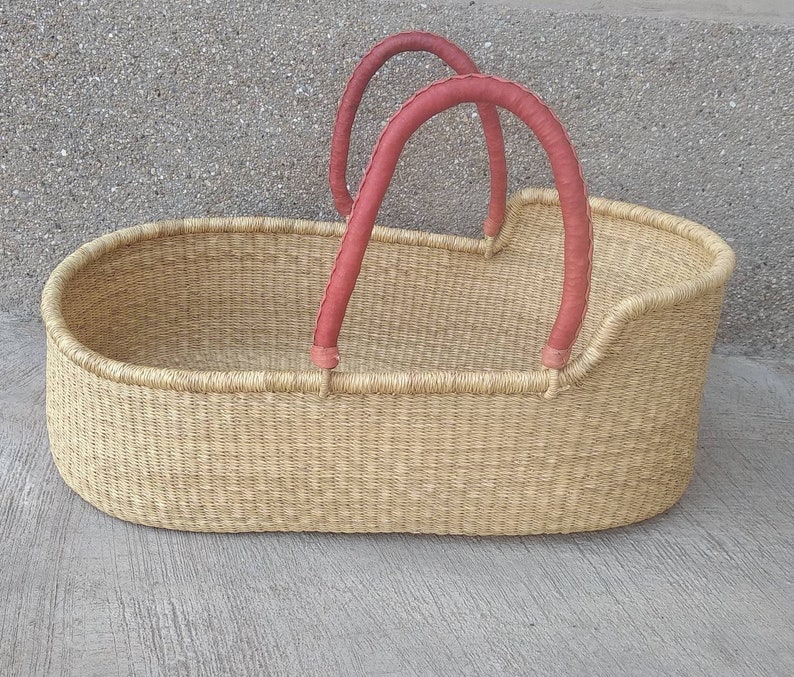 Benefits of a Montessori Floor Bed
Imagine as an adult being forced to stay in bed, regardless of whether or not you wanted to sleep. The person in charge says you must stay there, you cannot play with anything, and it doesn't matter if you're not tired and don't want to sleep.

For a second it may sound great, but in reality, you'd probably get pretty upset, especially if it happened often. Well, this happens to babies all of the time. They're placed in a crib alone, the parents ignore their protests and cries - sometimes for hours.
INTERESTED IN THE MONTESSORI METHOD? READ THE PROS AND CONS OF MONTESSORI
You can skip over typical protests and allow your baby to sleep on a Montessori floor bed, while discovering these benefits.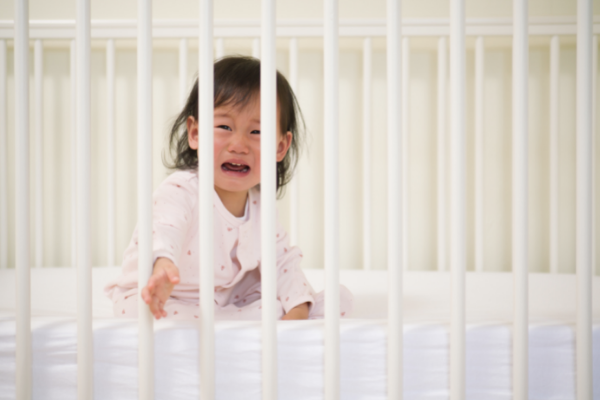 Babies are often left to cry alone. You can help prevent struggles at naps and at night by simply placing a mattress on the floor instead of using a crib.
"Eco friendly, safe, bpa-free - bamboo plates with lids"
Floor Beds Allows Freedom of Movement
When sleeping on a floor bed, children come to understand that they can move around at their will. This encourages them to explore their surroundings and fosters independence and children are permitted to discover the world around them on their own.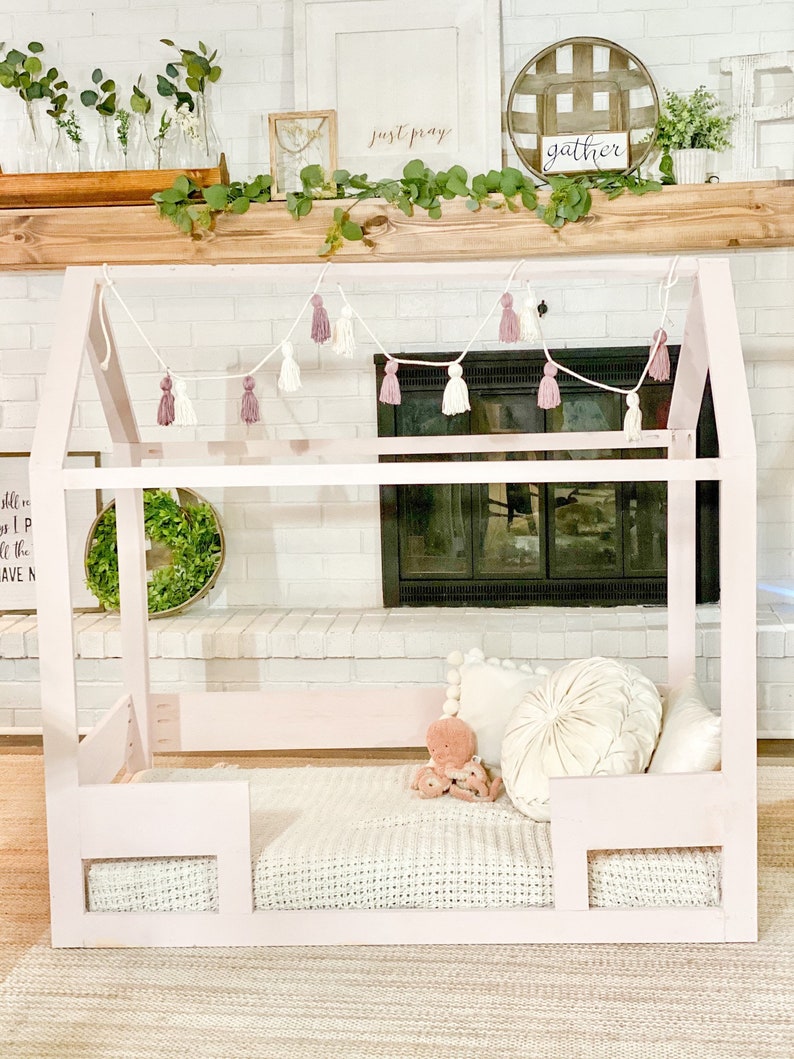 You'll likely find that they'll notice the smallest details and quickly pick up on changes in their environment. And, as they grow, the security, safety, and independence you provided in early childhood will help them develop confidence, and it will be evident throughout their life. 
A Floor Bed Provides an Unobstructed View
With a floor bed, babies can see the entire room. They can look around without the bars and railing of a crib blocking the sightline. This helps them make observations and stimulates their curiosity.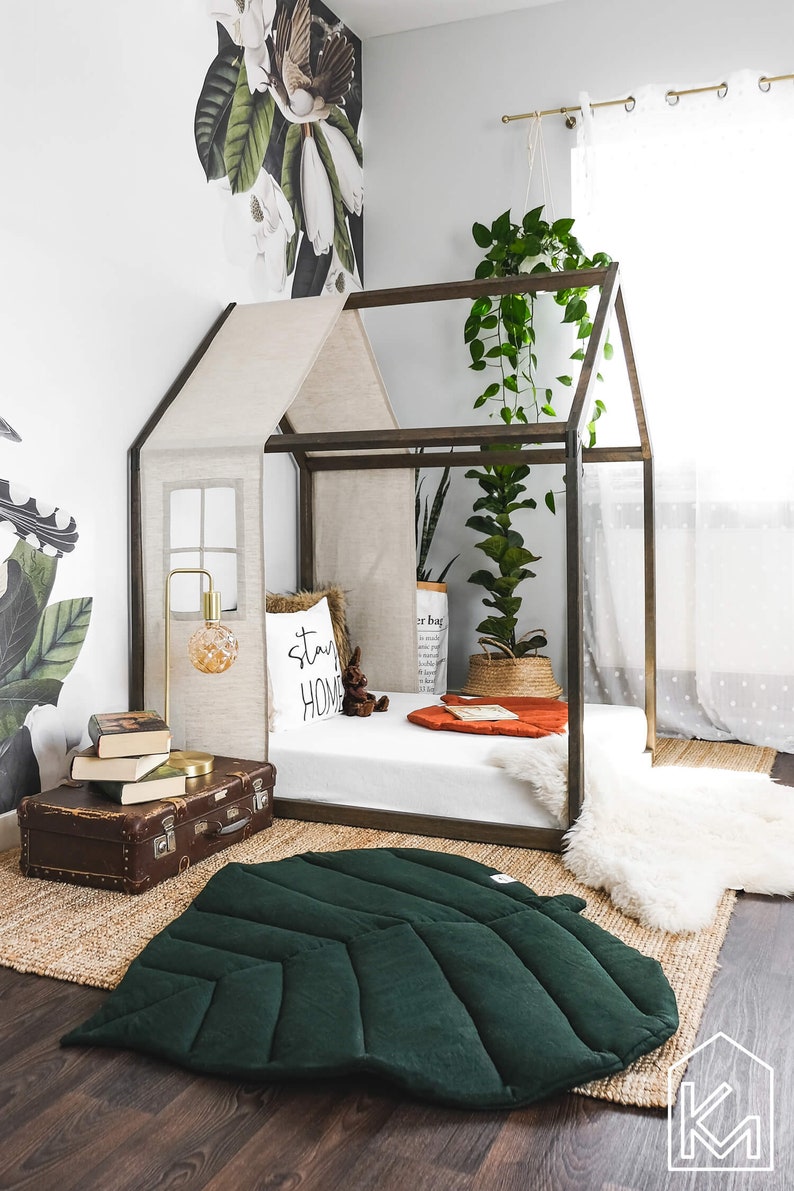 KM Designs Montessori Bed
A Montessori Floor Bed Encourages Decision-Making
From the time your baby is mobile, they'll be able to make decisions for themself within the boundaries that you set. Rather than waiting for a parent to remove them from bed, a toddler is free to play or work on practical life skills, like dressing themself. This aligns with the Montessori principle of sensitive periods. Sensitive periods tell us that there are certain times in a child's life that are ideal for leaning new skills. When kids are allowed to decide for themselves when to practice them, they're more apt to learn quickly.
A Floor Bed is Great for Snuggles
Have you ever wondered why your baby cries when you put her down? Babies have a need to be close to you and a bed with enough room for you and your baby can make the transition from feeding to sleep a little bit easier, whether you're breastfeeding or bottle feeding. Plus, at any age, family snuggles are great.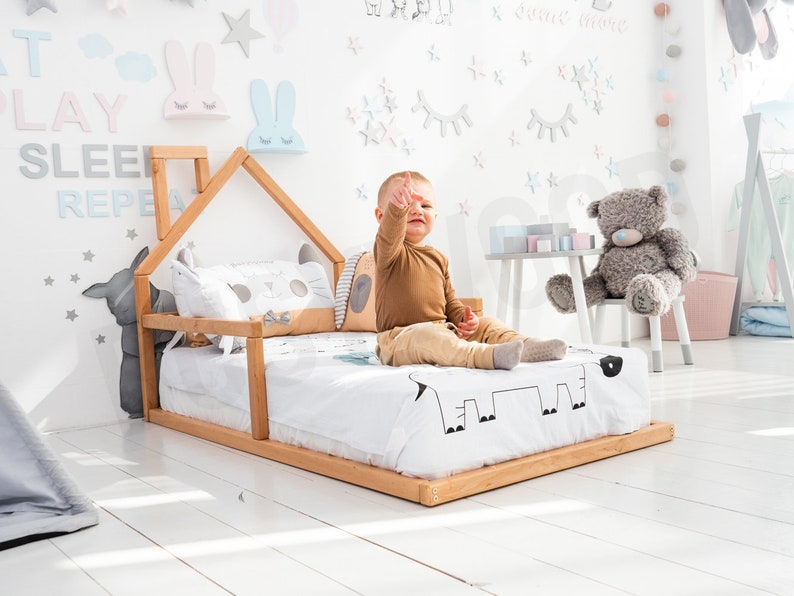 Montessori Floor Beds Are Safe When Used Correctly
Every year, 10,000 babies are injured and there are 100 infant deaths as a result of cribs and playpens. Most often these injuries and deaths are a result of falls when a baby tries to climb out, or unsafe sleep practices.
With a floor bed, there's almost no risk of injury if a baby falls out, because the mattress is directly on, or almost on, the ground. A baby may even stay asleep if they fall out!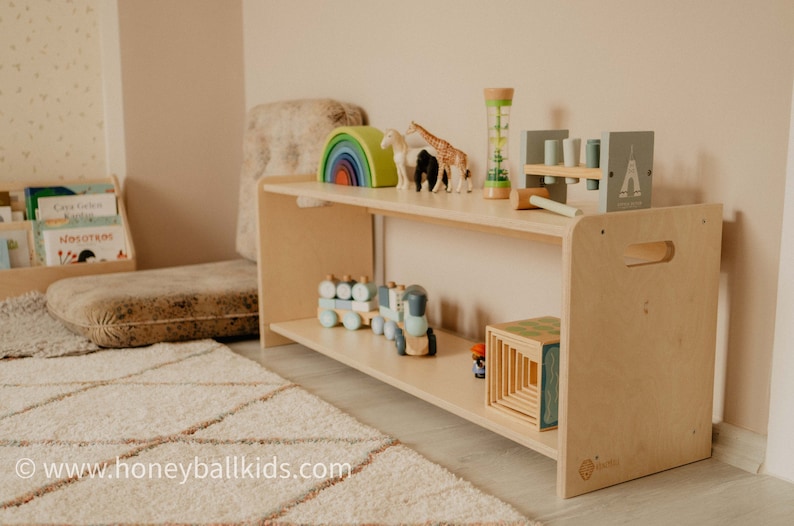 How can I make the room safe?
Whatever sleep space you create for your baby, safety should come first. For naps and at night, place a baby on its back with no blankets, pillows, or other items, like stuffed animals, in the sleep area.
Safety is crucial in the nursery. Families should child proof the room by securing all tipping hazards to the wall with anchors, available on Amazon. This should be done whether or not you use a floor bed.
If you're using a bed frame, ensure you have the correct size mattress and that it fits snugly. The frame should be very low to the ground, leaving no space for a baby to roll or crawl underneath. A bed can be placed securely against the wall, provided there is minimal space between the mattress and the bedroom wall and that a baby cannot accidentally roll into the space while sleeping.
If the bedroom does not have carpet, place an area rug or firm mat next to the bed just.
It's important to get on your hands and knees and explore the room from the point of view of a one-year-old. This will help you discover any hazards you may not have noticed when looking at the room from an adult's perspective.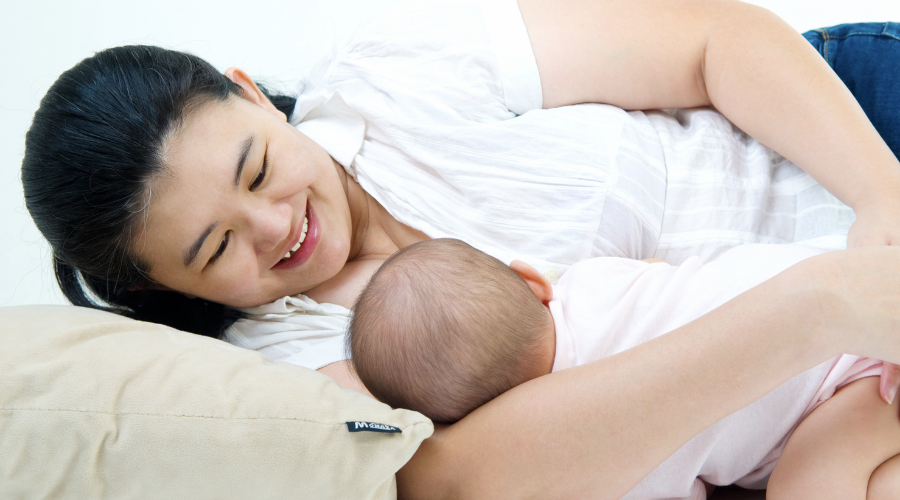 Moms may like nursing and family snuggles in a floor bed. You may even sleep there yourself!
Will my child just get up from their Montessori floor bed instead of sleeping?
Many parents are concerned about setting up a Montessori nursery. They think that once their baby's a toddler, they'll no longer sleep and will instead, stay up all night playing in their room. Rest assured, this is not the case.
Unlike adults, a baby doesn't have the urge to fight their natural sleep cycle. And by the time they're toddlers, they'll be so accustomed to using a Montessori style floor bed and the independence that goes with it, they'll stay in bed at night as well as child does at that age. That's not to say they'll never get up at night or that sleep will always be easy, but a Montessori floor bed doesn't add additional challenges that typical beds don't have.
RELATED POST: The history of sleep training is fascinating. Read about it here

Note: Keeping a routine is important. A routine will help your child learn when it's time to sleep, even if they don't immediately fall asleep.
What should I consider if I want to purchase a floor bed?
Here are a few things that should be priority when you set out to purchase a Montessori floor bed for your child's room.
Ease of Getting In and Out of Bed - choose a bed that will allow children to get in and out independently
Airflow - since the bed will be so low to the ground, there should be ample airflow, more so if your local climate is more towards the humid end to prevent mold growth
Style - first and foremost, the bed is for rest so if you decide on a frame, stick with a Montessori style made of natural materials rather than something vibrant
Mattress size - if you have the space, a twin or larger so it grows with your child - a toddler bed has a lifespan of about 3 years because of its size
Firmness - if you're using with an infant, ensure the mattress is firm for safe sleep practices
Price - the frames are often handmade, which can carry a higher price point - consider DIY plans to save on cost
Montessori Floor Bed FAQs
Q: What Age Is Appropriate for a Montessori Bed?
A: Introducing your child to Montessori floor beds can be done as early as your child turns 5 months or has started sitting up on their own. crawling. Most parents find it easiest to instill this habit between the ages of 5 and 10 months. Note: the American Association of Pediatrics recommends sharing a room with your young baby for at least 6 months.
Q: Does A Floor Bed Need a Frame?
A: Not necessarily. You can simply get an appropriate mattress that doesn't require a boxspring, place it on the floor and dress it with a tight fitting sheet. If you wish to, you can choose a simple frame for the floor bed for a finished look, and an aesthetic appearance.
Q: What are the benefits of Montessori floor beds?
A Montessori floor bed enables freedom of movement, encourages independence, provides autonomy to toddlers and children, and facilitates access to the room and its various elements!
Paper Pinecone is the #1 most trusted childcare directory giving parents access to the best preschools and best daycares near you. Parents always search free and childcare providers always list free. Send inquiries about the best daycares and preschools to questions@paperpinecone.com.
This post may contain affiliate links.