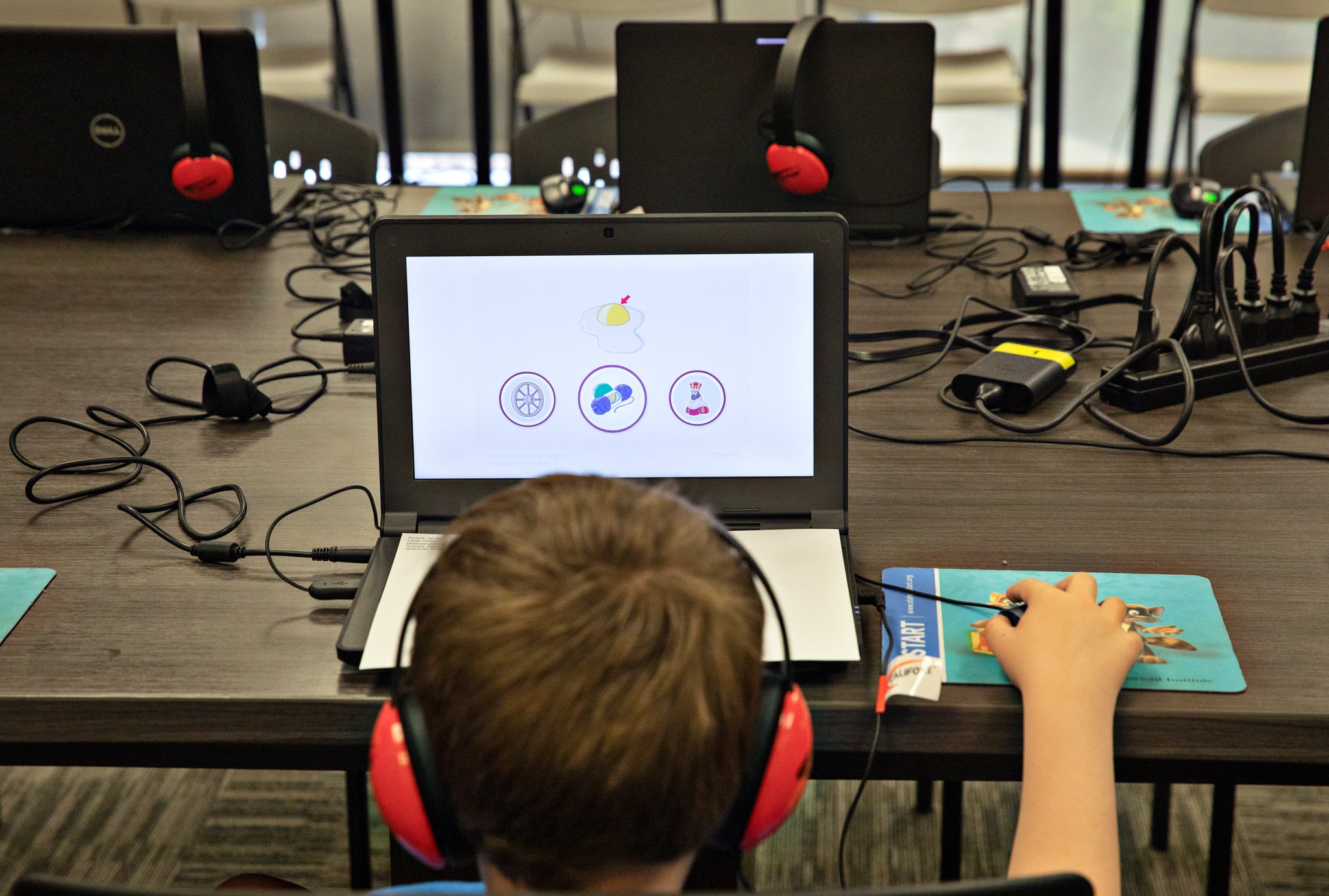 Published Date: 10/16/19
As kindergarten has become increasingly academic over the last several decades, kindergarten readiness has become more important to many parents. However, with just 10% of childcare providers in the US considered high quality, vast childcare deserts, and lack of affordable care, options can be extremely limited.


The mayor of Fowler, California, David Cardenas, understands that families want access to free full-day preschool, but the government-subsidized program accommodates only a handful of the city's preschool-age children. 
Cardenas told the New York Times, "This is something that I have never seen before. I wanted to be on the front line right away."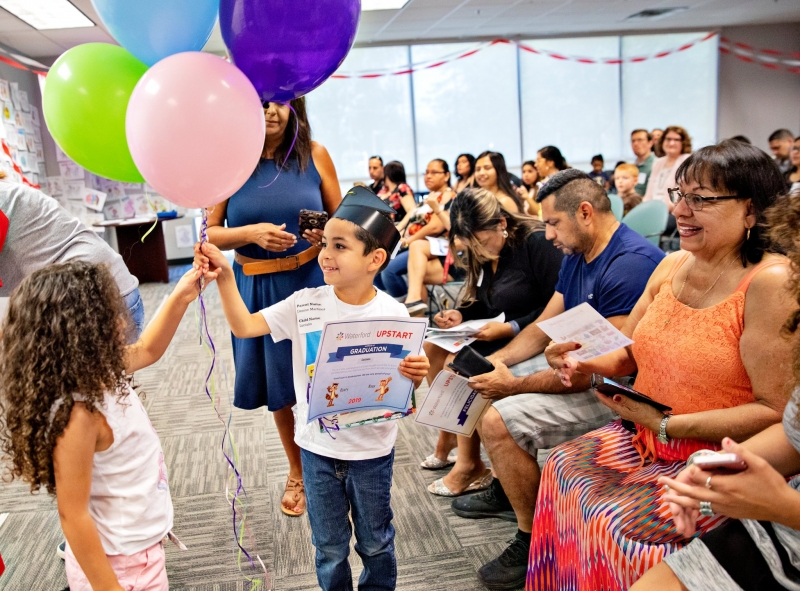 Graduation from the program is in-person.
Photo credit: Kim Raff for The New York Times
He's referring to a pre-k program that takes place almost entirely online. Run out of Utah by a nonprofit, Waterford Upstart is a digital preschool program where children spend 15 minutes online, five days per week for nine months, being exposed to preschool lessons on a home computer.

So far, the program has reached 16,000 children in 15 states, and Waterford.org, the nonprofit who offers it, is projecting they will serve 22,000 children by 2020. Waterford Upstart is geared to low income families who don't have access to the high-quality, play-based preschools their more affluent peers attend. It is a free program to families who register.
Online kindergarten readiness raises some critical questions regarding the purpose of preschool. High-quality programs will cover the ABCs, but will primarily focus on the social and emotional growth needed to succeed in kindergarten and beyond. Are academics in preschool important enough to warrant the Waterford Upstart program?

Advocates say that an online program is better than nothing, especially if parents aren't engaged at home. Learning nursery rhymes and letter sounds is a component of preschool, and this gives children the opportunity to learn them online.   
Nancy Carlsson-Paige, cofounder of Depending the Early Years, a nonprofit campaign promoting universal pre-k, says, "Children who come from families of means have always gone to and still go to terrific quality pre-k programs. Any program, you see the same thing — it's kids engaged with teachers, blocks, paints and other kids. It's all these things that everybody knows is quality."

An independent study from the Utah pilot program found that children who had completed the reading program outperformed those who hadn't used it, and Waterford Upstart says that its videos have higher quality content than most YouTube channels aimed at preschoolers.
However, some early childhood experts, like Steve Barnett, co-director of the National Institute for Early Education Research at Rutgers University, oppose the idea of online preschool. Barnett said preschool should focus on a child's social and emotional abilities, in addition to lessons about things like impulse control.

Barnett said, "All of that can't be done online."
Online preschool also doesn't fundamentally address the lack of access to affordable, high-quality childcare that many Americans face.
Toni Butler, a single mother of four children in Rushville, Indiana, says she could not afford the $164 per week preschool in her area. One of her children recently graduated from the program.
Butler says, "Each lesson was animated, so it made it funny and interesting and kept his attention on it."

Graduations are held in-person and is the only face-to-face aspect of the program other than registration.
Often the same families who cannot afford local preschool make too much money to qualify for public programs, like Head Start. Some advocates of universal preschool fear that online programs will be used as substitute for expanding the access they're fighting for.
In 2015 and 2017, Gov. Steve Bullock of Montana attempted to pass bills to bring in money for universal pre-k, however those efforts failed. Now the state has decided to run a Waterford Upstart pilot program. Other states, like Indiana, have set aside $1 million for online kindergarten readiness, where legislators worked for years unsuccessfully to get funding for preschool.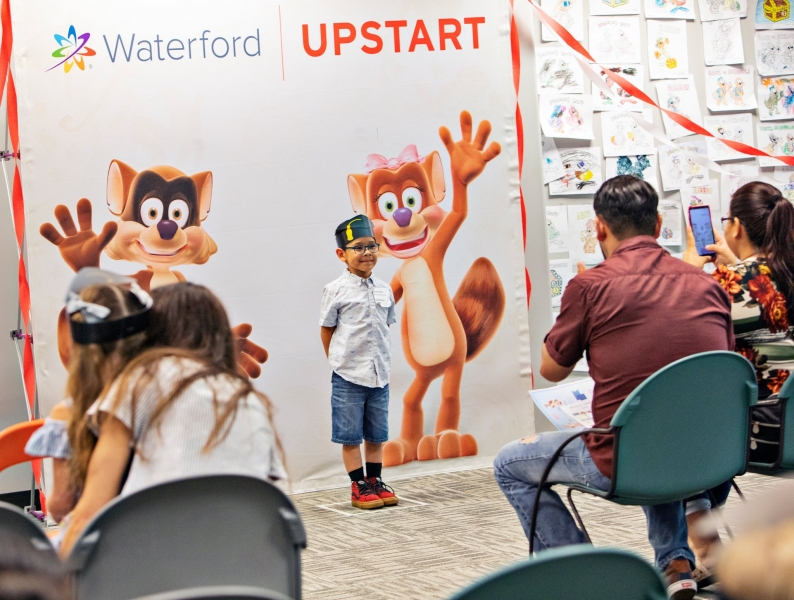 Waterford Upstart registration event
Photo credit: Kim Raff for The New York Times
State Representative Craig Horn, a Republican leading an effort to get North Carolina to fund an Upstart program says, "We simply don't have the money to provide a quality pre-K experience to every child in North Carolina, even though I absolutely agree that a face-to-face, high-quality pre-K is the best option. But when it's not an option for the child, I refuse to ignore that child."
Resources are scarce in rural areas of America. For families who are field laborers, they might have gaps in crop cycles where they are out of work, meaning they both can't afford to send their child to preschool and they're home to provide care.

Rebecca Molina's husband is a day laborer who experienced these gaps. She once had her son in a daycare program at $30 per day, but said, "It was an internal struggle for me. I wanted him to be with kids his age and in that routine. But just financially, it didn't make any sense for us."
She added that her son, and others at a recent Waterford Upstart event in Fowler, were "tablet kids". These children are typically left in the care of a relative with a tablet full of kid-focused apps and content for most of the day.
Cardenas aims to enroll 200 children in the Fowler pilot program. So far, 50 families are registered. "With this program, those kids who were left out in years past, now they're going to be included," he said.

As Cardenas told The New York Times, the families he serves need full-day, free preschool. Will investing in the Waterford Upstart program prevent that from happening? Time will tell.
Paper Pinecone is a thought leader in Early Childhood Education and a marketplace for parents to find the best daycare and preschool programs in their area. Parents search thousands of providers at no cost and providers always list free. Get started today.
Cover photo credit Kim Raff for The New York Times