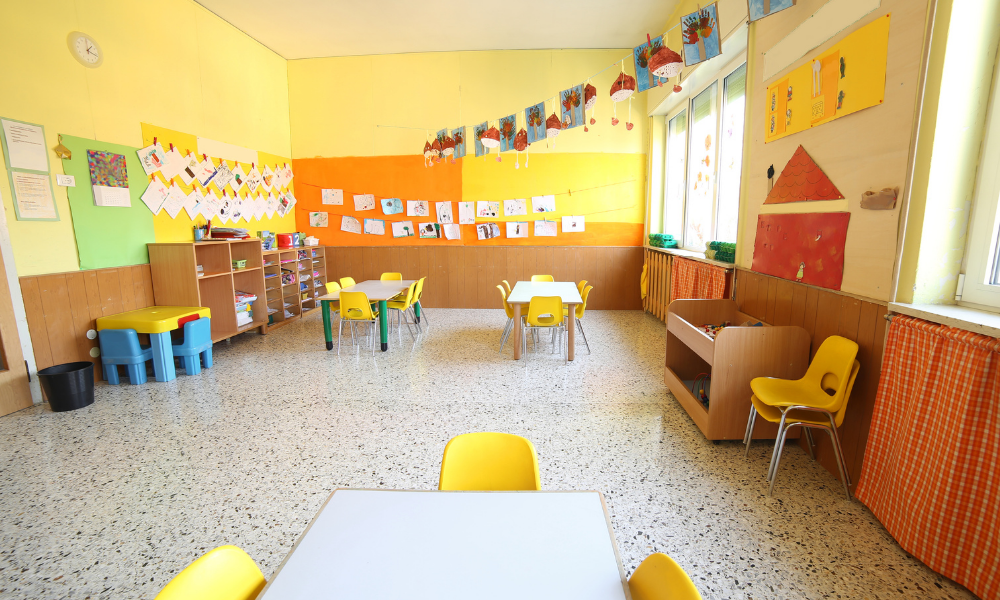 Published Date: 01/13/21
Childcare Center vs. Home Daycare. Which is Better?
Choosing the right childcare provider can feel overwhelming. There are so many considerations - location, cost, availability, schedule, and more. If you have an infant or a child who's never been in group care before, it can feel especially daunting.
Deciding if you'll use a childcare center or home daycare is a significant consideration that impacts nearly all of the other factors. Often parents ask us which is better and the answer is that neither one is better than the other - but one may be better for your family or your child, depending on your needs. Some children thrive in childcare centers, some thrive in home daycares, and some thrive in either environment.
How can you determine if a childcare center or home daycare is right for you?
LOOKING FOR THE BEST DAYCARE NEAR YOU? START YOUR SEARCH HERE ON PAPER PINECONE

Ratio & Group Size
Childcare Centers
Every state sets their own ratio laws indicating the number of children a provider can care for at a time, and they're different for home daycares and childcare centers. Ratio laws also vary by age group, with infants having the lowest ratio of caregivers to children and school-age kids having the highest.
In early childhood education, there is generally a maximum group size permitted. For example, the ratio for preschoolers may be 1:12 with a maximum group size of 24, meaning you can't have a class of 48 children even if four teachers are present.
YOU'LL ALSO ENJOY: WHAT IS THE MILLION WORD GAP AND HOW YOU CAN PREVENT YOUR CHILD FROM HAVING IT
By law, childcare centers are often segmented by ages. Infants (which may include children up to age two, depending on the state) are kept separate from preschoolers and school-age children. You also may find further separation by age in a childcare center with infants up to 12 months in one room and 12 to 18 or 24 months in another.
The laws governing ratios, group sizes, and mixed-age groupings are different for home daycares than they are childcare centers.
Home Daycare
In a home daycare, children from infants to school-age may be mixed together, the group size will be limited by state regulations. There's much evidence demonstrating that mixed-age groupings are beneficial for both younger and older children. Younger children learn from older children and older children take on leadership roles. This also mimics how children have been raised throughout history. It wasn't until modern schooling in the 20th century that children began being segmented by age.
In most home daycares, there is a single provider caring for all of the children, though with larger groups a second teacher may be present.
RELATED: HOW YOU CAN PARTNER WITH YOUR CHILD'S PRESCHOOL TEACHER
Local regulations will limit the number of children from each age group who are permitted. For example, a provider licensed for 10 children cannot have 10 infants - they may be permitted 2 infants, 6 preschoolers, and 2 school-age children.
Depending on the state, a childcare provider's own children may or may not count toward the number of children they are permitted.
Scheduling & Flexibility
Childcare Centers
Childcare centers generally offer traditional hours for care. The hours often align with the 9-5 work day, with an hour or so on either side to allow time for drop off and commutes. You may find that some childcare centers offer part-day or part-week schedules but typically a family must to commit to the same hours each day they attend and the same schedule weekly. Long-term contracts are typical in childcare centers as well.
ALSO READ: BEWARE OF COUNTERFEIT CAR SEATS
Home Daycare
For many, home daycare provides more flexibility than childcare centers. While some will keep traditional hours and offer only full-time schedules, some are more accommodating, opening earlier, closing later, offering drop-in care, and not requiring the same schedule week-to-week. You may find a home daycare provider who is willing to modify their hours either permanently or occasionally if you have specific needs. You also may not be locked into a long-term contract in a home daycare.
"Eco friendly, safe, bpa-free - bamboo plates with lids"
Social Emotional & Academic Curriculum
Childcare Centers
Childcare centers may be more apt to have a formal curriculum than a home daycare. Depending on the age of your child and what you think is best for your family, you may or may not find this beneficial. Early childhood education is primarily for social and emotional development. Both it, and academics, can be taught without the use of a formal curriculum, however, you may decide that you prefer having one.
RELATED: READ ABOUT CHILDCARE PHILOSOPHIES & CURRIUCULA HERE
Home Daycare
Within home daycare, the type of services provided vary greatly. There are home daycares who have curriculums on par with the best center-based preschools and work hard to develop their own curriculum and lesson plans. There are some who purchase curricula like Mother Goose Time or Frog Street. Many home daycares don't have formal curricula but instead incorporate various social emotional and academic activities. And other home daycares who see themselves as primarily providing care, not specific learning activities.
A daycare with a formal curriculum is not inherently better than one without. It really depends on the age of your child and what your family's needs are.
Closures, Vacations & Backup Care
Childcare Centers
Childcare centers are unlikely to have unexpected closures, with the exception of emergencies. Prior to enrollment, ask the center for their yearly calendar so you can see how many days they close. While many offer year-round care, some childcare centers will only close for a handful of major holidays while others will have longer vacations, similar to a public school calendar. Others don't provide summer care at all.
If a teacher is ill, a center will generally have accessible substitutes and will not close the childcare center or any particular room for the day because of a lack of staff.
YOU'LL LOVE: BEHAVIOR AND EMOTIONS ARE NOT THE SAME – READ ABOUT THE DIFFERENCES & WHY THEY MATTER
Home Daycares
When considering a home daycare, they should also be able to provide you an annual calendar prior to enrollment. However, some home daycare providers will not schedule their vacations prior, only include in their contract a specific number of vacation days they're allotted and will indicate how much notice they'll provide you prior to taking vacation.
DON'T MISS: ONE WORD CAUSES PSYCHOLOGICAL HARM TO CHILDREN – DO YOU USE IT?
Home daycare providers often also include sick days and personal days in their contract as well. Most do not have substitutes for these days and you frequently won't have advance notice. All home daycare providers will tell you to have backup care available for these circumstances.
Continuity of Care
Childcare Centers
At the earliest ages, having continuity in who cares for your child is critical. It may take infants or toddlers experiencing separation anxiety several weeks or even months to form a secure bond with a new caregiver. The childcare industry has a very high turnover rate and childcare centers sometimes struggle to find staff. Speak with the childcare centers you're considering about their staff turnover rate and how they provide continuity of care.
MUST READ: THE HISTORY OF SLEEP TRAINING IS FASCINATING
Home Daycare
Because home daycare takes place in the home of the caregiver, there's continuity of care for your entire enrollment period. Children are able to form secure bonds and you don't have to be concerned with a specific teacher leaving. Often a home daycare provider becomes an extension of your own family.
Final Thoughts
Both childcare centers and home daycares can provide an exceptional experience for your child. Every family has different needs and childcare centers and home daycares meet different needs for different people. Check out some of the articles below which will help you in your search for childcare.
The Most Important Thing to Look for in a Daycare or Preschool
How to Pick the Perfect Preschool
Paper Pinecone is the #1 most trusted childcare directory giving parents access to the best preschools and best daycares near you. Parents always search free and childcare providers always list free. Send inquiries about the best daycares and preschools to questions@paperpinecone.com.
This post may contain affiliate links.