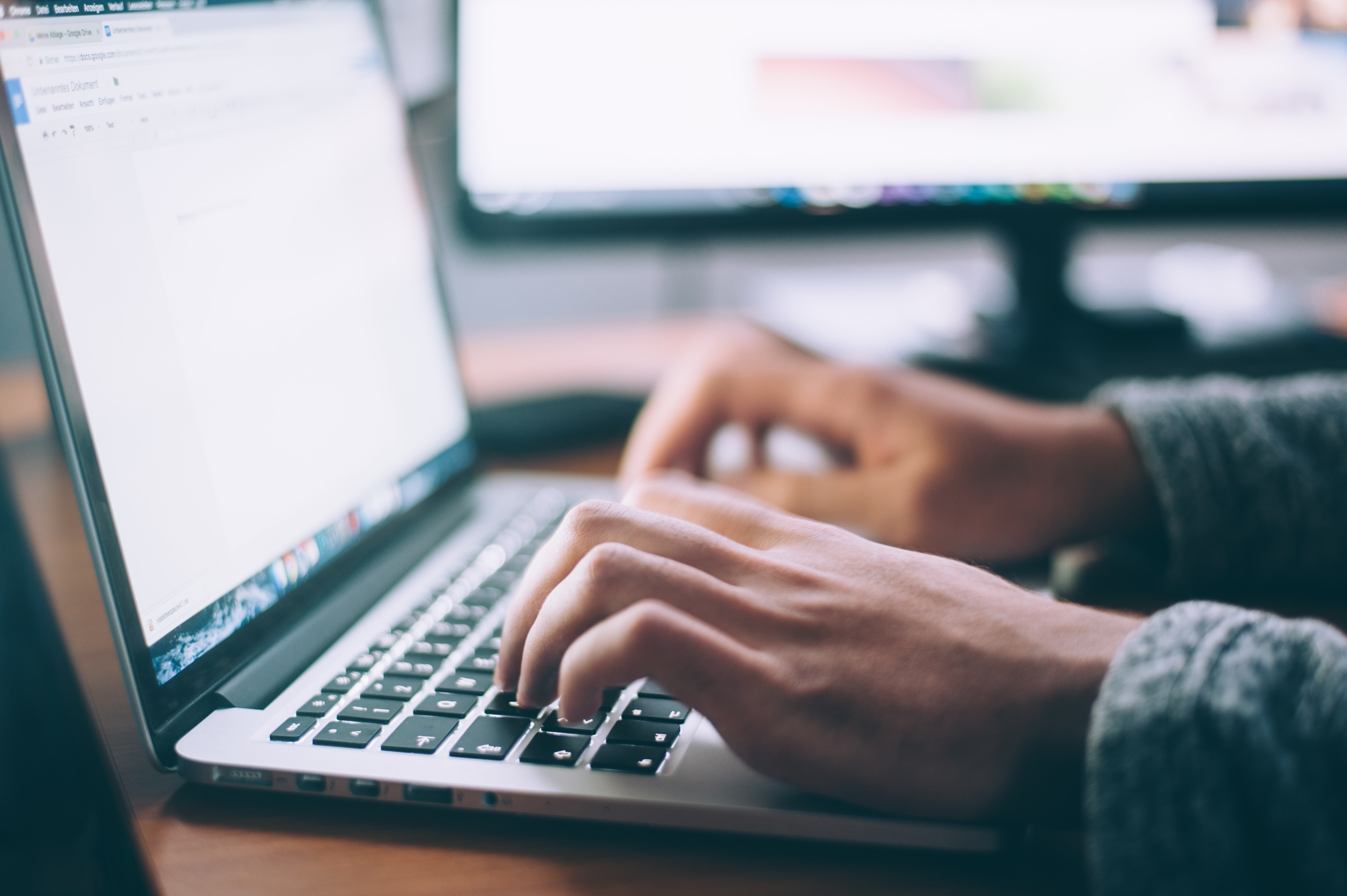 Published Date: 11/18/19
Understanding your customers is the most critical component in growing your daycare or preschool. While you've no doubt encountered your fair share of squeaky wheels, other families may stay with you for years without indicating that they're unhappy, as long as their child is happy and safe. Perhaps they don't have other quality options in the area, or perhaps they fear that voicing their dissatisfaction will impact the level of care their child receives. Whatever the reason, if they're not happy they're not going to refer others to your program, which is is one of the most important ways of attracting new parents.

Surveys are a great way to determine how satisfied families are with your daycare or preschool, however, often surveys include too many questions or don't get responses. There's one very simple survey you should send periodically - it only has one question, and it determines your Net Promoter Score (NPS).
Your Net Promoter Score is determined by asking families "On a scale of 0 to 10, how likely are you to recommend us to a friend or a colleague?"
Respondents are then put into three categories.

0-6: Detractors
Detractors rate you a six or below, which indicates a level of unhappiness with you. By giving you this score, they're telling you that they're unlikely to recommend you to family or friends. They might be likely to pull their child for something you see as relatively insignificant. Furthermore, there's potential that they will leave bad reviews of your business online and speak negatively about you. (Read our tips for handling bad reviews.)
7-8: Passives
Seven or eight out of ten might sound like a great score, but these families are not enthusiastic ambassadors of your program. It's unlikely that they'll post bad reviews, but they're also not going to evangelize you. If asked by a peer, they might lead with what they dislike about your daycare or preschool, and then add that they feel like their child is doing well enough that it's not worth switching. These families are suceptible to competiton who might offer a lower price, a schedule that works for them better, or they might follow a friend who enrolls their child somwhere else.

9-10: Promoters
You probably already know who these families are. They adore your program and think it's the best in town. They have few, if any, complaints, and will happily brag to others about the quality of care their child is receiving.
Based on the answers you receive, you determine your Net Promoter Score by subtracting the percentage of families who are detractors from the percentage of families who are promoters. You'll end up with a score between -100 and 100 (-100 if all respondents are detractors). Note: Your Net Promoter Score is not expressed as a percentage. A score of 0-30 is average.
Examples
19% promoters - 61% detractors = -42 NPS
26% promoters - 52% detractors = -26 NPS
42% promoters - 31% detractors = 11 NPS
67% promoters - 17% detractors =  50 NPS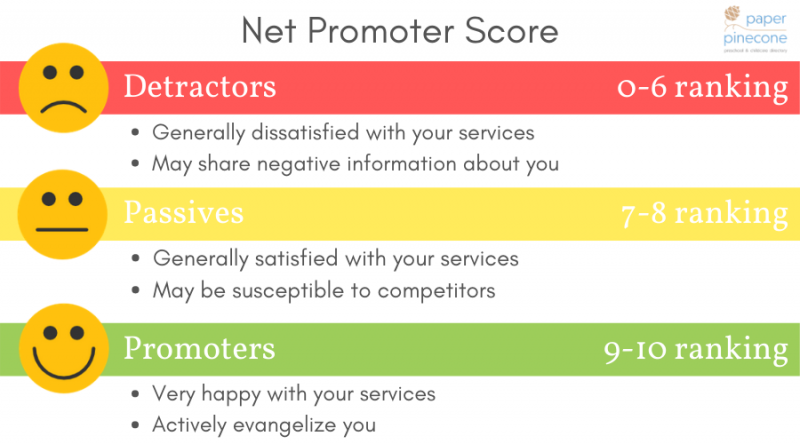 Management consulting firm Bain & Company originally introduced this metric. They've determined that industry leaders have, on average, double the Net Promoter Score of their competition. They've also discovered that the Net Promoter Score accounts for 20% to 60% of a company's organic growth rate.
It's important that your Net Promoter Score survey be unbiased. When sending it out, do not use phrases like, "We're striving for 10s!" or "We know you love us but…". Ideally, the survey is sent through a third party (contact us if you'd like our team to implement this for you) and is not anonymous. Knowing exactly how people rate you is key to following up with them to address their concerns. However, if you feel like the families at your program will not be honest, it's better to keep it anonymous and get truthful answers.

You can also add a follow up question that simply states: "Will you share your reasons for indicating the ranking that you selected?". This gives you an opportunity to gather additional insights into your customers.
Net Promoter Score surveys should be sent annually - biannually is okay, but no more often and only if you're not sending other surveys throughout the year. The more surveys you send, the less likely parents are to fill them out.

Once you have the results, it's crucial that you develop an action plan. If your survey isn't anonymous, you'll be able to speak directly with families who are detractors and passives to determine what areas you can improve upon. If it is anonymous, you should put steps in place based on the feedback you received.
Obtaining your Net Promoter Score can have a lasting impact on your business and help you grow your enrollment. Childcare is often found via word-of-mouth and it will give you a good sense of what people are saying about you, even if they're not saying it to you.
Paper Pinecone is a thought leader in Early Childhood Education and a marketplace for parents to find the best daycare and preschool programs in their area. Parents search thousands of providers at no cost and providers always list free. Get started today.