Published Date: 04/10/19
Maybe you just spent months getting your preschool set up perfectly or maybe you're an established program. At this point you're ready to go - you've hired a great staff and all you need now enrolled children. But that's the toughest part.
Marketing is a crucial component of any preschool owner's job. But, you may not have the background on how to execute preschool marketing effectively.
There are many ways to promote your preschool and increase enrollment. But before we start discussing preschool marketing ideas, it is important to first understand what factors parents consider when choosing a preschool for their child.
When parents look at preschools, they look for a place that will keep their children safe and provide a fun, educational environment during the day. But, if you're not communicating these things effectively, you may be overlooked.
Here are the best preschool promotional ideas that will get you noticed and increase enrollment quickly.

Know Your Area
In order to learn how to promote a preschool effectively, you must understand the needs of parents in your area.
Has there been a baby boom recently requiring more infant care providers?
Are parents in your area looking for a certain type of preschool – Waldorf or STEM/STEAM programs?
If changing or modifying programs seem like an expensive or overwhelming thing to do, know that this is just a short-term investment for a long-term gain if you do it right.
For example, Facebook can be a great tool to connect with parents in your city, since it allows you to market your preschool and to get the pulse of what parents look for in a preschool.
Paper Pinecone's data analytics provides you the exact search filters parents are using, as well as the other schools they're considering. Now you have the tools you need to inform your curriculum and programming.
Make sure that your preschool programs are in line with the needs of the parents in your area. And market your preschool in a way that shows those needs can be fulfilled at your preschool.
Hold an Open House Event
Plan an Open House event in your preschool, invite parents in your city to visit and offer them a tour to your entire facility.
An open house provides parents the opportunity to experience your preschool before they commit to enrolling.
Host an open house event, preferably on Saturday or Sunday, so that parents who work on weekdays can easily attend.
During the tour, give an overview of what your preschool offers, highlight the enrichment opportunities you provide, and the safety features your facility has along the way.
Have teachers at your open house providing preschool activities for your children so they can see you in action.

Communicate What Makes You Special
In a competitive industry, it's important to communicate what makes you unique. In marketing, this is called your Unique Selling Proposition, or USP.
Are you the oldest school in your community? Maybe you're "Trusted for over 60 years." The only school around that serves 100% organic food? Do the children at your school spend significantly more time outside than at neighboring schools?
Think about why your program is different and how you're going to communicate that. Follow the ABCD rules when you do this: Your message must be available, believable, communicable, and deliverable for it to be effective.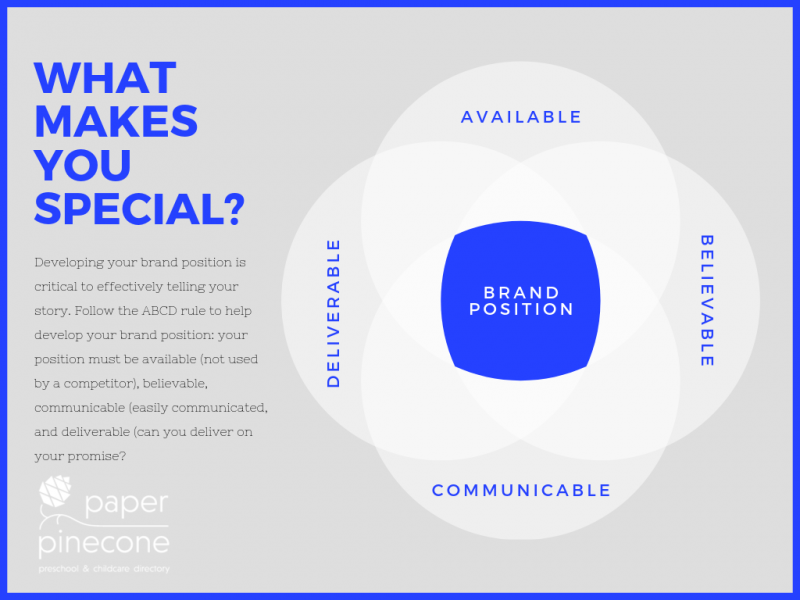 Networking
Get involved with organizations that are well-recognized in your city. Offer your time at a charitable event or be one of the sponsors of an event. Your local chamber of commerce is designed to promote small businesses and provides you the opportunity to get the word out. These kinds of activities can help you get more visibility for your preschool. And the more visibility your preschool gets, the more trust you'll be able to build with parents.

Internet Marketing
In today's digital age, most parents begin their search for the best preschools online. Create a website for your preschool, if you don't already have one, so that when parents search for top preschools near them online, they can easily discover you. There are many free tools like Wix that allow you to build and host your site at no cost.
To further boost your SEO and visibility, promote your preschool online by listing in a preschool directory.
Paper Pinecone, for example, is the go-to-resource for thousands of parents to find best preschool, daycare, and before and after school programs in their area.
You can register your program for free on Paper Pinecone and enjoy a steady-stream of inquiries every month.
Conclusion:
Understanding exactly what parents are searching for and communicating what makes your program unique will help you easily fill openings at your daycare or preschool. If you have more creative ideas and tips on what's worked for you, drop us a line at info@paperpinecone.com.
Paper Pinecone is the best preschool and childcare directory available. We help market your program and fill your openings quickly. Register at no cost today.