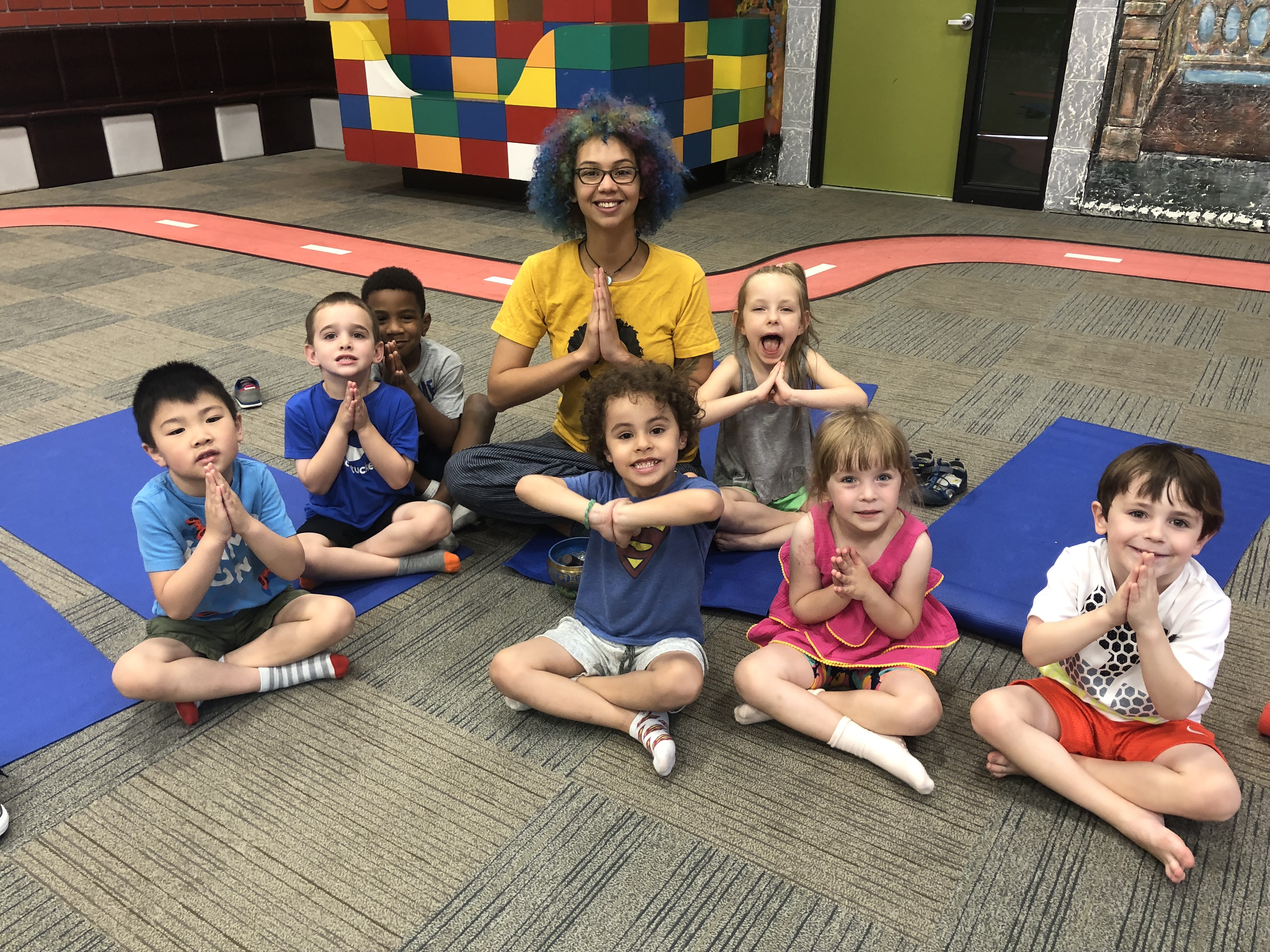 Published Date: 06/24/20
With preschools reopening in the wake of the coronavirus pandemic, yoga and mindfulness is more important than ever before.
Why? Because kids are stressed and will be even more anxious when they return to school and experience new guidelines for social distancing, sanitation and mask wearing.

Yoga and mindfulness has always been considered a great additional offering at a preschool. But, now that you need to rethink how you do things, why not use this time to integrate yoga into your preschool?
This will be a win for you, a win for the kids, and a win for the parents!
Why Yoga?
There's never been a better time to offer yoga in your preschool. Why now?
Because research shows that yoga helps children manage anxiety. Yoga also helps foster a healthy school community and atmosphere. Young students learn to use mindfulness, reflection, and breathing techniques to successfully cope with their emotions. What's more – a classroom full of calm students helps teachers do their jobs more effectively.
That's right. You're less likely to face behavioral issues and typical classroom stressors when yoga is implemented into your school's instruction day.
Plus, the earlier students learn to incorporate yoga into their lives, the better off they'll be as they grow up. In fact, when your school offers yoga to young students, you provide them with effective coping methods that can lead to improved classroom interaction and social skills.
And, in the age of coronavirus, kids will need improved social skills more than ever before!
In fact, social and emotional development are two of the most important aspects of preschool. While academically prepared for kindergarten, preschoolers often don't succeed because they lack the social and emotional skills needed for elementary school. Mindfulness and yoga, however, can positively affect the moods and stress levels of students who practice it in school. What's not to like about that?

Here's another major reason to integrate yoga into your preschool: Kids learn through play and yoga for kids is fun!
Many preschool yoga curriculums and toddler yoga classes are play-based. The Pretzel Kids yoga curriculum, for example, was developed by two preschool teachers and is designed to help kids tap into their creative genius. Each lesson plan is based on a theme, like rain forest adventure, a day at the beach, or jungle safari. This way kids use their imaginations while learning important breathing techniques and poses in a fun way.

Plus, if you offer a specialty yoga program like Pretzel Kids, the parents will love it too as their kids will come home more relaxed!
Now is the Time to Gain a Marketing Edge
The next few months will be tough. We get this.
Yet, parents are looking to you to both help them and their kids.
So, while offering kids yoga classes in your school is a great way to help children feel less stressed while gaining social skills, it's also a way for you to attract new families and set yourself apart from the other preschools in your community.
Based on our data at Pretzel Kids yoga, parents from coast to coast are searching for kids yoga classes in schools. So, why not offer what parents and children want? If you do this, you may just see a boost in your enrollment!

How to Get Started with a Kids Yoga Program in Your School
While it's not difficult to find a yoga teacher to come into your school once a week, in the age of coronavirus, you may want to rethink this.
Why?
Let us count the ways……

Instead, we recommend that instead of hiring a kids yoga teacher, you instead become a certified kids yoga teacher yourself by taking a fast-track online course that offers you a solid curriculum, foundation, and kids yoga teaching tools. Not only that, but you should enroll in a children's yoga program that offers you marketing and social media resources on an ongoing basis!
If you don't wish to personally teach kids yoga at your school, consider enrolling one of your staff teachers in a highly respected online kids yoga program. And, bonus points for selecting a kids yoga program that will help you market your school to prospective parents in your community!
We'll leave you with this final note: Pretzel Kids yoga is here to help you with a 30% discount on our online kids yoga training for all Paper Pinecone preschools and readers. Just use this link and enter in the code STARTTODAY at checkout for your discount!
Paper Pinecone is the fastest growing directory of childcare programs in the country. Register your program today at no cost to connect with thousands of parents searching for the best preschool and daycare programs in their area.
About Robyn: Robyn Parets is the Founder and CEO of Pretzel Kids yoga, a children's yoga company offering classes, training and a branded curriculum to families and schools nationwide.