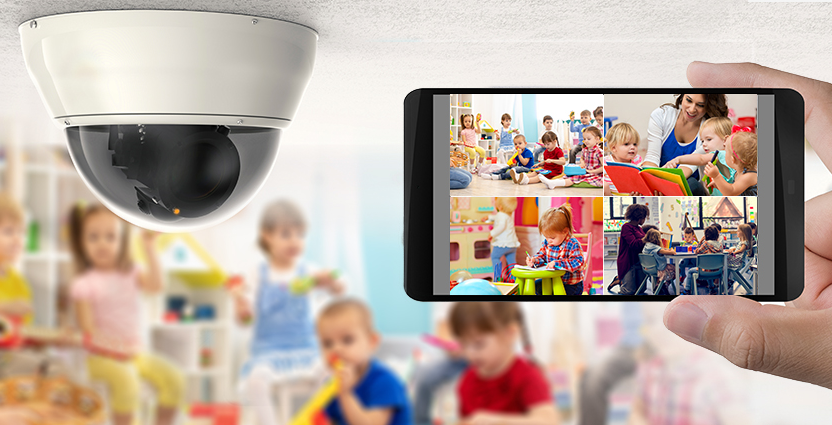 Published Date: 02/20/20
Cameras are everywhere. They're in our hands, on our doorbells, and at traffic lights. They're also in some daycares and preschools, but notably, many providers have made the decision not to use them.
Is it something you should look for or care about?  
There are pros and cons to both parents and providers when cameras are involved in childcare settings.
There are two types of cameras to consider in daycares and preschools. The first is closed circuit television (CCTV). These are the types of cameras you see in stores for surveillance. In childcare, the director can access the video from a single physical location.
The second is live stream cameras. These give you a real-time view of the room and allow you to log in a watch what's occurring throughout the day.
To many parents, the idea of cameras sounds wonderful. They often feel there's a sense of security that exists. Surely a teacher knowing she or he is on camera won't willfully do something wrong. And, if there's an incident involving their child that occurs, parents feel like they'll be able to access the footage to make a determination of fault.

However, there are things that should be considered.
Cameras in childcare aren't always beneficial
First, to our knowledge, there is no law that says a childcare provider must provide you access to video footage in the event of an incident. That means that even if you believe something grievous occurred, your daycare can simply say no, that you may not watch the recording. There have been cases we know of where a child was seriously injured and the provider has refused to give access to the video, and in that case, without a subpoena, there's little, if anything, a parent can do.

The reality is that, while you may not be that parent, there are those out there who want to see video of every bump and bruise that occurs, and it's simply not realistic for a childcare provider to accommodate every request like that.
With live stream video there are privacy concerns. While technology to prevent security breaches is sophisticated, hackers continue to get more sophisticated. There are those out there who would take sick pleasure in accessing cameras at a daycare center.
Beyond hackers, password sharing is an issue. Maybe a parent in the class sends their password to several family members so they can watch to see what goes on at preschool. Seemingly innocuous, but many would not want extended family of others watching their child at preschool.

Some other cons exist to having cameras in childcare settings. Especially if live stream is provided, some parents may begin to micromanage what occurs in the classroom. This hinders a teacher's ability to do their job effectively. Blind spots exist, which leads to a false sense of security among parents. More than anything, it demonstrates an inherent lack of trust in your childcare provider and ultimately, if you don't trust your provider you shouldn't be sending your child there.
Are there pros to cameras in daycare and preschool settings?
In some cases, yes. While we'd like to believe that all teachers are phenomenal, we know that's simply not the case. Cameras allow a director to review an incident and make a determination on whether or not disciplinary action is needed for the staff member.
Cameras can also protect childcare providers from unfounded accusations. We're aware of several cases where parents were angry about something unrelated to the safety of their child and made baseless claims to licensing bodies about abuse within the center.

Cameras can allow providers to better monitor the exterior of the facility and act immediately if something dangerous occurs or if there's suspicion of something occurring.
Should you look for a provider who uses cameras?
Ultimately, that's a decision each parent has to make for him or herself. Safety and security should be a priority for all parents and all providers. For some, that includes the use of either closed-circuit or live stream cameras. For others, they're not necessary. Determining your values and understanding what to look for in a daycare or preschool will help you find the best fit.
FAQS About Safety in Daycare
Q: How do you know if a daycare is safe?To determine if a daycare is safe, carefully observe practices of the daycare provider. Look for safe sleep practices, no choking hazards, and appropriately childproofed areas. Ensure your daycare provider has all necessary CPR and SIDS certifications, ratio laws are followed, and there's an open door policy. If the daycare is licensed, check for safety violations with the state or local licensing board and if any exist, make sure they've been corrected prior to enrolling.
Q: How do you know if a daycare is good?
There are many things to look for when evaluating if a daycare is good. Childcare providers should be warm and loving, positive discipline should be practices, and the daycare should have a low turnover ratio. A high quality daycare will also provide a stimulating curriculum with a strong focus on social emotional development and engage in developmentally appropriate practice. Look for a daycare near you with and age-appropriate schedule and written policies and procedures that are aligned with early childhood development best practices.
Q: Can a child get kicked out of daycare?Children can, and do, get kicked out of daycare often. Daycare expulsion is an unfortunate practice that disproportionately affects Black children. When children are kicked out of daycare it's frequently for behavior problems that a childcare provider is not equipped to handle. Very rarely are those behavior problems not fixable. Children are also kicked out of daycare when parents violate the childcare provider's policies. A daycare should provide a parent handbook prior to enrollment that explains in detail the policies that families must follow.
Paper Pinecone is the #1 most trusted childcare directory giving parents access to the best preschools and best daycares near you. Parents always search free and childcare providers always list free. Send inquiries about the best daycares and preschools to questions@paperpinecone.com.

This post may contain affiliate links.