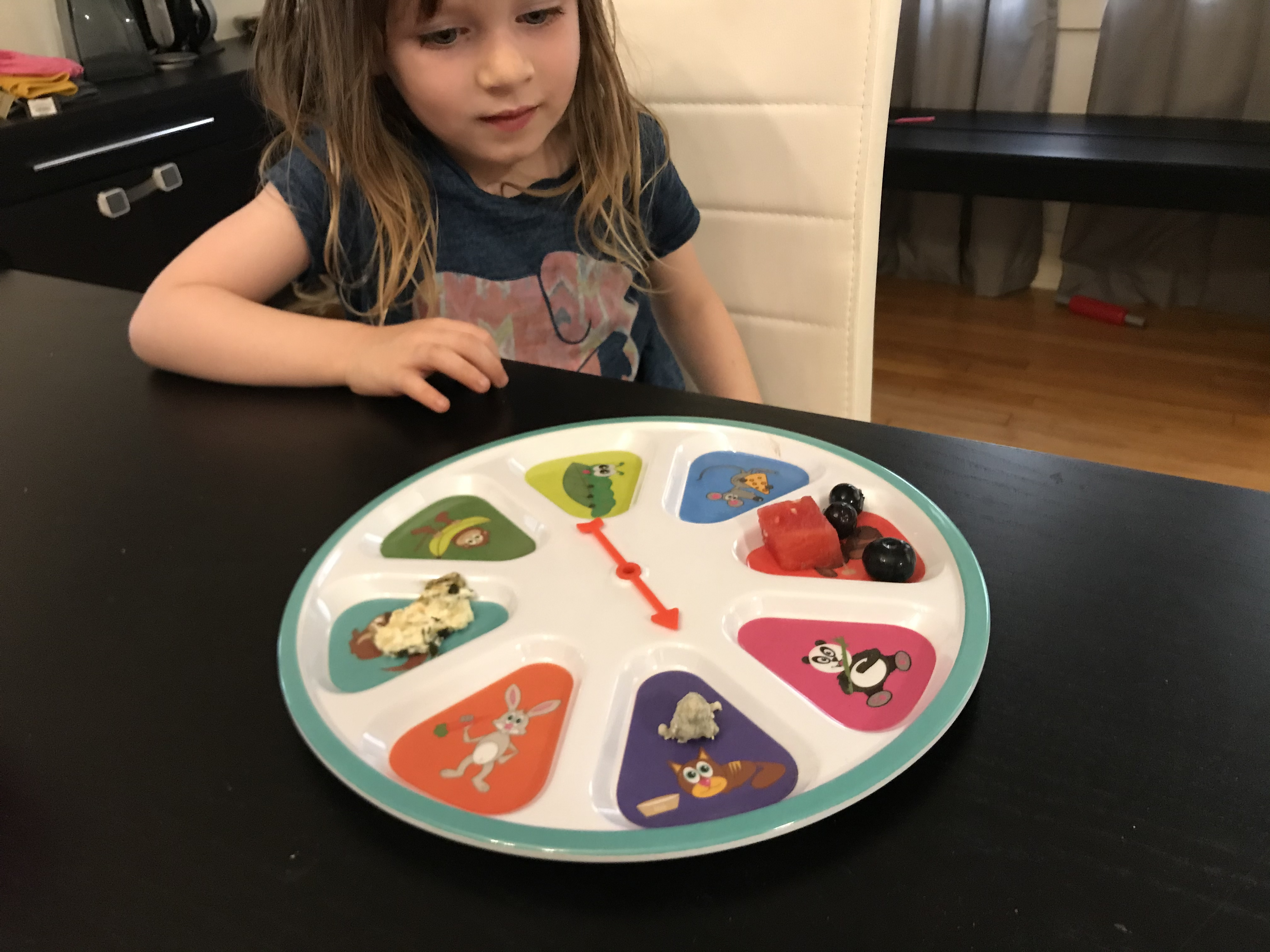 Published Date: 06/14/19
I'll be totally honest with you – my 4-year-old isn't a picky eater. Sure, mealtimes can be frustrating, but overall, I can't complain.
I can't say the same for myself when I was a child. I was the worst. I don't even know how my mother dealt with it. I was completely stubborn and absolutely refused to try new foods, determining I didn't like them before a bite neared my mouth. Anyone in my family can tell you stories about it.

There was the time when I was about my daughter's age that my grandma insisted I eat canned peaches. This became a battle of wills, with her forcing me to sit at the table for hours – three, I think – until I tried them. I honestly don't recall who won that battle. Perhaps I did try them eventually, but I guess we both lost in the end, because I haven't eaten a peach since.
Then there was our family vacation to Disney World when I was eight. It's well known that I ate a hamburger for every single meal of that trip, except one. At breakfast one morning Denny's refused to make me a hamburger, so out of desperation, my mother ordered me chocolate cake. A frustrated mom just needing her child to eat something so I didn't ruin the day at the theme park.
As an adult, my pickiness has waned and my palate expanded, but I imagine my mother would have paid any amount of money to get me to try new foods as a child.

While it may be too late for my mom, parents of current picky eaters can rejoice – SpinMeal Plate is here.
SpinMeal turns eating and trying new foods into a fun game for any family. An idea created and brought to life by parents struggling with a toddler who wanted to subsist solely on mac 'n cheese, it's a plate divided into eight sections, each with a colorful character, and a board game-style spinner in the middle. The idea is that you load up the plate, let the child spin, and the child has to try whatever they land on.
When SpinMeal first arrived, my immediate thought was that the packaging was quite adorable – like a personal pan pizza box. When I opened it, I was impressed with the quality of the plate – this isn't Ikea plastic, this is solid Melamine that can withstand a toddler beating.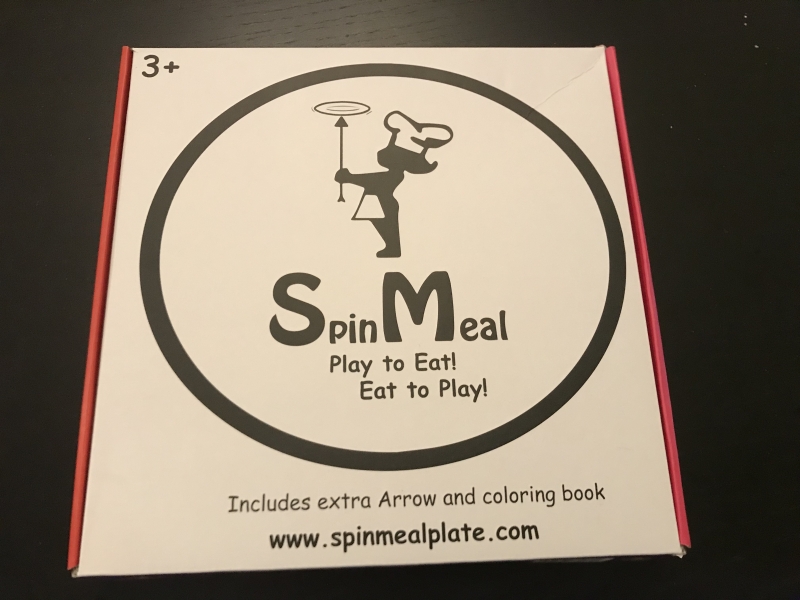 It's also top rack dishwasher safe (you can leave the arrow in place), but it's best to keep it out of the microwave.  
The plate comes with two spinners, ya know, just in case, because we are dealing with children who love to break often irreplaceable things.
My daughter was intrigued by the idea and spun it at breakfast but I didn't have time to test drive it then. Off to school, kid, mama has to bring home the proverbial bacon. And I guess the real bacon for this, as well.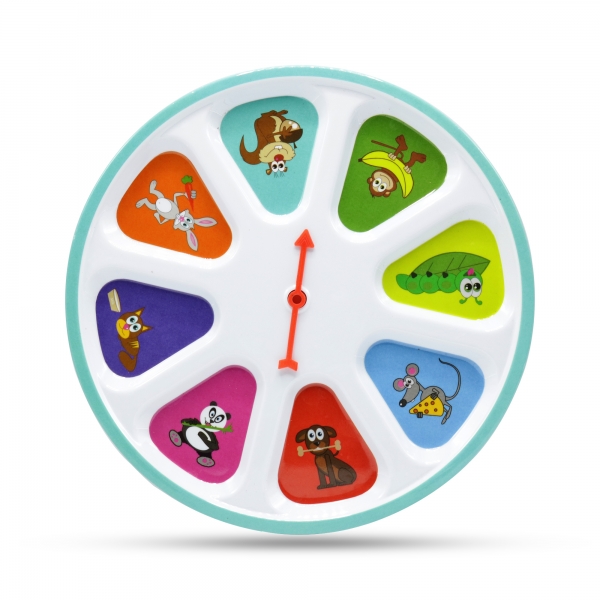 With my husband traveling for work, dinner was the perfect time to give it a spin (see what I did there?) because I didn't have to worry about serving my daughter eight different things plus cooking a meal for us. I'll eat candy for dinner in the closet when she's not looking.
So, as I said, the kid's not picky, but trying new foods is done on her terms. She likes trying them while we're cooking together and is usually willing at a restaurant (especially at a "fancy" one), but during regular 'ol dinner time at home, the answer is generally no, and, whatever. She's a good eater, so I'm not doing battle.

Ok, now full disclosure, I hate reading directions. The plate comes with a cute little booklet with suggestions for games to play, but I didn't read them and made my own rules. She had to try everything on the plate and once she did, she could have as much as she wanted of the food she liked.
I decided it wasn't fair to ask her to try eight new foods at once, and honestly, I didn't know if I had eight in the house that she hadn't tried, so I decided to do four foods I know she likes and four that she hadn't tried before. Except I screwed up and gave her five she likes and three new ones.

Her plate was filled. The foods that I knew she'd eat: hamburger (just like mama), plain pasta, watermelon and blueberries (in a single section), purple cauliflower, and crackers with olive tapenade (that shit's expensive, but I like it too, so we indulge). The new foods: Gorgonzola cheese (she knows I love stinky cheese and recently said to me, "Maybe we can eat stinky cheese together sometime"), spinach and artichoke dip (ok, the kid doesn't like cream cheese, sour cream, or spinach so this was long shot, but I had leftovers from her birthday party this past weekend), and soppressata (another long shot since she doesn't love salami, but I had it in the fridge).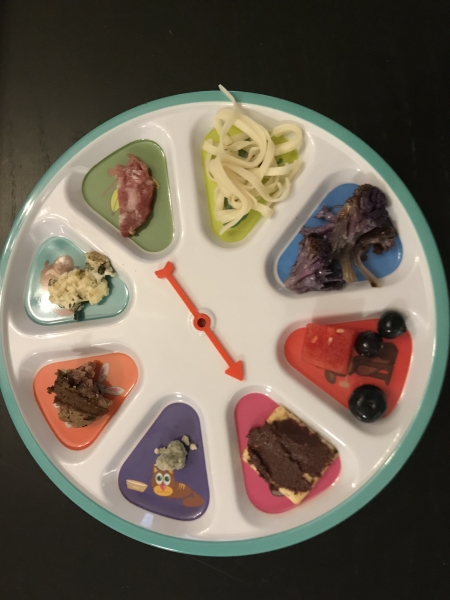 Maybe I took my eyes off the plate and she cheated a bit, but somehow, she landed on all the familiar entities before landing on any of the new foods. Those were gone and here she was staring down three unknowns.
First up, she landed on the soppressata. She had a bite, said she didn't like it (no surprise there), but then took another bite.
Next up, a big, stinky, Gorgonzola cheese crumble. She really didn't want to try this one – I get it – it's stinky – but she took the world's tiniest bite. I told her to take a bigger one and she obliged without complaint, before declaring it too stinky. Lots of adults would too, so I can't blame her.
Last up, the spinach and artichoke dip. She wasn't a fan.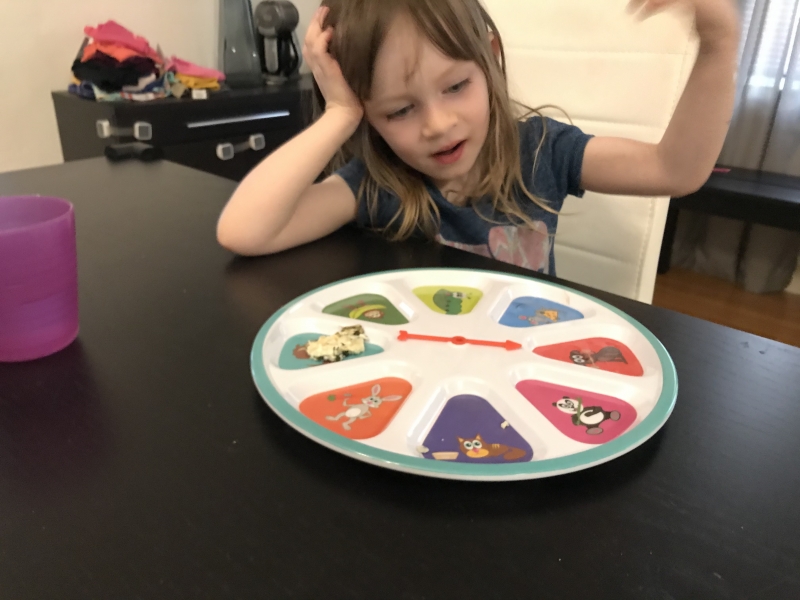 So, with three new foods down the hatch she asked for more olive tapenade (hey kid, remember it's 10 bucks a jar) and "yellow sauce" to dip her purple cauliflower into. If you can believe it, this kid has been eating "yellow sauce" with nearly everything for as long as I can remember. It's spicy Dijon mustard, lemon juice, minced garlic, and olive oil – clearly, she has a sharp palate.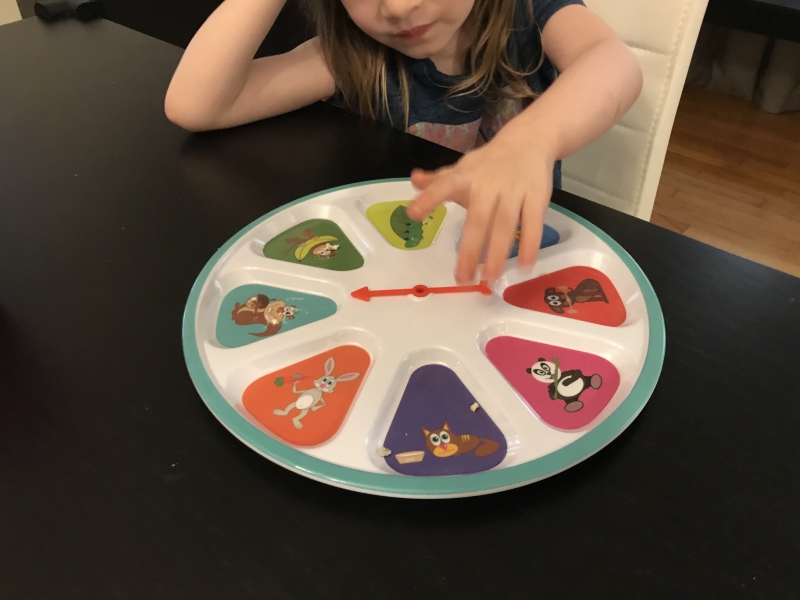 While the new foods weren't a hit, I didn't exactly expect them to be, and it's not like I was giving her foods that children generally rave about.
But, here's the thing. Getting her to try them was absolutely painless. Even more than that, she thought it was fun.
Any parent who's been frustrated at mealtime will tell you that they don't want to fight, they just want to have a pleasant meal. And SpinMeal helps you do just that.

We all want to raise our kids with healthy eating habits, and sometimes it's hard to know what to do. Force them to try something new? Make them eat whatever we serve, even if they don't like it? Let them eat whatever they want? Hell if I know, but when you make meals fun and make trying new foods exciting it sets children up to have a positive relationship with food – one that can last them a lifetime. And really, that's the most important thing. Well, that and not being a short order cook, amirite?
SpinMeal Plate is available on Amazon for $19.99 with free same-day shipping on Prime. You can also fill your fridge with foods you're sure your toddler will reject through this free trial of Amazon Fresh.   
Paper Pinecone is a thought leader in Early Childhood Education and a marketplace for parents to find the best daycare and preschool programs in their area. Parents search thousands of providers at no cost and providers always list free. Get started today.
SpinMeal Plate was provided at no cost in exchange for an unbiased review. This post may contain affiliate links.
Other articles you'll like
Avoid Struggles with Preschoolers When It's Time to Leave