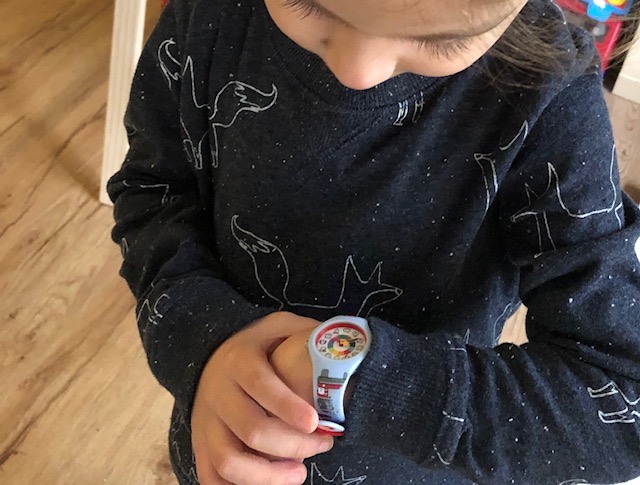 Published Date: 03/25/19
Spring has finally arrived! We survived hibernating all winter long and with the longer days (hello sunshine at 7pm!), and warmer weather, I'm already planning all the fun outdoor activities I'll have with my husband and 4 ½ year old son. Spring break just started and we plan on spending a lot of time outside. As much as I love getting out and enjoying fun places with my son, I'm also usually trying to figure out how I can make leaving the park or his friends easier. It is so hard for little ones to leave when they are having so much fun. I usually set my phone's alarm and let my son, KC, know that he has 15 minutes left and then 5 minutes. Of course, at 4 ½ he doesn't quite comprehend what 15 minutes means and when my alarm goes off, he is usually surprised that the time went by so fast.
I had thought about getting my son a digital watch but unless he was going to count the numbers and think about how many minutes were left, that still wasn't going to really help him figure out how much time he had. Recently, I was scrolling through Instagram and came across a preschool watch by Preschool Collection and was immediately intrigued. Preschool Collection is a family-owned business that makes clocks and watches specifically for young children in a way that they can easily understand. My son had fun looking through their collection of adorable printed silicone watches before picking out the firefighter one. He almost went with the one that had construction trucks, but firetrucks won. My little guy kept wanting to check the mail every day waiting for his watch and luckily it arrived very fast and he was ready to go.
This watch has really been a game changer for us! What makes it so unique is that instead of seeing numbers to represent the hours and minutes, it uses animal faces to represent minutes and colors to represent hours. So instead of saying, you have ten minutes left to play or until bath time, it's more like, you have until the grey hand moves from the dog to the horse. I usually say both so that my son can start to understand what ten minutes feels like compared to five minutes or half an hour. KC loves the watch because he likes knowing what to expect and when to expect it. He is still not a fan of being restricted in his car seat for too long so when he gets in, he'll ask when we will get to our destination and it helps him to know that he only needs to wait for the grey hand to go from the bear to the rabbit. He loves seeing how much time he has and apparently, it's fun to see if mama is right, it almost feels like a game. We are probably all familiar with the dreaded "Are we there yet?" part of driving with young kids and this watch is great because you can easily show them what time you will arrive and they can actually watch as you get closer.