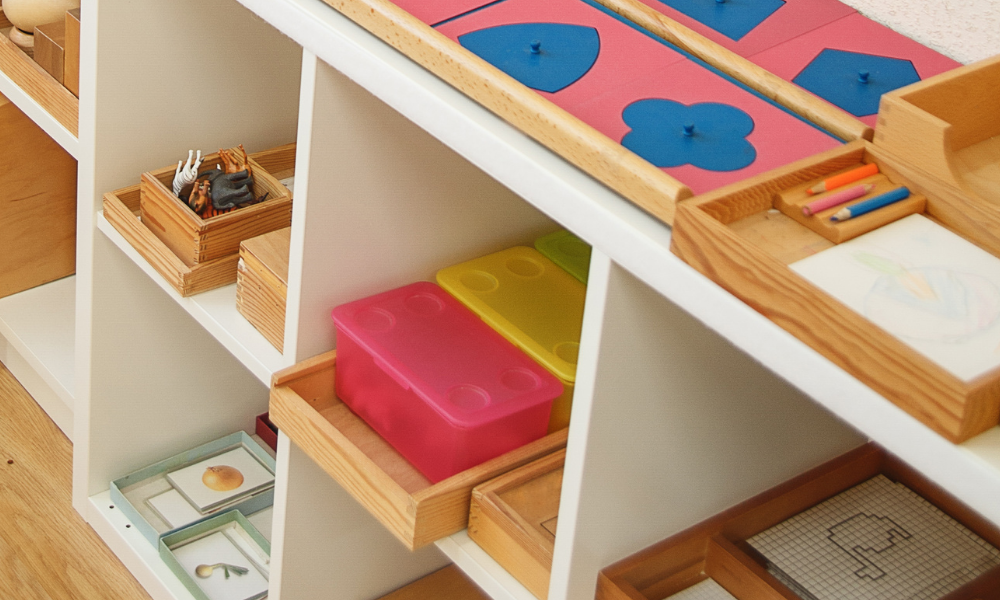 Published Date: 10/17/21
30 Second Summary
A Montessori shelf is low, open, and made from natural materials
They're designed to promote independence by allowing children to play with their toys and access materials without assistance
Bins and baskets make activities easy to take down and put away
Purchase toys made from wood and other natural materials
Less is more - don't display all toys at once, instead rotate them periodically
----------------------------
Interested in learning how to incorporate Montessori at home? Check out these related posts:
Did you know that organizing your child's room in a certain way can actually increase independence? When you create an ideal environment it can lead to more imaginative play, foster learning, and facilitate language development.
But how?
With Montessori shelves.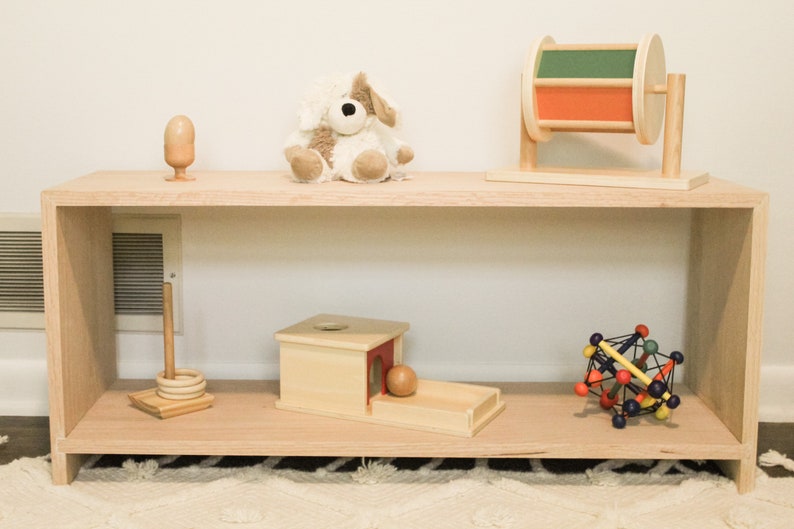 Living in a Montessori environment means you don't have to compromise style. This beautiful shelf by Hidden Years Co is perfect for any family. Price: $170+
What is a Montessori shelf?
To be considered Montessori, the shelf should low and open, giving children access everything - their toys, materials, and activities, all without the help of an adult. They're made out of natural materials and are the perfect way to organize a playroom.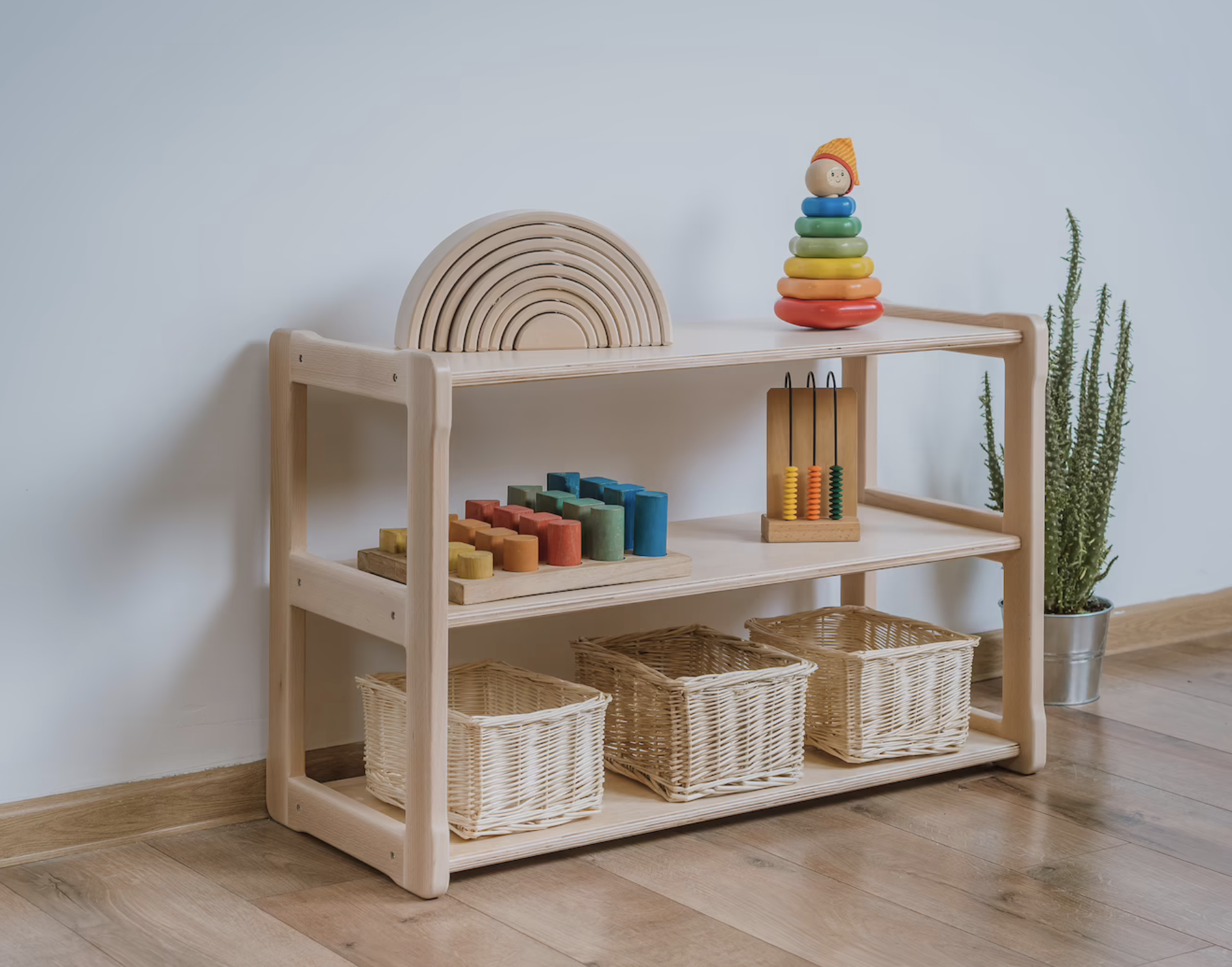 Woodjoy Collection shelving provides beautiful and functional storage for any room. Price: $150.66
IMPORTANT: Even a low shelf can be a tip hazard. Secure all furniture to the wall with anchors.
Unlike overflowing toy boxes, Montessori shelves are organized and uncluttered, provide a designated space for everything, and promote independence in children. Their design invites a child to curiously explore and engage with activities on their own.
They align with Montessori's principles, which are:
The prepared environment
The absorbent mind (always learning)
Auto-education
Respect for the child
Sensitive periods (e.g. ideal periods when certain skills are best acquired)
Don't miss this post: Montessori vs Traditional Preschool: Which is Better?
What's the correct height for a Montessori shelf?
Whether it be a toy, a family photo, or wall art, everything in your child's living space should be at a their eye level and accessible for little hands. That's why child-sized furniture is a key component of a Montessori home, and this includes your shelves.
Factor in your child's age when choosing your shelf to ensure it's the right height. Here are some guidelines:
Infant shelf: ~16 inches tall
Toddler shelf: ~24-32 inches tall
School-age shelf: ~32-40 inches
Tips to organize your Montessori shelf
It's important that shelving be set up optimally. Follow these tips:
Make them easily accessible
Accessibility is the most important aspect of the shelf. Because they're an appropriate size for a child, every toy is within their reach.
In a Montessori home, everything in a child's space is deigned this way. Low furniture makes it easy for a child to see and access items independently including toys, activities, and clothing.

Shelves that allow kids to reach toys on their own help promote independence.Choose a wood shelf, like this one by Child's Play Woodworks. Price: $279
"Eco friendly, safe, bpa-free - bamboo plates with lids"
Limit the number of toys available
An interesting bit of research: A study found that toddlers who were offered just four toys played in a more meaningful way than toddlers who were offered 16.
Too many choices can paralyze even the most confident adult decision makers and a child can easily get overwhelmed by a playroom full of options. Dr. Montessori knew this years ago and found that decluttered spaces led to increased concentration.
Limit the number of toys in the space to about eight, and store the rest out of sight. This will result in more focused and imaginative play, as your child develops and discovers new ways of interacting with materials and activities.

Wood blocks are one of the best toys you can have on your shelf. These are available on Amazon.
Rotate toys periodically
Observe your child playing. Based on how they engage, rotate toys once per week to once every few weeks. You can choose to swap at all at once, or just a few at a time, depending on your child's interests.
When you introduce new activities, guide your child through the space, demonstrating how they're organized and where to put them away. No need to show them how to play - your little one will figure it out!
Use baskets to display and organize toys
Baskets make it easy for little hands to take toys off a shelf and transport them to the floor or to another room. They also make clean up easier.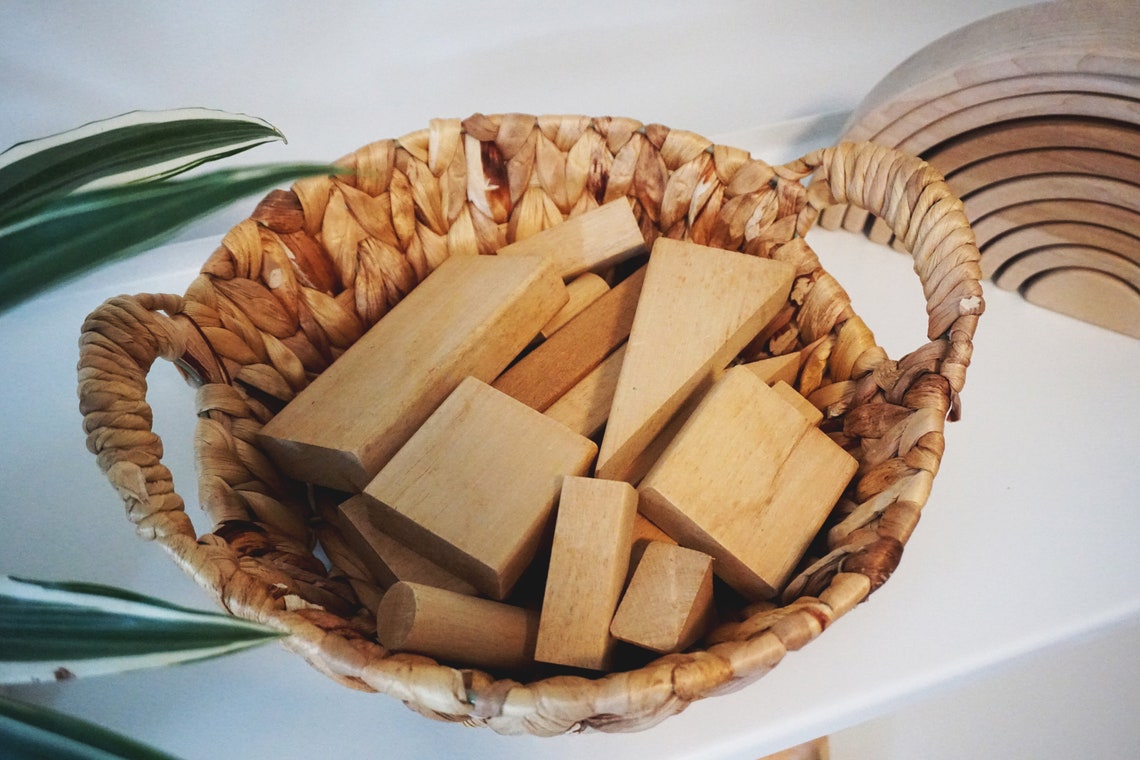 A woven storage basket helps kids easily move items from the shelf to the floor. This one by Natural Play Box, helps make any space beautiful. Price: $14
Toys should be stored disassembled
A child is inspired to put a puzzle together, but taking it apart doesn't engage them in the same way. Disassemble toys when appropriate. Store on a shelf for a child to see, which will encourage engagement.
A tray with handles helps keep your shelf organized and can help your little one move toys to different spaces. This one is available on Amazon.
Organize toys based on difficulty
When toys are organized from left to right based on difficult, it's easy for a child to choose activities at the level they currently want to "work" at (as Dr. Montessori said, "Play is the work of the child.").
Montessori puzzles - perfect for a baby 6 months and up. Available on Amazon.
Purchase toys made from natural materials
Wooden and metal toys provide sensory input that plastic ones simply don't. They're typically open-ended as well, meaning a child can play with them in countless ways. As a bonus, their style helps make the space more attractive!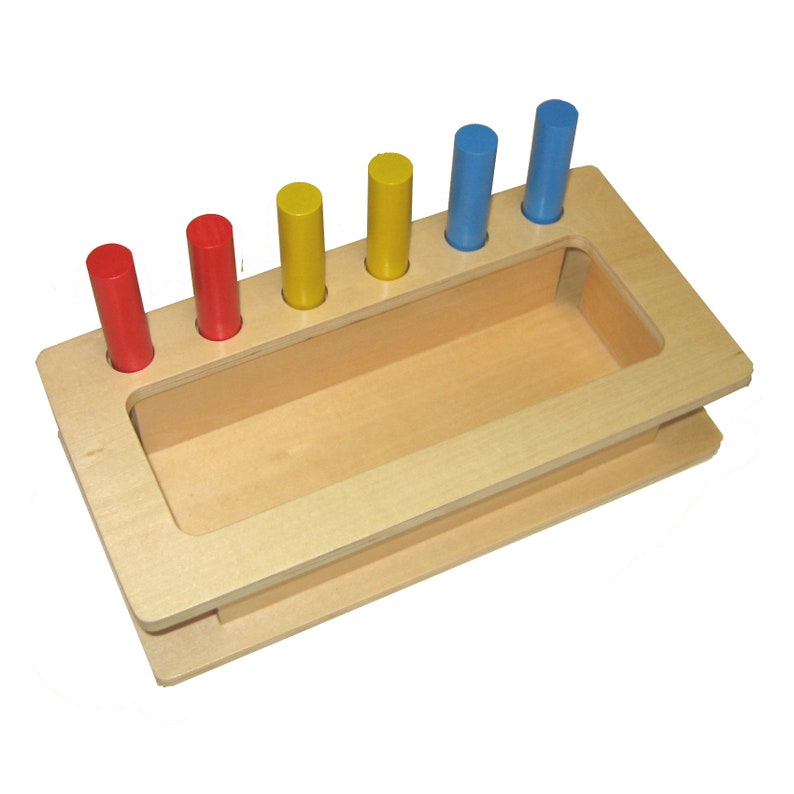 Montessori toys are made from natural materials. This imbucare peg box is a perfect addition to your shelf. By IFIT Montessori and available on Etsy.
Put out a variety of toys
As your child interacts with different types of toys, materials, and activities they'll learn and develop in new ways. Having a variety within reach will keep them interested, learning, and curious.
Consider your child's interests
Search for toys that support your child's interests and help them discover new ones. You may find that these interests change with time, so observe how they play and review what you have.
For example, if you see your child is interested in music, add small bells, maracas, or a xylophone so they can explore music. Similarly, if you see your kid feeling annoyed by a particular toy, remove it from the shelf for now and replace it with something else.

Stock your shelf with toys based on the interest of your child. These Montessori musical instruments by Mila Bean Shop are available on Etsy.
Montessori toy ideas to stock your shelf
Below are some of our favorite toys designed to spark interest, keep little kids engaged, and that look great on any shelf in your home. These are just some ideas as again, toys should be based on your child's own interest. Beyond these, have a look at Ikea next time you're there. They typically have several toys that meet Montessori's criteria.
A perfect toy for Montessori's practical life approach. Your child will love learning how to use a screw driver and Allen wrench while working fine motor skills. Built-in storage for tools helps maintain organization in your space.

Every baby and toddler loves music! This set has ten instruments, perfect for little hands. Rather than setting them all out at once, rotate what instruments you have out on the shelf in your room.

Also called stacking stones, wooden stones are a must on your shelf. Just as you'll find in nature, every block is a different size and shape, and each one is a polyhedron. Blocks are great tools to help children to learn math, science, cause and effect, work fine motor skills, and more.
Montessori Shelves FAQs
What's the ideal age to set up a Montessori shelf?
A: A Montessori shelf can be set up in the nursery from the earliest ages, though generally preschool-age children (3-6 years old) will see the most benefits. Choose items that are age-appropriate, take a minimalist approach to toys to keep your shelf uncluttered and not overwhelm your child.
What is a Montessori toy?
A: To be considered a Montessori toy, it should meet several criteria.
It is made of natural materials, not plastic
The toy is simple
It's rooted in reality (e.g. it does not personify animals)
The toy is functional, constructive, and requires active participation from the child (e.g. they do not simply press a button for multiple things to happen)
Why are Montessori shelves important in early childhood education?

A: Montessori shelves are important in early childhood education because they provide children with the opportunity to explore and learn independently. By having materials displayed on open shelves, children are able to choose what they want to work with and engage in self-directed, play-based learning. This helps to foster independence, creativity, and a love of learning in young children. Additionally, Montessori shelves are designed to be aesthetically pleasing and organized, which helps to create a calm and inviting learning environment.
Paper Pinecone is the #1 most trusted childcare directory giving parents access to the best preschools and best daycares near you. Parents always search free and childcare providers always list free. Send inquiries about the best daycares and preschools to questions@paperpinecone.com.
This post contains affiliate links.