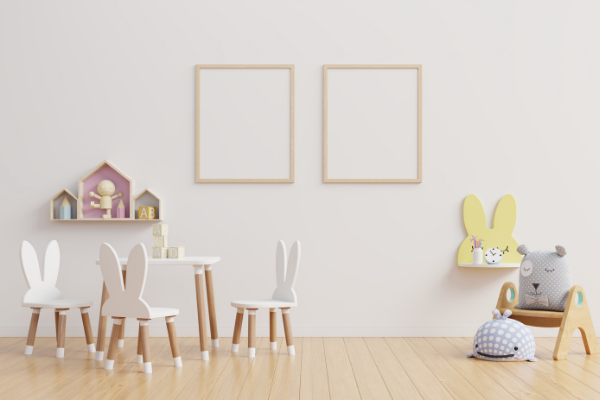 Published Date: 10/05/21
RELATED POSTS:
30 SECOND SUMMARY
Montessori nurseries have four distinct areas - sleeping area, feeding area, movement & language area, and the physical care area
They use minimalist design and natural materials
Toys are within reach and decor is hung at eye level - child proof the room adequately for safety
Key components in the room include a floor bed (instead of a crib), low shelves, a mirror with pull up bar, a low table and chairs set, a comfortable chair for an adult where they will feed the baby, a place to change the baby, and low stool for an adult
Montessori nurseries are designed to foster independence, and support physical and cognitive development
The Montessori Approach to A Nursery
Many parents look forward to setting up their baby's nursery. From picking the color scheme to finding the right crib, it can be a great way to nest and get mentally prepared for baby's arrival.
If you're interested in Montessori parenting, you can use the Montessori method to guide you in creating your baby's nursery, which will grow with your baby as they get older.
Another article you'll love: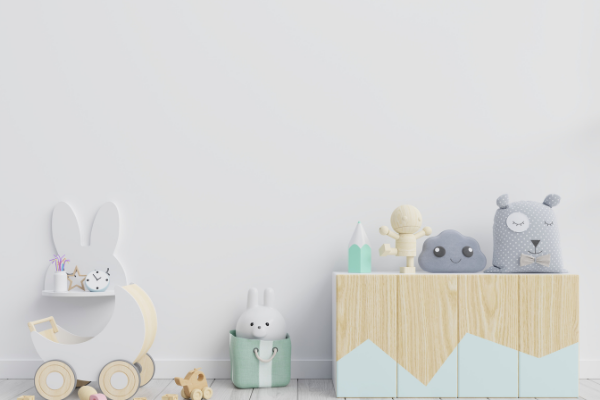 A Montessori nursery uses minimalist design.
What is a Montessori Nursery?
A Montessori nursery, is, of course, inspired by the Montessori method. Minimalist and visually appealing, it is intentionally designed with your baby's development in mind.
A Montessori style bedroom draws on the principles of the Montessori method:
Respect for the child
The absorbent mind
Sensitive periods
The prepared environment
Auto education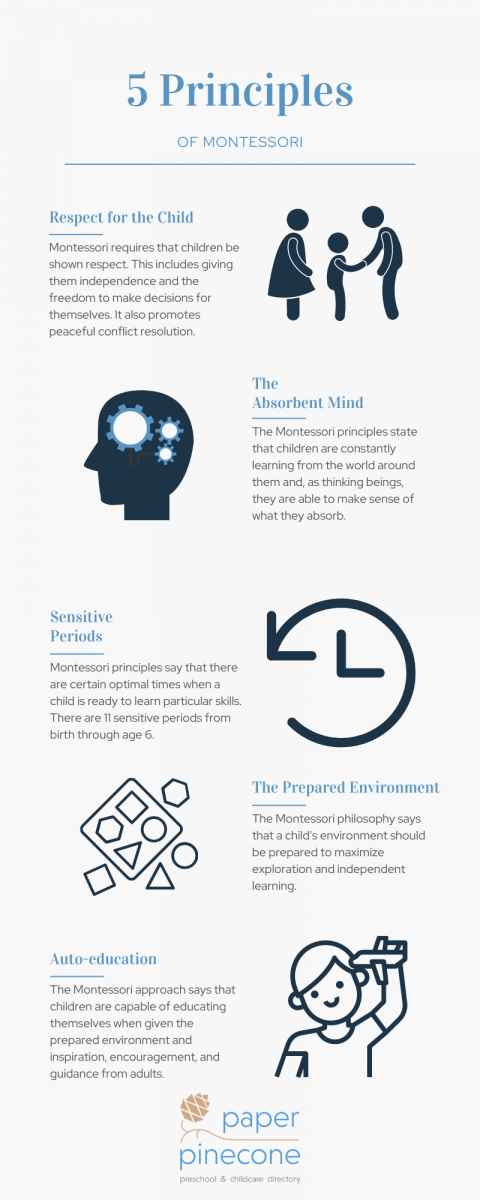 Montessori rooms create an environment that allow freedom and movement for your infant or toddler. The space is created to foster your child's independence from an early age and uses natural materials aligned with the Montessori approach.
You won't find the Montessori room filled with plastic toys that are out of reach. Instead, it uses specific elements designed to allow your little one to explore on their own.
RELATED POST:
The Montessori bedroom has four key areas:
Sleeping area
Feeding area
Movement and language area
Physical care are
Wood stacking stones, available on Amazon
The Montessori Baby Sleeping Area
Montessori places a strong emphasis on independence, and the sleeping environment in a Montessori nursery or bedroom is no exception.
In a traditional nursery, you'll find that most babies sleep in a crib. In a Montessori room, instead you'll find a floor bed.
What is a Montessori floor bed?
A floor bed is much like it sounds - a mattress that sits directly on the floor, or with a very low bed frame.
Floor beds, just like cribs, can be used following safe sleep guidelines. A baby should be placed to sleep on their back, with no pillows, blankets, stuffed animals, loose bedding, or other objects.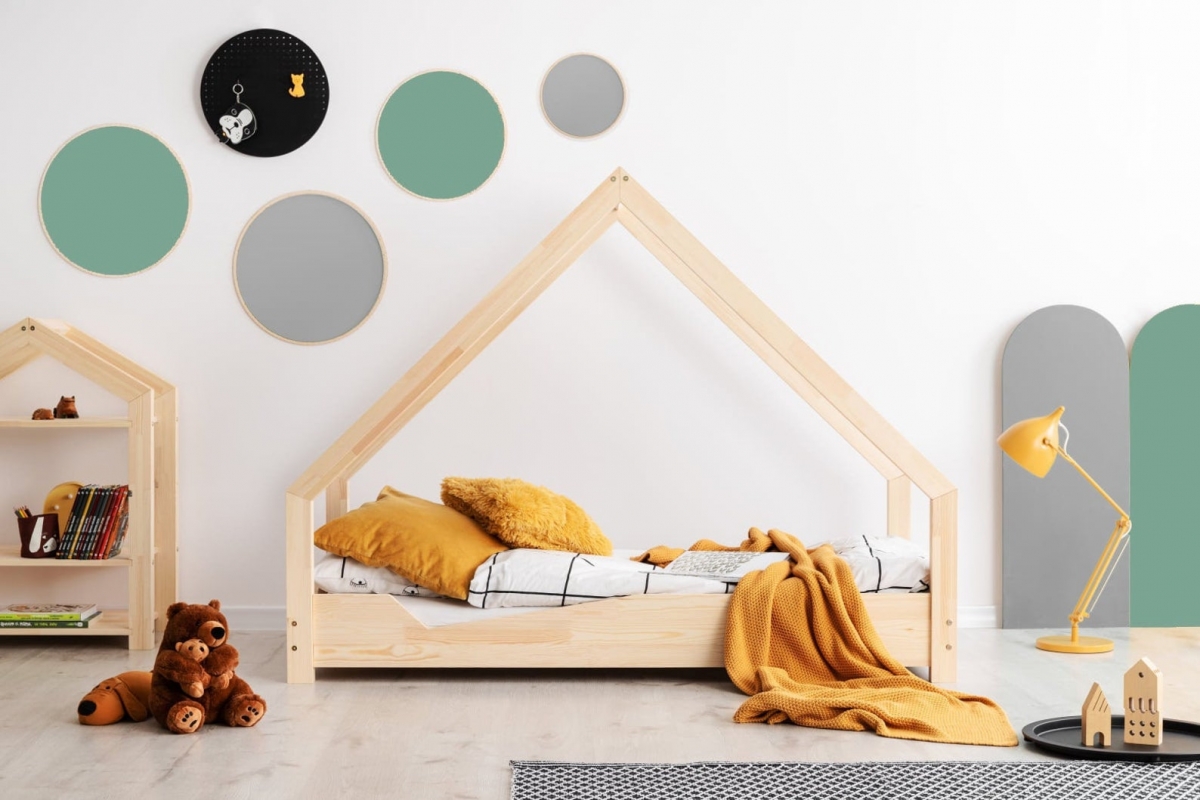 Kidoo Crafts bed, available on Etsy
The floor bed is used so a child has unrestricted movement within the room. Whereas an infant in a crib needs an adult to remove them, with a floor bed, a baby is free to explore and play independently. In addition, a child's line of sight isn't blocked by traditional rails.
Another post you'll love
Given the freedom to independently move around, it's crucial to ensure the room is baby proofed for safety. Secure furniture to walls, cover outlets, and only include items and toys that are safe for young children.
A floor bed doesn't have to be fancy - simply placing a firm mattress against the wall works as well! It can be used in your own bedroom until you're ready to move your baby to their own room.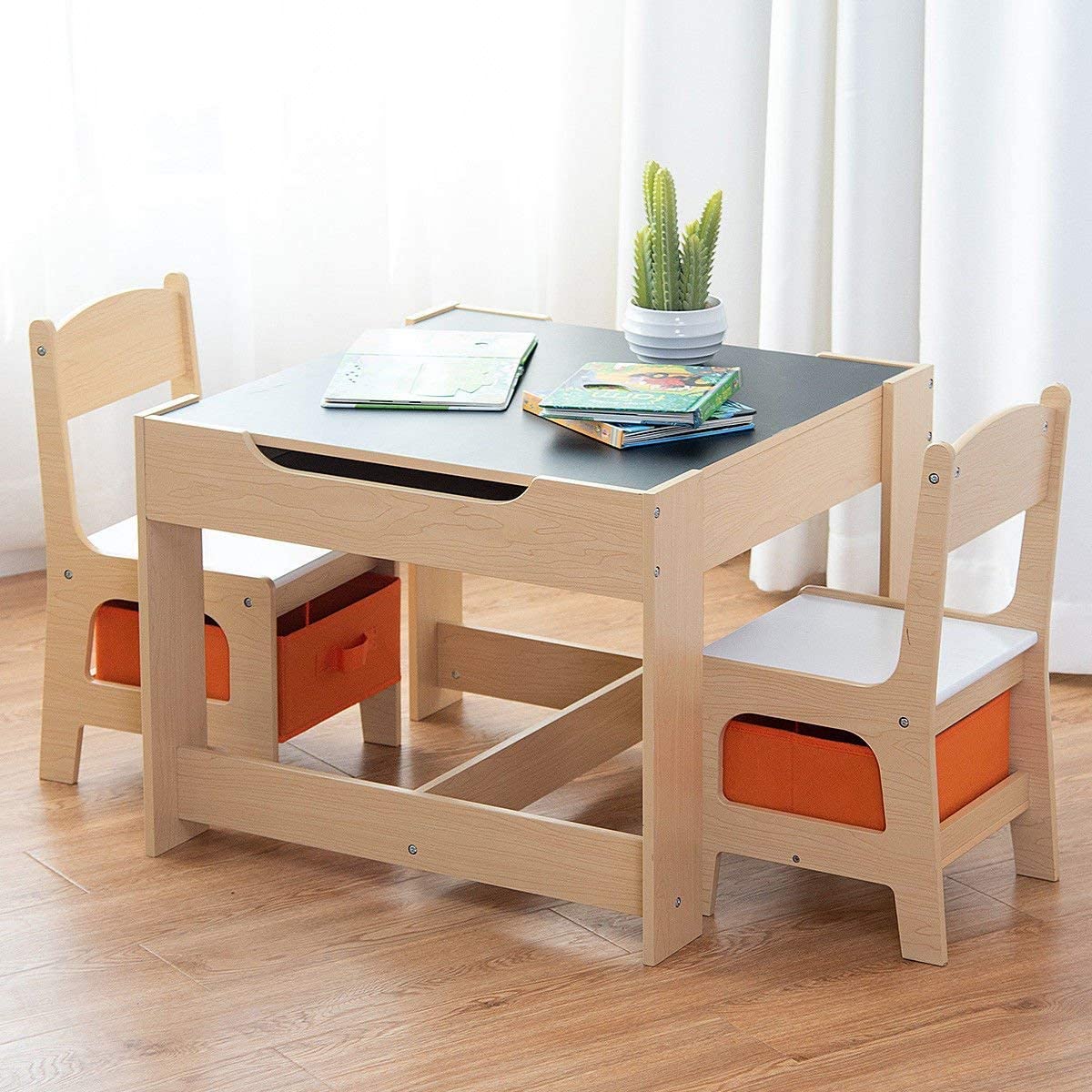 Available on Amazon
The Montessori Moses Basket
When a child is first born, the safest place for an infant to sleep is in the same room with their parents. A Moses basket is perfect for a Montessori baby, as it takes up minimal space, provides a cozy place to sleep that reminds him or her of the womb, and is easily transported to another room.
Like a bassinet, a baby can use a Moses basket until about 3-4 months, or until she or he can pull up unaided or roll over. Use a firm pad that fits securely in the basket to follow safe sleeping guidelines.
As the name implies, Moses baskets have been used for centuries and many are far less expensive than bassinets.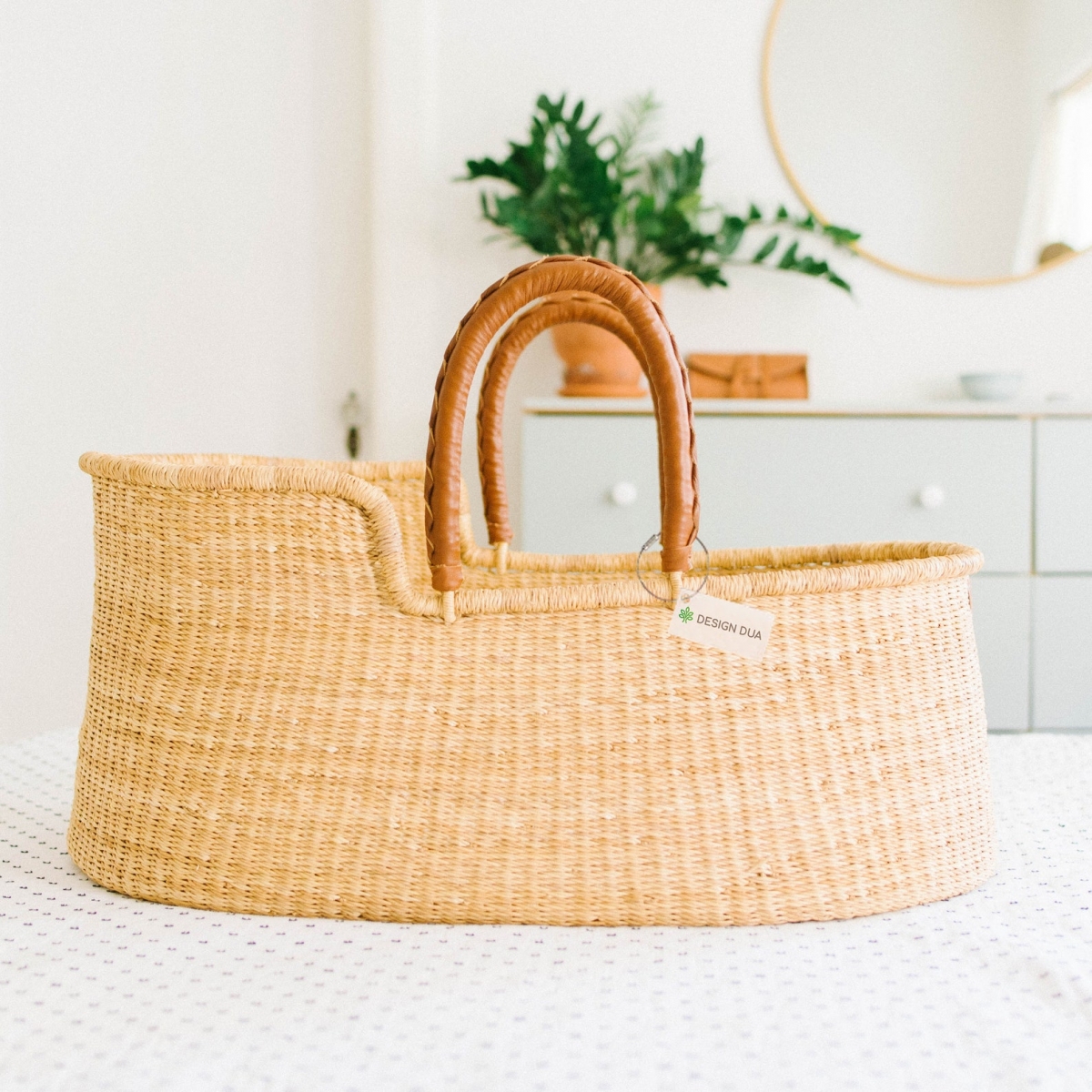 Moses basket by Home by Design Dua, available on Etsy.
Feeding area
Like all spaces in a Montessori inspired room, the feeding area is beneficial for both the mother and baby. For babies, a dedicated space provides a sense of order and for mothers, it provides both convenience and comfort.
Link you'll love
Feeding chair
As with most nurseries, a rocking chair provides comfort to parents feeding their baby. The rocking motion is calming for both adults and babies and is an essential part of every baby's room.
You can purchase a new chair or even buy a conversion kit for one you already own.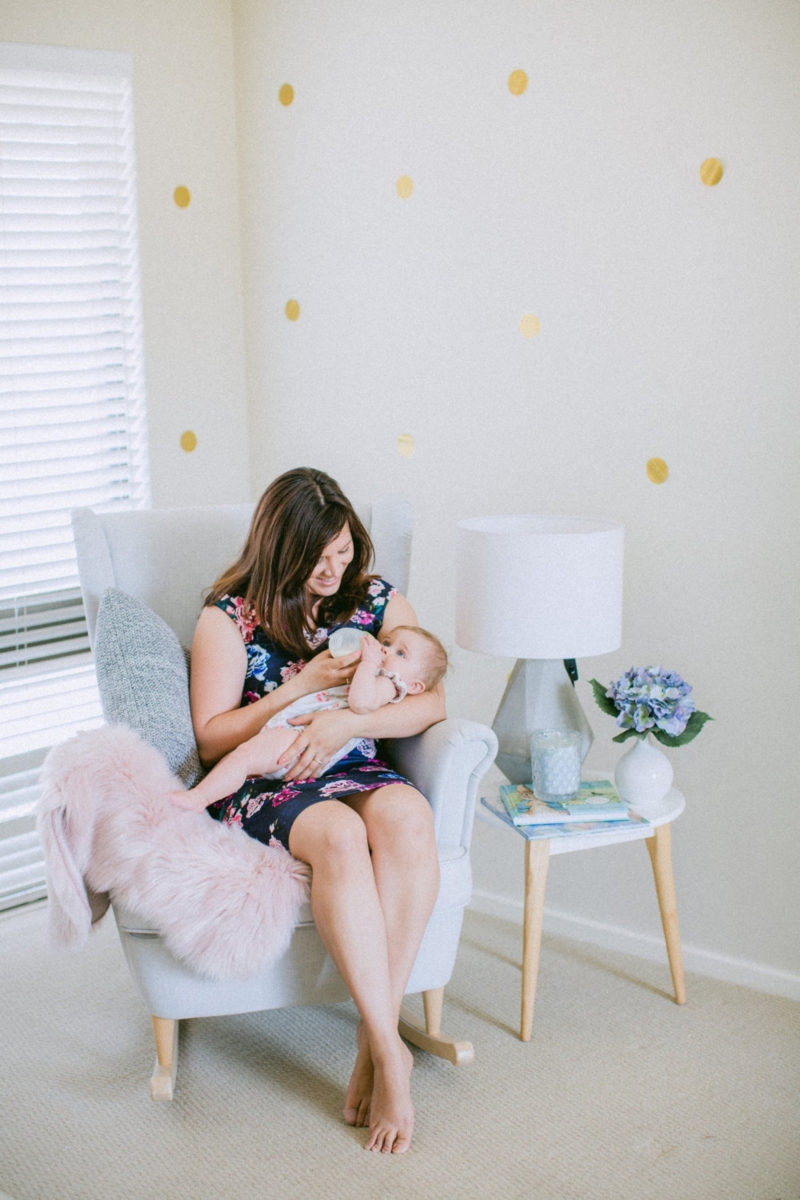 Make your chair rock with a conversion kit by Hickory Dickory Rock, available on Etsy.
Weaning table
No Montessori room is complete without a weaning table, which can be used when a baby transitions to solid foods, or a space to play. It is suitably sized for a small child to use independently - no highchair or booster seat needed.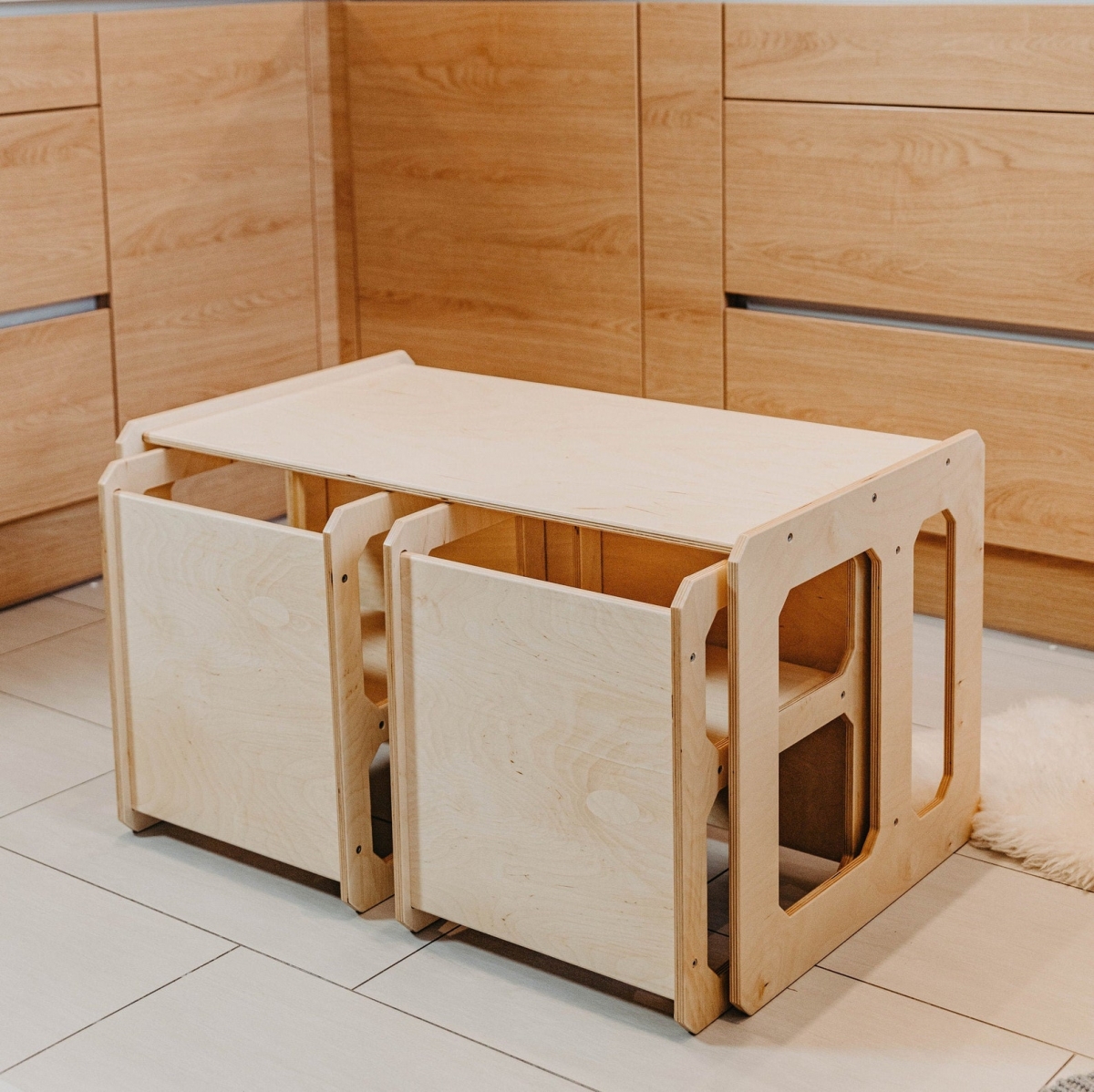 Adult stool
A Montessori room also includes a stool for an adult to sit. This allows them to easily interact in the space with a baby or toddler while keeping them comfortable.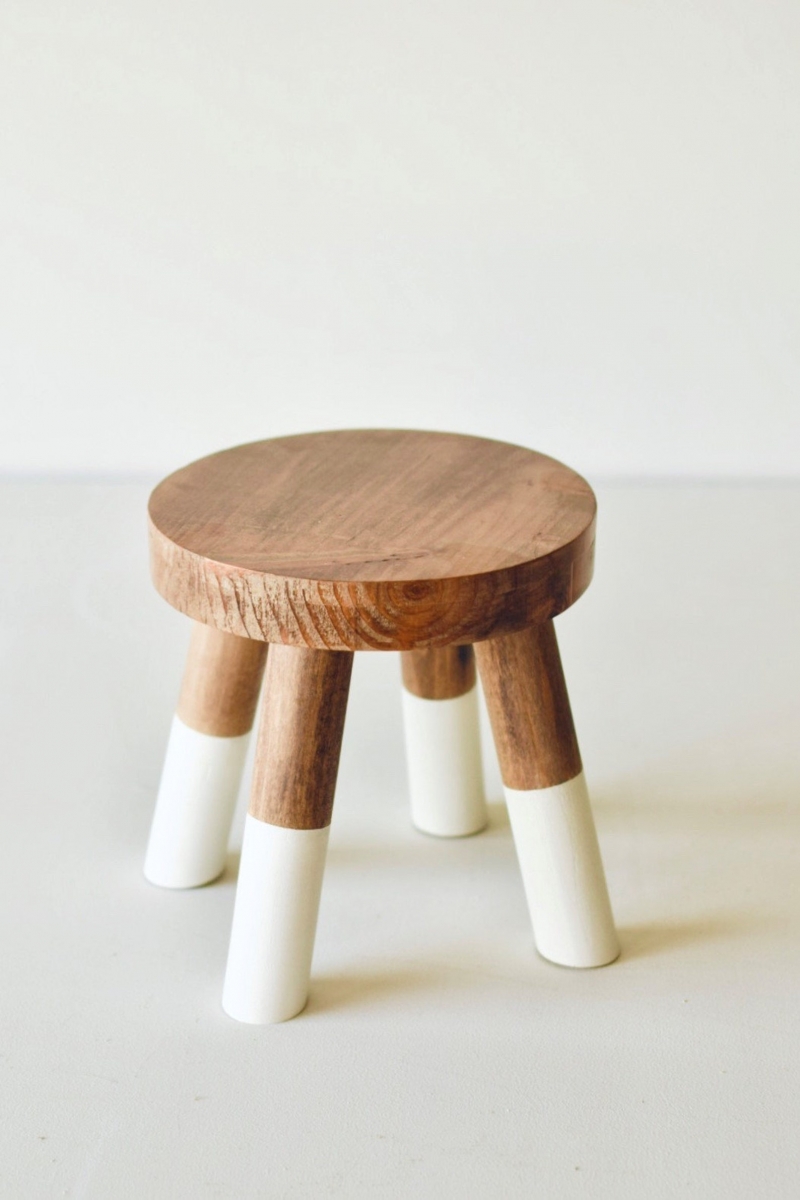 Movement & language area
The movement and language area in a Montessori room is where you'll find toys and other items that promote development in babies.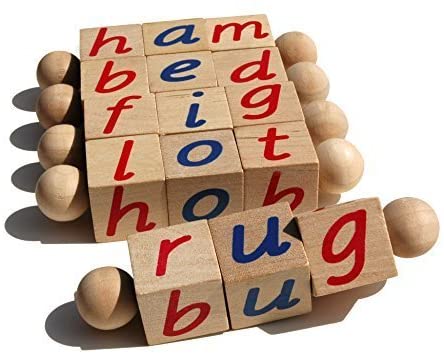 Available on Amazon
Low shelf
If you've ever seen a photo of a Montessori preschool, you probably noticed the open shelving. Having elements easily accessible on a low shelf is a component of the prepared environment and auto-education.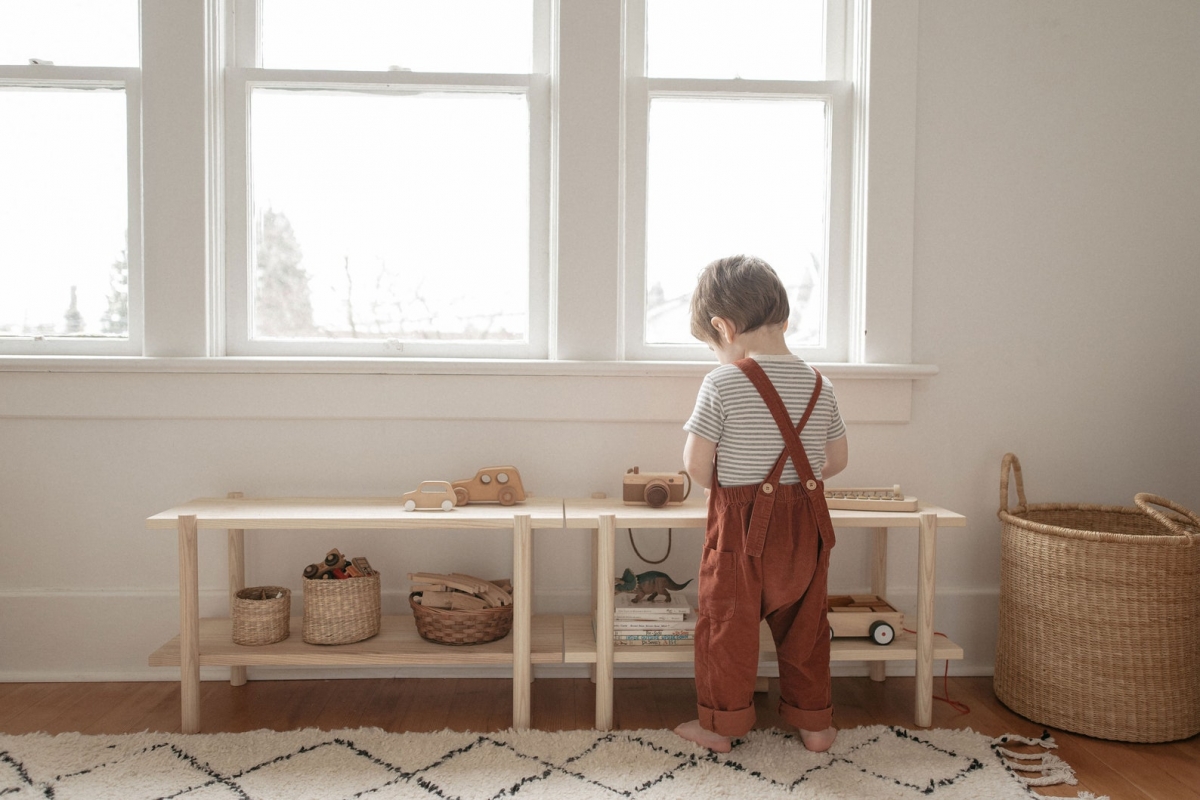 Montessori shelves by Kroft Studio, available on Etsy
Mobile
Every Montessori baby needs a mobile. In the first three months, it is not considered a toy, but a tool that aids in forming a baby's vision.
In early infancy, a baby can only see highly contrasting objects that are very close, which is why mobiles are initially black and white and the objects are flat. As the baby's visions continues to develop, the black and white objects are replaced with primary colors and three dimensional shapes. Eventually, the Montessori baby graduates to a tactile mobile, often called a baby gym outside of Montessori circles.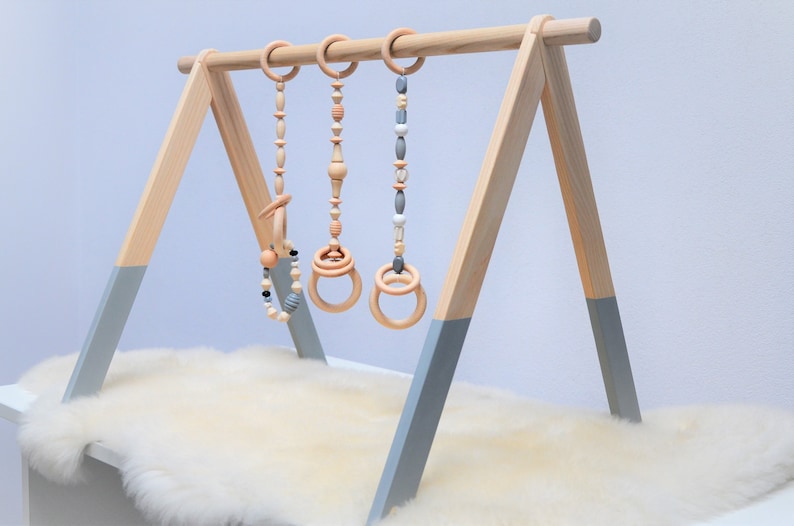 Another post you'll love 
Mirror
While babies don't recognize their own reflection until about 18 months, having a mirror in the space promotes cognition, allows them to study the room from different angles, begin understanding facial expressions and cause and effect, and promotes motor skill development during tummy time. As your baby gets older, they can use a bar placed around waist level to pull themselves up.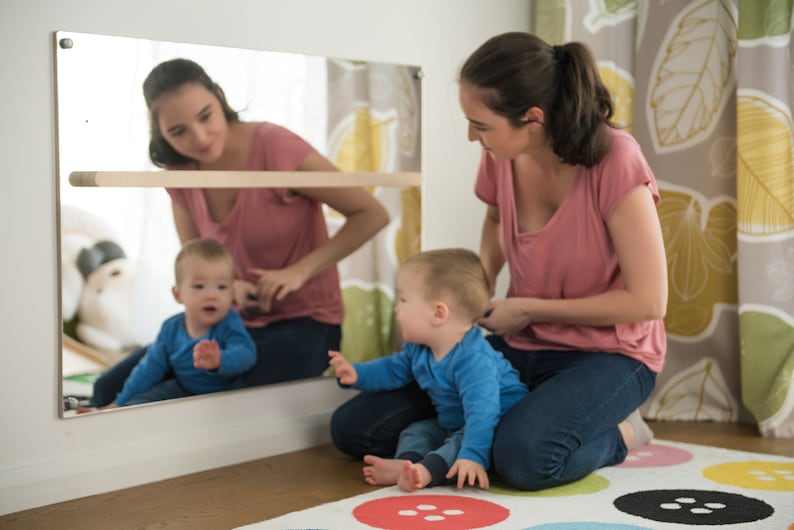 Physical care area
The physical care area in a Montessori room makes dressing oneself accessible for young kids and includes a diapering area.
Accessible clothing
A Montessori room helps kids learn practical life skills. Rather than hanging clothes high in a closet, an open wardrobe is the perfect piece of furniture to create independence.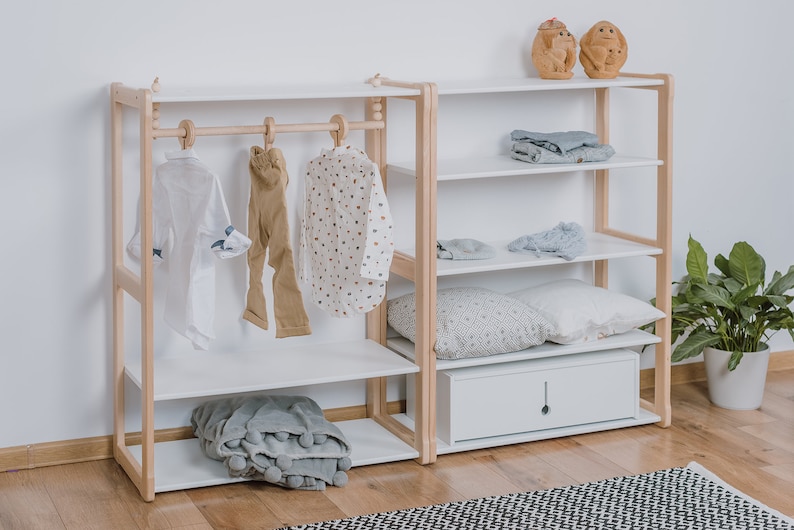 Diapering area
As with all nurseries, a family will set up an area for diapering a child. Like all components of Montessori rooms, the diapering area uses wood components in favor of plastic.
Tips for decorating your Montessori space
While it may seem like there are many decor rules to follow when creating your Montessori room, remember to have fun with it!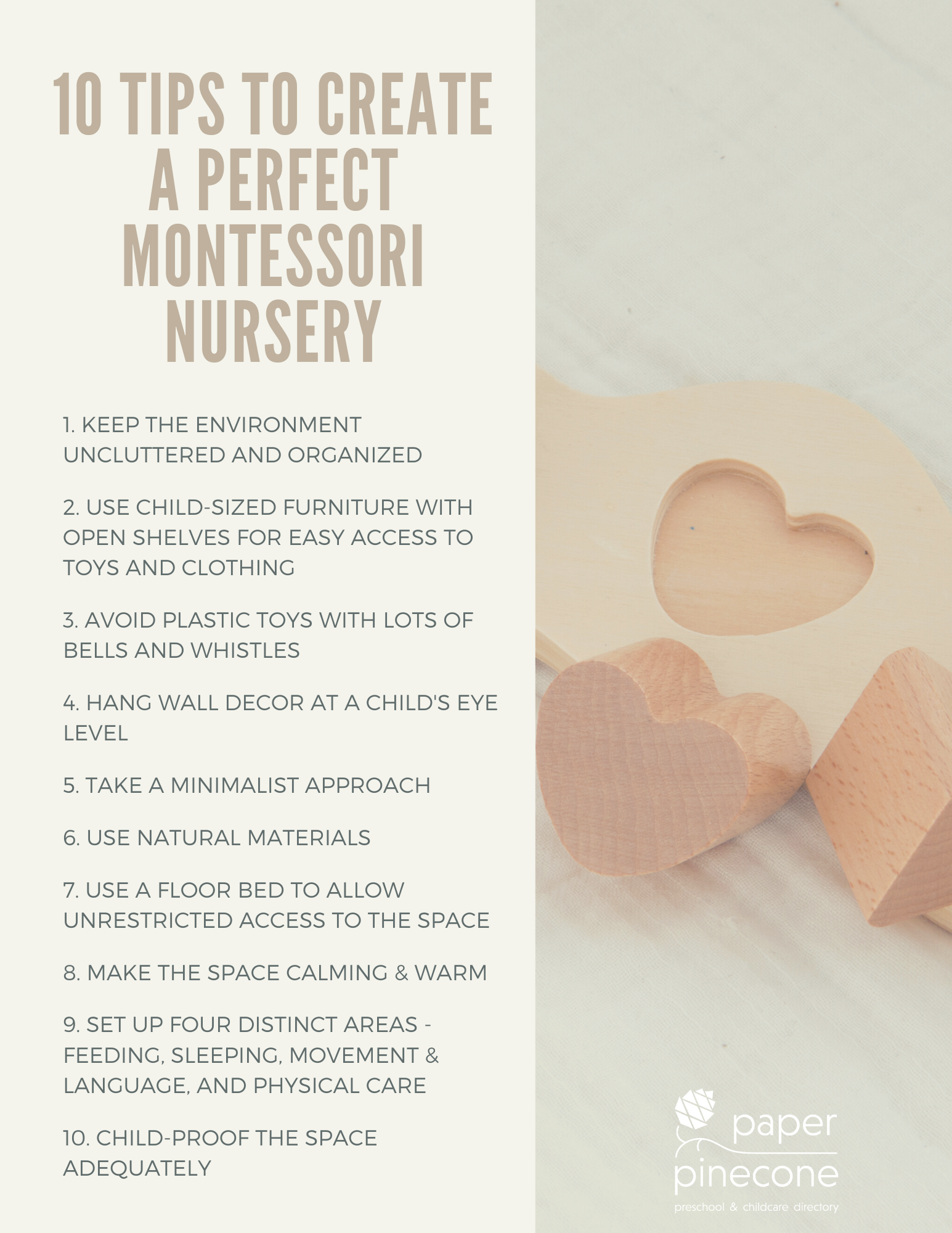 Montessori At Home FAQs
1. How do you incorporate Montessori at home?
Incorporating Montessori into your home is easy. Here are some tips:
- Follow Montessori principles at home
- Emphasize life skills 
- Foster your child's independence 
- Creating safe areas for your child to explore
- Use positive discipline methods
- Use child-sized furniture
- Make toys and books easily accessible on low shelves
- Favor wooden toys over plastic
- Hang artwork and decor at your child's eye level
- Create and nurture connection with your child
- Creating an environment based on intrinsic motivation instead of rewards
2. What is Montessori furniture?
Montessori furniture is designed to help you raise an independent child from the earliest ages. It is appropriately sized for a small child and provides easy access to clothing, toys, and materials without needing adult assistance.
Paper Pinecone is the #1 most trusted childcare directory giving parents access to the best preschools and best daycares near you. Parents always search free and childcare providers always list free. Send inquiries about the best daycares and preschools to questions@paperpinecone.com.
This post contains affiliate links.