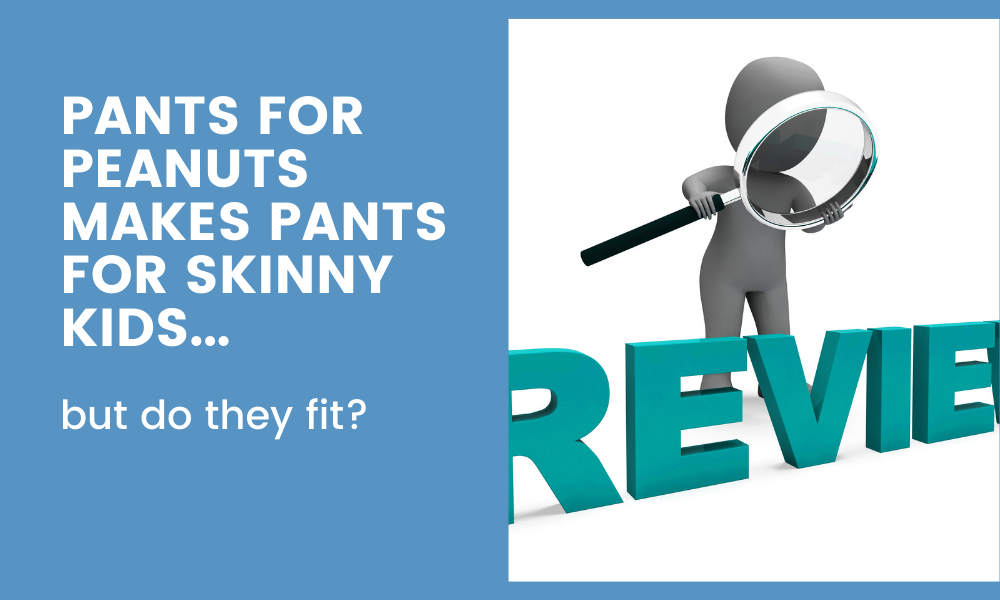 Published Date: 08/14/21
Sponsored post - we were provided product at no cost in exchange for reviews.
Finally - clothes that fit my skinny kid!
In my house we have what we call the Tush TestTM. Whenever I buy jeans for my daughter, she has to put them on, run around the house, do a few jumps, and see if they end up around her ankles. Nearly every time, she takes three steps and they fall right down her legs.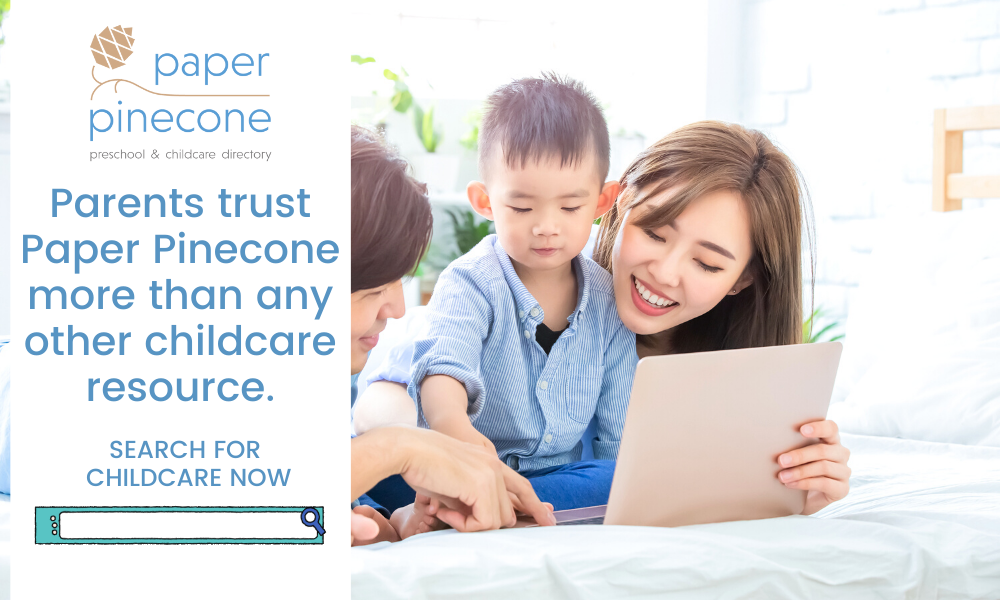 At six years old and entering the first grade, my daughter's weight puts her on par with an average kid nearly two years younger. She clocks in at a whopping 36.8 pounds. As a baby and as a toddler, she was always slim and once she hit a year old, she literally fell off the charts and dropped below the first percentile. My daughter's not tall, but her height percentile is much greater than her weight percentile.
We're fortunate that she's perfectly healthy – just thin. On a positive note, I can still easily swoop her up and comfort her on my hip when she's upset – something her friend's parents had to give up ages ago. On the flip side, her diminutive size makes shopping for clothing a chore.
When she was young, shopping was easy - it didn't really matter how onesies looked and I could buy from any store. But over the years, I've tried every style from skinny jeans to wide leg and shopped at (nearly) every price point. It seems no matter the store or brand, her weight means that everything she wears looks a bit tight or short or baggy or just, well, bad.

Now that she's not a baby, she's starting to care about how she looks and what other kids think. But after years of looking, close to giving up on finding children's brands that are made for slim kids and sick of constantly shopping for her.
Then my search led me to Pants for Peanuts.
A brand with pants that fit!
Pants for Peanuts was founded by a mom who shared the same struggles that I deal with. Her daughter was tall and quite slim and that meant finding clothing that fit in the waist and the length was impossible. And just like me, she wanted clothing that passed the Tush TestTM but couldn't find it in any stores.
As they say, necessity is the mother of invention, so Pants for Peanuts was created to fill that void.
DON'T MISS: HOW TO RAISE RESILIENT CHILDREN
Perfectly slim pants for skinny kids
Unable to find brands in stores that worked for my toddler, I headed to Google and their website popped up in my search. Still new, there weren't many reviews but I was sick of my child wearing ill-fitting baggy denim and elastic waist jeans that looked like capris because the length wasn't right...so I decided to give them a try.
Ageless sizing: How to measure Pants for Peanuts denim & uniform bottoms
Pants for Peanuts uses a color-coded size chart rather than sizing by age. They offer sizes that don't exist, for example an 18-month waist paired with a 4/5T length. There are ten colors that correspond with waist and hip size. Plus, they offer two inseam lengths: option A and B.
Measuring properly is more important than your children's age or weight. On the site, there's this helpful guide that works for all their styles.
I used a flexible tape measure to check my child's waist size, hip circumference, and inseam (in inches). You can also use a string and then measure the string against a regular tape measure (pro tip: measuring things is a great play-based activity to develop math skills in young kids!).
While the jeans and uniform bottoms do stretch and have an adjustable waist, I recommend measuring late in the day, since even children are at their slimmest in the morning. And measure twice. If your son or daughter is at all like mine, standing straight and still isn't easy. You can also make a game out of measuring – let your child take your measurements, then take theirs to encourage cooperation.

How to measure 
Understanding sizes
I determined that my daughter was size Peach B. She was excited to be Peach because Peach is her favorite character to be when we play Super Mario 3D World on Nintendo Switch. Incidentally, video games can build fine motor skills and hand-eye-coordination. Plus, they're a super fun family activity.
And speaking of fine motor skills, jeans can be tricky for tiny toddler hands. But Pants for Peanuts thought of that, and they use a hook and eye closure in place of a button or snap.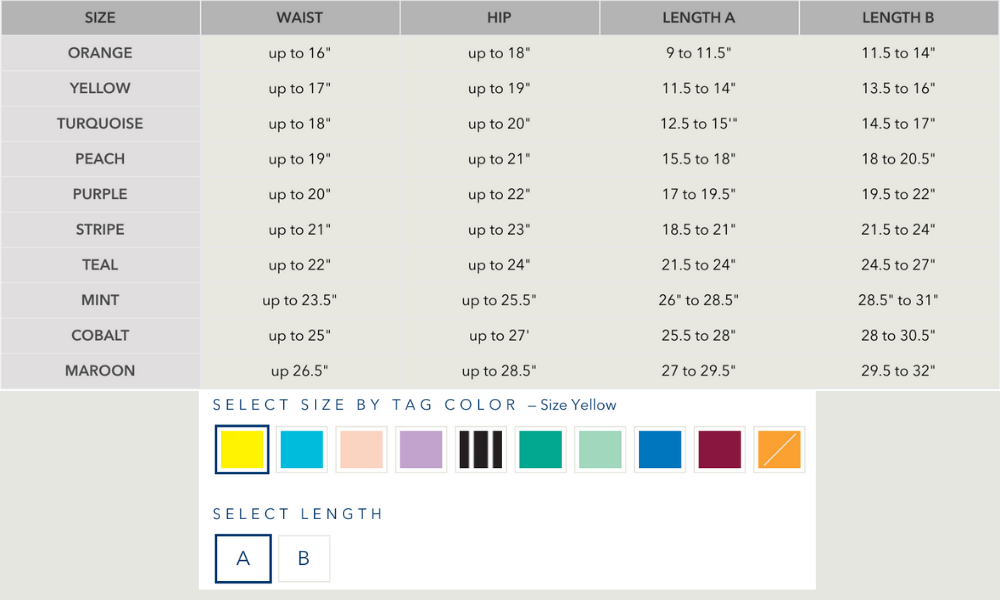 Size chart
Adjustable waist & unisex styles
Unlike some brands, all their pants have an adjustable waist. That makes them perfect for skinny kids.
Plus, they're unisex! If you have a tall, skinny son and a tall, skinny daughter, you'll be able to use hand-me-downs for years!
Do Pants for Peanuts actually fit?
We opted for the cuffed denim in dark wash and the black uniform bottoms in size Peach B. We were also provided size Purple B since I measured my daughter twice but came up with different sizes.
Cuffed jeans
My skinny child tried on the jeans in size Peach B first. While I thought they looked super, she said they were a bit tight.
Next up, size Purple B cuffed denim. Without adjusting them, they were like jeans from other stores at first. But, once I played with the waistband I was able to get a great fit.
No gap at the back and the cuffed straight leg fell exactly where it should. They were long enough so they don't look like flood pants, but not so long that they fell below the soles of her shoes.
Instinctively, she did the Tush TestTM and sure enough, they didn't fall to her ankles.
I stood there like, "Oh, boy!" and actually called my husband into the room to check them out. My search for clothing for my tall, skinny kid was over!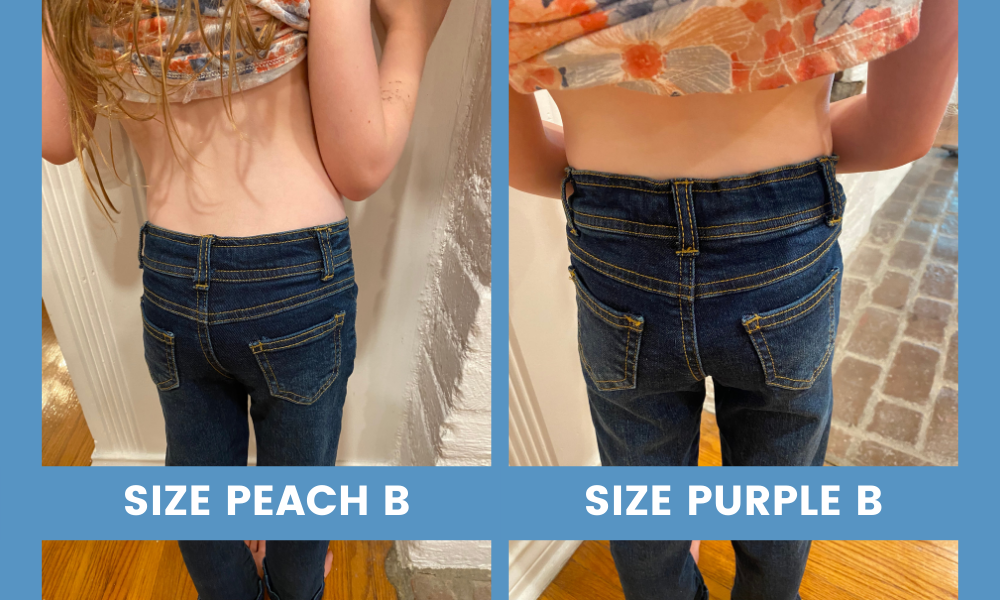 Comparing cuffed denim sizes on an uncooperative model.
Twill uniform bottoms
Next up, she tried on the uniform bottoms.
Even though the Peach B jeans were too small, I had my daughter try the same size in the slim fit uniform bottoms. I could close them but they were too tight - much like my pre-pandemic clothing (I'm not the only one who gained weight, right?).
Just like with the jeans, once I adjusted them, I was able to get the size just right and voila! A second pair that passes the Tush TestTM!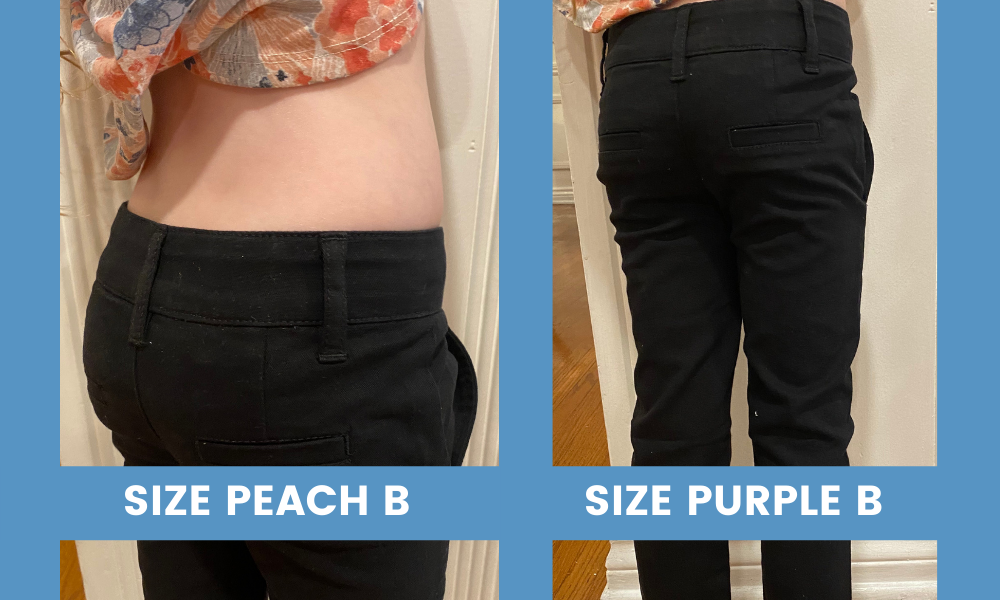 Twill uniform bottoms on an even less cooperative model.
How's the quality?
Admittedly, because clothes generally fit my skinny kid so poorly, I'm apt to pick up $5 leggings, which inevitably don't last. While we've only had the jeans and uniform pants for a few days, I can honestly say that these are really high-quality. The fabric is much thicker than the brands I usually shop for at some well-known stores, so I'm not worried about holes in the knees. The stitching seems like it's really well done, too.
These ain't skinny jeans
Maybe you haven't heard, but after being 'in' for years, skinny jeans went 'out' with side parts. These are straight leg pants that look great on slim boys and girls.
You can find the following range of styles on their website:
Denim
Cuffed or selvedge (that means there's a finished inseam so you can roll them up and they'll still look great) in dark or medium wash
Extra long slim fit shorts (medium wash only)

Pants for Peanuts slim-fit denim options
Slim School Uniform Pants
Twill in khaki or black (we hope they start making navy soon!)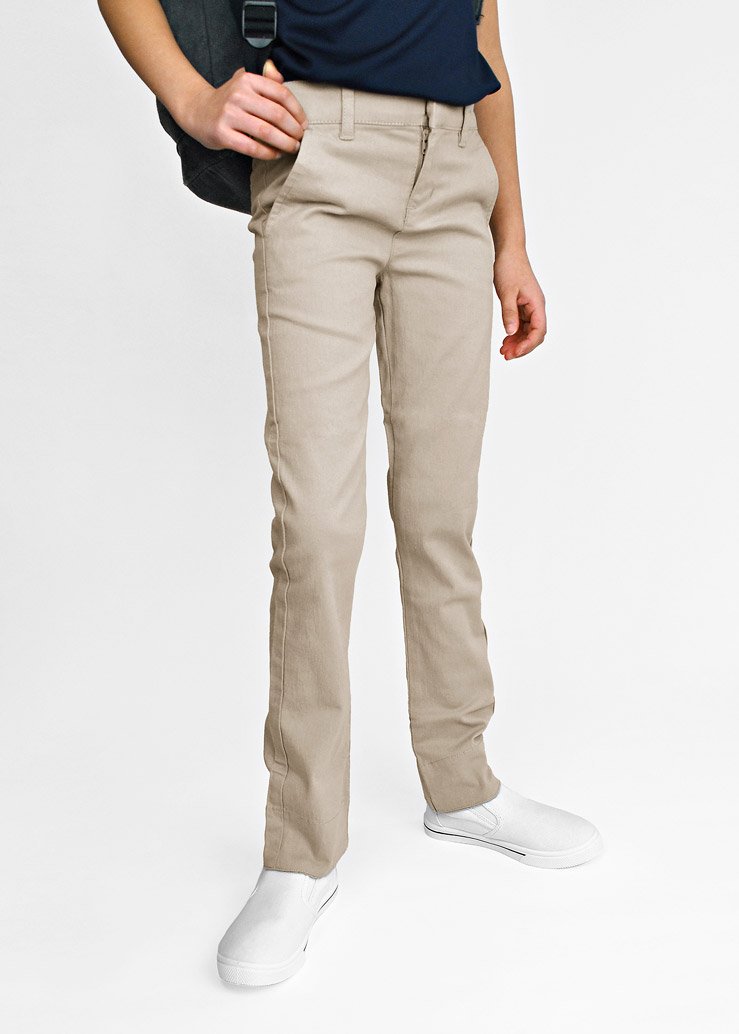 They're wrinkle-free
This wasn't even listed in the product benefits! I received the package late in the day on Friday, had my daughter try them on, then tossed them inside out and crumpled up into an empty laundry basket. Then I piled clean laundry on top of them and didn't fold the laundry all weekend (don't judge). When I sat down to write this, I immediately remembered what I had done and instantly regretted my busyness laziness because I hadn't snapped pics yet. But, when I neatly folded the clothing on top and put it away dumped the basket of clean clothes on the bed to get them, much to my surprise, they were completely wrinkle-free. Yay!
Pants for Peanuts are good for the environment
These clothes are definitely not fast fashion. I didn't know this (probably because I didn't want to think about it) but fast fashion is terrible for the global economy and the environment. Americans dispose of nearly 13 million tons of textile every year, with much of that ending up in our landfills. Because these slim pants are the right size and grow with your child, a pair will last you years.
On top of that, they have recycling program. You can both shop preloved slim fit options and donate yours and save 10% on your next order. For U.S.-based customers, Pants for Peanuts will pay for the shipping if you do decide to donate yours.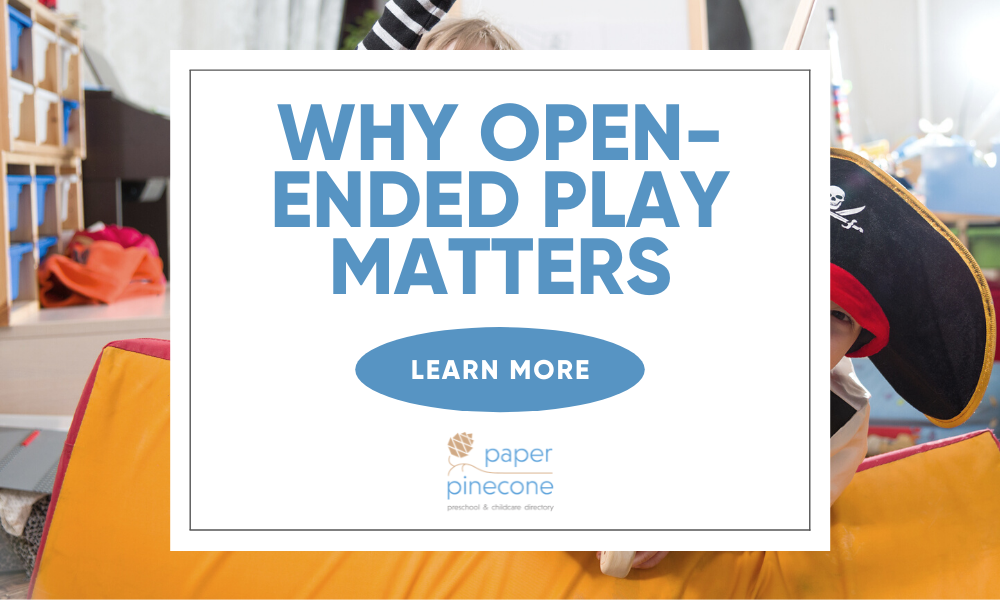 Are they worth the price?
The price varies by style:
Cuffed jeans price: $38.99
Selvedge jeans price: $40.00
Twill uniform slim fit price: $31.99
Extra long slim fit jeans shorts price: $26.99
Preloved price: Ranges from $5-$10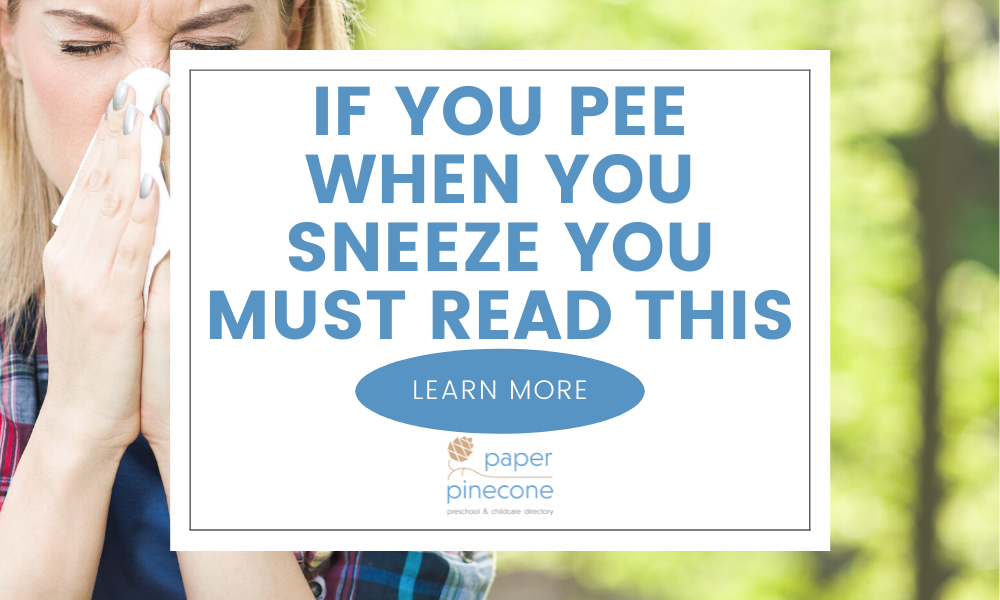 The price tags on these are much more than the brands I typically buy. But the cuff is a full 2.5 inches – the exact amount my skinny child grew when she was five years old. Between the adjustable length and waist, I feel like she'll get a least a full year's wear out of them, which is far longer than she gets out of any of her other clothing.
The slim fit uniform pants are a no brainer if your boys or girls wear school uniforms.
If you join their mailing list, you'll be notified if they go on sale.
Where to buy
Because of the many size choices, you won't find these in a retail store. Right now, Pants for Peanuts are only available through the company's website – pantsforpeanuts.com.
Parents of tall, skinny kids rejoice!
If you have tall, skinny kids, 10-year-old boys the size of kids half their age, or a slim girl who gains weight so very slowly like mine, skip your trip to the store and makes Pants for Peanuts slim clothing your first pick. With so many sizes and two length options, you'll find the perfect fit and your kids will be able to wear these for years.
Paper Pinecone is the #1 most trusted childcare directory giving parents access to the best preschools and best daycares near you. Parents always search free and childcare providers always list free. Send inquiries about the best daycares and preschools to questions@paperpinecone.com.
This post contains affiliate links.