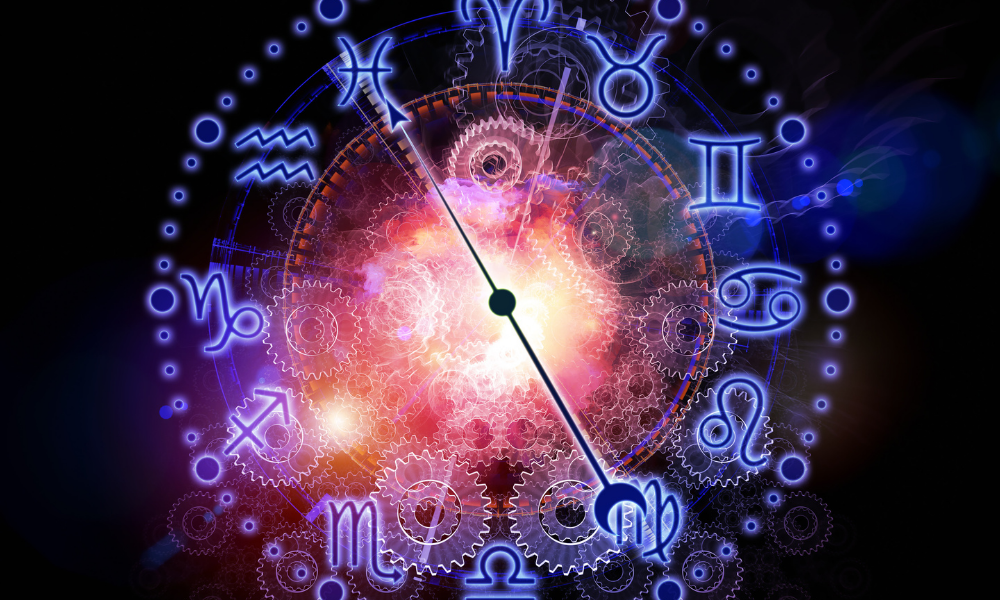 Published Date: 12/21/20
Hilarious 2021 Parenting Horoscopes
Your 2021 horoscope is here to you prepare and navigate the year ahead. Scroll down to your zodiac sign to read your parenting horoscope for 2021.
LOOKING FOR DAYCARE OR PRESCHOOL IN THE NEW YEAR? START YOUR SEARCH HERE.

Leo (August 23 - September 22)
Virgo (August 23 - September 22)
Libra (September 23 - October 22)
Scorpio (October 23 - November 21)
Sagittarius (November 22 - December 21)
Capricorn (December 22 - January 19)
Aquarius (January 20 - February 18)
Pisces (February 19 - March 20)
Aries
March 21 - April 19
Aries is always up for an adventure and this year's adventures in sleep regressions will prove one for the ages. Watch out for your quick temper in late April when Venus squares off with Saturn and Pluto. There will be screaming, crying, and a little vomit…some of it may actually be from your child. Try not to throw anything at your partner.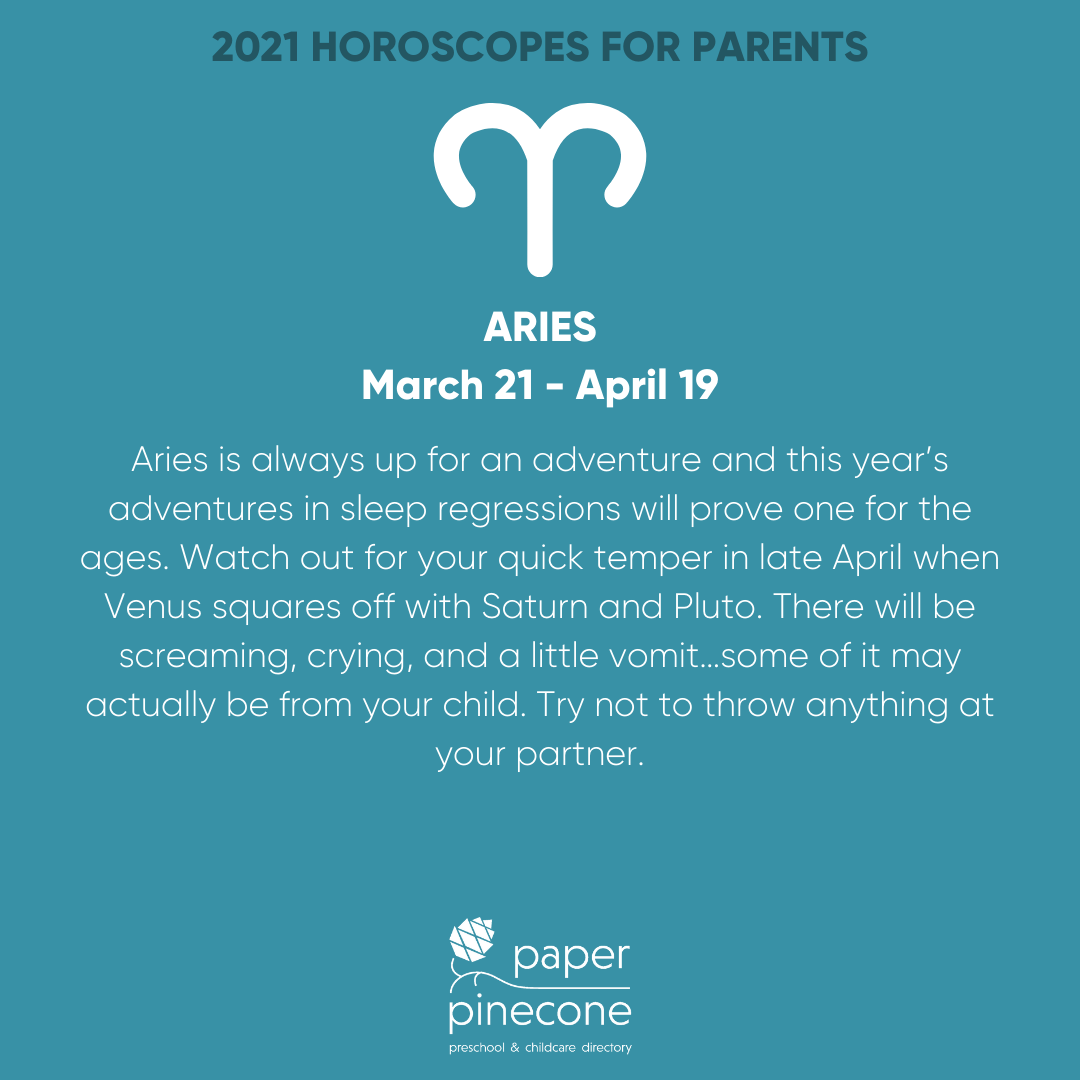 RELATED: ARE YOU BLOCKING EMPATHY? FIND OUT
Taurus
April 20 - May 20
Always patient Taurus will be fine baking quarantine cookies for the millionth time with the kids now that you can readily get flour. However, be mindful of your resentful side which will come out while Mars is in Libra. Your social media feed will be filled with flawless projects done by smiling families and your desire for perfection will make you want to hurl your Pinterest fail out the window. Stay calm, Taurus. Their house is a mess too.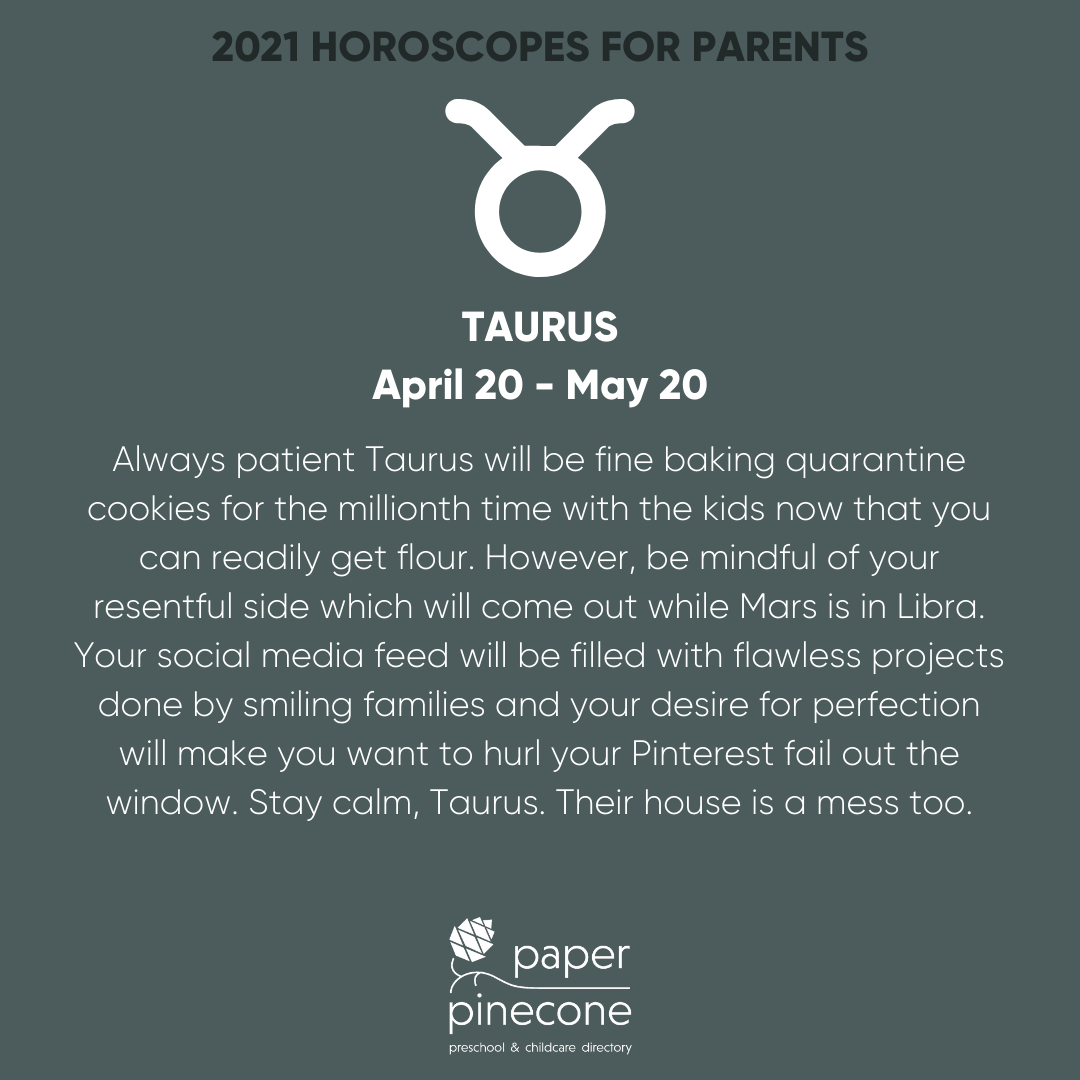 RELATED: 101 ACTIVITIES TO DO AT HOME WITH TODDLERS & PRESCHOOLERS
Gemini
May 21 - June 20
For adaptive Gemini, 2021 will see Saturn and Jupiter redesigning your ninth house of wisdom and perspective. Your belief systems will be challenged, and you'll find yourself doing all the things you swore you'd never do back when were a perfect parent…you know, before you actually had children. "Yes, you can have another donut, just let me sleep past six. I left the iPad out for you."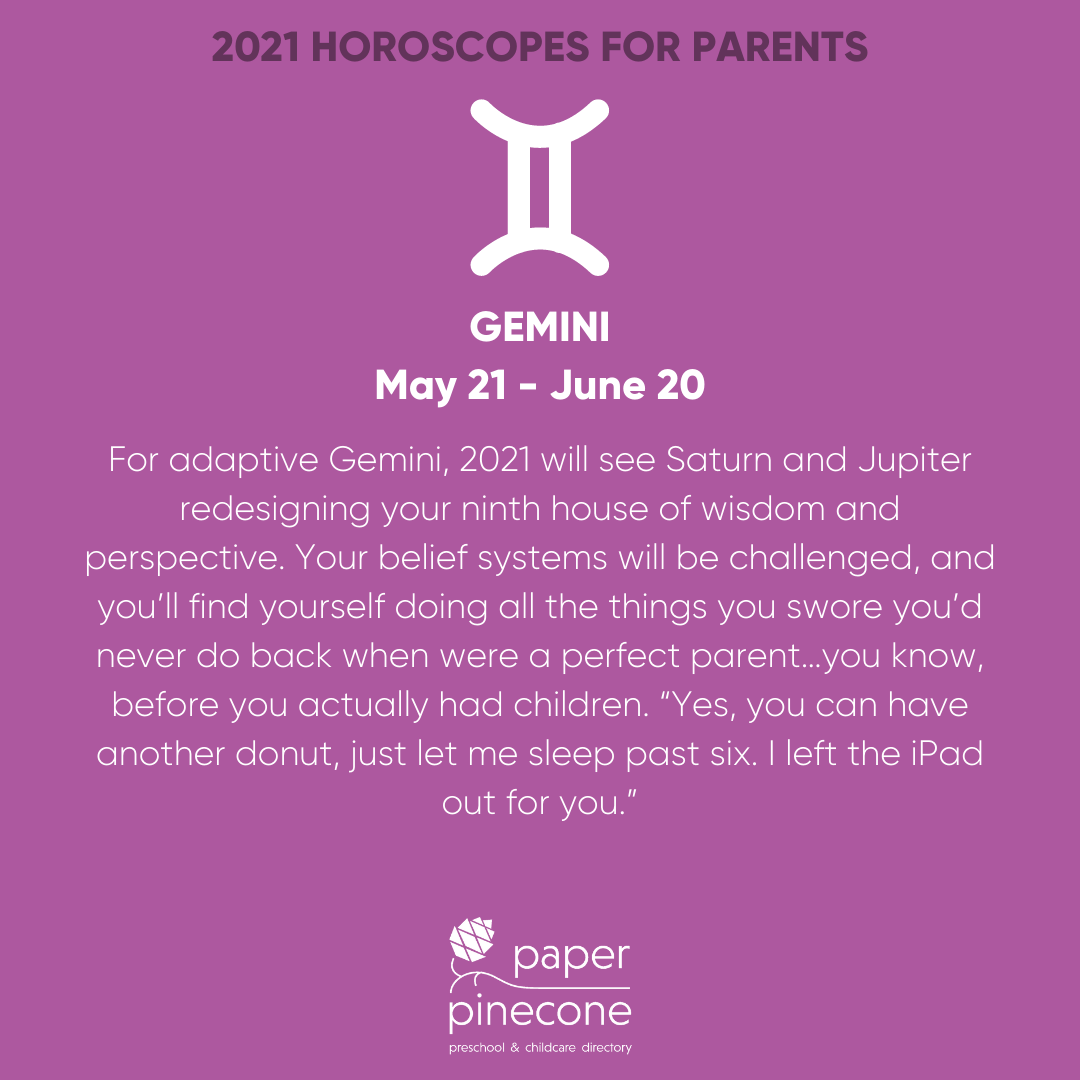 RELATED: OBESITY IN KIDS LINKED TO LATE TODDLER BEDTIMES
Cancer
June 21 - July 22
The South Node transiting Sagittarius begs you to prioritize your emotional, physical, mental, and spiritual health in 2021. Great news for you Cancer, because your DMs are filled with high school "friends" who have JUST the right thing to help. Seriously, it's awesome. And YOU can make money too.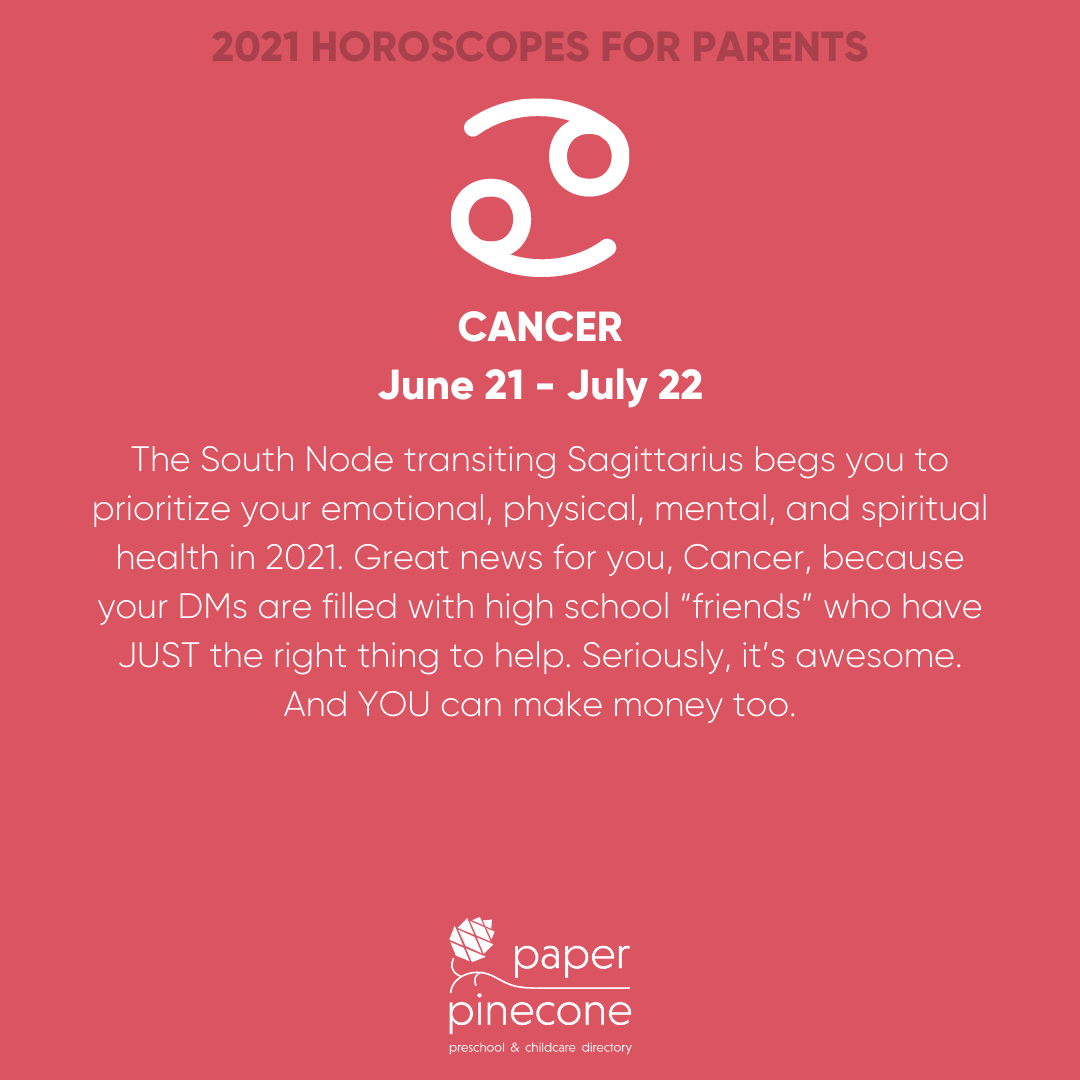 RELATED: IS BREAST REALLY BEST? FIND OUT
Leo
July 23 - August 22
For Leo, May through July sees Jupiter transit through your eighth house – the house that rules transformation. It's a great time to take control over relationships, especially the one with your mother-in-law. Your faithful and loving nature may have prevented you from telling her that you don't care that she thinks your children look feral but use this an opportunity to put her in her place…and then use rest of the year to have major anxiety over what you said.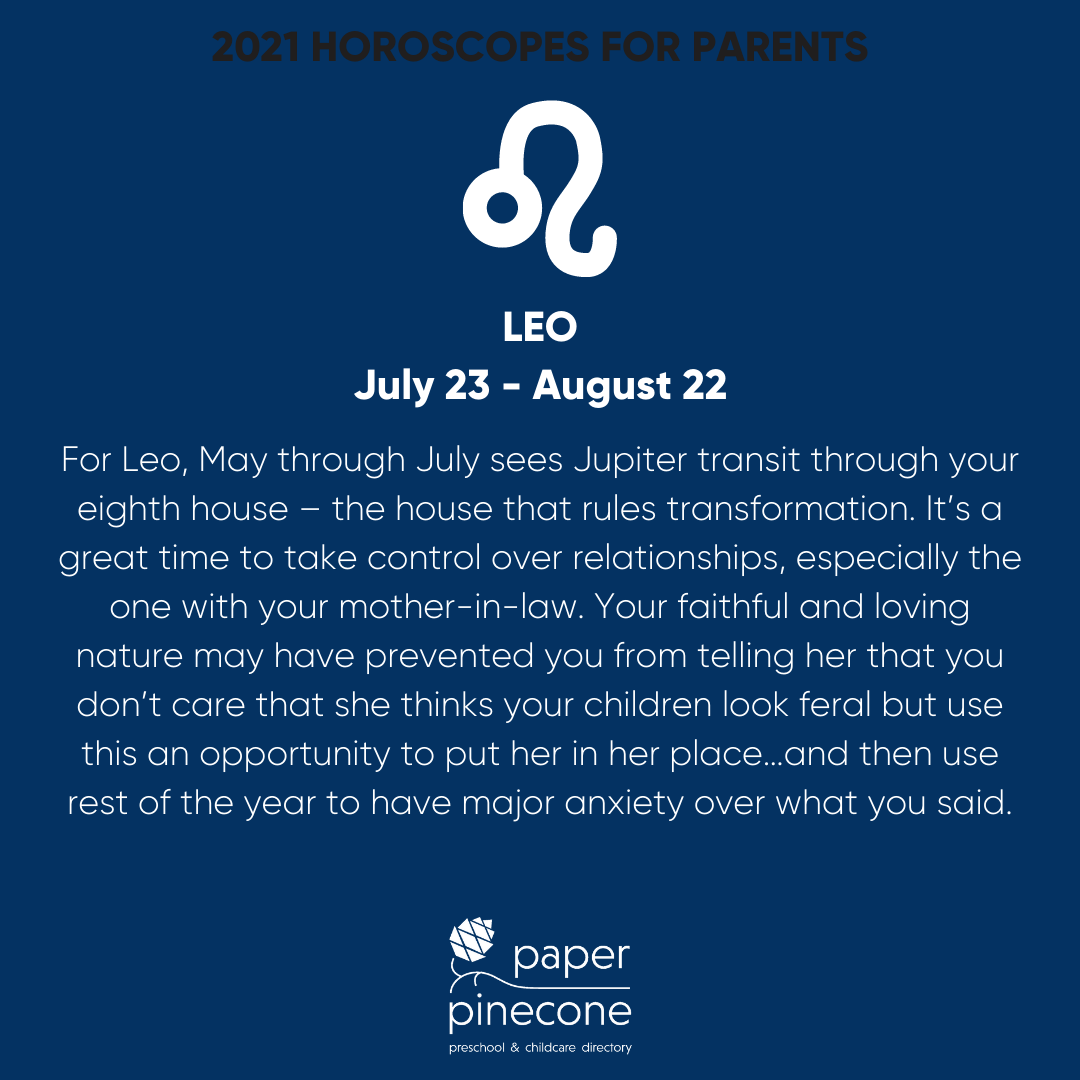 RELATED: HOW TO DEAL WITH A CRITICAL MOTHER-IN LAW
Virgo
August 23 - September 22
2021 sees the North Node at the top of your solar chart and along with that comes confidence in your parenting. Go ahead and take risks, Virgo! Leave the house without a spare change of clothes for the kiddo. Nothing bad can possibly happen…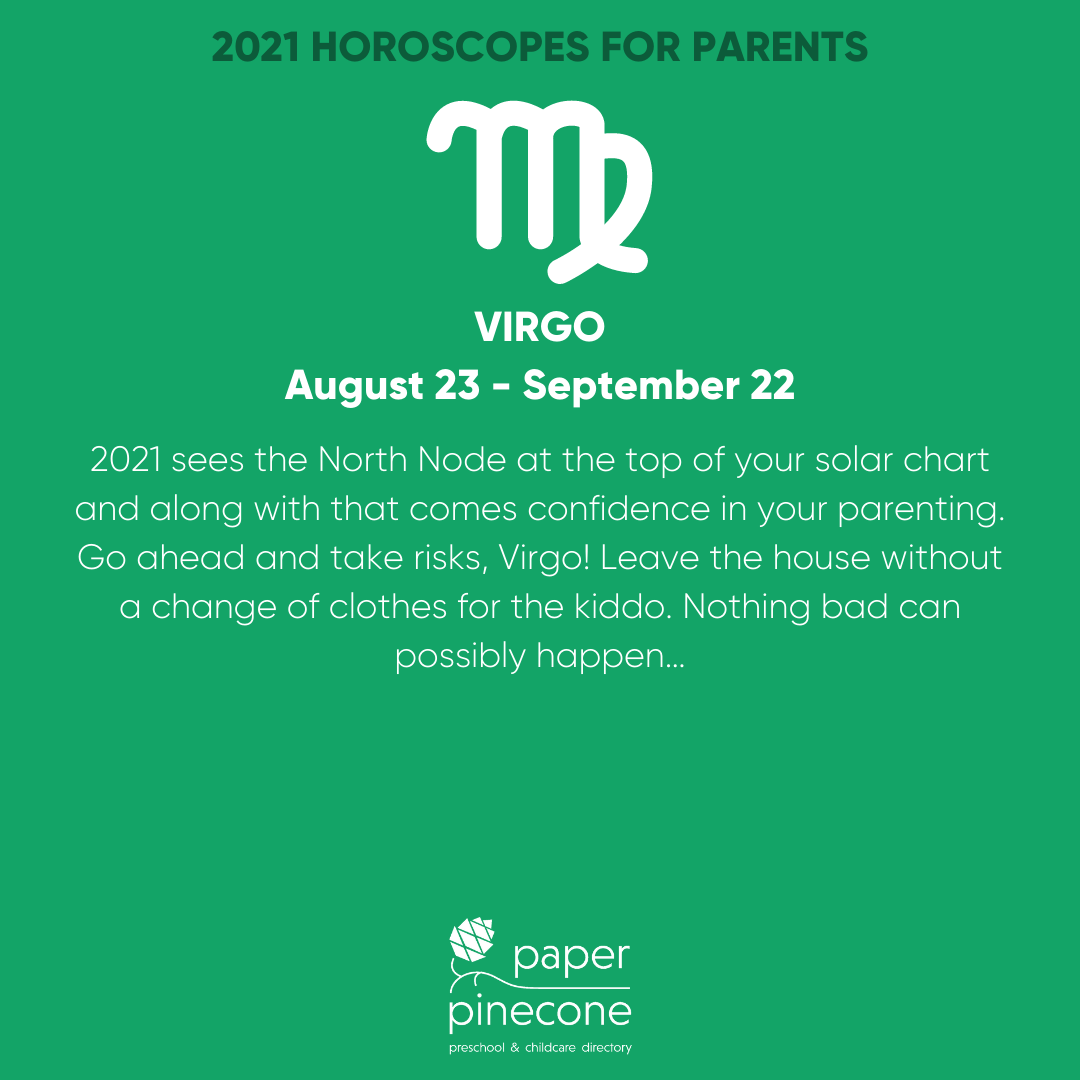 RELATED: THE BEST POTTY TRAINING TIPS & TRICKS
Libra
September 23 - October 22
For Libra, the coming year has Jupiter and Saturn in your Aquarius-ruled confidence zone. Fire up those fingertips, keyboard warrior. You'll feel great about the advice you give on the Facebook post from a new mom asking about sleep training…your kid turned out fine, after all. But, beware. That confidence can be shattered when you're personally attacked for ruining your baby's ability to love. It's ok, Libra. They'll screw up their kids in a different way.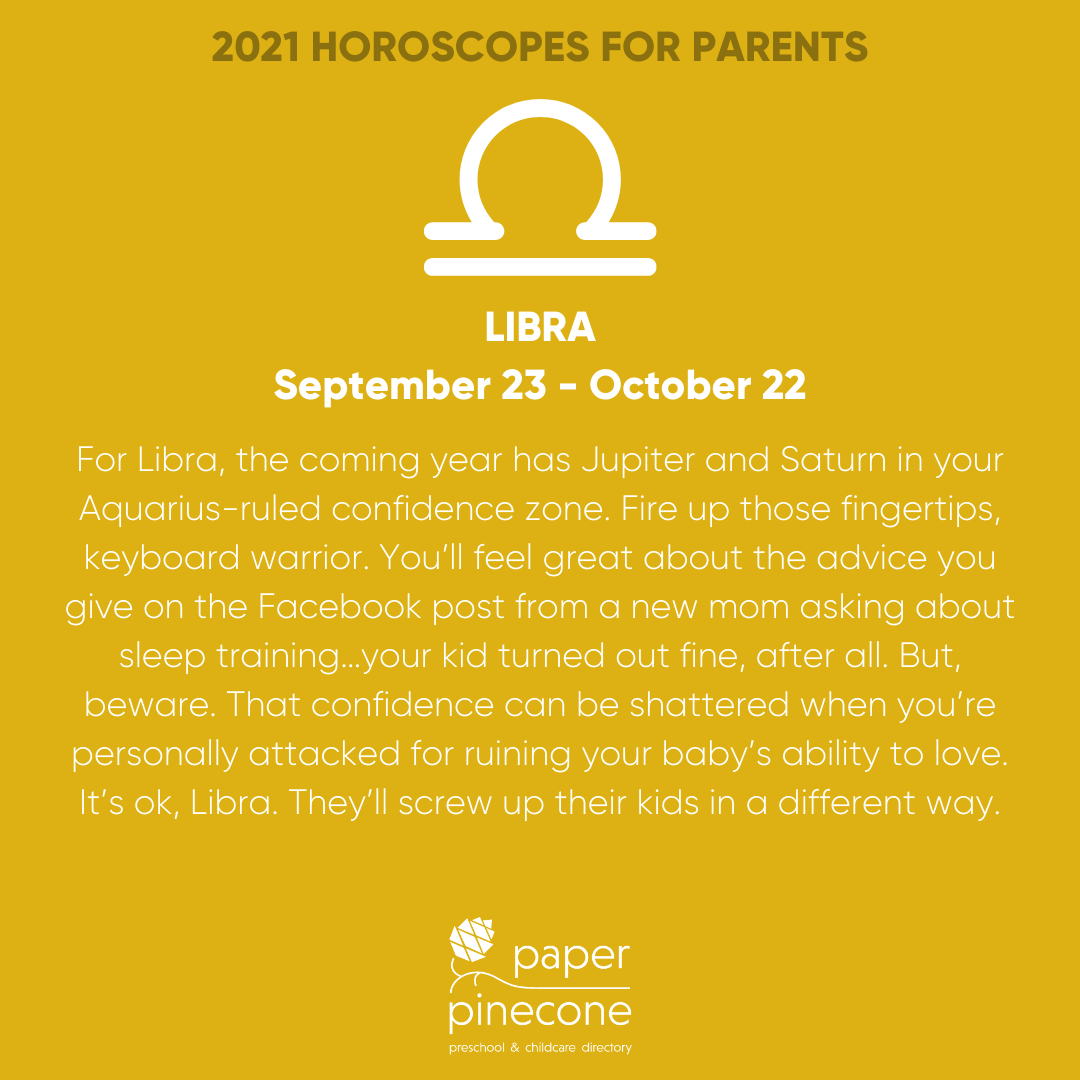 RELATED: THE FASCINATING HISTORY OF SLEEP TRAINING
Scorpio
October 23 - November 21
Scorpio, Scorpio, Scorpio. Your intense need for privacy is at direct odds with the fact that you can never pee alone. Your solar second house of resources is ruled by Jupiter and you'd be wise to invest in improving your home in 2021. Might we suggest a lock for the bathroom door?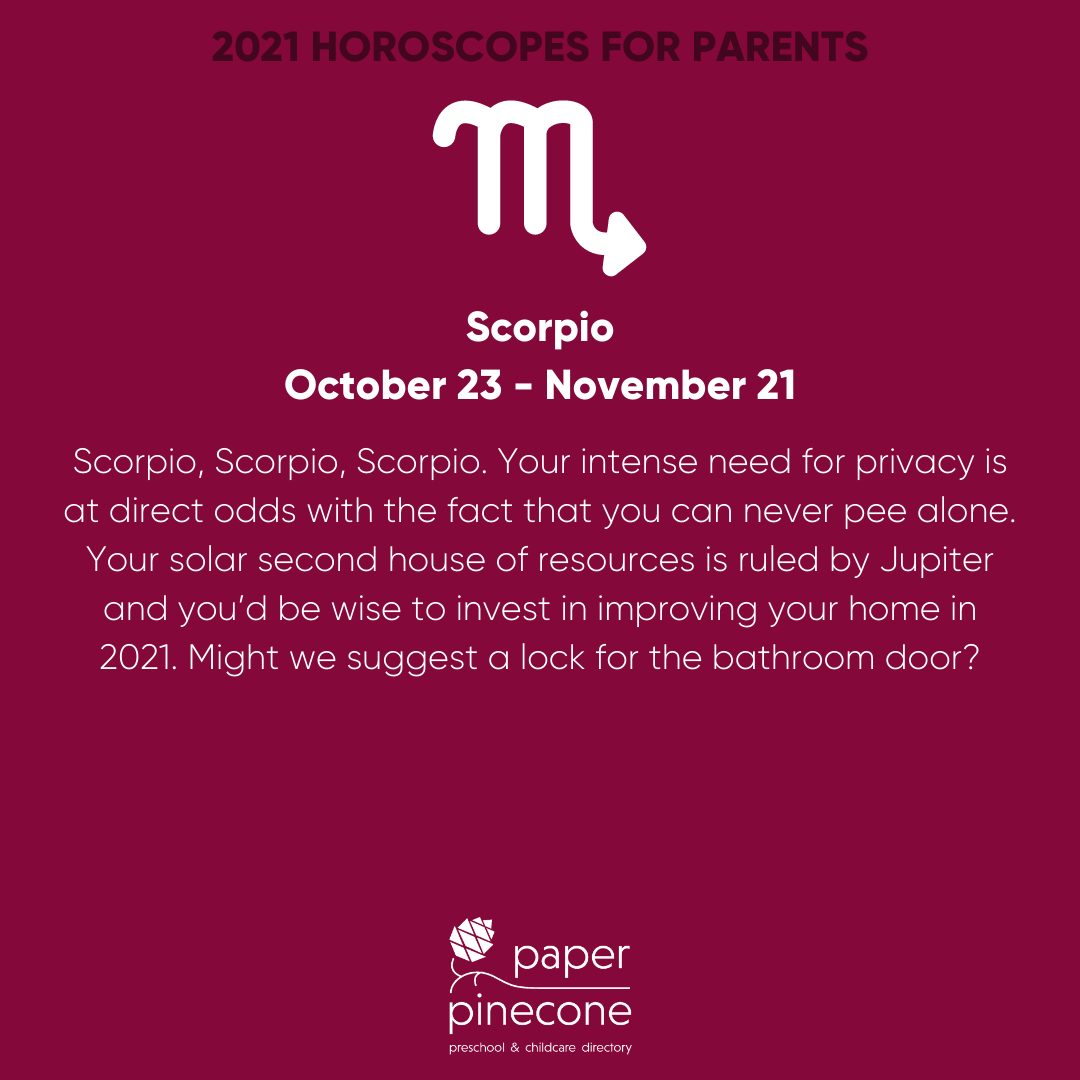 RELATED: HOW TO FOSTER INDEPENDENT PLAY SO YOU CAN GET YOUR WORK DONE
Sagittarius
November 22 - December 21
Jupiter and Saturn transiting through your Aquarius-ruled communication zone is great news Sagittarius, as you'll find yourself yelling less in 2021. That is until your perpetual optimism makes you certain your child will eat the mac & cheese you spent an hour on, even though it's not from a box. "But, sweetie, you love mac & cheese. This is better than the one from the box. Please will you try it? Please? C'mon, please…" <5 minutes later> "I'M NOT MAKING ANYTHING ELSE! JUST EAT IT OR STARVE!"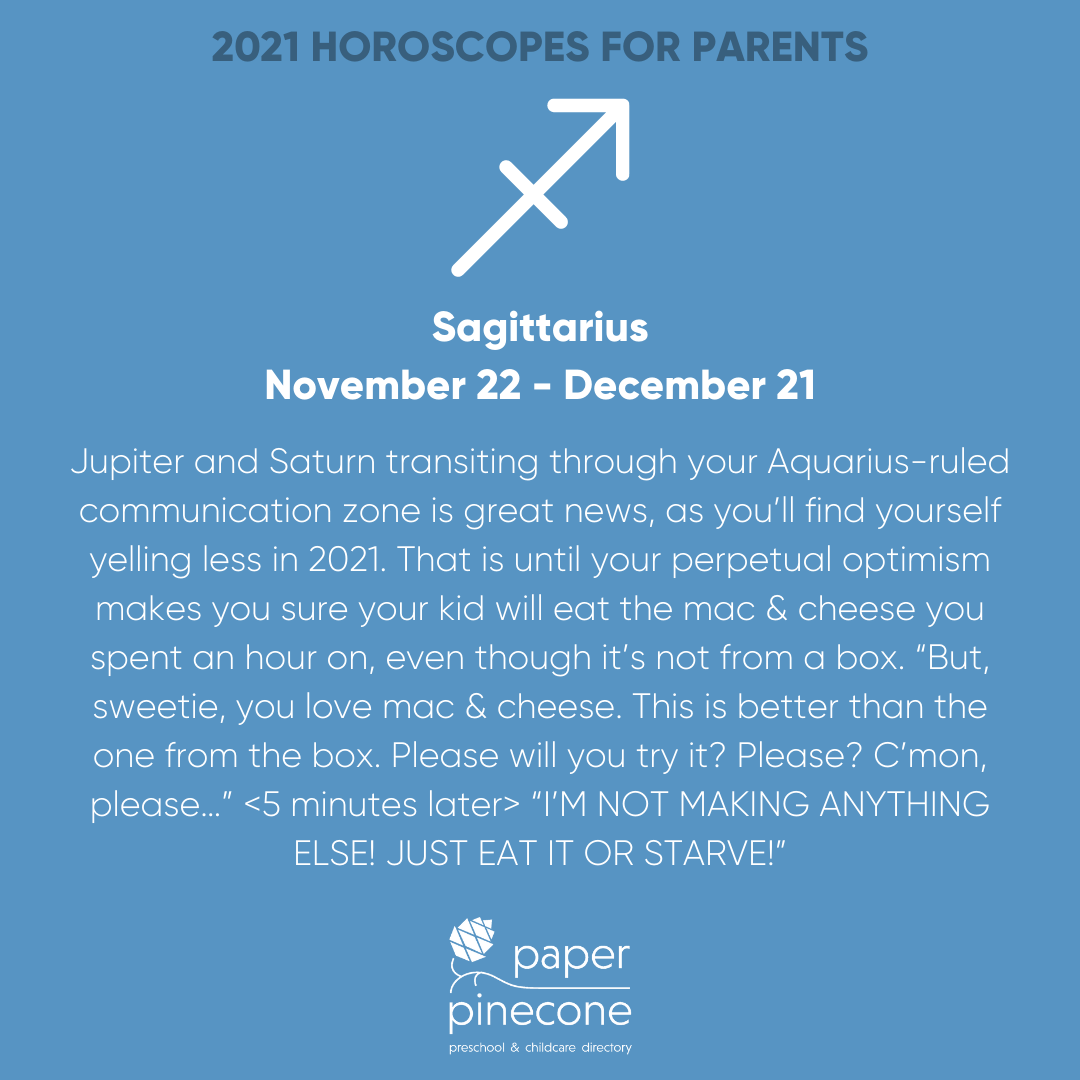 RELATED: DOES YOUR CHILD HATE VEGGIES? THERE'S A SCIENTIFIC REASON WHY.
Capricorn
December 22 - January 19
For Capricorns, late June has Jupiter in Pisces, your house of kindred spirits. Don't let your reserved nature cause you miss out on becoming BFFs with that mom at the park who shares your sweatpants chic style. Keep a close watch on the kiddo, though. With Mercury in retrograde your child's propensity to bite others may send her to the playground across town.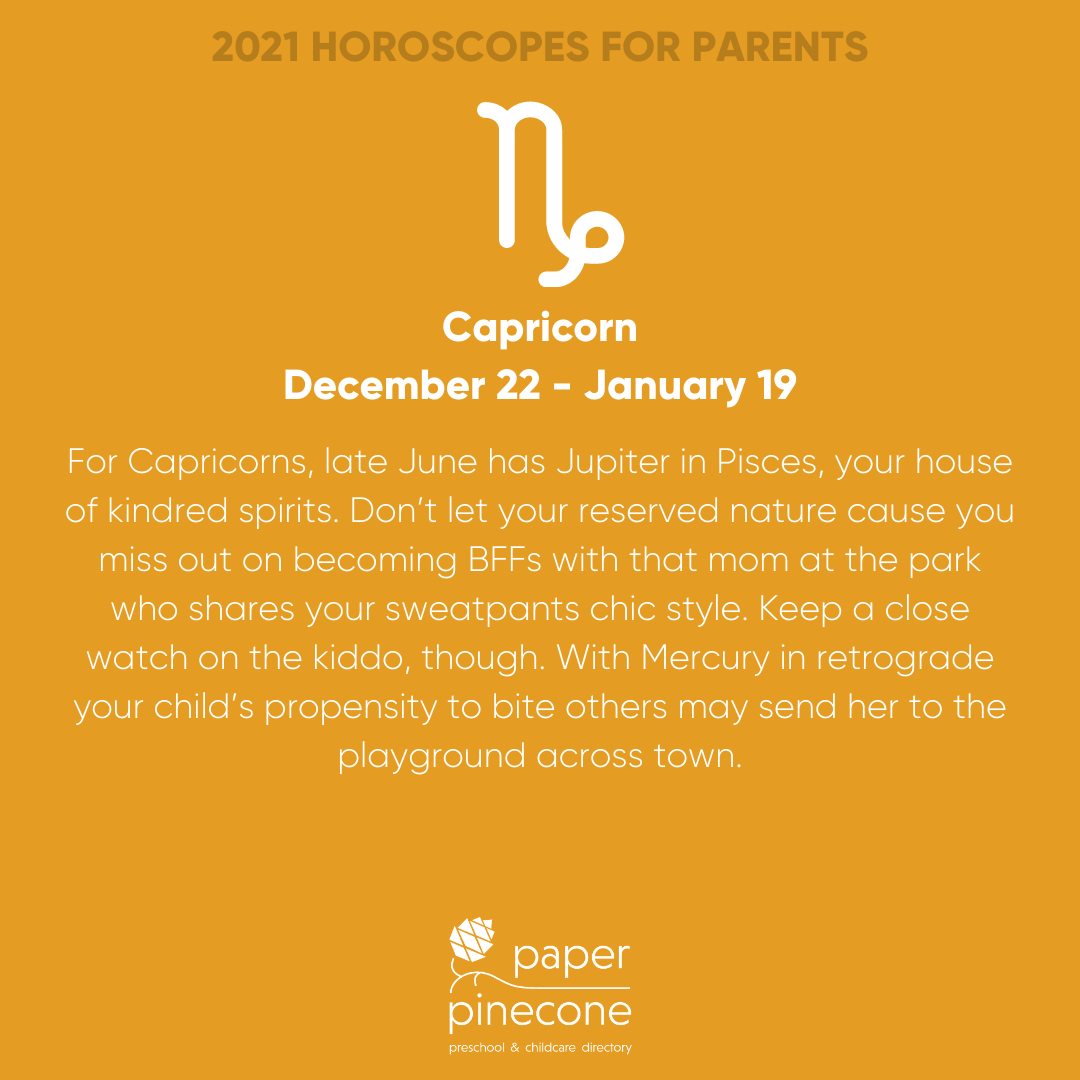 RELATED: BEHAVIOR AND EMOTIONS ARE NOT THE SAME THING
Aquarius
January 20 - February 18
For Aquarius, 2021 is all about you! Unless you're a parent. Then it's never about you. January and February see Mercury in retrograde and that may leave you feeling disoriented, but, really, is that any different than how you've been feeling every single day since having a kid?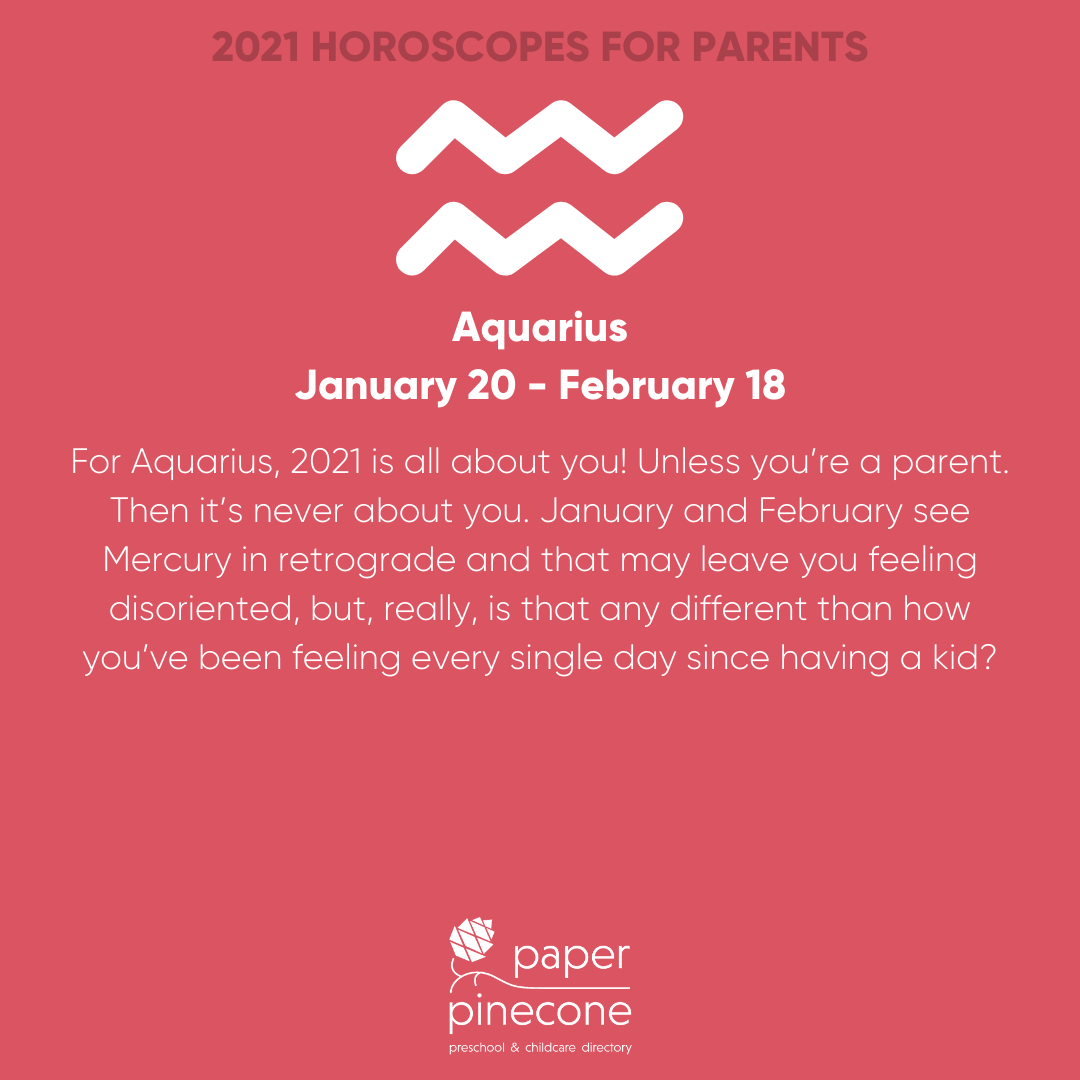 RELATED: THINKING OF CHANGING CAREERS? CHECK OUT THESE FLEXIBLE JOBS PERFECT FOR PARENTS
Pisces
February 19 - March 20
For Pisces, Jupiter enters your sign in summer, and you'll feel a surge of creativity. It's a great time to roll up those sleeves and dive into art projects with your kids. You know…the ones that take 20 minutes to set up, provide five minutes of entertainment, and then another half hour to put away. Jupiter and Saturn move through your Aquarius-ruled completion zone in 2021, so maybe you'll be able to completely clean up the glitter.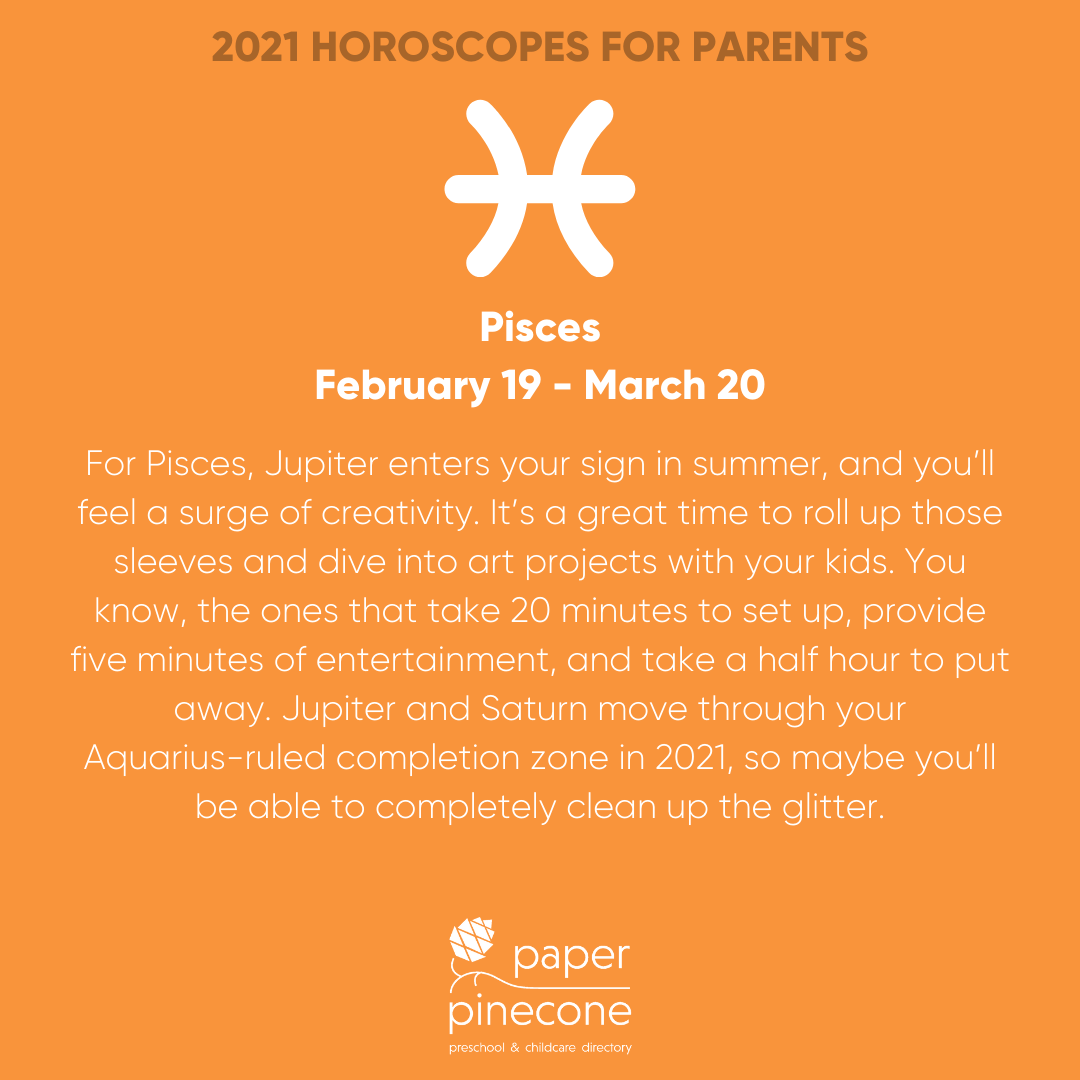 RELATED: SCIENTISTS CALL FOR A BAN ON GLITTER
Paper Pinecone is the #1 most trusted childcare directory giving parents access to the best preschools and best daycares near you. Parents always search free and childcare providers always list free. Send inquiries about the best daycares and preschools to questions@paperpinecone.com. This post may contain affiliate links.