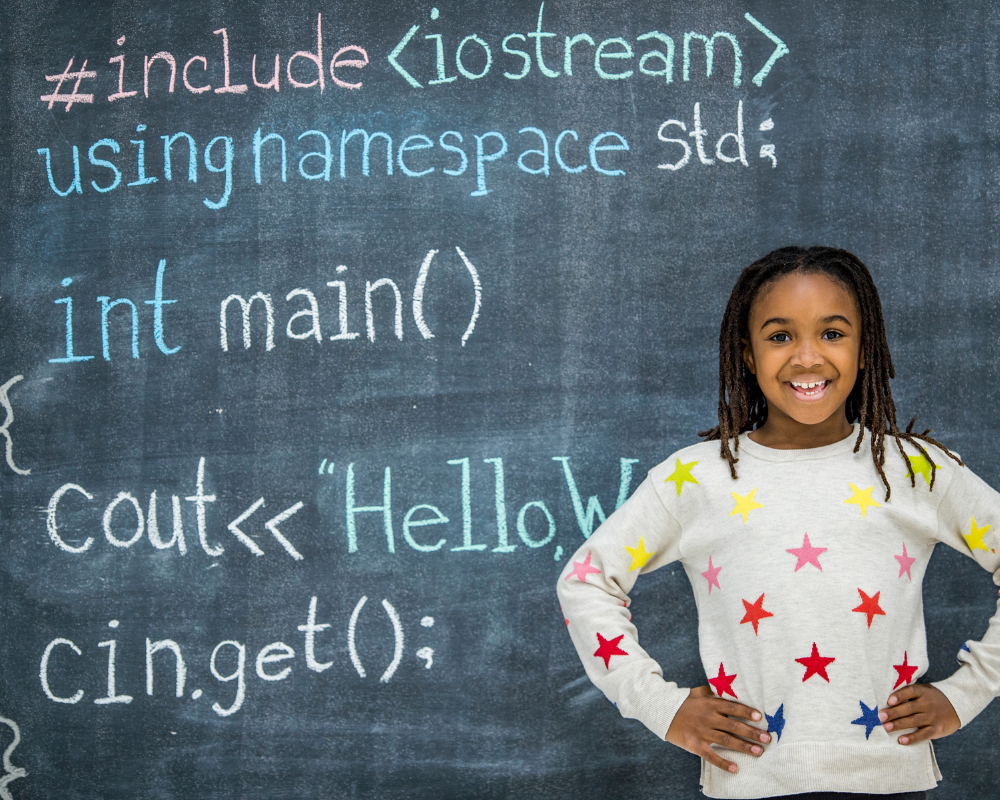 Published Date: 05/24/22
In this article:
Osmo Coding Starter Kit for iPad
Sphero Sprk+ App-Enabled Robot 
Do you want to give your child a head start in the world? One way you can do this is by introducing them to STEM concepts early on through play.
STEM toys are a great way to get your kids interested in science, technology, engineering, and mathematics. They are also great to encourage critical thinking and problem-solving skills.
In this article, we'll take a look at six of the best STEM toys for kids that you can buy in 2023. We'll also give you some tips on how to choose the right toy for your child's learning needs and interests.
So without further ado, let's get started.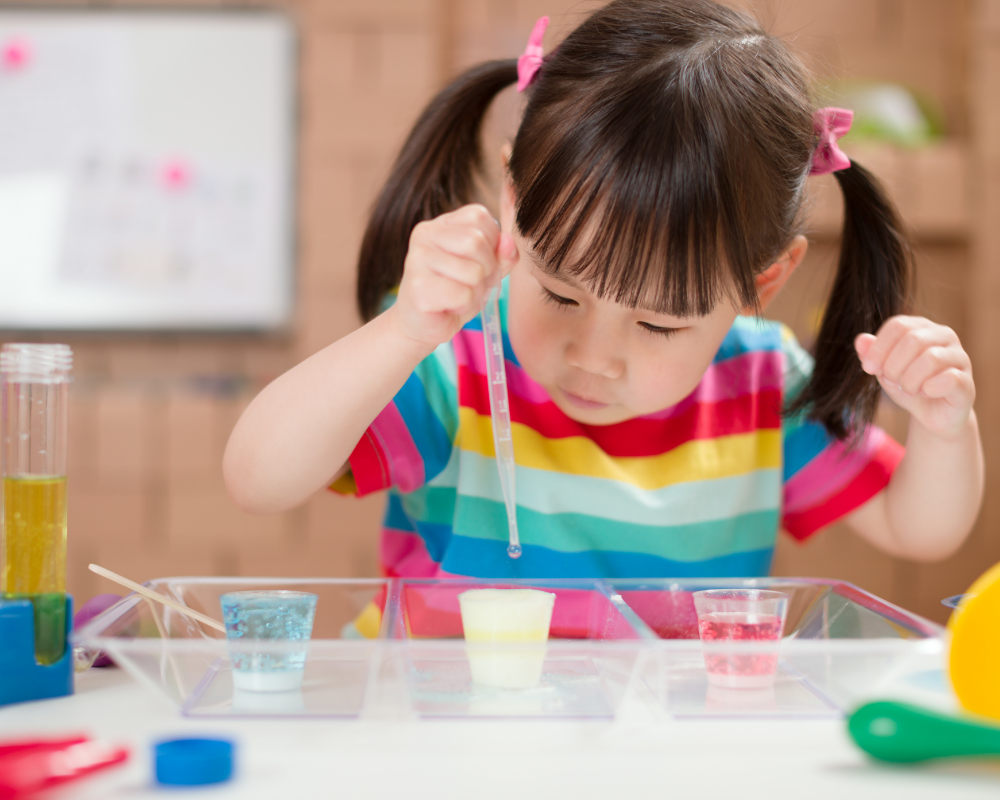 The top 6 STEM toys for kids of all ages
1. Osmo Coding Starter Kit for iPad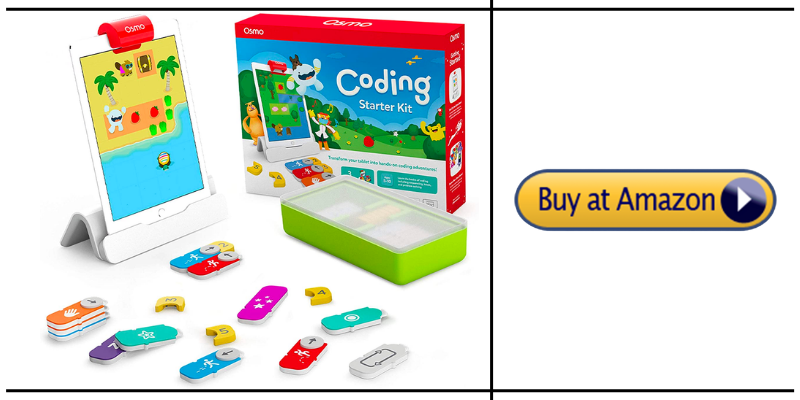 Introduce kids to writing code with Osmo Coding Starter Kit.
Ages: 5-10+
Yes, it's screen time. But not all screen time is created equal.
Kids love this coding kit because it provides coding challenges of increasing difficulty, from beginner to expert levels. The real-time audio and visual feedback lets children learn through experimentation without any pressure.
Not only does it introduce children to the building blocks of coding, it fosters creativity and imagination, works logic and reasoning skills, supports math skills with pattern recognition, and of course, coding involves critical thinking and problem solving. Parents and kids in all age groups love Osmo. Their products are continually ranked among the best STEAM toys.
What's included
The kit includes the Osmo Base & Reflector for iPad, 31 tangible coding blocks including: Walk, Jump, Hand, Magic, Rest, Quantifiers (Numbers), Repeat, Subroutines, Stackable storage for game pieces, 3 Game Apps: Coding Awbie, Coding Jam & Coding Duo.
Good to know
Pros
Kids learn a real world skill.

It's hands on.

No internet connection necessary most of the time.

Supports collaboration with others or solo play.

Great for younger kids with no coding experience.
Cons
Occasional tech glitches can be frustrating.

It's more time using a screen.

Ads for available add ons can be annoying.

Limited instructions mean there's a learning curve.
ALSO READ: 30+ Play-Based Ways to Teach Math to Preschool Children
2. Snap Circuits Arcade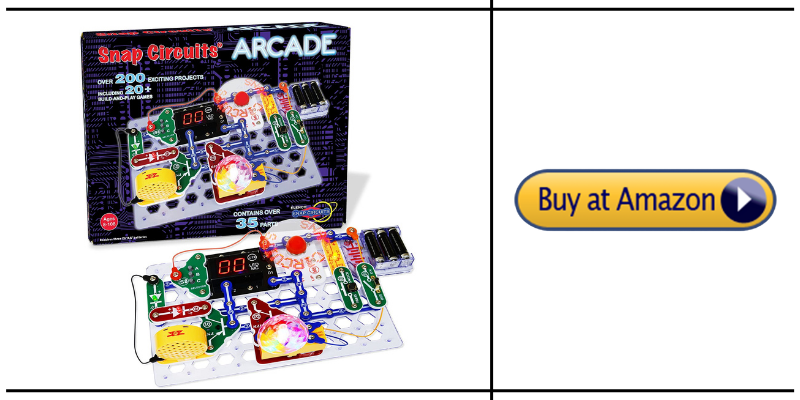 For the aspiring engineer, check out Snap Circuits Arcade kit.
Ages: 8+
These kits use a game board with building pieces with snaps, giving future engineers their first introduction to electronic circuits. Kids build in simple rows and columns on a grid that work like the printed circuit board you'll find in most electronics.
It offers over 200 projects with 20+ build and play games with light arcade style fun. For teaching the basics of electricity, this kit is one of the best. Makes an excellent gift for grade school children.
What's included
30 Snap modules to create more than 200 projects. Programmable word dan, dual LED display, and a pre-programmed micro-controller. Clear and concise illustrated manual includes explanations for different Snap Modules and concepts needed to build arcade projects.
Good to know:
Pros
Children will engage independently during free play.

Introduces the scientific concepts around electricity.

Electrical engineering teaches kids how to solve puzzles.

Has 4.8 stars with nearly 6,000 reviews on Amazon
Cons
Physical pieces can get lost or broken.

Small parts pose a choking hazard if there are toddlers in the house.

Once kids complete the kit, you may have to buy more to keep the toy engaging.
DON'T MISS: 10 Reasons Why STEM Is Important in Preschool
3. Magna-Tiles Clear Colors 100 Piece Set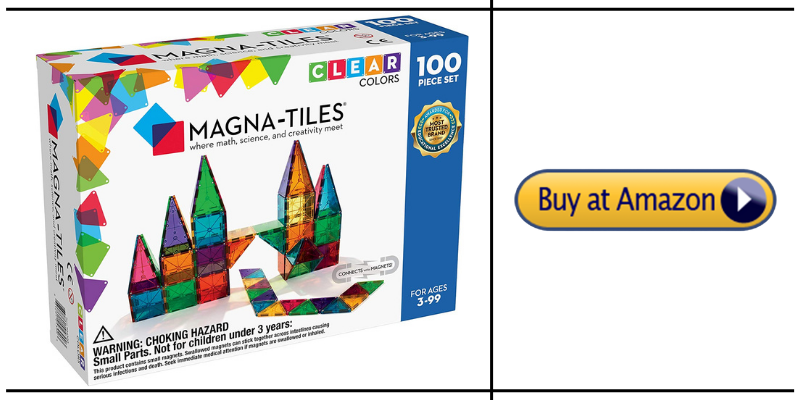 Magna-Tiles are so simple, but offer countless opportunities to learn.
Ages: 3+
Younger and older kids alike love Magna-Tiles. This highly rated building tool uses magnetic pieces for endless possibilities. This set offers all the fun, but also all the learning.
It has more than 100 pieces in various shapes and colors and help build tactical, spatial, and critical thinking skills. Parents will find that kids play with these for years without getting bored.
What's included
100 translucent, colorful shapes including squares (4 large, 50 small) and triangles (20 equilateral, 11 right, 15 Isosceles).
Good to know
Pros
Magna-Tiles are fantastic for developing spatial reasoning skills.

Blocks are open-ended toys.

This set is built with quality materials - it's durable, safe, and long-lasting.

They're portable - easy to bring with you to restaurants and on air planes.

Great for both toddlers and older children.
Cons
They are expensive.

They don't work with off-brand tiles.

Lots of pieces to play with means they can be easily lost or misplaced. With little ones, getting the pieces cleaned up can be a struggle once kids complete play.
"Eco friendly, safe, bpa-free - bamboo plates with lids"
4. Thinkfun Gravity Maze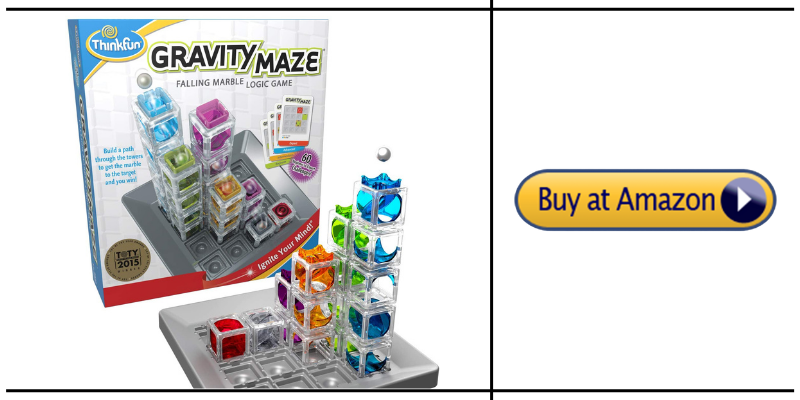 Gravity Maze is one of the most popular stem toys.
Ages: 8+
Another Good Housekeeping award winner, Gravity Maze is a combination logic game, marble run, and STEM toy with 60 challenges of increasing difficulty. Playing through these challenges provides spatial learning and helps kids master planning.
Gravity Maze is both an engineering and building toy - children will play repeatedly without getting bored, all while having a fantastic learning experience for young children. It's designed to motivate curiosity and innovation. Playing through the hard brain teaser-style challenges will grow by enhancing logical and spatial reasoning and planning skillfulness, all through fun gameplay.
Good to know:
Gravity Maze received a Parents' Choice Gold Award.
What's included:
Pros
It helps kids work on problem-solving skills and builds their minds.

Enough challenges so children don't get bored.

Contains a helpful instruction manual, and the manual is also available online.

Easy to understand.

Thinkfun is a leader in STEM for kids
Cons
Marble passes through the maze quickly and some may find it unrewarding.

Closed-ended toy that doesn't allow you to build from imagination.

Pieces have to connect properly to light up and work, but sometimes getting the connection right can be difficult.
YOU'LL ALSO ENJOY: Peaceful Parenting Guide for Happier, More Cooperative Children
5. Sphero Sprk+ App-Enabled Robot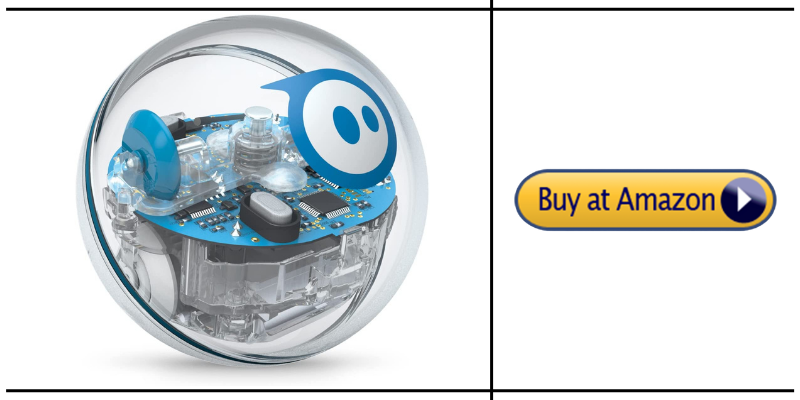 All kids want their own robots.
Ages: 8+
Kids who love all things technology and coding will love this small programmable robot ball. Using JavaScript, kids will get this robot ball rolling through labyrinths, in water, and any other landscape they can dream up. It's designed for intermediate coding, which is great for kids who have dabbled in it and are ready for something a little bit more advanced.
Sphero SPRK+ helps kids learn the coding required at more advanced levels, and inspires the creativity and curiosity. It contains programmable sensors, including a gyroscope, motor encoders, accelerometer, and colorful LED lights for amazing experiences.
Good to know:
Spehro SPRK+ is about the size of a baseball. The mini version is about the size of a ping pong ball but offers limited features.
What's included
Sphero SPRK+, inductive charging base with USB cable, maze tape, protractor with heading, sticker sheet.
Pros
Scratch-free, charges inductively, is waterproof, and connects via Bluetooth.

Can help children take their coding to the next level.

It's a robot!
Cons
It's costly, though the Sphero Mini offers a more affordable entry point.

An app is required to code and run the robot.

The connections may be spotty at times.
CHECK OUT: The Best Gifts Under $20 for National Child Care Provider Appreciation Day 
6. 4M Water Rocket Kit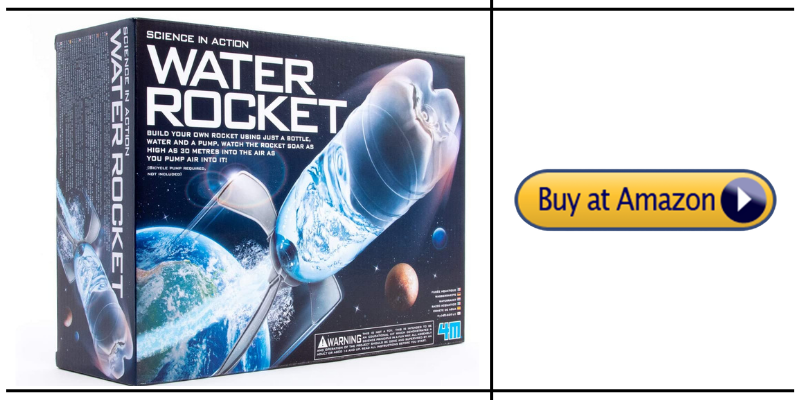 A simple STEM toy provides hours of fun.
Ages: 12+ (okay for younger kids with supervision)
A STEM toy that's engaging for teens? Yes, please. Young scientists can assemble their rocket, add water, and with the help of a bicycle pump, blast off...up to 90 feet in the air!!!!
Great for kids who have an interest in all things rockets, space, and engineering. Plus, it's always fun to watch mom and dad get sprayed with a little water. We recommend the 4M Water Rocket whether or not your child has an interest in space.
Good to know:
4M toys are well known for their educational toys and include science and art kits and robotic kits.

Does not come with bicycle pump, which is needed to make the rocket blast off.
What's included
1 plastic bottle, 4 rocket fins, 1 fin support, 1 bung connector, 1 Presta adaptor, 1 Schrader adaptor, 1 extension pipe, detailed instruction manual.
Pros
Inexpensive and fun for the whole family.

Simple, but entertaining.
Cons
It requires a bicycle pump, but it is not included.

Young children could get injured if they use the rocket unsupervised.
ALSO READ: The Best Montessori Educational Toys
How do I choose a STEM toy?
With so many great STEM toys on the market, it can be tough to choose the right one for your child. But by considering your child's age, skill level, and interests, you can narrow down the options and find the perfect toy to foster a love of learning. Here are some tips to pick the right STEM gift:
Start With Basics: Identify what your child is showing an interest in and look for toys that will help foster that interest. If they're interested in space, a toy telescope can help them develop a deeper understanding. Budding scientists might love a kid friendly microscope or some test tubes. At the youngest ages, basic science experiments making slime, colored blocks, kinetic sand, or a STEM board game can all foster a love of learning about technology, math, engineering, and science.

Consider Your Kids' Ages And Skill Levels: It's important to choose a toy that is age and skill-appropriate. A toy that is too easy will be quickly outgrown, and a too difficult toy will be frustrating. STEM toys are often designed with specific age ranges in mind, so be sure to check the manufacturer's recommendations.

Look For Toys That Encourage Creative Thinking: The best STEM toys encourage kids to think outside the box. Look for toys that can be used in multiple ways, such as blocks stacked or used to build houses. Imaginative play is crucial, so look for ways to enable it.

Seek Out Toys That Promote Hands-On Learning: The best way for kids to learn is by doing. Look for toys that allow kids to experiment and explore, such as chemistry sets or robotics kits.

Choose Quality Over Quantity: When it comes to STEM toys, it's essential to choose quality over quantity. A few well-made, high-quality toys will provide more educational value than a hoard of cheap, poorly made ones.

Focus On The Fun Factor: Last but not least, be sure to choose a toy that your child will enjoy playing with. A toy that is too boring or too difficult will quickly be forgotten. But a toy that is both fun and educational will be a hit with any kid.
FAQs about STEM toys
What are STEM toys for?
STEM toys are designed to help children learn about science, technology, engineering, and mathematics. They are usually interactive and often encourage kids to experiment and explore. They help kids develop critical thinking and problem-solving skills and can even be used to teach basic coding concepts.
Why are STEM toys important?
STEM toys are essential because they can help children develop an early interest in different subjects. They also provide a fun and hands-on way for kids to learn about complex concepts and develop fine motor skills. Additionally, STEM toys can help close the gender gap in multiple fields by providing girls with more opportunities to engage with these types of toys.
What types of STEM toys are there?
There are many different types of STEM toys available, including construction kits, robotics kits, logic and reasoning games, and even simple household items that can be used to teach science and basic coding concepts.
Where can I find STEM toys?
You can find STEM toys at any toy major retailer. Some, like Amazon and Target, have a dedicated section for STEM toys.
Conclusion
Any budding scientist will love these hands-on, engaging STEM-focused toys. Even if your child hasn't shown a specific interest in science, technology, engineering, or math, something simple can ignite their curiosity and expose them to concepts they haven't learned before.
Many are great for working fine motor skills and all help children learn to solve problems. Most importantly, they're fun, because that's what toys should be!
By Crystal Teegarden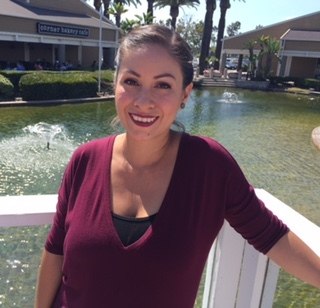 Crystal is a gentle parenting mama who loves reading, cooking, and exploring new trails with her husband and son. She is from Los Angeles but currently lives in Portland, OR where she is eating all the vegan food.
Paper Pinecone is the #1 most trusted childcare directory giving parents access to the best preschools and best daycares near you. Parents always search free and childcare providers always list free. Send inquiries about the best daycares and preschools to questions@paperpinecone.com.
This post contains affiliate links.