Published Date: 07/18/19
It's never too early to talk about Halloween and today gives us a great excuse.
Target, favorite retailer of moms everywhere and the place where I seem to need everything I wasn't shopping for, has just announced their first line of Halloween costumes for children with disabilities.
Two costumes that can be adapted for children in wheelchairs are being launched from Target's Hyde and Eek! boutique to help all children partake in Halloween fun this year. Typically, parents are left to create their own costumes or retrofit existing ones, which can be a nightmare if you're Pinterest-ly challenged, as I am.
The two costumes, a pirate and a princess, can incorporate the wheelchair into the design, with the chair becoming a pirate ship and princess carriage, respectively.
In addition to wheelchair adaptability, these costumes are made to open in the back and go on over shoes, taking into account the difficulty of dressing children who use wheelchairs.
The pirate costume retails for $25 and the princess for $20, with the wheelchair accoutrements sold separately for $45.
We looooove what Target's doing, but can they please stop calling them 'Boy's' and 'Girl's' costumes? In 2015 Target said they were getting rid of gender labels. What happened?
Target has also announced the launch of costumes for children with sensory issues. The shark ($30 for kids, $25 for toddlers) and unicorn ($30 for kids, $25 for toddlers) include "flat seams and no tags for an ultra-comfy feel," Target describes, as well as detachable parts and hidden openings for ease of use and comfort.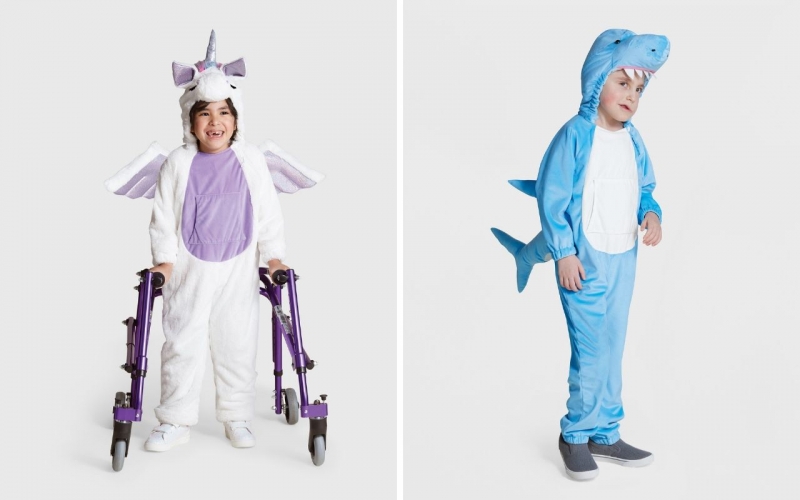 Target also launched a line of adaptive Cat & Jack clothing two years ago. The designer, Stacy Monsen, spoke about the inspiration for the collection.
"I have a 7-year-old daughter, Elinor, who has autism," she said. "She's not potty-trained, which means finding clothes that fit is a challenge. For pants or shorts, I either size way up, or buy pieces that are all function, no style. I've met lots of other parents who face similar challenges, including many of our guests and team members."
"After talking with some of my internal design colleagues I thought, why not create pieces that address some of these problems?" Monsen added. "So we formed a volunteer team outside our normal roles, and began to research and build our proposal."
"We learned that sensory-friendly apparel can mean different things for different people," she continued. "For these pieces, we decided to start with our core tees and leggings, and address guests' most common requests — like removing tags and embellishments that can irritate the skin. We also added more ease through the hip and a higher rise in our leggings to fit with diapers, if needed, for older kids."
Bravo, Target. Thanks for helping to ensure all children can enjoy Halloween.
Paper Pinecone is the best resource for finding daycare and preschool programs in your area. Start your search today.
Other articles you'll love
Parents of Pick Eaters - SpinMeal is the answer to your prayers
What chores should your child be doing?
This post may contain affiliate links