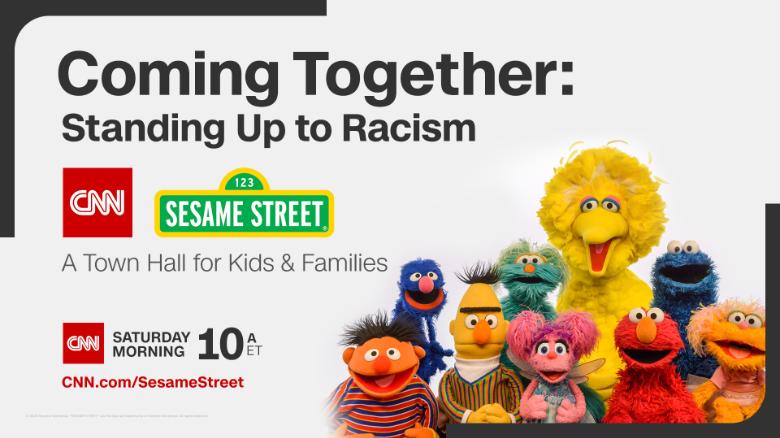 Published Date: 06/03/20
With protests sweeping the nation over the murder of George Floyd at the hands of law enforcement, it's no surprise that Sesame Street is stepping in to have tough conversations. They have a long history of supporting and portraying diversity as well as tackling tough subjects, with a PSA to parents during the COVID-19 outbreak, a new muppet who addresses parental addiction, as well as a muppet who has been in foster care.

This Saturday, June 6, 2020 at 10 am ET, Sesame Street, in partnership with CNN, is hosting their second town hall specifically to address racism. Their first town hall was held in April to help children work through the COVID-19 pandemic. The second town hall was originally scheduled in late May and was also going to focus on the coronavirus, but that appears to have been shelved, replacing it with much-needed discussions around the racial issues Black and Brown Americans face.
"Coming Together: Standing Up to Racism. A CNN/Seame Street Town Hall for Kids and Families" is a 60-minute special that will help children embrace diversity, discuss the ongoing protests, and emphasize empathy and understanding.

The event will be moderated by beloved Big Bird, along with CNN staffers Van Jones and Erica Hill. Expect a cast of Sesame Street characters inlcuding Abby Cadabby, Rosita, and Elmo. Other experts will be present answering questions submitted by families. If you'd like to submit a question you can do so here.
There are multiple ways to watch the Sesame Street town hall. It can be viewed on CNN, CNN International, CNN.com's homepage, CNN en Español, on CNN's apps, and on CNNgo. It will not require a cable log-in. Cable and Sattelite subscribers can watch on-demand.
Paper Pinecone is a thought leader in Early Childhood Education and a marketplace for parents to find the best daycare and preschool programs in their area. Parents search thousands of providers at no cost and providers always list free. Get started today.