Published Date: 02/13/20
Representation matters.
Two-year-old Oliver Garza-Pena was on a shopping trip to Target with his mother last week in their home state of Arizona. He looked up and stared in awe at the ad above the clothing display.

Young Oliver has Caudal regression syndrome, which, according to the US National Library of Medicine, affects 1 to 2.5 of every 100,000 newborns. Because of Caudal regression syndrome, Oliver uses a wheelchair, as the development of the lower half of his body is impaired.  
The boy in the Target ad was also using a wheelchair.
Demi Garza-Pena, Oliver's mother, spoke with "Good Morning America" and said, "I could see the look on his face -- he knew that boy was like him."
Garza Pena snapped a photo of the moment and shared it to a Facebook page dedicated to her son called Ollie's World.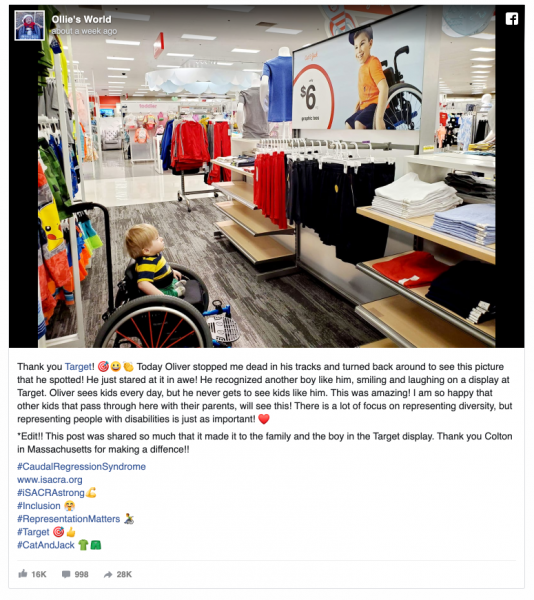 The post read, "Thank you Target! Today Oliver stopped me dead in his tracks and turned back around to see this picture that he spotted! He just stared at it in awe! He recognized another boy like him, smiling and laughing on a display at Target. Oliver sees kids every day, but he never gets to see kids like him. This was amazing! I am so happy that other kids that pass through here with their parents, will see this! There is a lot of focus on representing diversity, but representing people with disabilities is just as important!"

This isn't the first time Target has focused on inclusiveness. Their line of Halloween costumes that fit wheelchairs debuted in 2019.
We're so happy to see brands represent true diversity - people of all skin colors and abilities, both physical and neurological - and that all children are beginning to see themselves reflected in the media in a positive way.
Paper Pinecone is a thought leader in Early Childhood Education and a marketplace for parents to find the best daycare and preschool programs in their area. Parents search thousands of providers at no cost and providers always list free. Get started today.