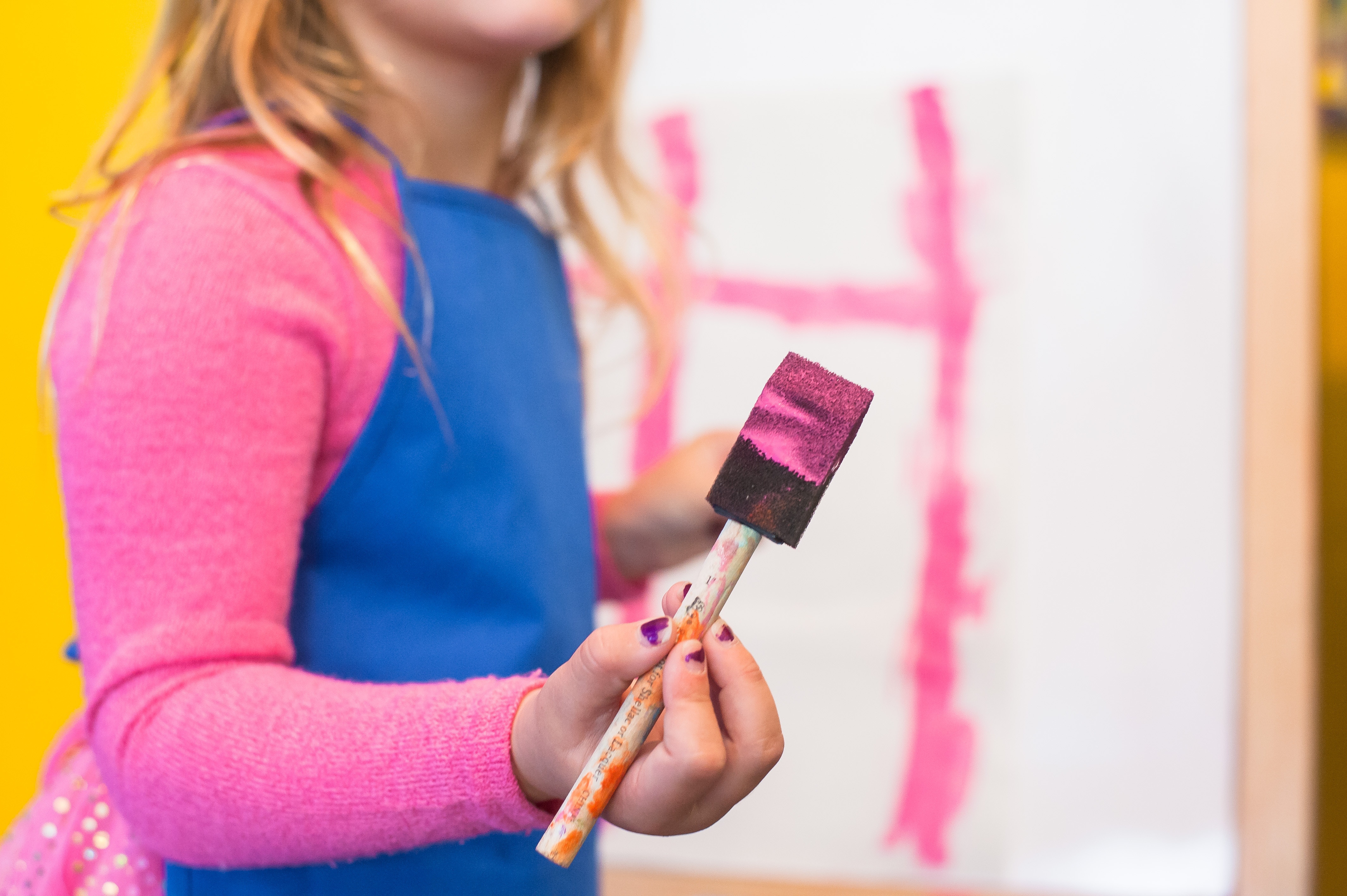 Published Date: 02/19/19
Art is powerful, we've heard it time and again, and often in reference to making social statements and changes. But art is also powerful in its ability to foster wonderful development in young children both physically and socially. Physically, it encourages fine and gross motor development, cognitive learning, and hand eye coordination. Socially it encourages independence as well as sharing, emotional development, teaches responsibility, problem solving, and allows children to experiment, use their imagination, and create.

As parents we hear a lot about how important it is to strengthen both fine and gross motor muscles. These muscles need to be strong in order to do things such as jump with two feet, ride a bike, write, use scissors, and button clothing. Gross Motor includes the use and movement of large muscles groups such as arms and legs and allows children to run, jump, and balance. Gross motor development can be achieved while making art by doing projects that involve large movements such as bending down and standing up. Fine Motor involves smaller movements in the fingers, hands, wrists, toes and feet and allows children to write, thread beads, and button their clothes. These muscles are strengthened by doing projects that involve small movements, such as painting with a small paintbrush at a table.

Use of iPads and iPhones by children can delay the development of their gross and fine motor muscles. Kids need strong bodies to succeed! Replace some screen time with some art time. Using art as a way to develop their muscles is a fun way to work these muscle groups. Give yourself a goal to give them a tool such as a crayon, marker or paintbrush, at least once a day to use and then experiment with different ways they can use these tools.

A timeless art project that works on Gross Motor development is creating life size portraits. Get a piece of paper that is a little bigger than your child (paper that comes with packages in the mail or a roll of craft paper from the craft store will work). Lay the paper on the floor and have your child lay on the paper. Trace their outline (or have a friend or sibling trace them) and then give them crayons, markers, paints and/or collage materials to color and decorate their self portrait. To get involved, lay a piece of paper down for you and have your child trace you. You can work together now on creating your self portraits. While they move around on the floor and get up and down for supplies, they are exercising their gross motor muscles.
For mess free fine motor "painting" get some colored paper and a little jar of water. Dip their brush in water (or better yet, have them dip their brush in the water). When they "paint" the colored paper with water, their brush strokes will darken the paper, and they will be satisfied with the work they are doing. As they are doing this, grab yourself colored paper and a brush and sit beside them and paint some shapes on your page. Hand them a pair of age appropriate scissors for even more fine motor exercise and to practice hand eye coordination.

If you are able to create alongside your child, you add a great social aspect to these activities as you share materials, discuss what you're working on, talk about colors and shapes, and clean up together. All at once, you are developing gross and/or fine motor muscles, hand eye coordination, social skills, and cognitive learning. Art is powerful!

Making art should be a fun activity for you and your child but if the mess keeps you from indulging, I encourage you to remember what a wonderful and important activity it is for their development and allow for the mess every once in a while. Maybe incorporate more art into your activities in the summer when you can take the mess outdoors. If you're still not convinced to pull out the paints at home, I encourage you to look for art classes for your child that support open ended art play. They'll gain great skills physically and you'll both enjoy the social aspect of it. If you're in the Boston area, I welcome you to try out one of my classes at The Monarch Studio in West Roxbury.  Contact me for more info or to schedule a free trial class at lauren@monarchstudioboston.com or through our website at www.monarchstudioboston.com.
Paper Pinecone is a thought leader in Early Childhood Education and a marketplace for parents to find the best daycare and preschool programs in their area. Parents search thousands of providers at no cost and providers always list free. Get started today.
About the author
Lauren is the owner of The Monarch Studio as well as the art teacher at the studio.  She has a degree in Visual Communication and has completed an Art Teacher Training Program with Nature of Art For Kids.  She just completed a kids yoga teacher training with Pretzel Kids Yoga and will soon be teaching yoga at the studio.  She loves the creativity that goes into planning the art and yoga classes for the children and is passionate about giving the children a place where they can create, use their imaginations, and express themselves freely.