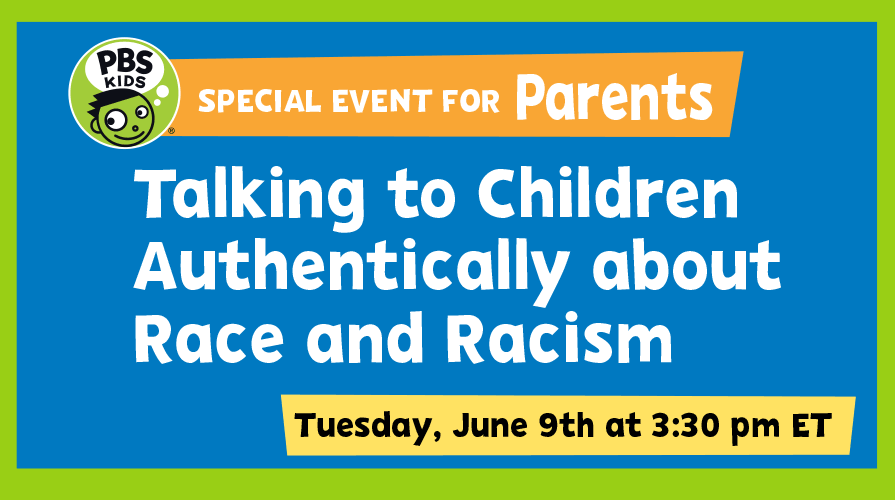 Published Date: 06/06/20
PBS Kids is hosting a special event called Talking to Children Authentically About Race and Racism to help parents and educators discuss race and surrounding topics with children.
The event will be held on Tuesday, June 9, 2020 at 3:30 ET/12:30 PT.

PBS Kids says, "Join fellow parents, educators and child development and trauma experts for an important conversation about how you can talk with young children about racial injustice and violence against Black people. Together, we'll explore questions such as: How can parents of Black children continue to instill confidence and pride in young kids while also explaining the racial inequity and barriers that continue today? And, how can parents of non-Black children help young kids understand their role in confronting anti-Black racism? We'll also answer questions from parents and share tips and resources you can use to continue to have these meaningful conversations now and into the future."
Recently, George Floyd's murder at the hands of law enforcement has sparked global protests in support of the Black Lives Matter movement. Protesters are demanding change and many parents are struggling to have conversations with children about racial issues.

More and more we're seeing media dedicated to children bringing up topics around race and diversity, and we applaud those efforts. On Saturday, June 6, 2020, Sesame Street and CNN hosted a town hall for children called Coming Together: Standing Up To Racism to help create conversations and contribute to anti-racism.
On June 1, 2020, we saw Nickelodeon and other Viacom stations go off air for 8 minutes and 46 seconds - the amount of time murderous police officer Derek Chauvin knelt on Floyd's neck to execute him. While dark, the screen flashed Floyd's words, "I can't breathe," and the sounds of a person gasping for air could be heard.

Black Americans have do not have the privilege of not talking to their children about race - ignoring it can mean the difference between life and death. It's time that all American stood up and put a stop to the systematic racism that exists in the United States.
While the PBS Kids event is for adults, we look forward to additional anti-racist content from them in the future.



Paper Pinecone is a thought leader in Early Childhood Education and a marketplace for parents to find the best daycare and preschool programs in their area. Parents search thousands of providers at no cost and providers always list free. Get started today.