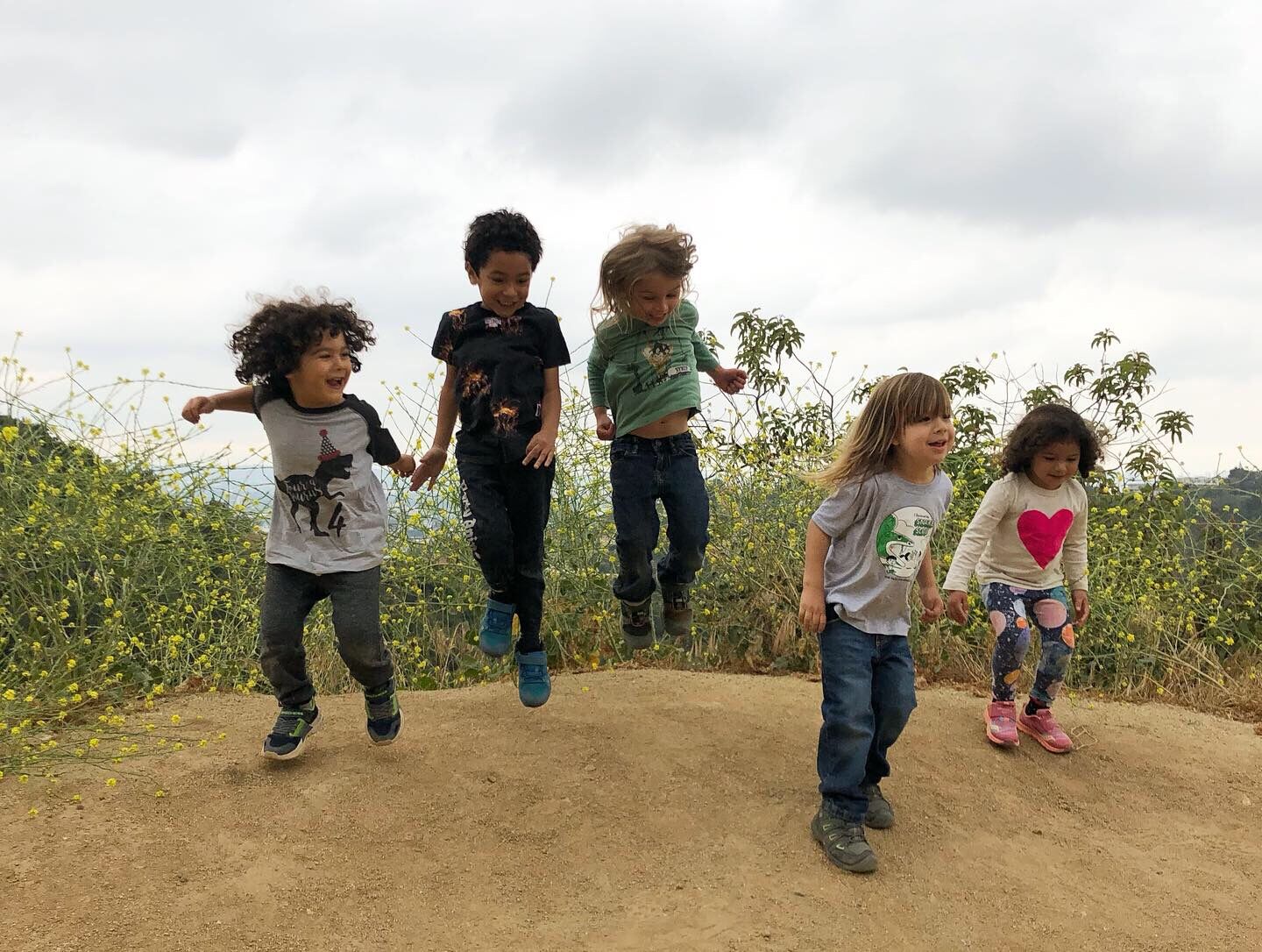 Published Date: 07/30/19
When you first meet Erin Penner and Robyn Pottorff, you immediately know they aren't your ordinary preschool directors.
Penner, as the children lovingly refer to her, is covered in tattoos and exudes a Venice Beach vibe—a mixture of 80's rock edginess and surfer cool. But don't let that fool you. She's an elected city official, holding the position of Secretary and Chair of the Public Safety and Emergency Preparedness Committee, Co-Chair of the Outreach Committee and member of the Homelessness and Social Services Committee on the Hollywood United Neighborhood Council. Penner was also given the award of WonderWoman of 2019 from her council district this spring.
Pottorff, while not yet rocking any tattoos and opting for a more casual Northern CA look (from which she hails) comes from a family of educators, taught college for many years before switching gears to teach the little ones, and has a passion for the arts. She also worked in the entertainment industry both in LA and NYC.
The two met through mutual friends in 2014 and instantly realized they were kindred, compassionate spirits with a love for working with children, rescuing animals, and helping those in need in Los Angeles. Armed with degrees in Human Development/Elementary Education (Penner) and a BA in Dramatic Arts plus an MFA (Pottorff), they founded their 501c3 nonprofit organization, Vibes365 in 2015. Their goal was to offer environmental and humanitarian workshops and summer camps to "ignite a sense of ownership and pride in Los Angeles, educate through action, and enliven the community."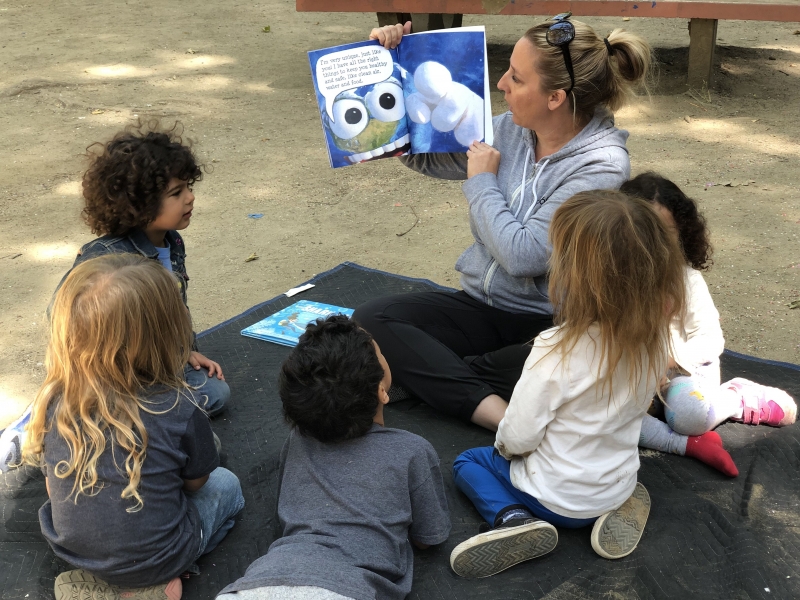 Robyn Pottorff reads to children at Inspired Little Activists Preschool
Penner taught for a handful of years with her friend and mentor, Susan Bell, at Bell's preschool, Giggles and Grass Stains. Then Bell had a baby and decided to close the preschool chapter in her life. Penner still wanted to continue teaching so she and Pottorff decided to take the mission of Vibes365 and create Inspired Little Activists— a preschool unlike any other.
The name itself— Inspired Little Activists— tells you that this is something different.
"We started Inspired Little Activists because we wanted to expand our reach by teaching more children to lead by example and inspire others, particularly during a time when the community seems to need it most," Penner said.
Inspired Little Activists, or iLA, literally molds children to become, well, activists. But that activism doesn't end when they enter kindergarten.
"It just becomes who they are – our kids learn about our precious natural resources and actually do things in their daily lives to save our planet.  They are empathetic. They are kind. It's amazing to watch them learn how to become compassionate people." Pottorff says.
"I have pictures of children feeding the unhoused with me dating back almost ten years and I just took pictures of them doing the same thing this summer.  It's amazing to see our alumni continuing to make a difference," Penner adds.
In addition to the focus on activism and play-based learning, Penner and Pottorff plan field trips to diverse locations around LA. And, as you would expect, some of the field trips aren't places children often go.

At Inspired Little Activists Preschool, Erin Penner and Robyn Pottorff create activism among the children and families they serve.
"Visiting Homeboy Industries was one of my new favorites this year," says Penner, referring to their outing to the organization that has helped thousands of former gang members and previously incarcerated individuals with support, job training and life skills. "We were the youngest group to ever visit. And we encouraged the kids to ask questions 'So, what was it like when you were in jail? Were there toys and did you get to eat any cheese?' They were such an innocent questions and tour guide answered them happily and honestly."
Since Penner has been following the work of Immigrant Families Together, an organization that raises funds to get families and children out of detention centers, she recently approached Robyn with the idea of adding IFT's work to the curriculum. The idea was to connect the students with children in need; those who have been recently released or families who need supplies shipped to their camps. This summer iLA alumni created art to raise funds and some students met a 3-year old girl and her mother who IFT has been helping tremendously. "Robyn and I are eager to see what this new endeavor and partnership means for our students." says Penner.
"Spending time outdoors is a major component of our program and critical to kids' development. Our kids have a deep respect for the environment because it is their classroom." Pottorff said. The majority of their program currently takes place outside in Griffith Park.
"During our beach clean-ups beach goers are shocked to see 3-year olds helping the environment. We are teaching the kids more than just simply picking up trash. We are teaching them to make lifestyle changes and take action."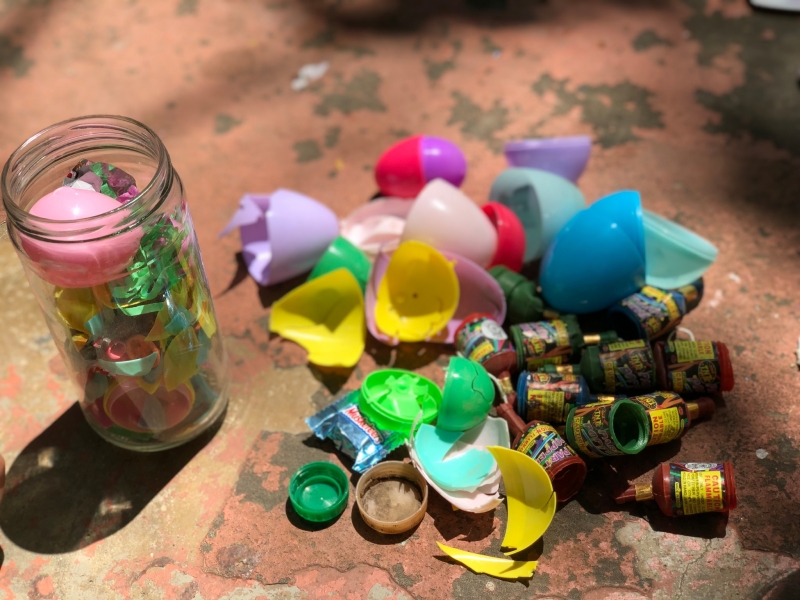 Trash collected in Griffith Park by Inspired Little Activists Preschool after Easter.
"I save almost all of the litter collected from our beach and park cleanups to teach the science lessons.  These are the things that our students remember and this is how we teach our Inspired Little Activists to change the world. But we make sure to do it while dancing to Joan Jett and Bon Jovi."
Inspired Little Activists indeed.
Inspired Little Activists offers a 5-day preschool program from September to June and meets from 9-2 in the Hollywood/Los Feliz area. To learn more about Inspired Little Activists and get your child involved, contact ilaadventureschool@gmail.com.
Paper Pinecone is the best resource for finding daycare and preschool programs that meet your needs. Start your free search today.
Other articles you'll love
6 Tips for Surviving the First Day of Preschool
When Should You Start Your Preschool Search?