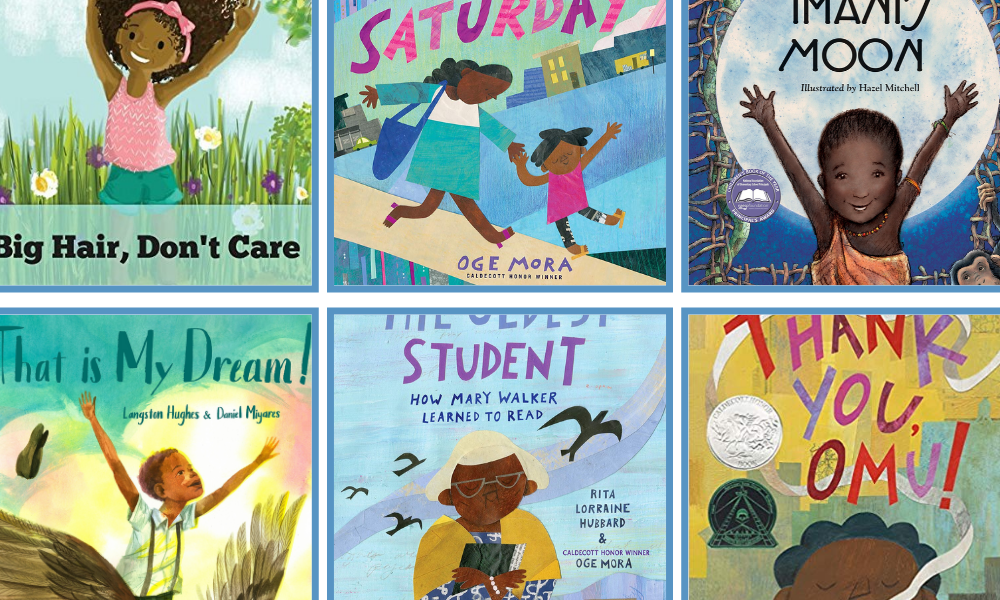 Published Date: 06/08/20
It's critical, especially for white families, to start conversations around race and diversity early. Studies show that by age four, children express preferences for white faces and begin to develop racial biases.
Many white families have never initiated conversations around race. Some live in a community that lacks diversity and race is not at the forefront of their mind. Others feel uncomfortable bringing the subject up with children and are unsure how to approach it.

One of the best things you can do is include diversity in your library. Children's book that not only have Black and other characters of color can lead you to ask children their thoughts and begin teaching children how to be anti-racist. Remember, the idea isn't to raise colorblind children it's to raise children who celebrate and honor diversity.  
These books can help start those conversations. Each one features Black characters and all are by Black authors. These are affiliate links and all proceeds earned will be donated to the NAACP.

Oge Mora
One Mora is a talented author and illustrator with three books under her belt (a fourth coming in 2021). Her first picture book, Thank You, Omu!, won several awards, including a Caldecott Honor, a Coretta Scott King/John Steptoe New Talent Award, a Ezra Jack Keats Book Award and a New York Times Notable Book and Editors' Choice. Saturday, her second book, was a Parent's Magazine, Publishers' Weekly, Kirkus Reviews, Horn Book, and School & Library Journal Best Book of 2019.

Langston Hughes
Langston Hughes was an accomplished Black poet, social activist, novelist, playwright, and columnist. His poem "Dream Variation" was brought to live in a picture book illustrated by Daniel Miyares. "Dream Variation" imagines a world without segregation and That Is My Dream!: A picture book of Langston Hughes's "Dream Variation" can be used to introduce segregation to children, including the concept of separate but equal.
Hughes' poem "Lullaby (For a Black Mother)" is brought to life by illustrator Sean Quallis. It celebrates the love between an African American mother and her infant.


Dr. Thomishia Booker
Dr. Thomishia Booker was frustrated by the lack of books with Black boys as the main character so she developed a series herself. Inspired and dedicated to her own son Carter, she says, "Now more than ever boys of color need to know they are loved and cherished."

JaNay Brown-Wood
JaNay Brown-Wood's rich background brings her stories to life. She has been, "a performer, preschool teacher, camp counselor, poet, silly-song singer, youth specialist, designer of curriculum, Harry Potter lover, college professor, reader, jellybean eater, and someone who truly cares about our future generations."
Her first book, Imani's Moon won the the NAESP Children's Book of the Year Award. Her second book, Grandma's Tiny House, is available now. Look for future titles, including Shh! The Baby's Asleep and Where in the Garden, a four-book series coming in 2021.

Crystal Swain-Bates
Crystal Swain-Bates has written and self-published 12 children's books. Her popular "Big Hair, Don't Care" is beloved by thousands of adults and children alike. Other titles like I'm A Pretty Princess, Naturally Me, and coloring & activity books Black Fairy Tales and The Colorful Adventures of Cody & Jay beautifully fill "diversity gaps in children's literature" as she does her part to "normalize Black girl and Black boy joy."

Paper Pinecone is a thought leader in Early Childhood Education and a marketplace for parents to find the best daycare and preschool programs in their area. Parents search thousands of providers at no cost and providers always list free. Get started today.