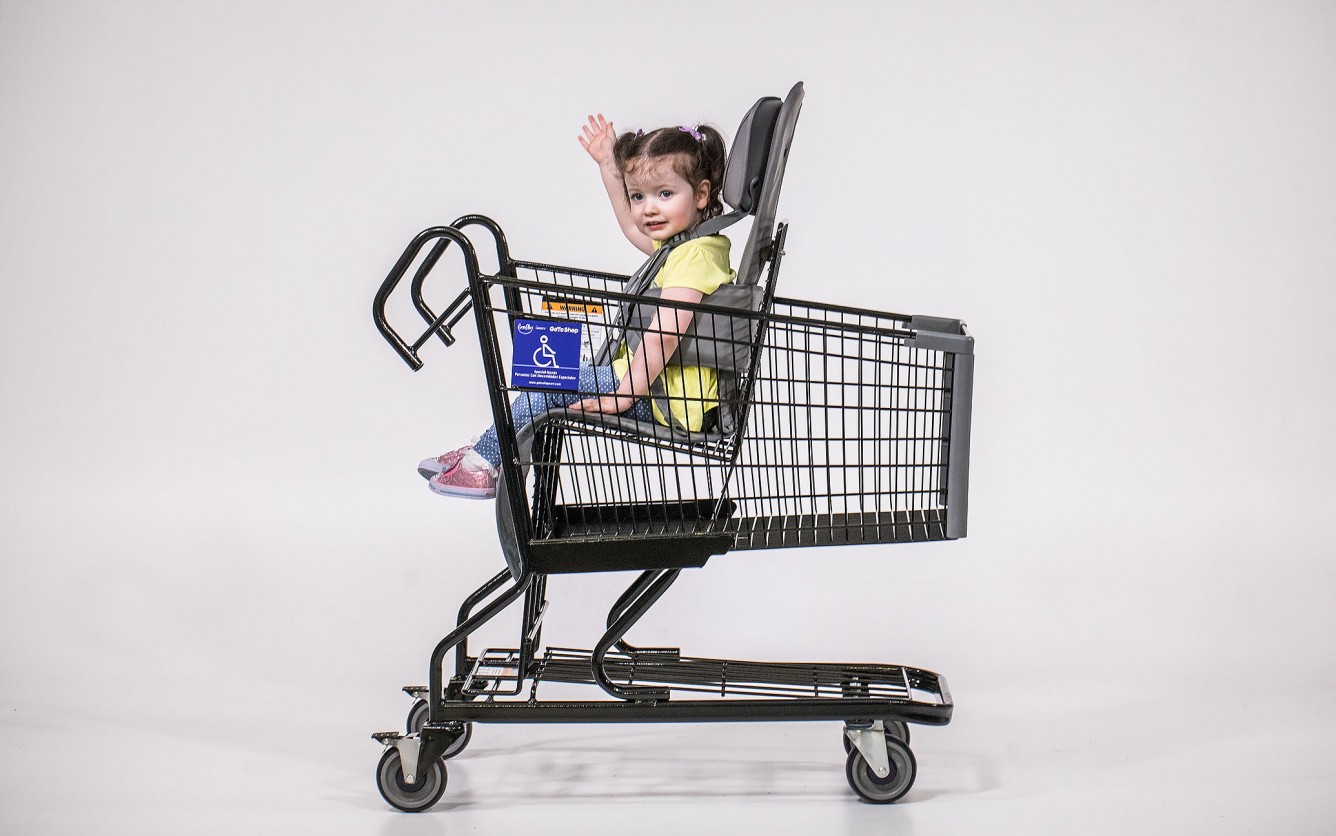 Published Date: 08/02/19
Earlier this year we learned that Target was launching a line of Halloween costumes for children with disabilities (yay!).
Well, thanks to one mom, Wegmans supermarkets will introduce a line of shopping carts designed for children with special needs who are too big to fit in regular shopping carts. According to the manufacturer, the Firefly GoTo Shop adapted cart is designed to accommodate children with special needs ages 2 to 8 who weigh up to 77 pounds.
Wegmans is a chain of 99 grocery stores on the East Coast with locations in Maryland, Massachusetts, New York, New Jersey, North Carolina, Pennsylvania, and Virginia. The new carts will roll out in all stores after a pilot program in two proved successful.

Mom Liza Rudroff initially brought the idea to Wegmens. As a customer, Rudroff struggled to bring her daughter Sydney shopping. Sydney has a neurological movement disorder which leaves her unable to walk. While there are other carts for people with special needs, they were too large for Sydney, however she was too large for traditional shopping carts. Before the adaptive carts were introduced, Rudroff could only go shopping when she had someone else to stay at home with her daughter.
Linda Lovejoy, community relations manager at Wegmans, said, "When Liza Rudroff, a customer at our Alberta Drive store in Buffalo, New York, brought this cart to our attention and shared her family's need, we recognized that there are more families, throughout all our market areas, who would benefit from the availability of this cart at our stores."
"Now, I can comfortably and safely take Syd grocery shopping with me, whether it's a planned trip or a last-minute decision to stop on the way home from school," she said. "Going to the store immerses Syd in the community and gives her the opportunity to engage with others, explore the sights and sounds and learn how to shop. It's a great life experience for her that is now effortless and worry-free for me," Rudroff said.
Hooray for stores accommodating children and families of different abilities! We hope other stores follow suit.
Other articles you'll love
If you pee when you sneeze (or cough, or laugh) read this! 9 ways to manage bladder leaks
What chores should your child be doing?