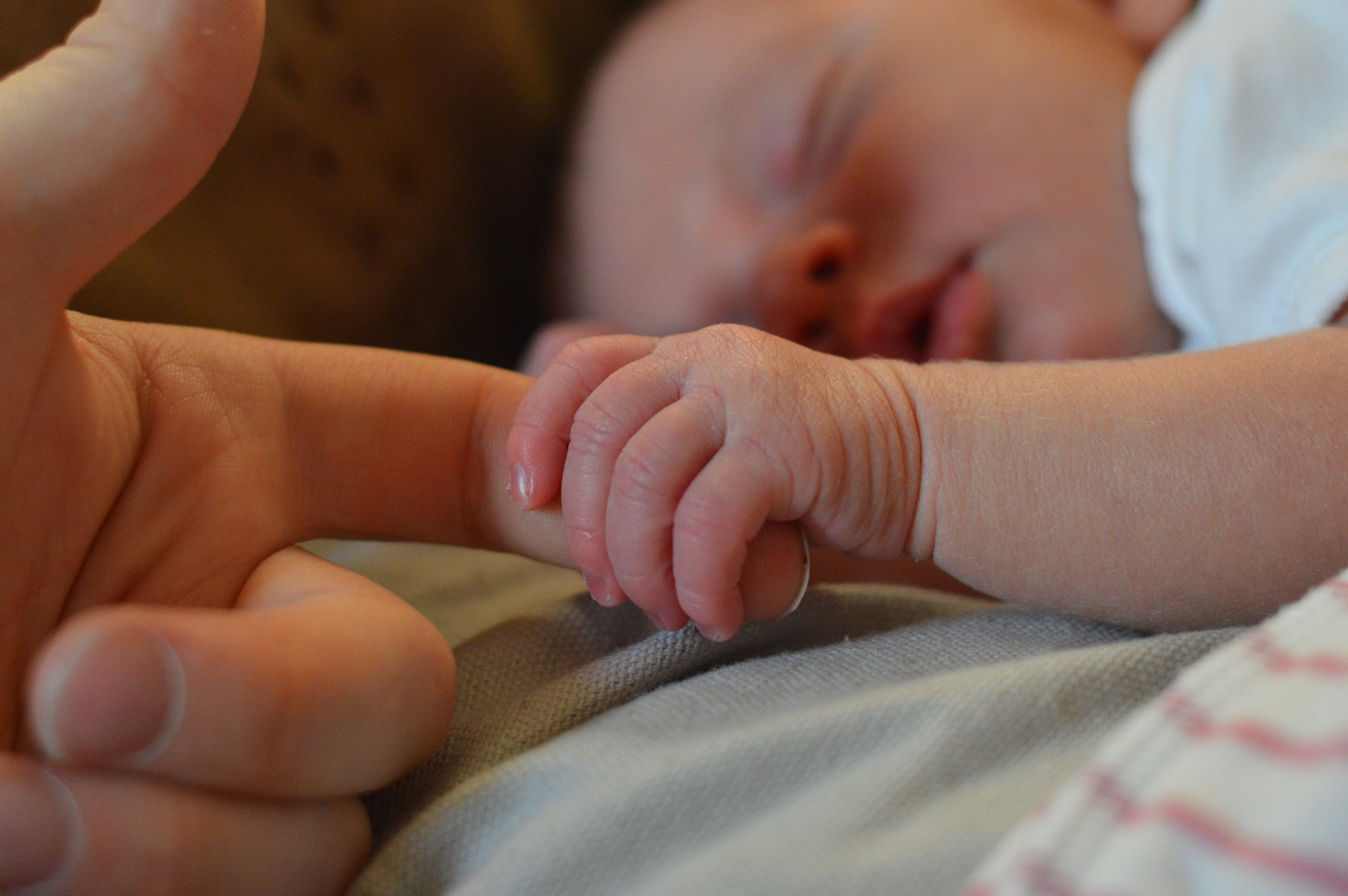 Published Date: 01/22/20
A mom's post on LinkedIn is garnering some well-deserved attention.
UK mom and founder of Mother Pukka Anna Whitehouse's post addressing maternity leave is unique, in that it lives on the business networking platform, rather than on Facebook, where we often see impassioned posts by parents.

Whitehouse addresses maternity leave, and the perception that it's a vacation from work, noting that the time spent is very much not a relaxing few months (if you're lucky). New mothers face a wide range of emotions, experiencing the highest highs and the lowest lows – sometimes within just a few minutes! Hormones are going crazy, our lives have been completely and permanently altered, some of us are trying to get the hang of breastfeeding, every sneeze or odd-looking poop requires a consult to Dr. Google, or perhaps a trip to the pediatrician, we don't sleep, we're eating sporadically, some of us have cuts across our bellies and some of us have stitches in our nether regions, not to mention leaky breasts, and clumps of hair falling out. Whew. It's a whirlwind, to say the least.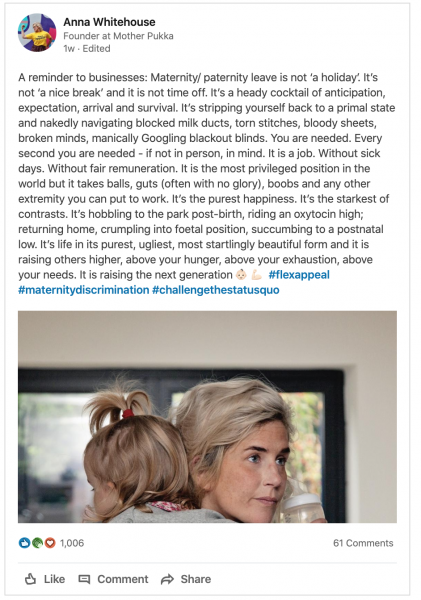 Whitehouse writes, "A reminder to businesses: maternity/paternity leave is not a holiday. It's not 'a nice break' and it is not time off. It's a heady cocktail of anticipation, expectation, arrival and survival. It's stripping yourself back to a primal state and nakedly navigating blocked milk ducts, torn stitches, bloody sheets, broken minds, manically Googling blackout blinds. You are needed. Every second you are needed. If not in person, in mind. It is a job. Without sick days. Without fair remuneration. It is the most privileged position in the world but it takes balls, guts (often with no glory), boobs and any other extremity you can put to work," she explained. "It's the purest happiness. It's the starkest of contrasts. It's hobbling to the park post-birth, riding an Oxytocin high; returning home, crumpling into fetal position, succumbing to a postnatal low. It's life in its purest, ugliest, most startlingly beautiful form and it is raising others higher, above your hunger, above your exhaustion, above your needs. It is raising the next generation."

We relate to everything she's saying, and truly appreciate her expressing herself on LinkedIn so non-parents in the business world can hopefully get a glimpse into the trials of new parenthood and stop thinking of maternity and paternity leave as a holiday.
Bravo!
Paper Pinecone is a thought leader in Early Childhood Education and a marketplace for parents to find the best daycare and preschool programs in their area. Parents search thousands of providers at no cost and providers always list free. Get started today.