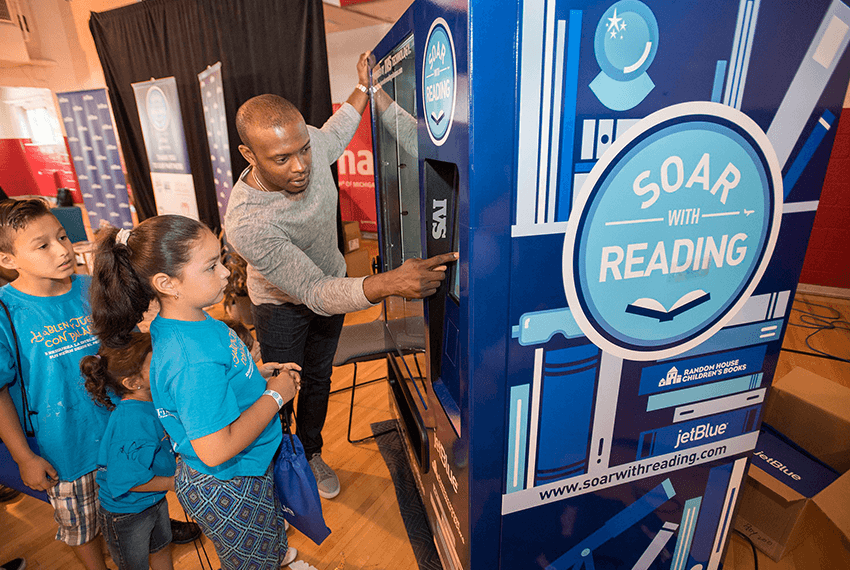 Published Date: 08/01/19
The Soar with Reading program by JetBlue has launched its New York City initiative, placing vending machines filled with free books throughout the city. Popping up in all five boroughs, the program is designed to provide access to age-appropriate books in communities where access or means to purchase books is limited.
Studies have identified a million word gap, showing that by age 5 between children who are read to frequently have heard one million more words than children who are never read to.
Additionally, according to the American Library Association, studies find that school-age students who read independently have better academic performance, greater content knowledge, and better knowledge of the world than children who don't read for pleasure.

The Soar with Reading vending machines will provide books in both English and Spanish and can be found a the following locations:
Brownsville Recreation Center - Brooklyn
1155 Linden Blvd
Brooklyn, NY 11212
New South Bronx Center - Bronx
991 Longwood Ave
Bronx, NY 10459
Riverbank State Park - Manhattan
679 Riverside Dr
New York, NY 10031
Queens Public Library Main Branch - Queens
89-11 Merrick Blvd
Jamaica, NY 11432
Ocean Bay Community Cornerstone
57-10 Beach Channel Dr
Averne, NY 11692
Faber Park - Staten Island
Richmond Terrace
State Island, NY 10302
Other articles you'll love
Study Finds Reading to Your Child Improves Their Behavior and Reduces Harsh Parenting
If you pee when you sneeze (or laugh, or cough) read this! 9 ways to manage bladder leaks
Paper Pinecone is the best resource for finding preschool and daycare that meets your needs. Start your free search today.