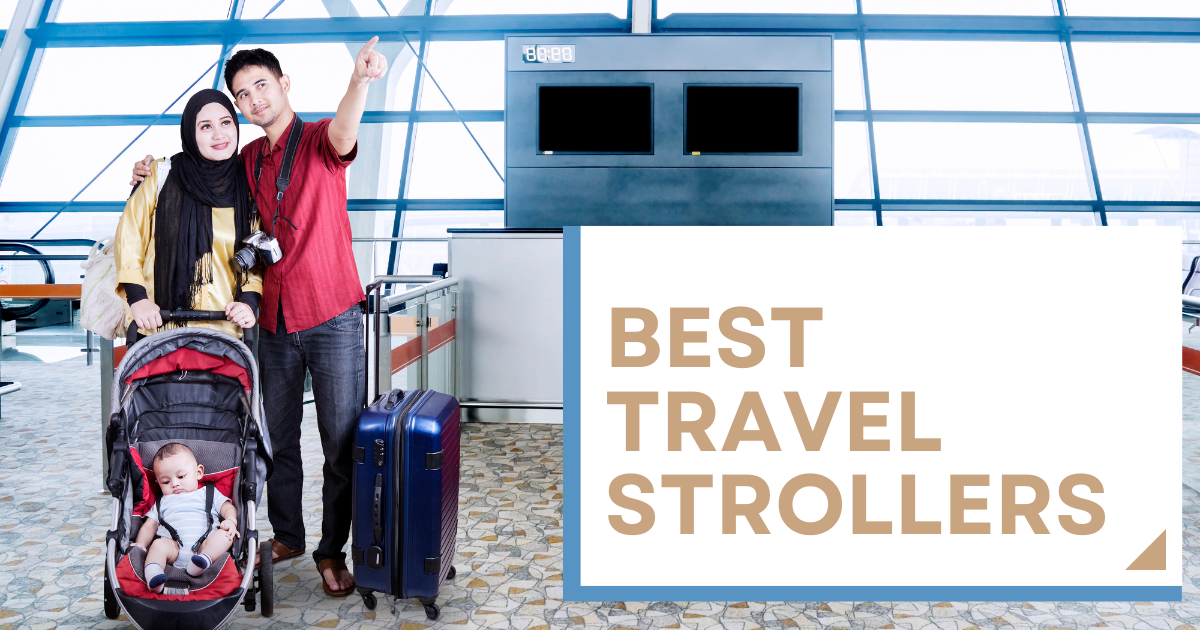 Published Date: 10/28/23
Jump to:
Our picks for the best travel stroller
Must-have travel stroller accessories
How to choose a travel stroller
---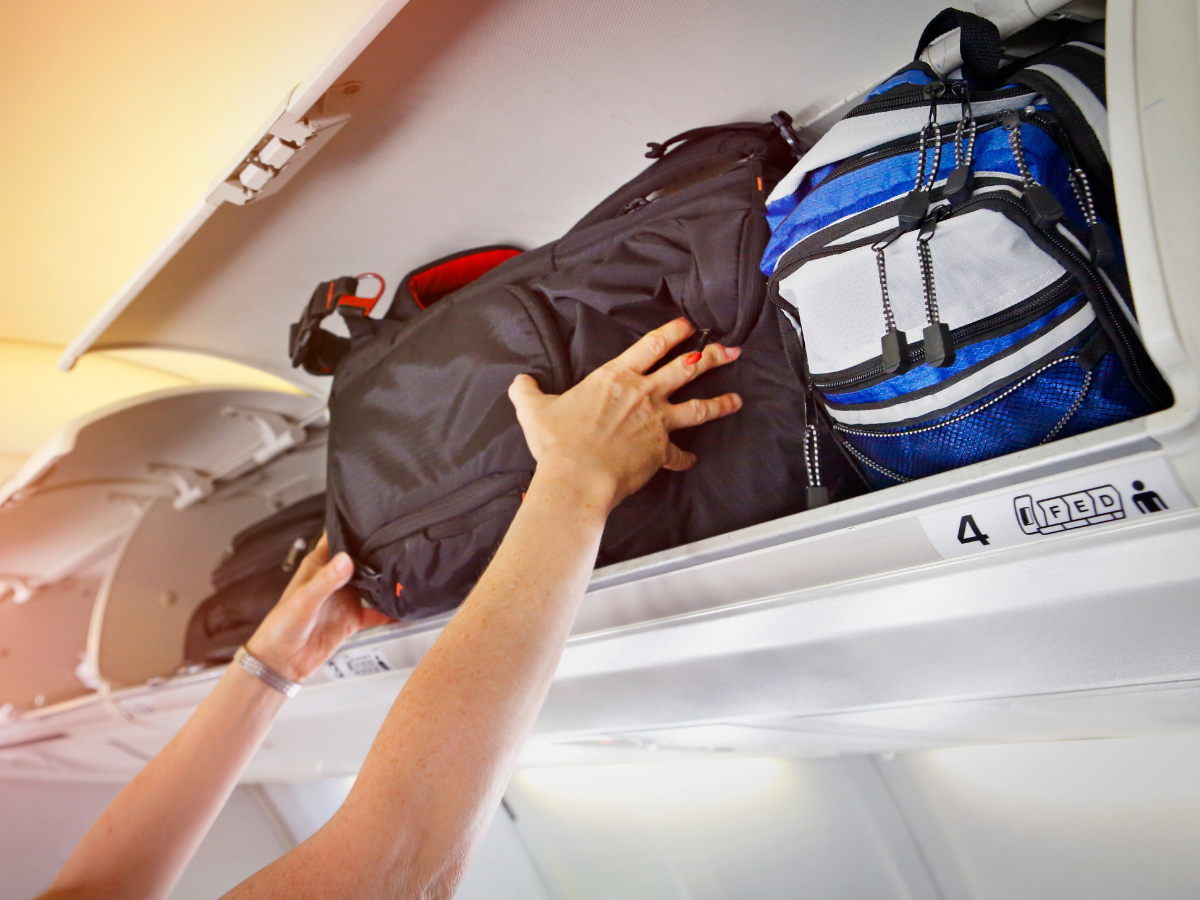 Heading out for your first flight with an infant is stressful!
Have you forgotten anything?
Will TSA give you a hard time about your frozen breastmilk?
Will she have a blowout on the plane?
Will he cry the entire time?
Will you?
Well, we don't know.
What we do know is that picking the right travel stroller can make air travel so much easier. Choosing one that folds easily, has the storage you need, maneuvers well, fits in the overhead bin, and is comfortable for your child will make trips through the airport and strolls at your destination a breeze.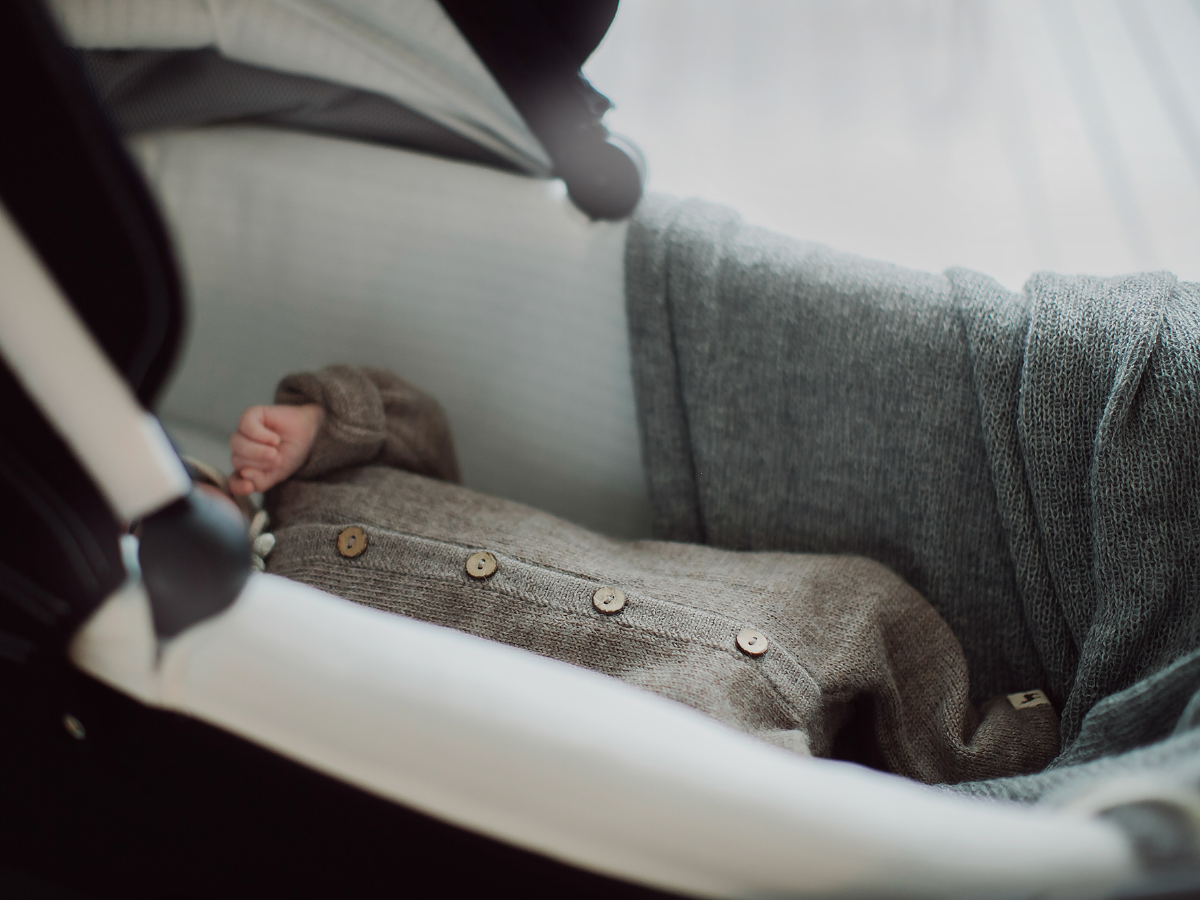 Let's dive in to our list of the best travel strollers right now and you can roll smoothly into your vacation.
Note: this post contains affiliate links.
The Best Lightweight Strollers for Airplane Travel
The best airplane travel stroller is the one that has everything needed for your baby's comfort while still being convenient enough to carry around with ease. The list that we have compiled features all types of strollers that are excellent to travel with on airplanes.
TOP PICK Joolz Aer Baby Stroller
Why it made our list: High quality, attractive, durability, super smooth ride
Our pick for: Frequent flyers who need durability; city travelers who want a smooth ride; parents who value a sleek appearance; older children
Cons: Accessories aren't included; canopy is on the small side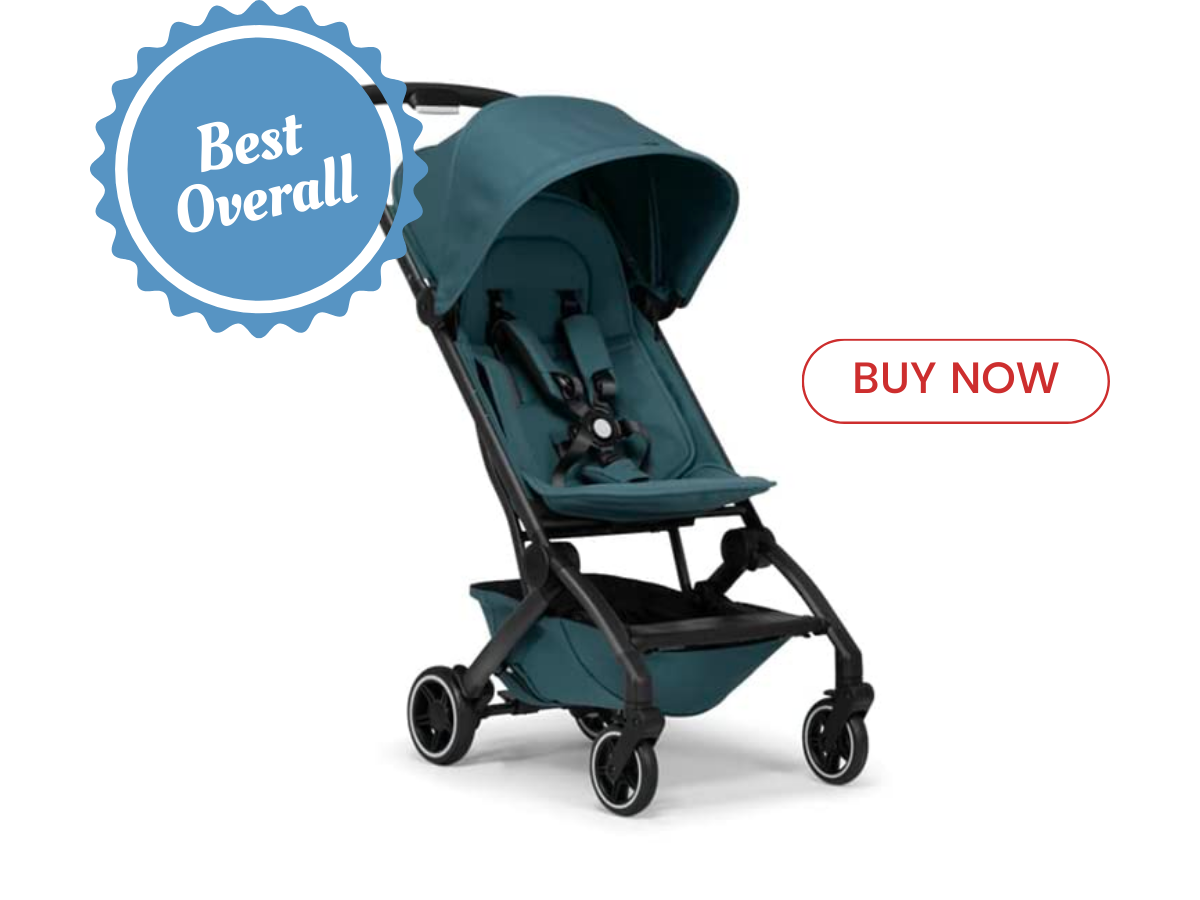 The Details
The Aer stroller by Joolz is a compact travel stroller designed to easily fit in overhead bins. It's a premium stroller with sleek lines, thanks to its Dutch design team.
Designed to glide over almost any surface with ease, the Aer offers extra padding and an ergonomic seat for a more comfortable ride.
While it does fold easily with one hand and fits in the overhead compartment, it is on the heavy side for travel strollers, weighing in at just over 13 pounds.
Bonus: Includes a handy travel bag with a carry strap.
Of all the strollers tested, this was our top pick.
What our experts say:
"I love how the stroller stands on its own when it's folded. It's great for hotel rooms."
"Glides better than almost any other stroller I've tested. Handled the cobblestone streets in Paris super well"
What customers say:
"This is lightweight, high end material, easy to carry for a mom, folds up super small. Just all around wonderful. Would highly recommend. Very worth the cost."
"I did SO much research trying to find a quality travel stroller that balanced being compact and sturdy. Literally probably hours of research on here, social media, etc. I went with this one and LOVED it. Brought it on two flights with no problem and use it more than our everyday stroller now."
Recommended Accessories
The Joolz Aer+ is one of the best strollers for airplane travel but it is light on accessories. These are the ones we recommend picking up.
Joolz Aer+ Bumper Bar

Universal Snack Tray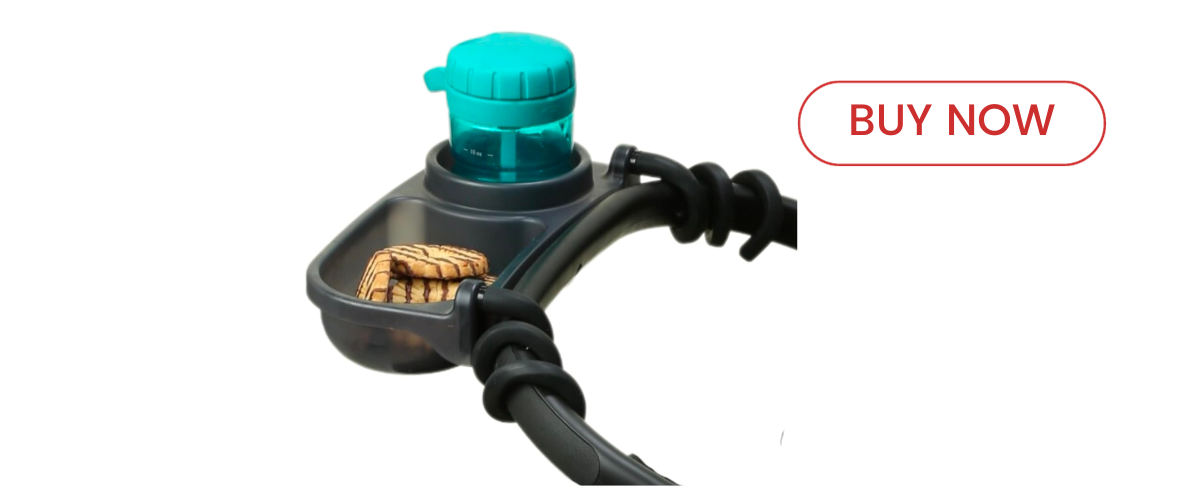 Itzy Ritzy Adjustable Stroller Caddy

Features & Specifications
One-hand fold

Five-point harness

Fits in the overhead bin

Reclining seat

Weight limit: 50 pounds

Canopy offers UV protection of UPF50+

Transferable warranty of 10 years

Available in seven colors

Price is $449 at the time of publish
Baby Jogger City Tour 2 Double Stroller
Why it made our list: One of the most lightweight double stroller options around
Our pick for: Traveling with two
Cons: Ride can be bumpy on uneven surfaces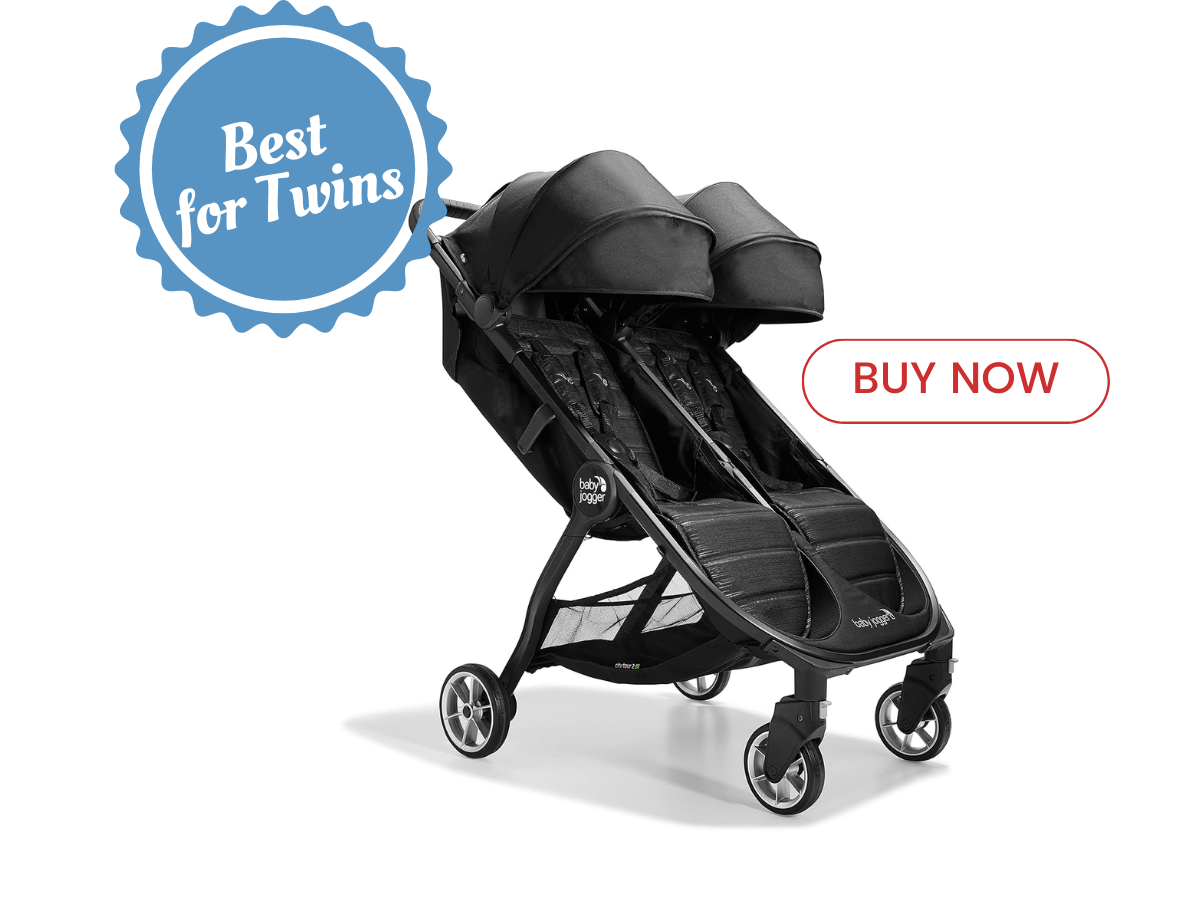 The Details
The Baby Jogger City Tour 2 Double Stroller brings the features of your favorite Baby Jogger City Mini to a more lightweight travel stroller. It's offered in both single and double versions and the price point on the double is less than some single strollers.
The Baby Jogger City Tour 2 double is designed to fit through a standard doorway and meets Disney's size requirements, which is super important if you're hitting the theme parks.
This double weighs just over 23 pounds, making it a very lightweight option for toting two around.
What our experts say:
"I'll never travel with my twins again without it."
"The front wheels swivel and that makes a huge difference when you're trying to maneuver in tight spaces."
What customers say:
"Such an amazing travel stroller and even daily around-town stroller. Love it."
"The baby jogger city tour double is surprisingly VERY light compared to other double strollers. The seats make it easy for toddlers and babies to take naps on the go. Folding is simple enough to do quickly. Only struggle I did have was taking it out of the fold. I wasn't really sure how to get it out of the fold without struggling. I am 5'3" so maybe that's it. Maneuverability was nice, I was able to turn the stroller many ways as well as fit on the sidewalk and in doorways."
Recommended Accessories
You'll want to stock up on accessories, like a twin stroller parent console, for the best ride.
Features & Specifications
Large UV 50+ rated canopies with extension panels and peekaboo windows

Weight: 23.1 pounds making it a very lightweight double stroller

Supports up to 33 pounds in each seat

Double size storage basked holds up to 15 pounds
The Bugaboo Butterfly Stroller
Why it made our list: Easiest fold and super quiet
Our pick for: Easy, compact fold; high-quality materials; a quiet ride
Cons: May not fit in overhead bin on smaller planes; we'd like the shoulder strap to be longer; accessories not included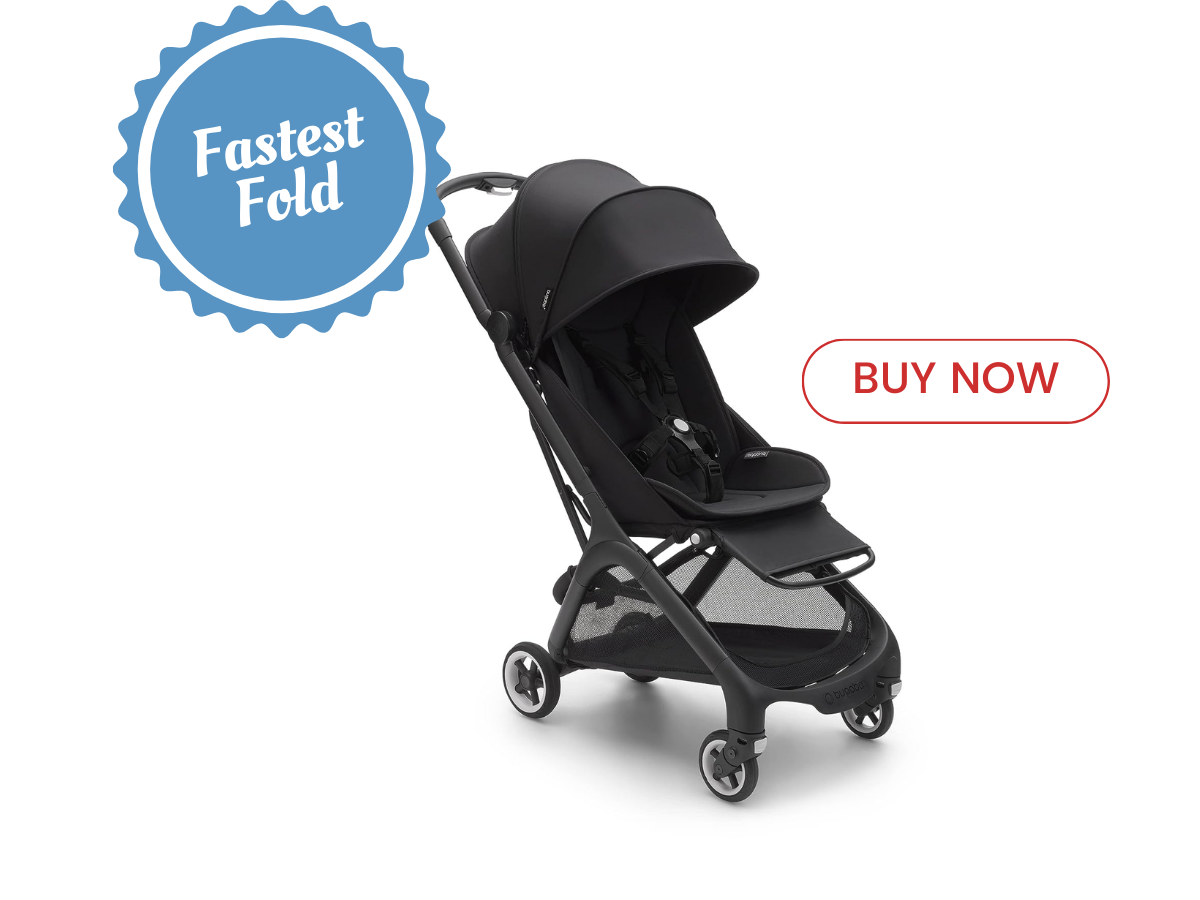 The Details
Bugaboo Butterfly Seat Stroller provides an excellent ride and is among the quietest strollers tested.
We were blown away by how easy the Bugaboo folds. It's a beautiful stroller that looks less like camping gear than so many others, but still has the durability you'd expect at this price point.
At 16 pounds it is one of the heavier strollers, and it lacks the full recline of some others, but it fits in the overhead bin, and the super handy carrying strap makes this a great choice for travel.
What our experts say:
"I loved that I could fold it quickly and stick it under the table at a restaurant."
"Looked really nice and handled well. Folding was a breeze."
What customers say:
"The butterfly comes exactly as advertised and was so easy to put together out of the box. It's compact, lightweight and easy to open and close with one hand. We love using it on the go with both our baby and toddler as the seat and straps are easy to adjust to both kids' heights. The seat padding is also nice and soft for the kids and can be removed to wash! I like that my toddler fits so well and doesn't look cramped at all. The bonus is that the leg rest is already included in the box. We can't wait to bring it on future family vacations."
"I initially bought this as our travel stroller but i've been just using it for every day purposes and I love this SO much! It's so lightweight and easy to use. I have a small car and it does take up about half the trunk space but i figure you'll find that with any other stroller."
Recommended Accessories
Like the Joolz Aer+, the Bugaboo Butterfly does not come with accessories. Here's what we recommend with it.
Bumper Bar for Bugaboo Butterfly Travel Stroller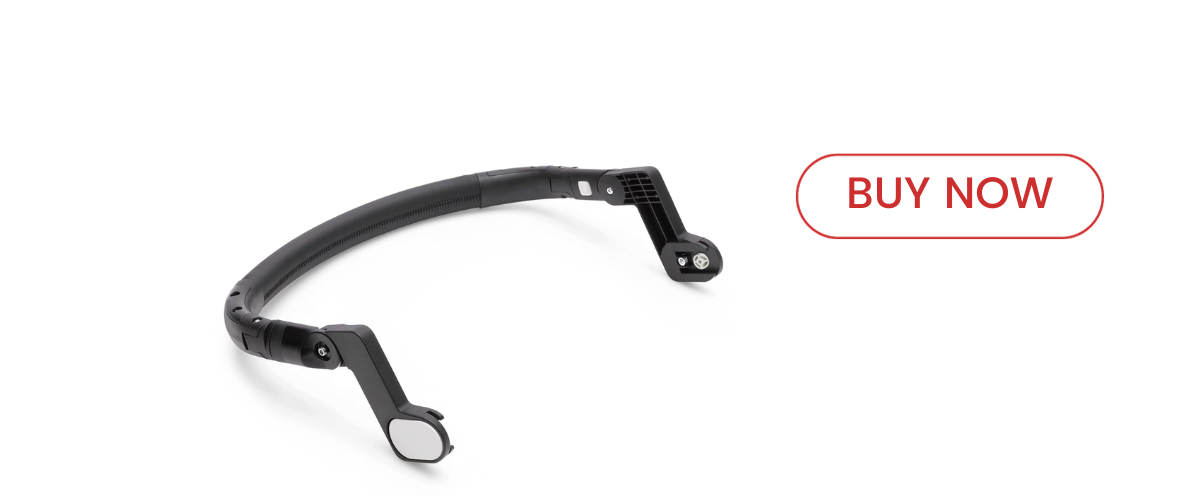 Universal Compact Stroller Snack Tray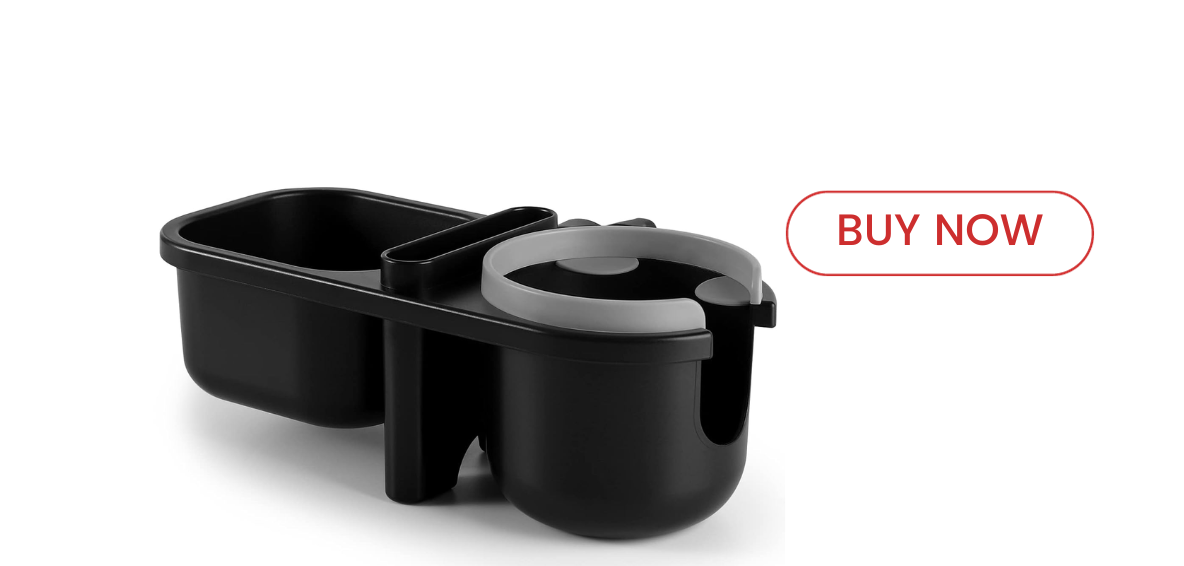 MomInside Universal Stroller Caddy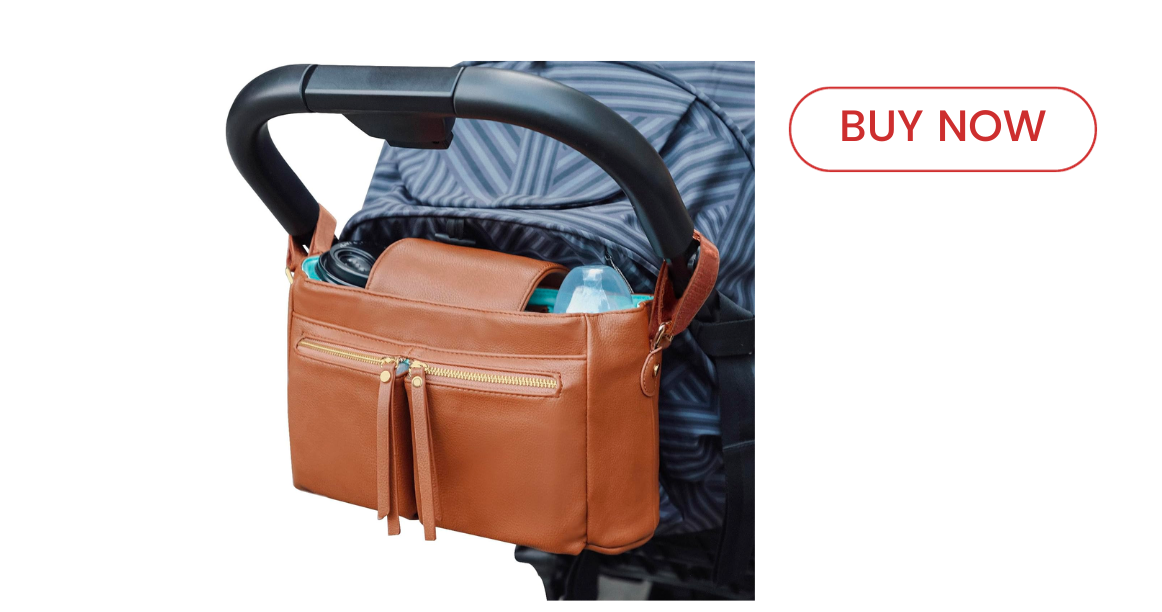 Features & Specifications
Advanced four-wheel suspension for high quality rides and effortless handling

One-second fold and unfold mechanism using only one hand

Rain cover, and seat cover

Suitable for babies of up to 50 lbs

Travel certified, IATA compatible folding, friendly with overhead bins of most aircraft

Weighs 16.1 lbs

Shoulder strap for hands-free carrying

Available in three colors

6-point harness for babies

Price is $450 at the time of publish
UPPAbaby MINU V2 Stroller
Why it made our list: Great storage basket (accessible from back and front); top notch steering
Our pick for: UPPAbaby loyalists: those who don't pack light on strolls
Cons: Heavier than other compact options; not great on rough terrain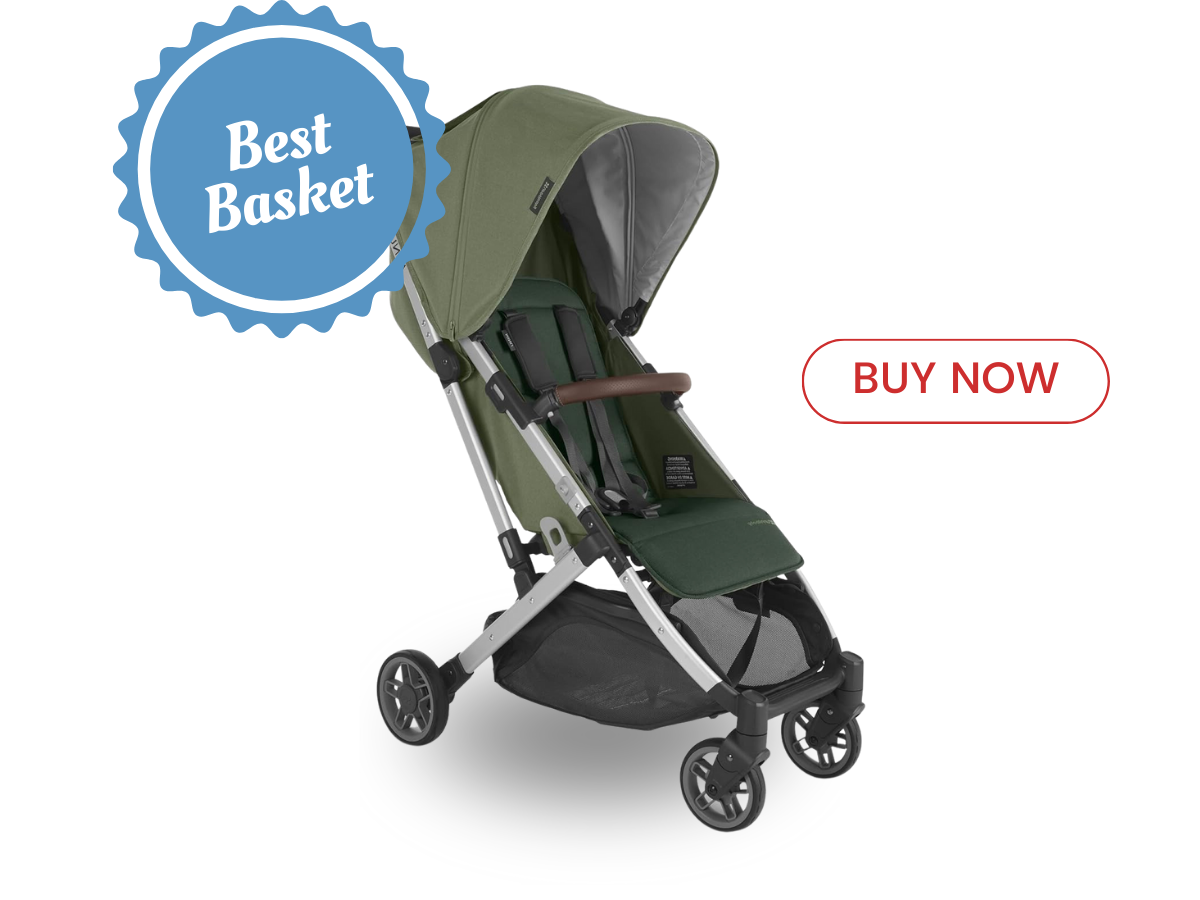 The Details
The UPPAbaby Minu V2 is the latest in the UPPAbay stroller line.
Among strollers tested, this one is among the easiest to steer. It's compact fold is designed to fit in overhead bins on larger airplanes, but the large storage basket is unbeatable for a larger diaper bag. It's accessible from both the front and the back and can hold a hefty 20 pounds.
The UPPAbaby Minu V2 offers a very large canopy with a peek-a-boo window, larger than most others, and a handy pouch on the back of the seat for your cellphone, keys, and other small items.
It folds quickly and the recline in the Minu V2 is streamlined and easy.
What our experts say:
"I always have so much stuff with me, so the storage space was a huge win."
"On the heavier side - feels like it's in between a travel stroller and a full-sized stroller. It didn't fit in the overhead bin on my flight, but I don't mind gate checking. "
What customers say:
"I'm really happy with this purchase. I wanted a stroller to use in stores and when traveling, and this works perfectly. It is very light and easy to get in and out of the trunk. When it unfolds, it is nice and sturdy. This stroller has done well on little trips to the store and longer outings like a couple hours at the zoo."
Recommended Accessories
Grab these accessories for the UPPAbaby Minu V2.
Universal Parent Console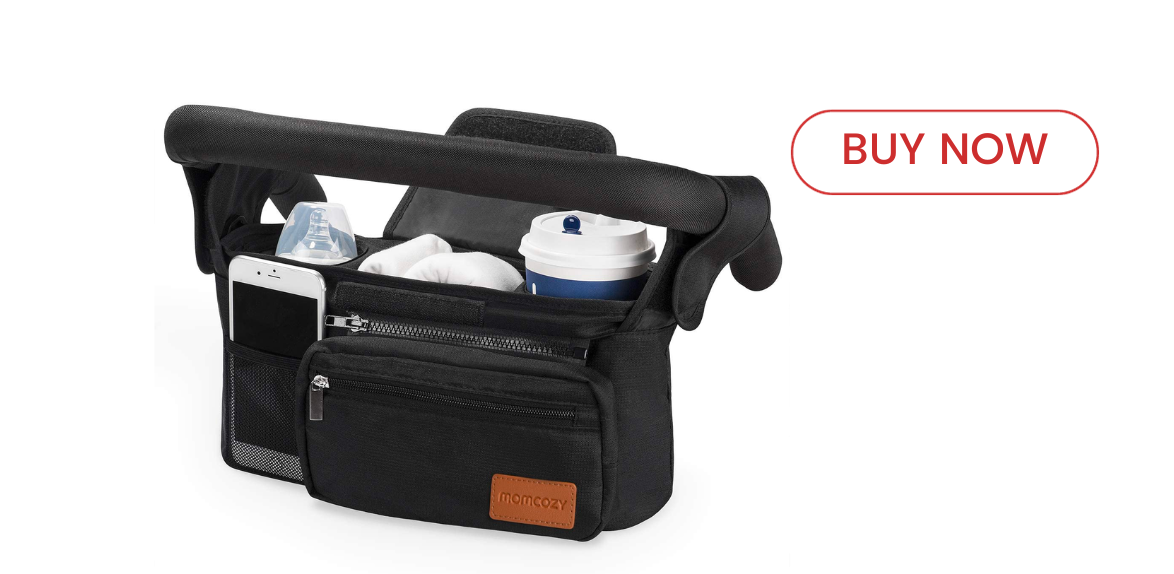 UPPAbaby Minu V2 Snack Tray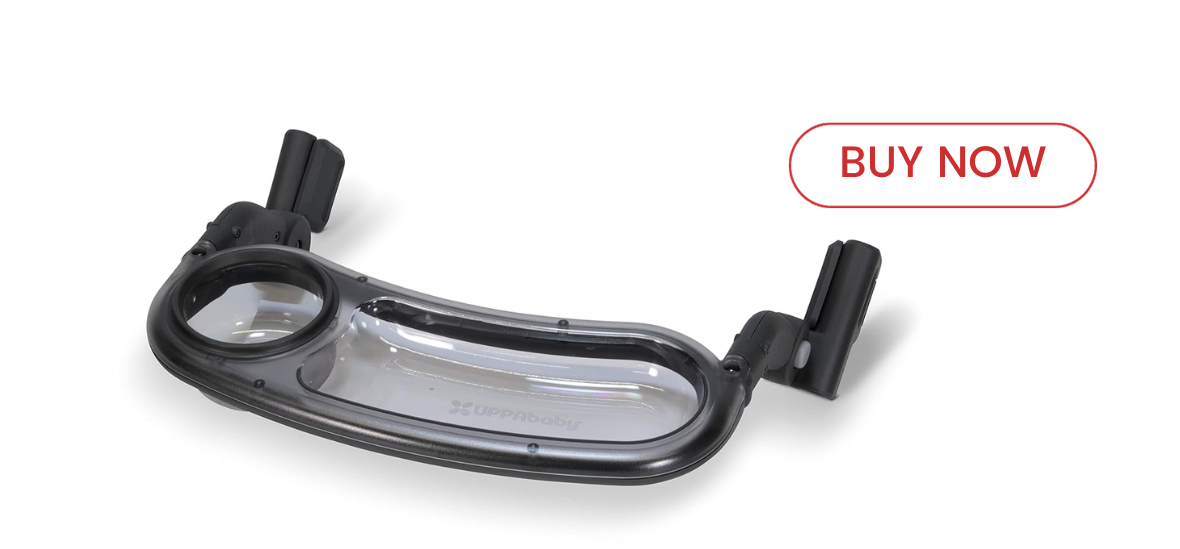 Features & Specifications
One-hand, one-step folding mechanism for quick collapse of stroller

Available with bassinet accessories or infant car seat

Suitable for babies up to 50 lbs

Extendable canopy with decent sun protection

5 point harness for babies

16.9 pounds weight for convenient air travel

Price is $450 at the time of publish
Cybex Libelle Compact Travel Stroller
Why it made our list: Super compact fold
Our pick for: People who (almost) never want to gate check
Cons: Seat may be too small for larger children; doesn't recline as much as other strollers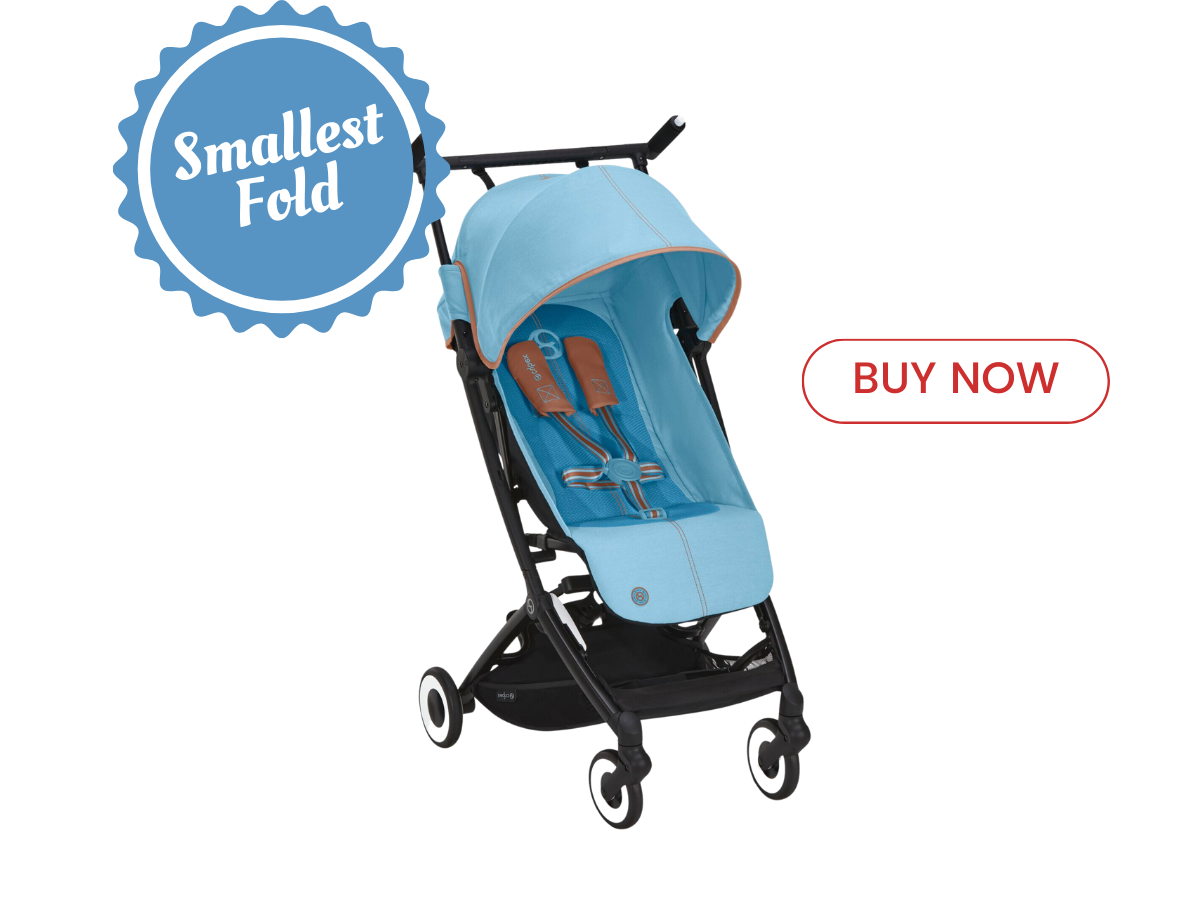 The Details
The Cybex Libelle folds up small! This lightweight stroller is designed to fit in the overhead compartment on nearly any flight. Basically, if a standard-sized roller board suitcase will fit, so will the Libelle.
Weighing in at just 13.7 pounds, it's also one of the most lightweight stroller options out there.
The adjustable footrest is great for added comfort and the foot break is easy to operate for parents. It easily folds with the Cybex infant car seat adapter still attached.
What our experts say:
"I hate, hate, hate gate checking and that's why I love this stroller for travel. I think it's best for toddlers, since it doesn't recline that much."
What customers say:
"I loveeee this stroller!!! Perfect size for traveling and honestly been using it everywhere since due to it being so small so it never takes up space in my trunk. Perfect for walks and grocery shopping with your baby etc! I only wish that it would recline all the way to sleeping position so that baby could sleep properly if they fall asleep on a walk".
Recommended Accessories
Because of the extremely compact fold, you're not going to want to add a large parent caddy. Opt for a soft silicone cup holder that doesn't get in the way. A travel bag is also great for portability when the stroller isn't in use.
Cybex Libelle Travel Bag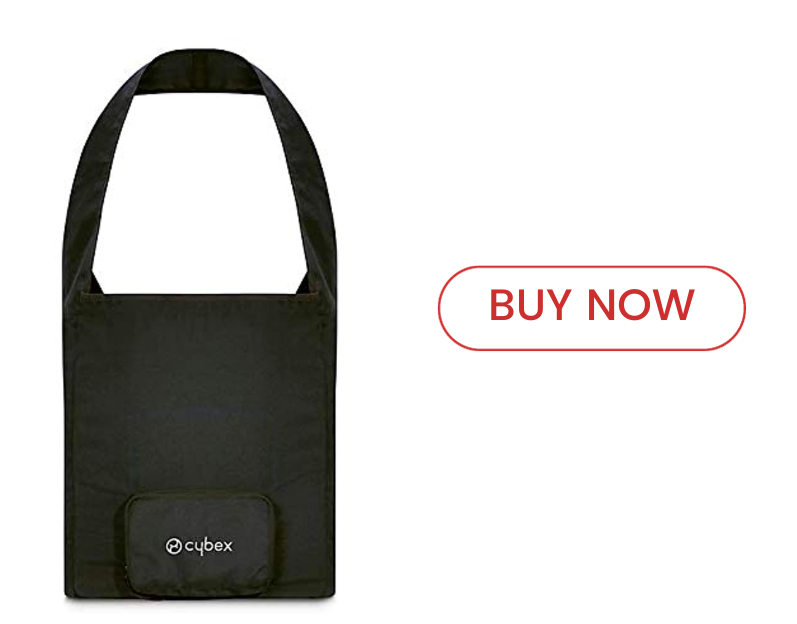 Silicon Travel Stroller Cup Holder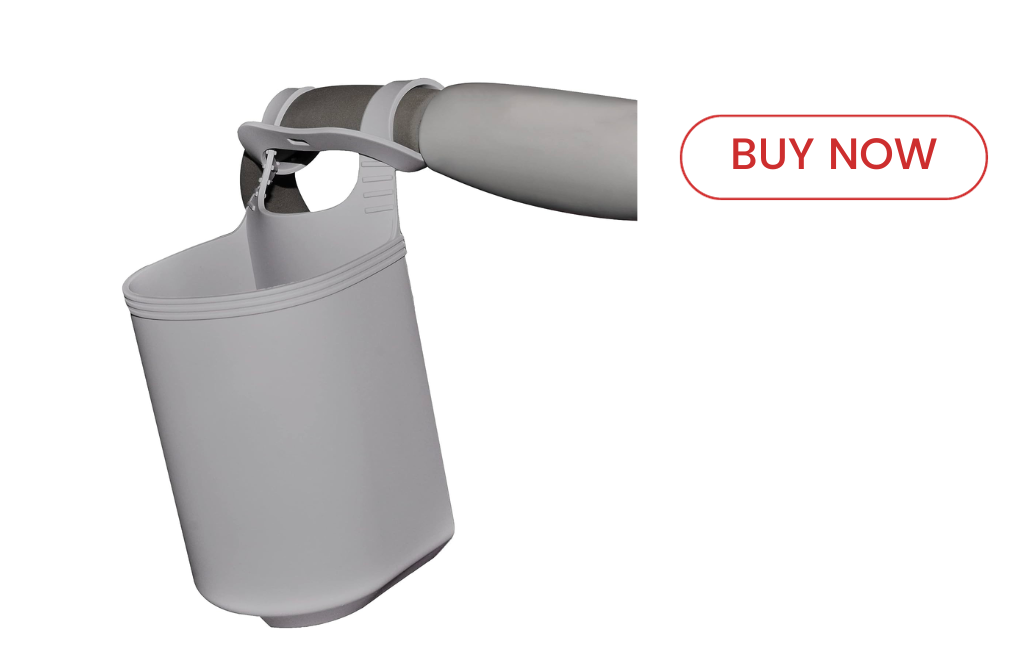 Features & Specifications
A lean frame that is compact enough for overhead bins, car trunks, and underneath train seats

One-handed folding mechanism

XL sun canopy with UPF50+ rating

Front-wheel suspension for smooth rides

Compatible with CYBEX car seats

Suitable for babies of 6 months up to 55 lbs

Lightweight at 13.7 lbs

Price is $240 at the time of publish
Must Have Travel Stroller Accessories
A lightweight stroller is just the first step to actually relaxing while you're on vacation. These hand-picked accessories are a must.
Stroller hooks
Stroller hooks clip on to your travel stroller so you can hang bags from the handlebar and not have to dig around in the storage basket. Just be mindful that a lightweight stroller will tip much easier than a full-size stroller so keep heavy items underneath.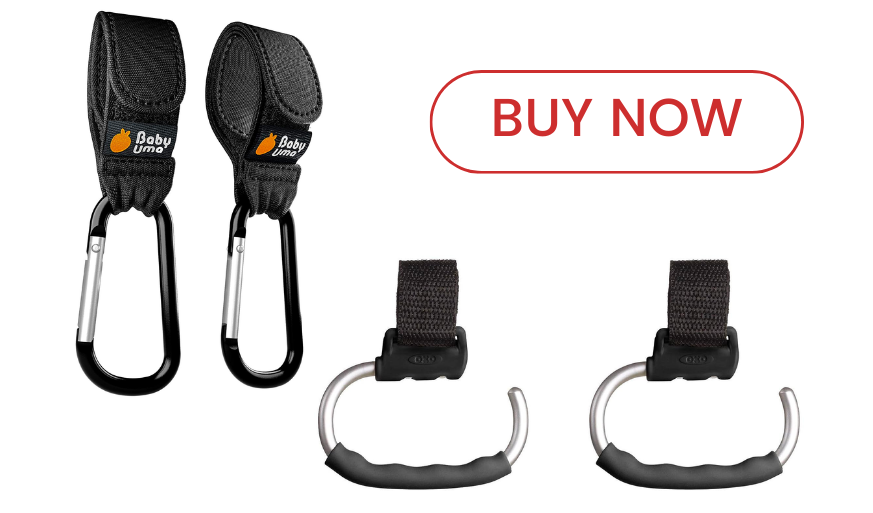 Over-the-Door Stroller Hook
Hotel rooms can be crowded and all that baby gear takes up a ton of space. An over-the-door stroller hook gives keeps your travel stroller out of the way and gives your little one more floor space to play.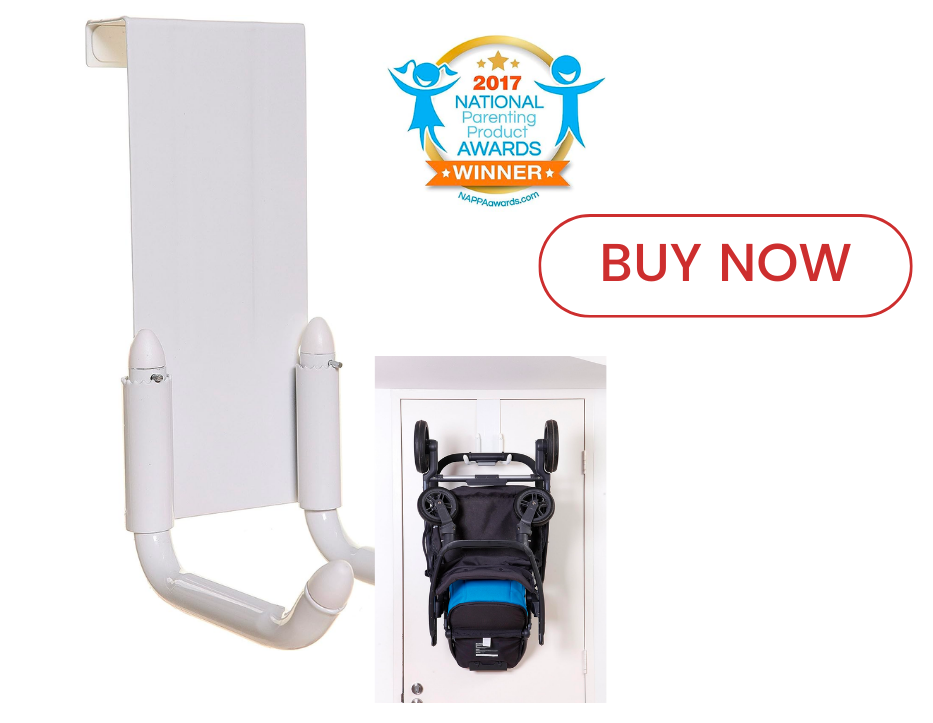 Umbrella Mount
When the weather doesn't cooperate, pop an umbrella into this handlebar mount and stay dry.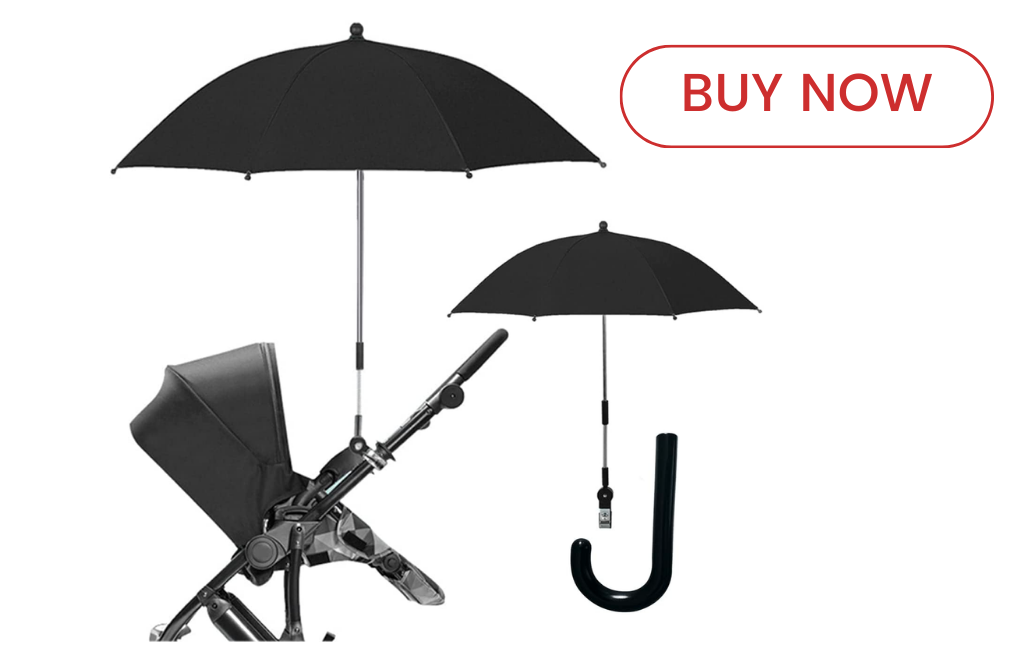 Stroller Rain Cover
Rainy days don't have to be wash outs. Keep your kiddo dry with a universal rain cover.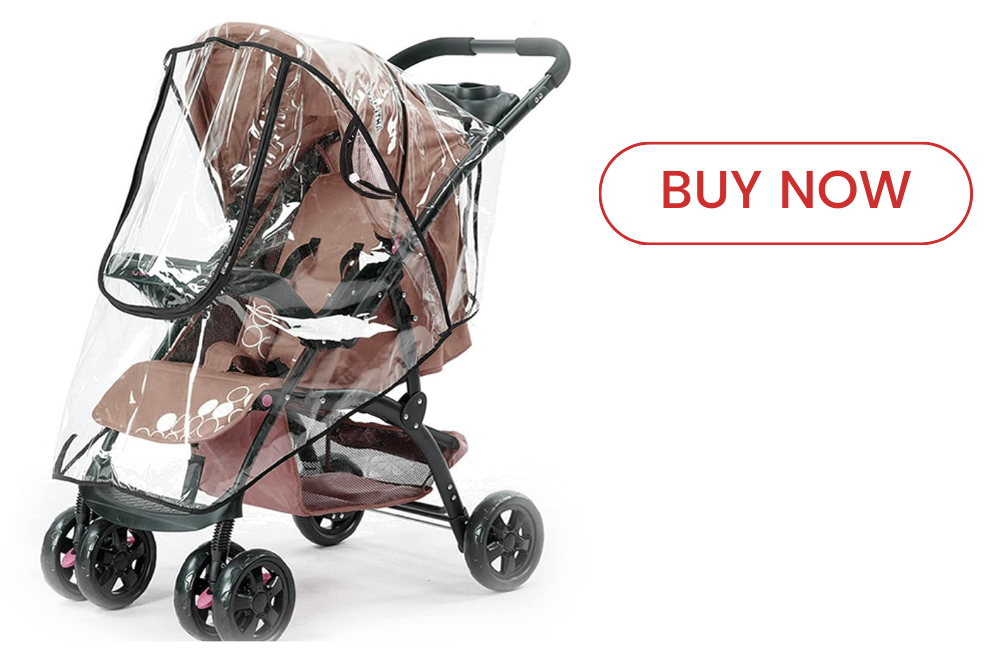 Mesh Organizer
These mesh organizers attach to the back of the stroller, giving you an extra space when your diaper bag takes up the storage basket. They're perfect for holding extra layers on chilly days.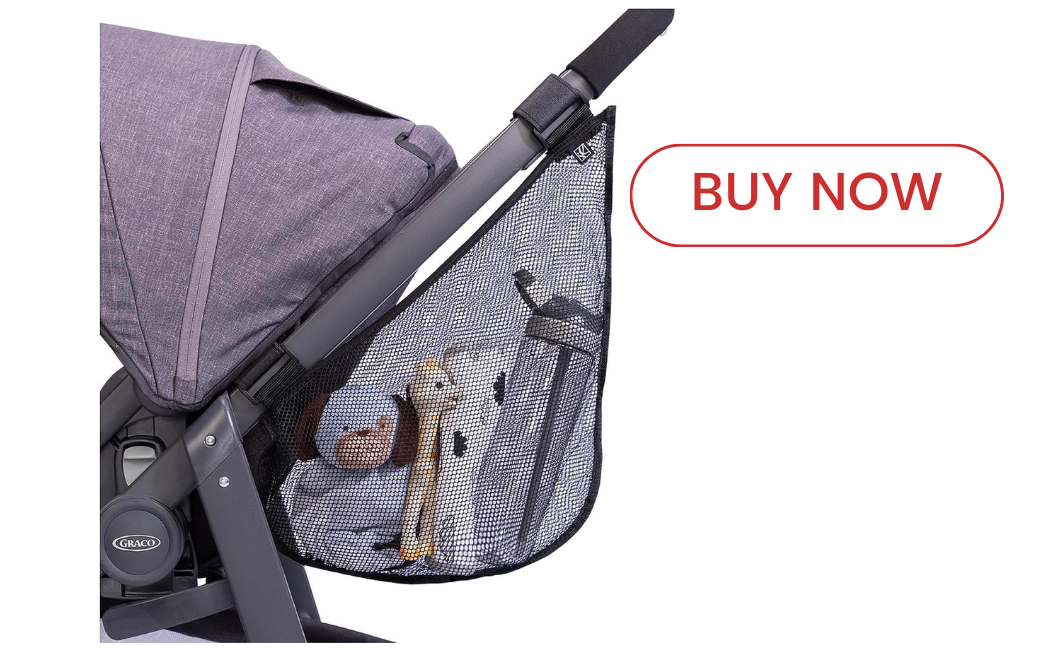 Rechargeable Stroller Fan
For hot days, a clip on fan is a must have to help keep your kiddo cool. Pick up an extra one to keep you cool as well.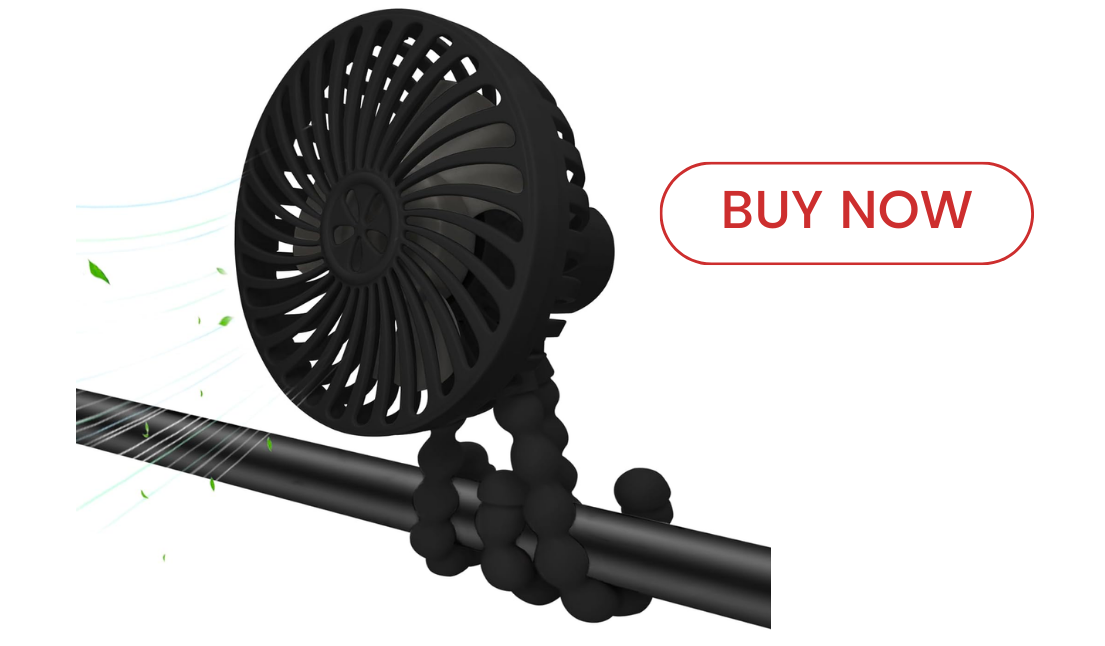 Stroller Phone Mount
A phone mount makes a city stroll so much easier. This one has space for a power bank as well.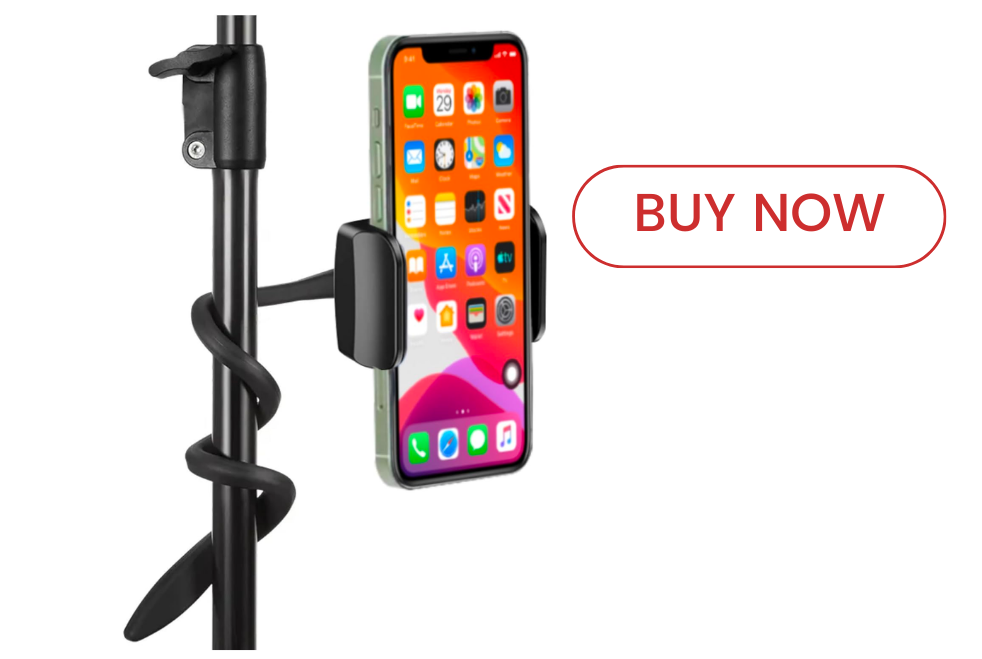 Power Bank
You don't have to worry about finding an outlet on the go with a portable power bank.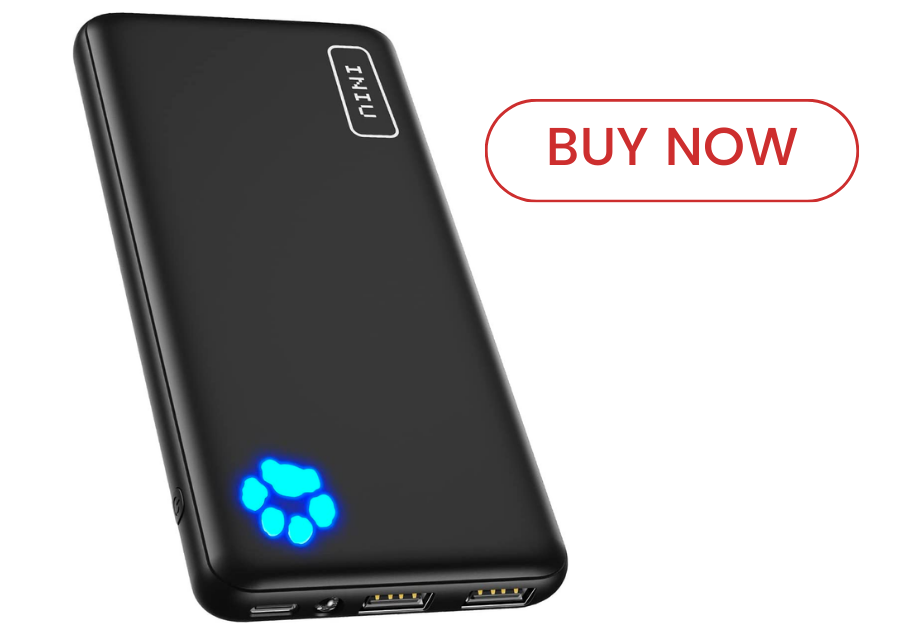 Gate Check Travel Bag For Car Seats
If you're gate checking car seats, you'll want to keep them protected. This travel bag reminds bag handlers to be gentle.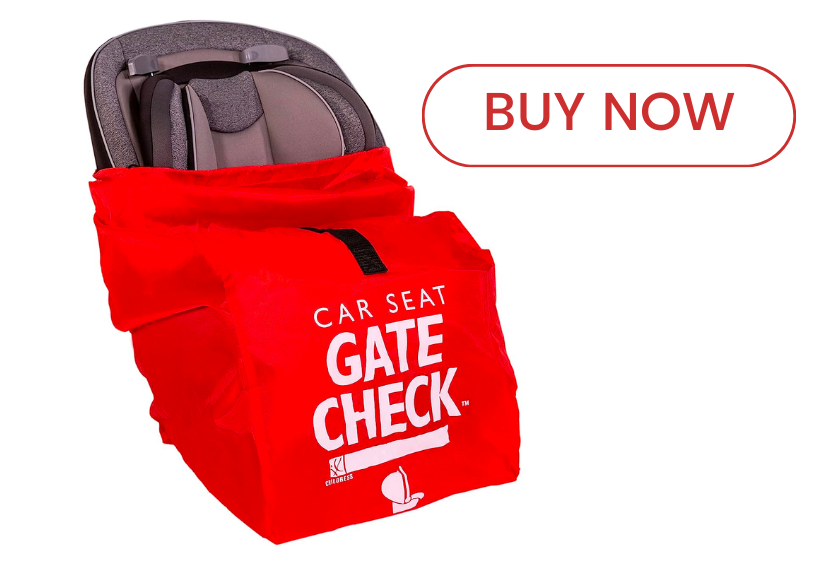 Tagalong Strap
Busy airports. Theme parks. New things to see. Little ones can wander off in the blink of an eye. These tagalong straps attach to any stroller and give your a designated place to hang on to.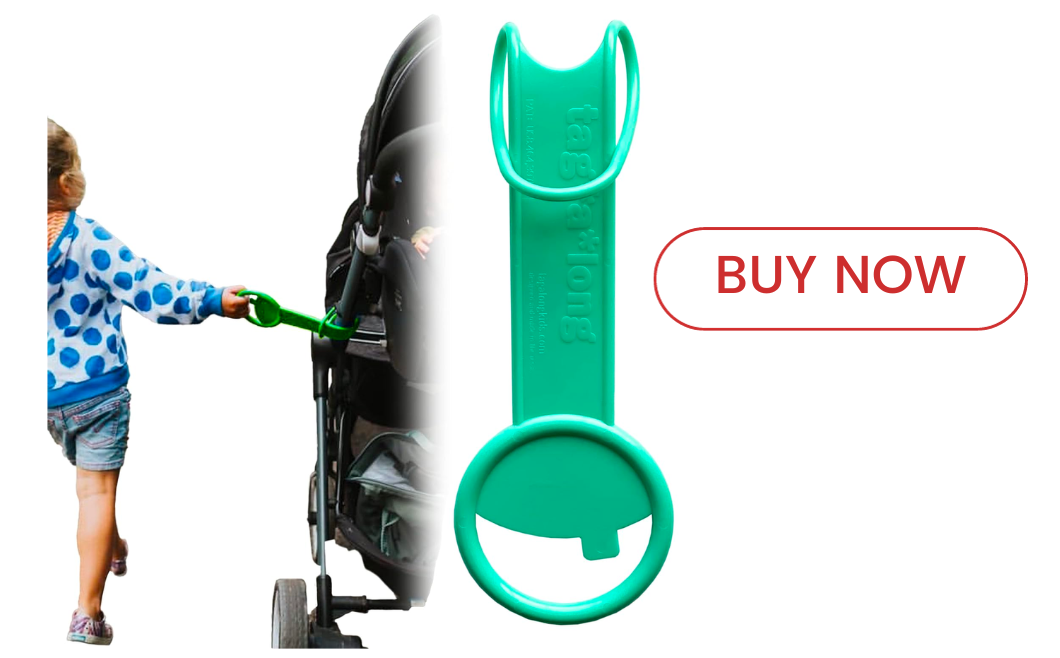 Car Seat Luggage Strap
Convert your car seat into an airport stroller with a handy luggage strap. Rear-facing, forward-facing, and convertible car seats only - not for use with an infant car seat.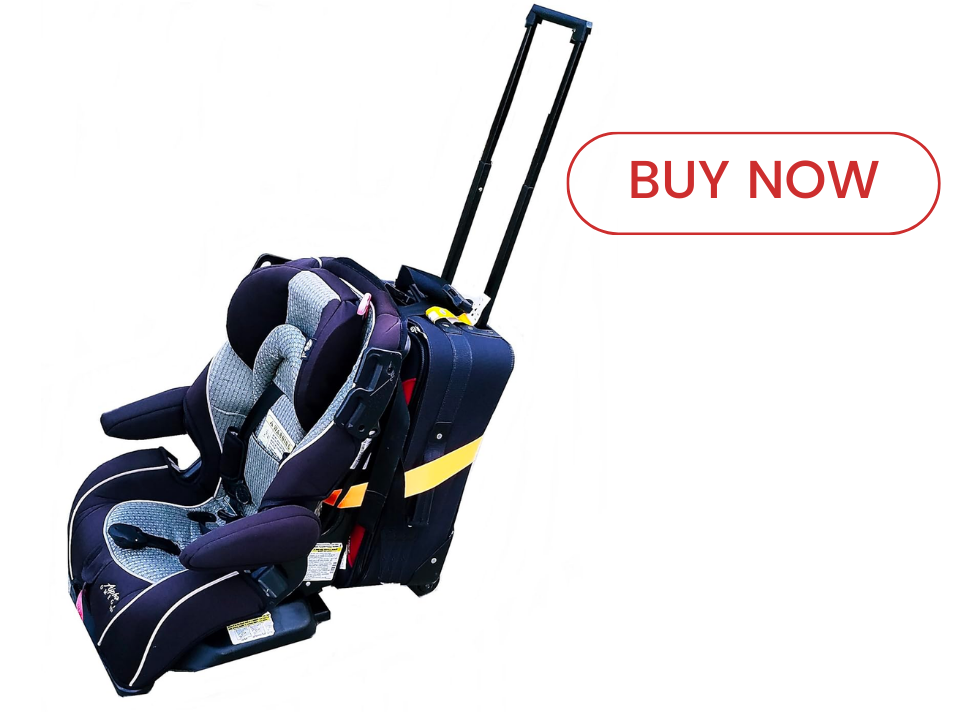 Sun & Mosquito Canopy
Hot summer sun can make for a great vacation but it can also leave baby sunburned. Pick up a universal canopy that offers both sun protection and protection from mosquitoes without blocking your baby's view.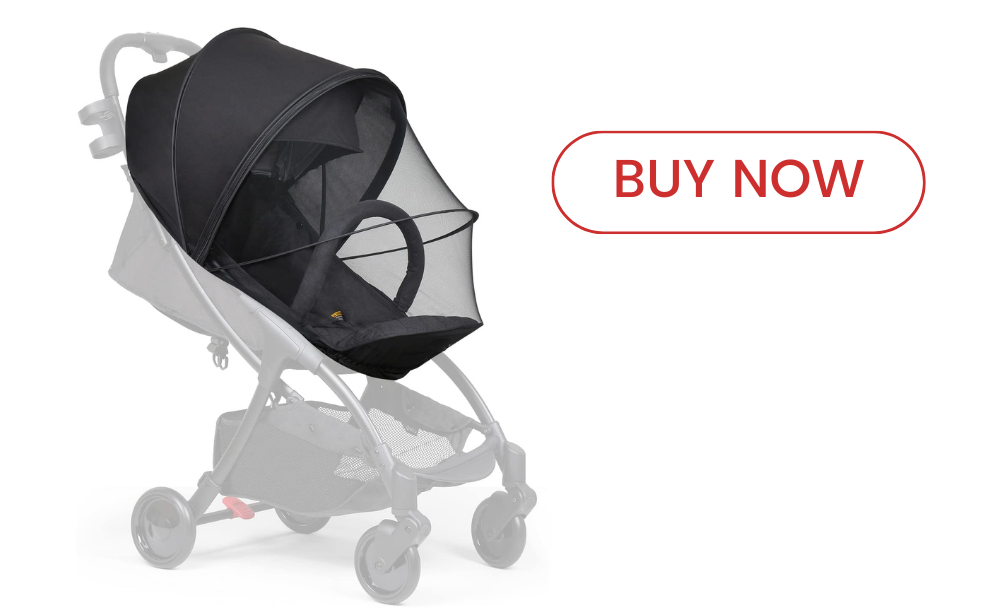 Stroller Seat Pads
Keep your little one comfy for stroller naps with some extra stroller seat padding.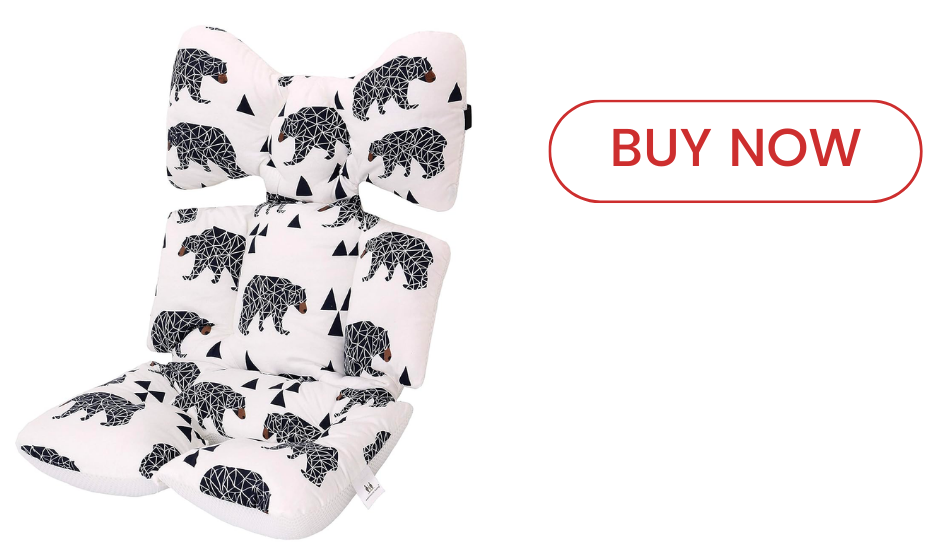 Types of Travel Strollers
Let's start by clearing one thing up: a travel stroller system is not actually designed for traveling. Confusing, right?
A travel system is simply a full-sized everyday stroller sold together with a compatible car seat. That's great for everyday but there's no way that stroller is getting into the overhead compartment.
Since your regular stroller may not cut it for your upcoming vacation, let's explore the lightweight stroller types that will make life easier.
Categorizing broadly, there are five distinct types of strollers that can double-up as air-travel friendly, depending on how you choose to use them for most of the time.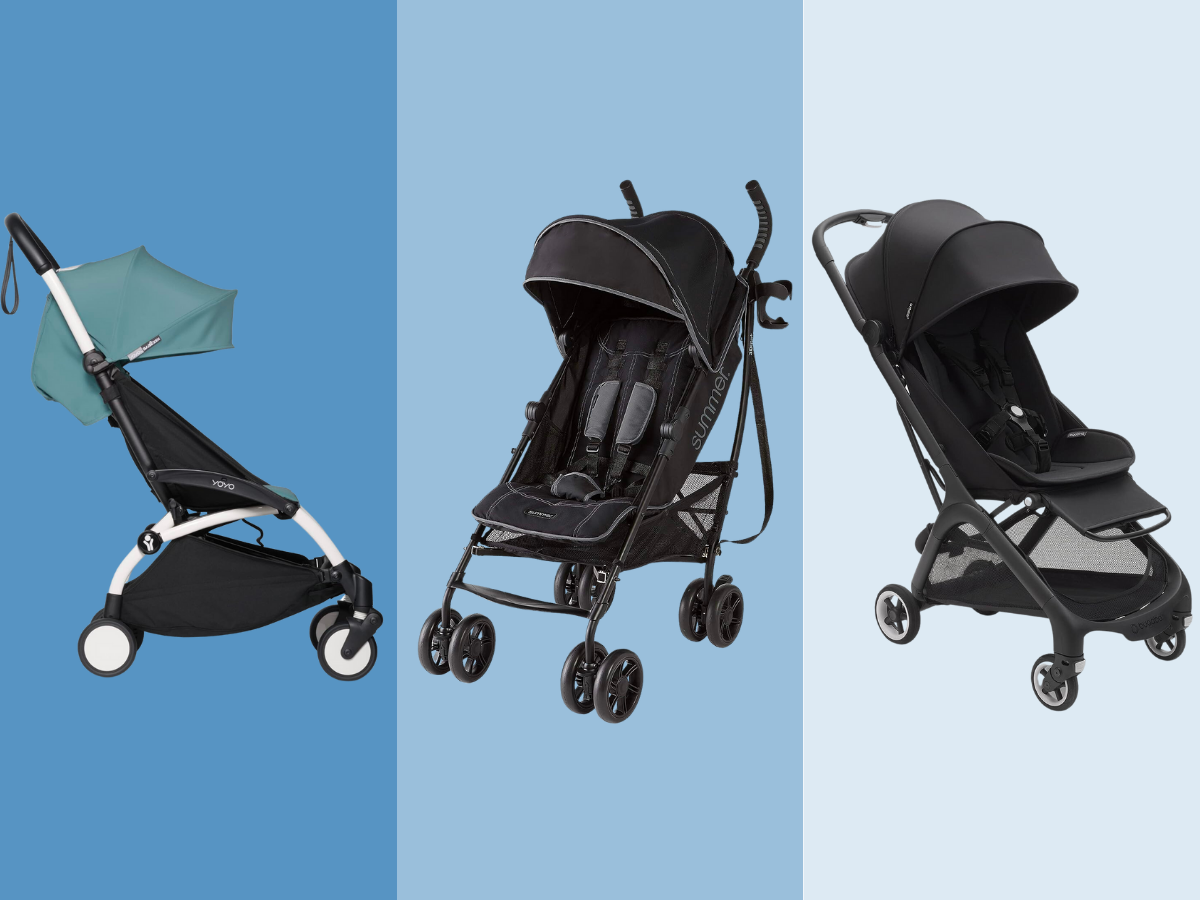 1. The Umbrella Stroller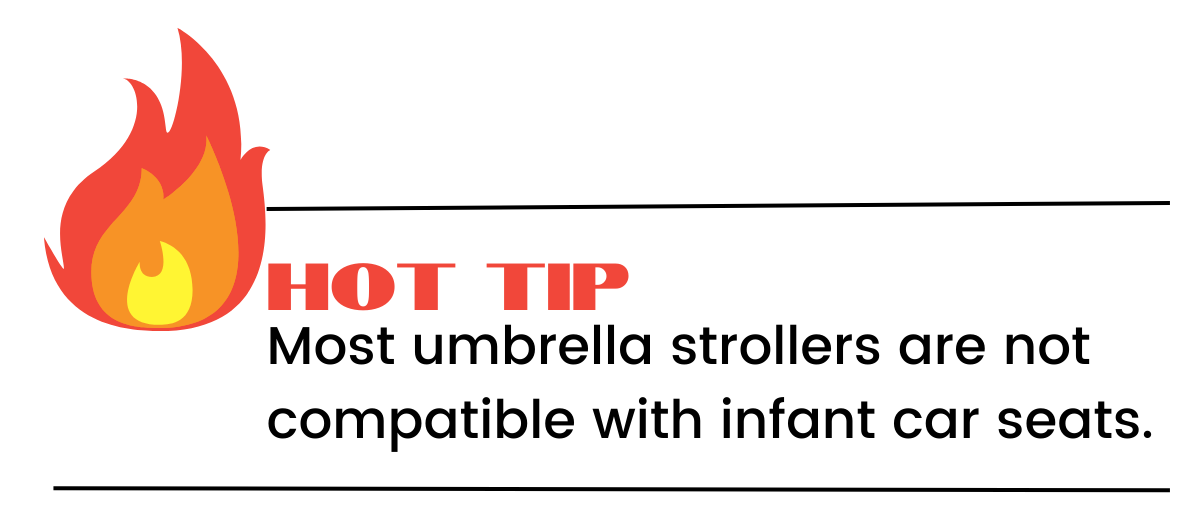 An umbrella stroller has something in common with a travel system: they're both poorly named. As if parenting isn't hard enough without confusing gear.
Anyway, while the word umbrella may conjure up images of a large canopy, many don't have sun protection at all. The name comes from the curved handles on the stroller - they resemble the handles of actual umbrellas.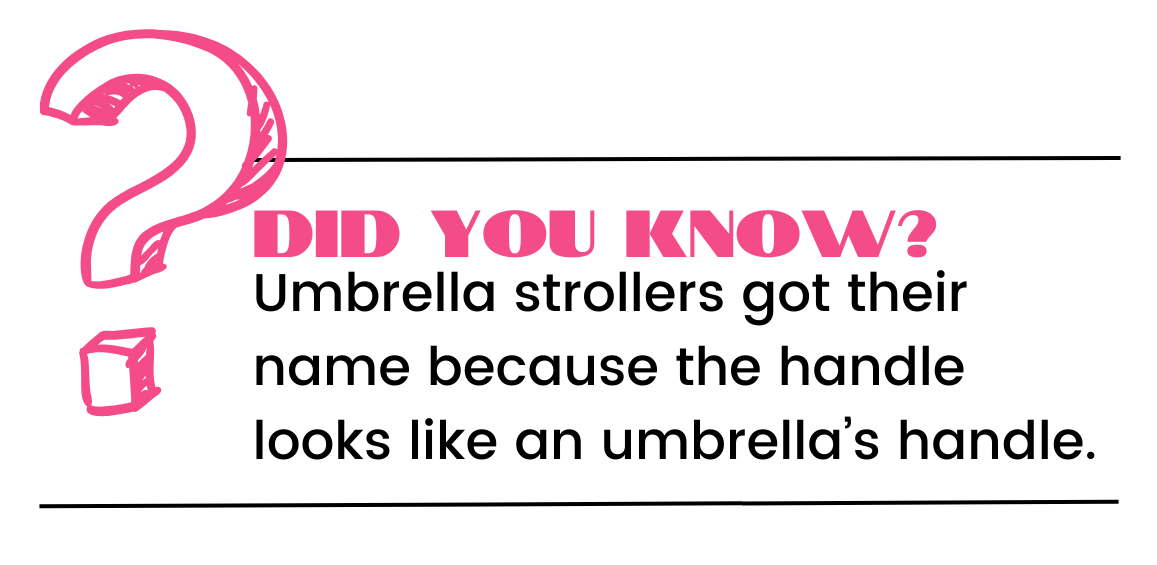 Umbrella strollers are the most lightweight strollers available. They used to be pretty basic and lack the bells and whistles that other strollers may include, but many companies have expanded their offerings.
You can now find them with one hand fold, multi position recline, a cup holder, a good sized storage basket for your diaper bag, a car seat adapter, adequate sun protection, bumper bar, and more.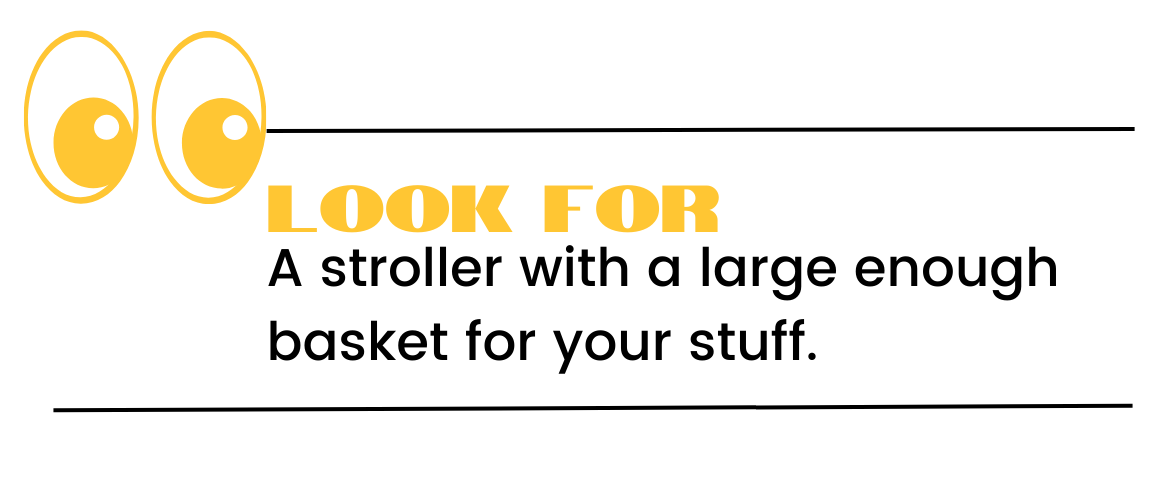 While definitely a lightweight stroller, they fold the long way, rather than collapsing like a compact stroller.
There's an umbrella stroller to fit everyone's budget with the price range on these lightweight strollers ranging from $20 - $500. With so many features, you may decide to ditch your other strollers and make this the only stroller you use.
2. The Compact Stroller
The compact stroller is a smaller version of the full-sized everyday stroller. Many offer all of the features that its larger counterpart has, including flat recline, an adjustable handlebar, sun protection, cup holders, an adjustable leg rest, and more. These models typically have a decent storage basket underneath as well.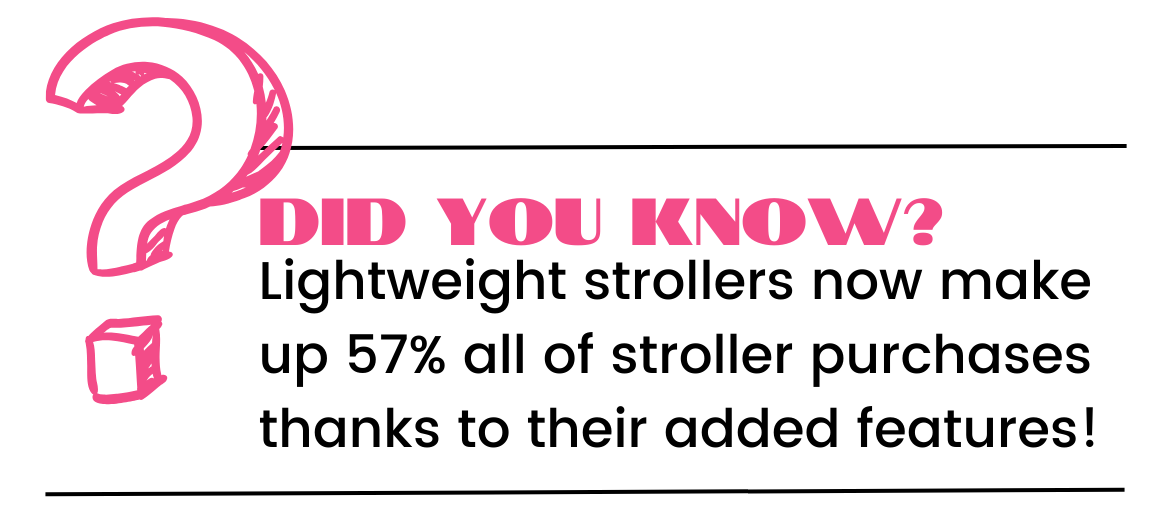 Some compact options may have three wheels instead of two to allow for even better portability while traveling. Especially with their compact size and maneuverability, compact strollers are the most popular and staple item in families hitting the road.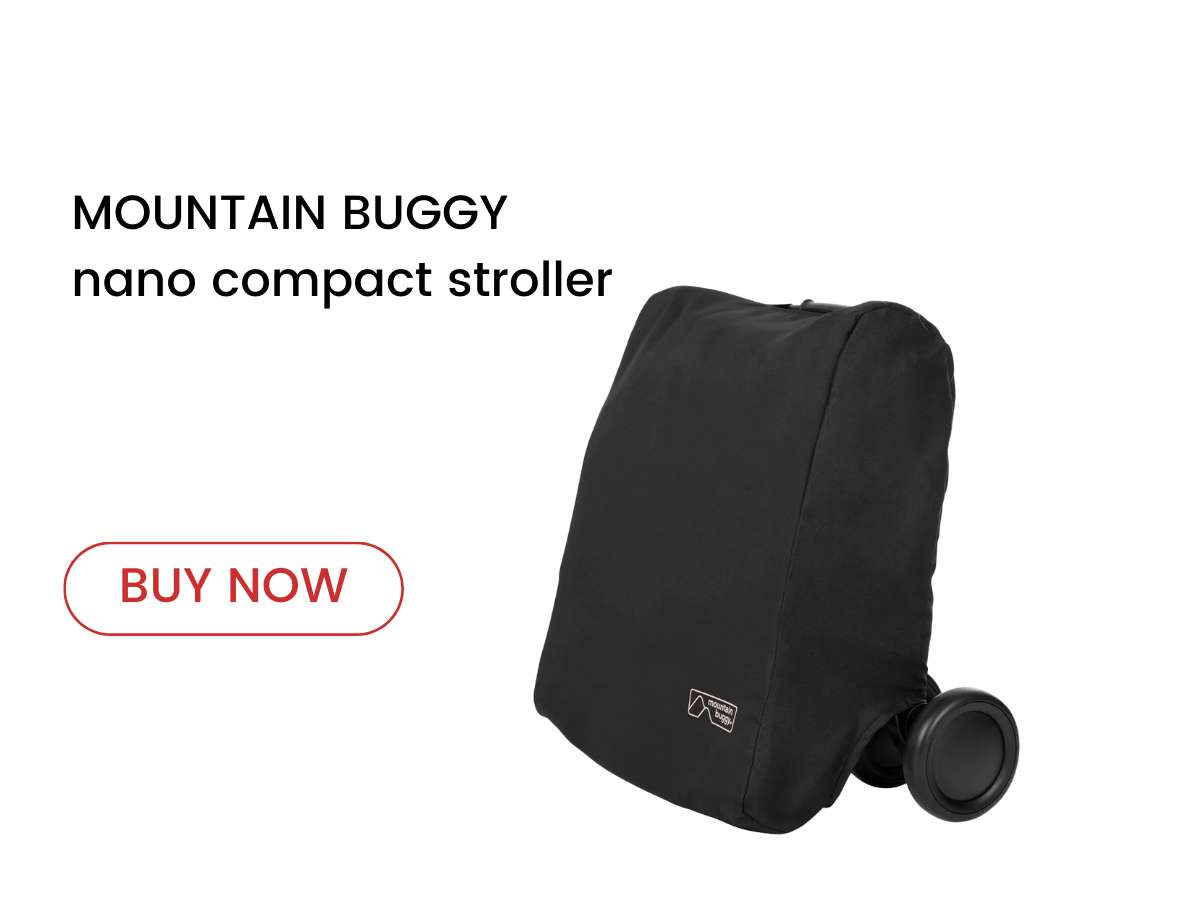 For added travel-friendliness, you can choose a model with detachable seats that are compatible with car seats as well.
4. Double Stroller and Triple Stroller for Travel
You may not thing of a double stroller as travel-friendly, but if you've got two or more little ones in tow, it's definitely a must.
Whether you've got twins or an infant and a toddler or two, these strollers are designed to accommodate. You can often configure them in a variety of ways, using them with infant car seats on one or both sides.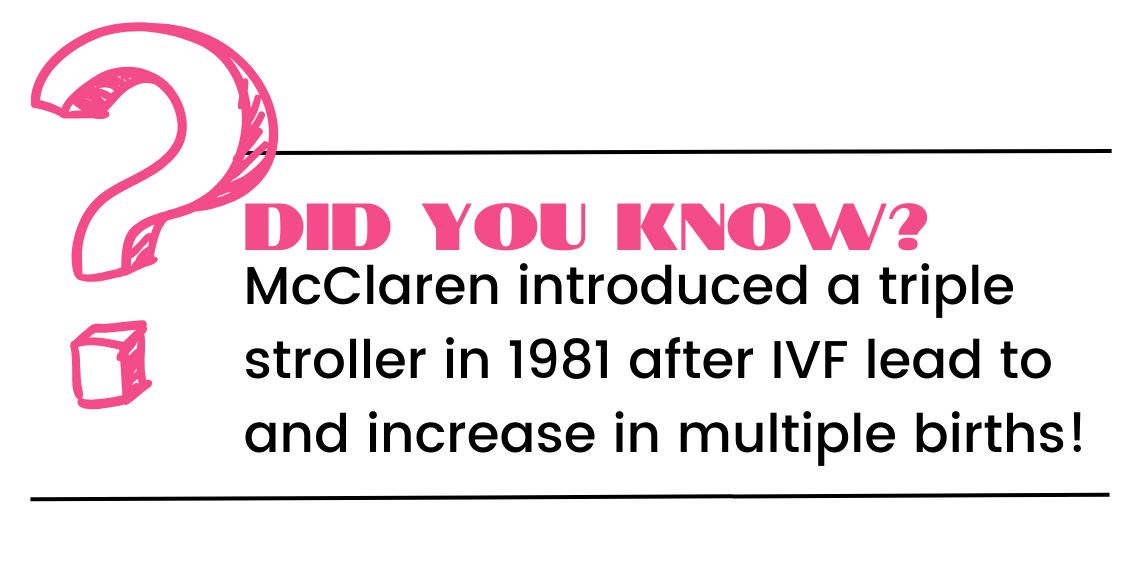 Another option is to convert two lightweight strollers into a double or triple stroller with a universal adapter. These allow you to quickly and easily connect two strollers together and then detach to toss in the overhead compartment.
What to Look for in a Travel Stroller
some of your favorite full-size strollers now come as a compact travel stroller. check out the baby jogger city tour 2.
With so much baby gear out there, it's helpful to know what to look for in a travel stroller. Here are some considerations to help you choose which of the best travel strollers is right for you.
Your lifestyle
Do you love exploring a new city on foot when you travel? Or maybe you're more of a beach family. Wherever you're headed, there's a travel stroller that's right for you.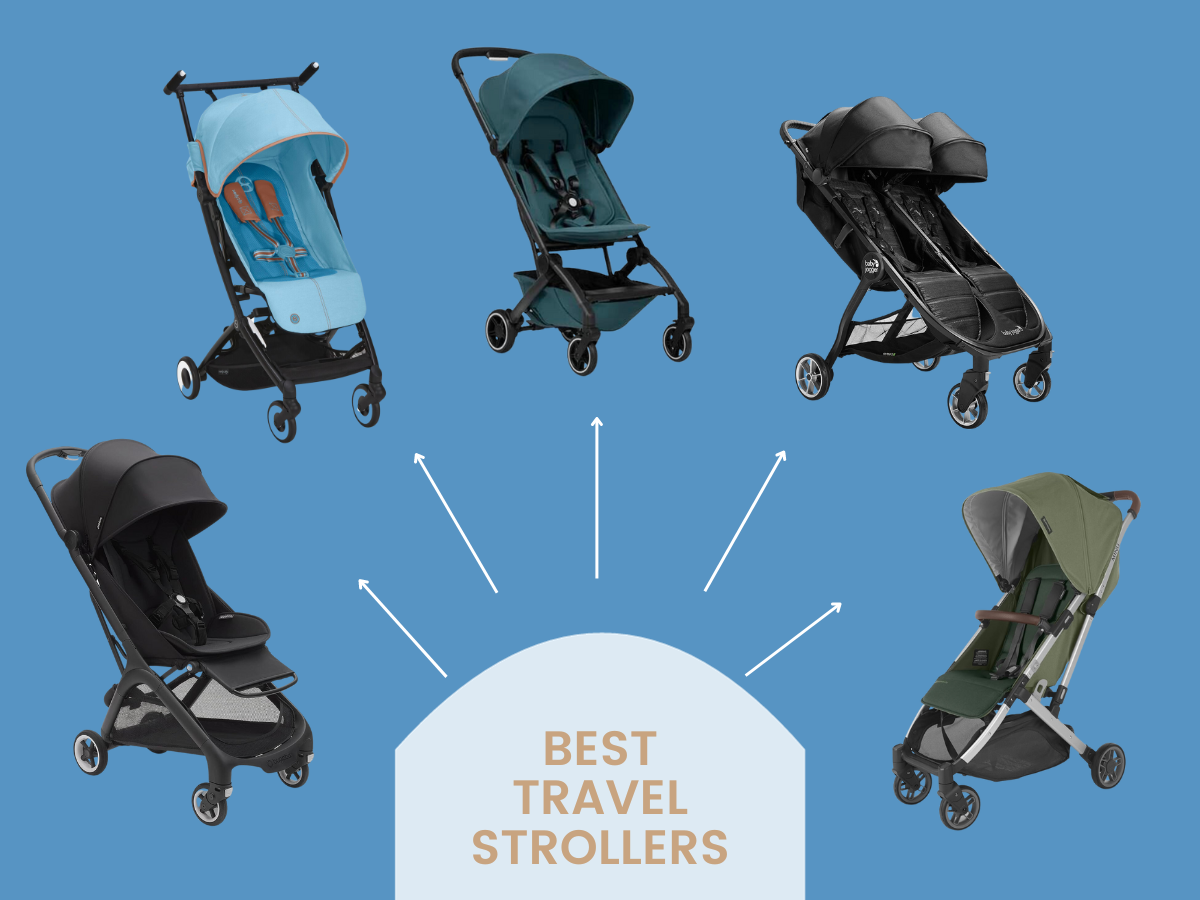 City mice should look for a very lightweight stroller with superior maneuverability and plenty of storage space for your diaper bag and souvenirs. To make navigating metros, buses, and taxis easier, look for a travel stroller with one hand fold. And don't forget your rain cover!
Accessories like a cup holder and carry strap will make your life easier as well while a padded seat will help with on-the-go naps.
If you're hitting the beach and looking for a comfy stroller for the airport, consider compact fold strollers that easily fit in the overhead compartment or one with a travel bag if you'll be checking it at the gate. You'll also want one with a large canopy for adequate sun protection.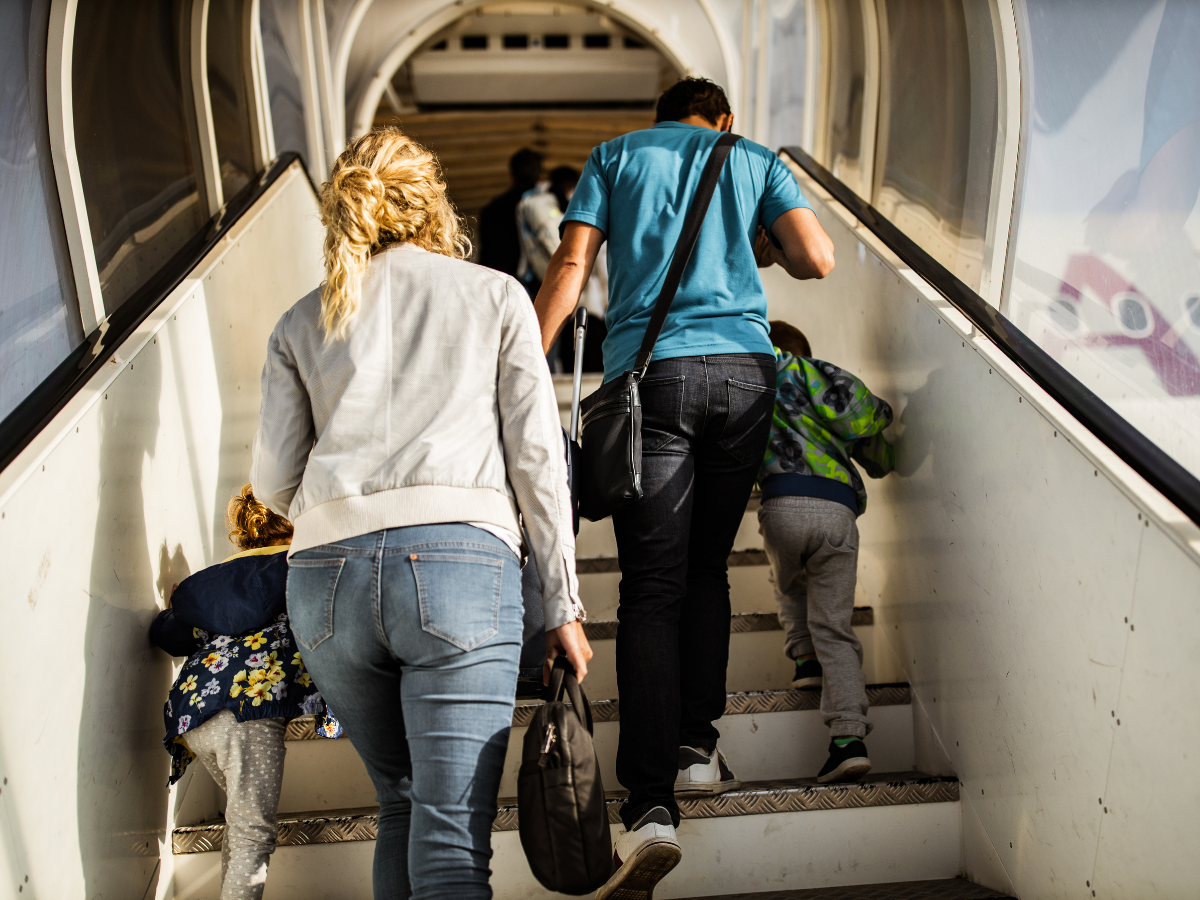 Your Family
While you're shopping for a travel stroller, consider its longevity. If you've got a preschooler who's almost done with a stroller, an inexpensive umbrella stroller might be your best bet.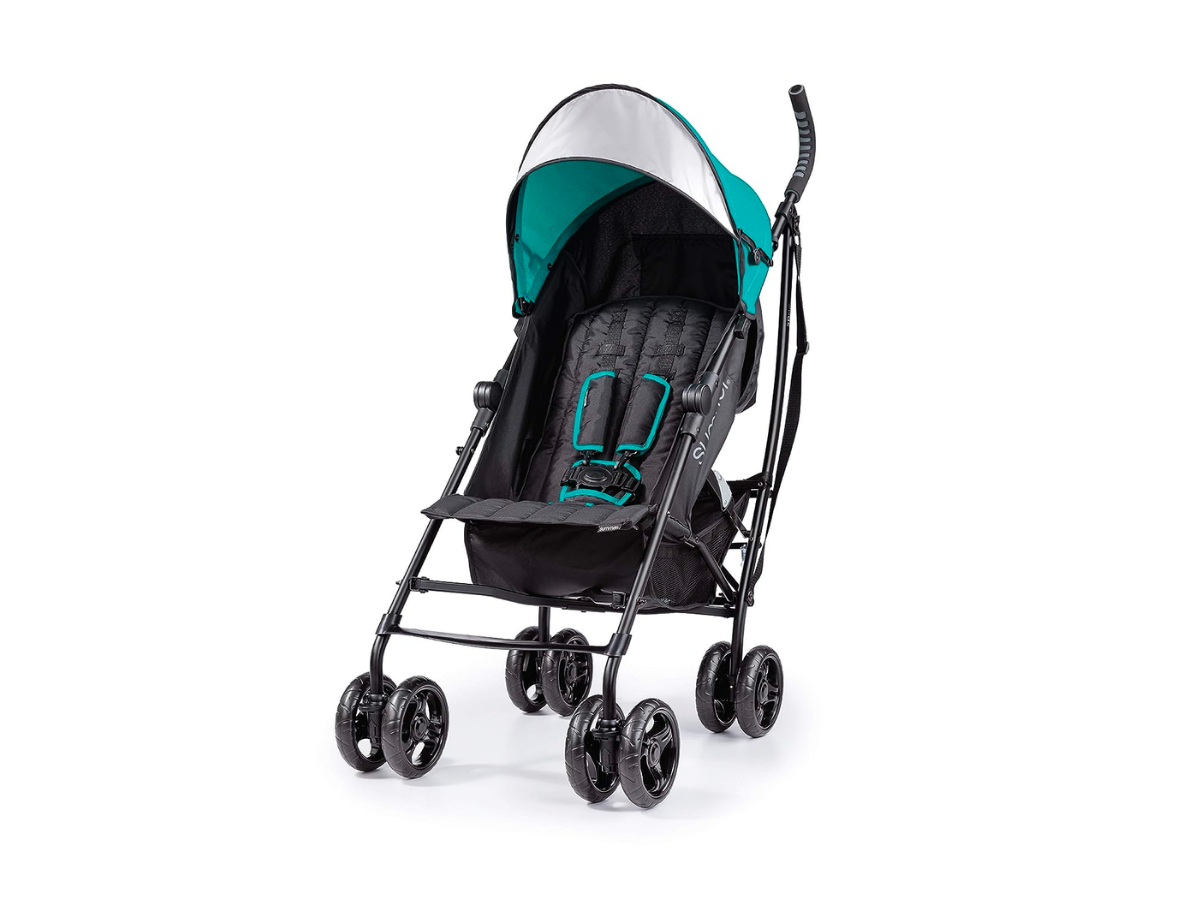 If you've got baby on your hip, you'll absolutely want a compact travel stroller that can accommodate your infant car seat.
With two infants or infant and a toddler, a convertible double stroller that can accommodate a car seat will likely serve you well. You'll be able to use it on trips for several years and it will grow with your children.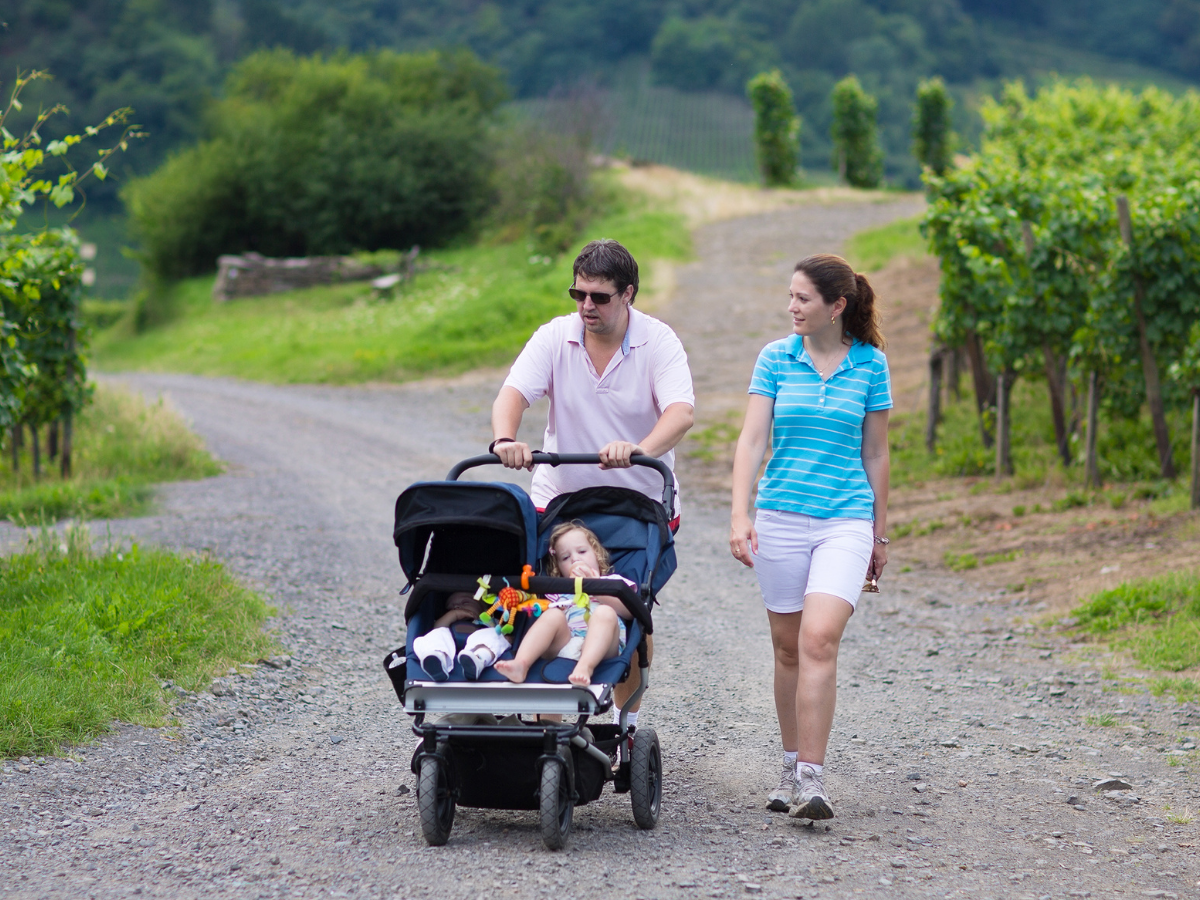 If you've got two toddlers or a toddler and kid who's almost done with strollers, using two lightweight travel strollers with a universal twin adapter will likely give you the most use.
Frequency of Travel
Are you a family of road warriors or homebodies who occasionally hit the road to visit grandma? How often you travel will impact what travel stroller you pick.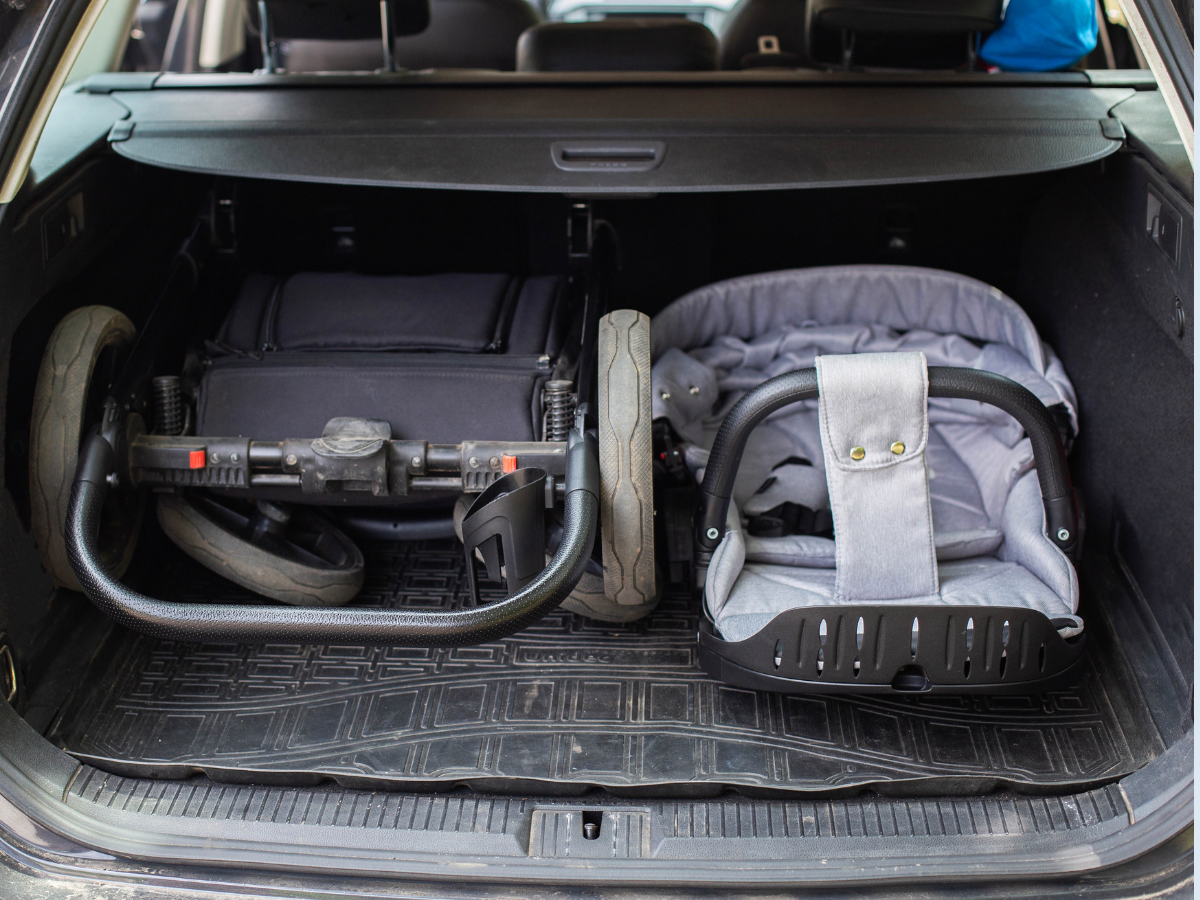 If you're jet setting with little ones, you'll want a lightweight travel stroller designed to last. Look for durable models and consider making an investment in a higher end model.
For occasional vacations, you might want to choose a lightweight travel stroller at a lower price point.
Mode of Transportation
Planes, trains, and automobiles.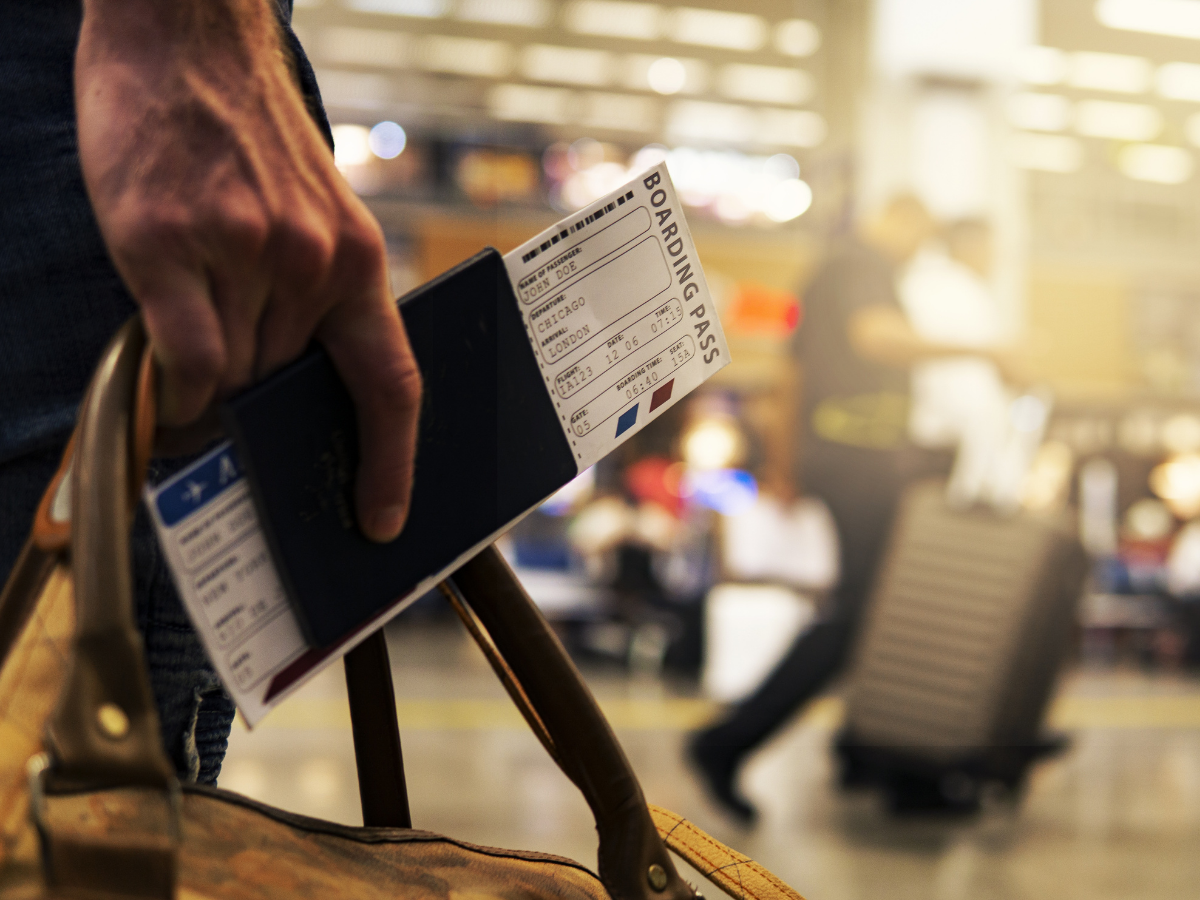 Frequent flyers should look for a travel stroller that easily fits in the overhead bin. You'll also want to consider comfort. Both vacations and flight delays can mean stroller naps, so choose one with a padded seat and a flat recline option.
Wrapping Up
Traveling should be fun for families - especially for the parents with toddlers who need to be carried around. This is where new parents begin their search for the best and cheap travel strollers (airplane) to make their travels a bit more convenient.
We have gathered a list of the best strollers for traveling by plane based on compactness, durability, lightness, features, safety for the child, and price. Happy flying!
Common Questions about Air-Travel Friendly Strollers
Can I take a stroller on a flight?
Yes, if the stroller meets the IATA guidelines and is size- and weight-compliant with the airline, you can carry it with you inside the cabin on most airplanes.
What is the difference between full-size and travel stroller?
While a full-size stroller provides you with more features and add-ons (like flat reclining seats and larger storage), travel strollers are more compact for easy carrying.
Can I use lightweight compact stroller on a daily basis?
Yes, you can use them every day. Some compact strollers are only slightly smaller than full-sized ones. Many of them provide ample storage and large canopies, and you can purchase additional accessories, like adapters for infant car seats and a shoulder strap for easy transport.
What is UPF50+ rating on fabric?
This rating is the measure of sun protection that a fabric can provide. It stands for Ultraviolet Protection Factor. A rating of UPF50+ is considered excellent.
Can strollers go on gravel?
Certain types of strollers with four-wheel suspension and air-filled tires can go on gravel and other off-road terrain.
What is a pivot seat on a stroller?
A pivot seat allows you to make your child face you or the world while in the stroller. There is a pivot which changes the direction of the seat as per needs.
Do all strollers come with rain cover?
No, you need to check the product information of each stroller to see which models provide rain cover out of the box, and which ones have it as an add-on.
What is one-hand fold on a compact travel stroller?
One-hand folding action requires you to push a button or lever on the stroller to activate its frame-joints into folding.
Is there a universal car seat adapter for strollers?
Infant car seats can be attached to strollers, but there is no universal car seat adapter. You'll need to purchase one that works with your specific brand of stroller and car seat.
Do I need a bumper bar on my stroller?
A bumper bar serves several purposes. It helps prevent a child from leaning too far forward if they become unstrapped and gives you a handy place to attach toys. Most people use a bumper bar with infants and young toddlers, but remove it once a child can get in and out of the stroller seat themselves.