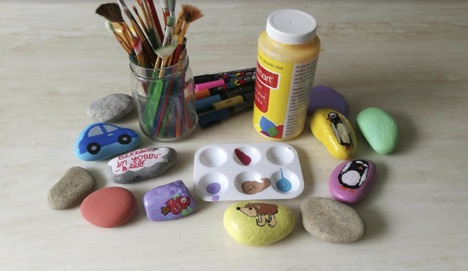 Published Date: 09/10/19
Parents! What if we told you we came across an activity that promotes creativity & kindness, helps your child stay focused and even teaches them a bit about geography?! Plus, it makes for a great way to pass some time on a rainy day.
We recently came across the activity of painting rocks. Yes. You heard that right. Painting a rock.
But, hear us out.

So, the idea of painting rocks is nothing new. People have been painting rocks for decades (okay, centuries if you consider 10,000 year-old cave paintings). However, recently, there has been this rock painting movement centered on the idea of painting rocks as an act of kindness. And, any activity that helps sprinkle a bit more kindness into this world is an activity we can get behind!
In a nutshell, you take an ordinary rock; paint it with fun designs or inspirational messages, then place out into the world to be randomly found by someone, sparking unexpected joy. They smile and you smile knowing you've made someone else smile. Smiles all around!
In taking a closer look, here's why we love this activity, especially for little ones eager to try new things and express their creativity.
Painting rocks as part of the "kindness rocks movement" promotes kindness Just read some of these stories from people who have found painted rocks — they're heartwarming!
Rock painting is a great way to work on some early childhood development skills  The simple act of holding onto a paintbrush or paint marker helps to strengthen fine motor skills in the hands of young children. And, painting on a rock isn't like working with a larger canvas where a brush can be haphazardly thrown around – it requires a little more focus and hand-eye coordination.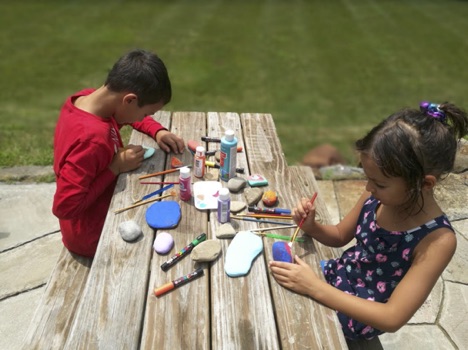 It's a wholesome activity that everyone can enjoy
People all over the world, whether young children or adults young at heart, are giving rock painting a try. One particular reason it's been so popular is that it's inclusive. You don't need to be a Picasso – just pick up a brush and paint something!
It's an activity that gets families outside exploring their community After you've painted rocks, the idea is to set your rocks out in plain view to be randomly found by a passerby. This part of the activity is a fun way to explore neighborhoods in your community you may not have ordinarily visited. Or, bring some rocks with you next time you travel!

It's a fun way to learn geography
The cool part of these painted rocks is that they're constantly traveling as they're picked up and moved around by those who find them, like this rock that's hanging out at the beach! GoRock realized this and created a way to visualize all the kindness being spread as painted rocks traveled.
So, what are you waiting for? Give this fun activity a try! This beginner's guide to rock painting is full of tips and even includes a supply checklist.
Paper Pinecone is the best resource for connecting with thousands of daycare and preschool programs in your area. Start your free search today.
This post may contain affiliate links.
Other article's you'll love
Training for Sleep Training: Evolution is Spelled P-R-O-X-I-M-I-T-Y
Important Questions to Ask on a Preschool Tour