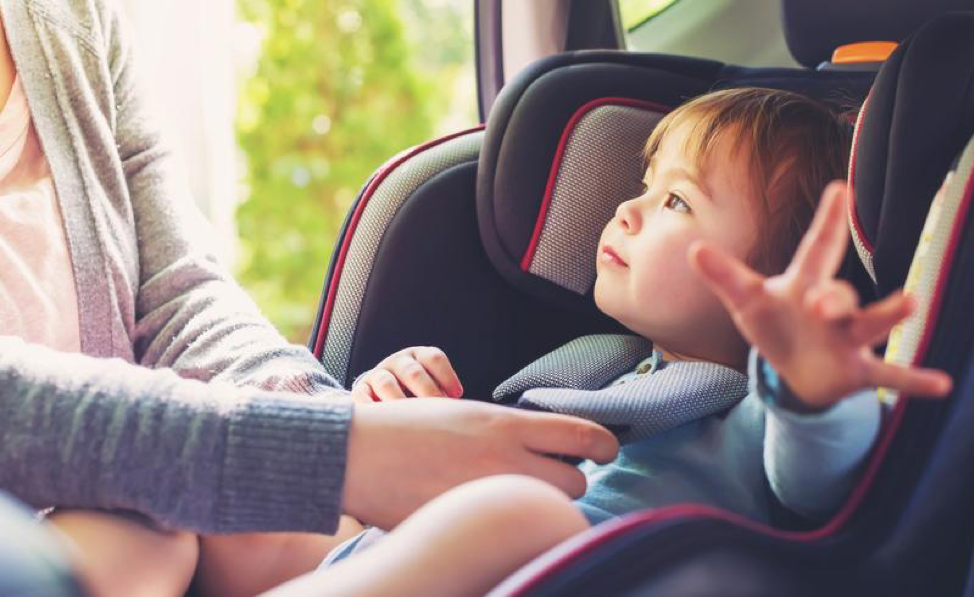 Published Date: 03/31/19
Keeping children safe in the car is paramount whether you're heading around the corner or on a cross-country road trip. That should go without saying, but millions of people end up endangering the lives of their kids due to the state of their vehicles or simply because of how they drive. If you want to make sure that your children remain secure in your car, ask yourself these questions.
Is My Car Seat Safe?
Car sear requirements vary by state, so check yours to ensure you're in compliance. While many states don't require children to be rear-facing after their first birthday, keeping them rear facing until they max out on the seat's height or weight limit is five times safer than having them forward-facing.
Straps in rear-facing car seats should be placed at or below shoulder level, while in forward-facing seats they should be placed at or above shoulder level. Harness clips should always be placed at chest level, even with the armpits, and there should be little slack. Make sure you do the 'pinch test" with the straps. Buckle your child in and adjust clips to their proper position. Pinch the straps sitting on your child's shoulder. You should not be able to grasp material between your fingers – if you can, the straps are too loose.
While the middle seat seems the safest for a car seat, that isn't always the case. Some middle seats are not flat and therefore you the seat cannot be installed properly. Many police stations offer car seat installation at no charge, and you can also contact a car seat technician in your area.
After you purchase your car seat, make sure to send in the product registration card. Many people ignore them but sending it in ensures you're notified if the car seat is recalled.
Be wary of purchasing a used car seat – you don't know if it's been in an accident and can't verify its safety. If you do purchase one or receive a hand-me-down, check the base for the expiration date. Yes, car seats expire, usually six years after manufacture. Plastic breaks down over time, so recycle any car seat that has expired. Check with your local children's hospital to see if they have a recycling program. If there isn't one in your area, call the city to see what their policy is. If you have to toss your car seat in the trash or leave on the curb for pick up, cut the straps first so it isn't picked up by someone who will go on to use an unsafe seat.
Lastly, after-market products are never safe. Those cozy strap covers, head rests, and clip on toys may look cute and keep baby entertained, but they pose a risk and will void your warranty if used.
Is My Car Safe?
Many parents put great effort into childproofing their homes, but they don't always do the same for their vehicles. If you're ever planning on driving anywhere with small children as passengers, you'll need to make sure that your vehicle is safe. This means bringing your car in for routine maintenance so that it is trustworthy overall, but it also means making sure that features such as child locks and seatbelts are in good working order.
How Am I Driving?
There's a lot of responsibility associated with operating a vehicle, which is something that people tend to forget. The frustration that comes with being stuck in traffic or cut off by a big truck clouds their judgment, and they sometimes end up making a potentially fatal mistake. This is bad enough for those who are driving by themselves, but it's even worse when their children are put at risk. Pay attention to everything around you, drive defensively and be especially careful when you have to drive around a large truck. While trucks account for a minuscule number of roadway accidents, they cause more catastrophic injuries than ordinary road accidents. An eighteen-wheeler is almost certainly bigger than your car, so maintain a safe distance around them if you want to avoid serious truck accidents.
Are Seatbelts Always Used?
Studies show that seatbelts have saved numerous lives over the past 50 years, yet many people still don't wear them as they ought to. Not only should you always wear your own seatbelt, but you should also make sure that your kids are wearing theirs. If you have children, you must determine that they are in the appropriate seats. Youngsters under the age of 12 should never ride in the front seat. Babies and toddlers should always be in proper car seats for children of their age.
Here are some other useful articles we think you're going to like: