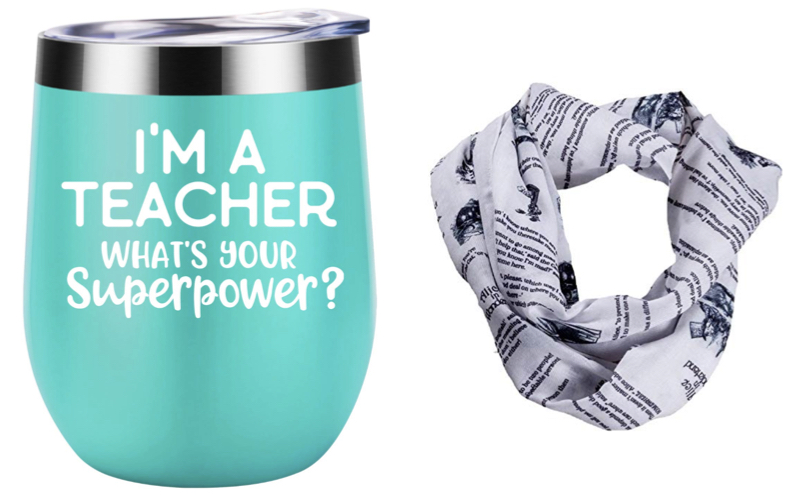 Published Date: 04/28/19
Not all heroes wear capes. Many are teachers and Teacher Appreciation Week is coming up in May. Skip the gift cards and cookies this year. We've hand-picked ten gifts that are sure to be a hit with the teachers in your life. Best of all, they're all under $20 and available on Amazon Prime.
1. Most teachers we know pack their own lunches and now they can do it with style. This gorgeous world map Neoprene lunch tote mixes form and function, keeping food insulated for up to four hours.
2. This indoor herb garden is great for home or classroom use. Choose from Culinary Classics, Edible Flowers, or Exotic Basils. The gorgeous self-watering vases make for a low-maintenance gift that keeps on giving. 
3. Teachers are super heroes and this insulated stainless steel tumbler says just that. Complete with lid and straw, this stemless cup is perfect for sipping beverages outside.
4. A literary gift perfect for any teacher who appreciates the classics. An Alice in Wonderland infinity scarf with Lewis Carol quotes is a stylish wardrobe addition for your child's favorite teacher. 
5. Teaching has you on your feet all day, so this foot massager is a great way to relieve tension. It's eco-friendly and comes with a reflexology chart so they'll know just the points to hit to relax.
6. Teachers run on coffee, but Starbucks cards are boring. Spring for this sampler of five gourmet coffee flavorings to help perk up their morning joe. 
7. A portable speaker for under $20 sounds too good to be true, but with 300 5-star reviews, this palm-sized speaker is sure to be a hit. Available in trendy Rose Gold, plus Gold, Silver, and Grey.
8. This throwback iPad case brings us back to our youth (are we dating ourselves???). It looks just like the classic composition books we used in elementary school and keeps tablets safe. 
9. Say thank you with an adorned candle. Any teacher will love this one complete with a beautifully jeweled glass jar and relaxing chestnut scent.